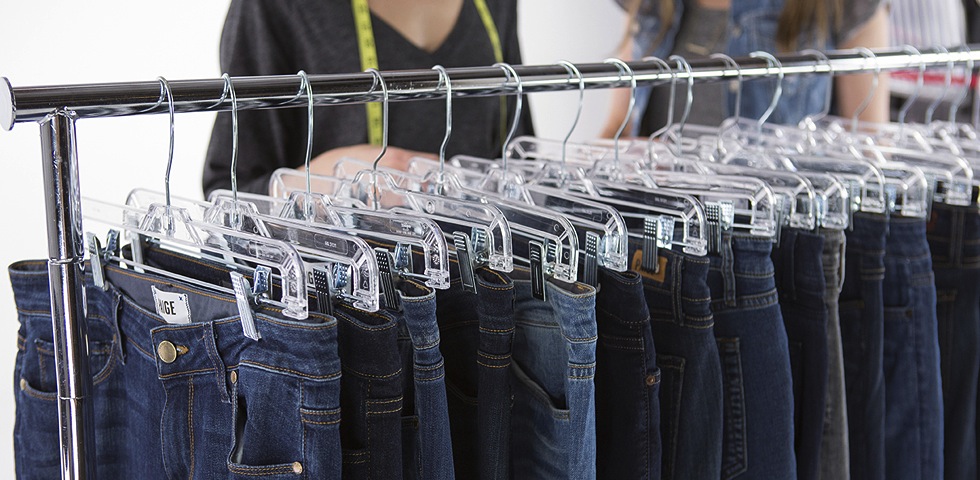 The Different Types Of Jeans And Their Stretch
There's one thing we can all associate jeans with and that's the fact that they have stretched out and become too baggy over time. This has happened to probably every single one of us out there who loves denim, so how do we get around that issue? You might buy the perfect fitting pair in the store, only to wear them a couple of times and realise they have stretched out a size and now don't fit very well. There's tips like buying them extremely, painfully tight, and wearing them so they stretch out to be the perfect fit (this was common for my era) but it's a pain in the butt (quite literally) and it is really frustrating to do.
As the times have changed though, you are in luck because so many brands have brought out denim with different stretch and fabrications, meaning that baggy, saggy jeans are a thing of the past and your jeans wont stretch out. How? It's all in the denim! If you want the perfect fitting jeans, find out what the different denim fabrications mean and how/if they will stretch out below.

100% Cotton Denim
Unfortunately with 100% cotton denim, it's a fabric that will ALWAYS stretch out no matter what you do. Since it has no stretch in the fabrication, this means that the cotton threads will expand themselves and never go back to the smaller size they were before. Not permanently anyway. Sure you can wash and dry them on hot, which will temporarily shrink them, but they will stretch right back out again. The best thing you can do for 100% cotton jeans is to buy them really small, make them damp, and wear them. The water on the denim will stretch it quite quickly, so they wont stay tight for ages, but this can be very painful, so I often find that 100% cotton denim is better when worn slouchy, plus it's comfier too. Or, why not go vintage and find a pair of vintage Levi's or RE/DONE Levi's which have already been broken in and stretched by the previous wearer? Saves you the job!
– Buy rigid jeans online at Urban Renewal, RE/DONE Levi's and Nudie Jeans Co.
98/2 Stretch Blends
Jeans with 98% cotton and 2% elastane/lycra combination do stretch out, but not as badly as rigid denim. I find out of stretch jeans, these are the ones that will bag out the most because they don't have much recovery in them. This is the standard makeup of stretch denim jeans and once you wear them a few times, they will get looser and stretch out. So again, you can combat this by buying them really tight and waiting for them to stretch to fit perfectly, but don't wash or dry them on hot because it will damage the elastic in the denim, meaning they will be even more baggier than before. The more you attempt to shrink these jeans, the worse they will become over time. So definitely buy them as tight as you can handle to begin with.
– Buy Jeans like this online at ASOS, Abercrombie & Fitch, American Eagle and GAP.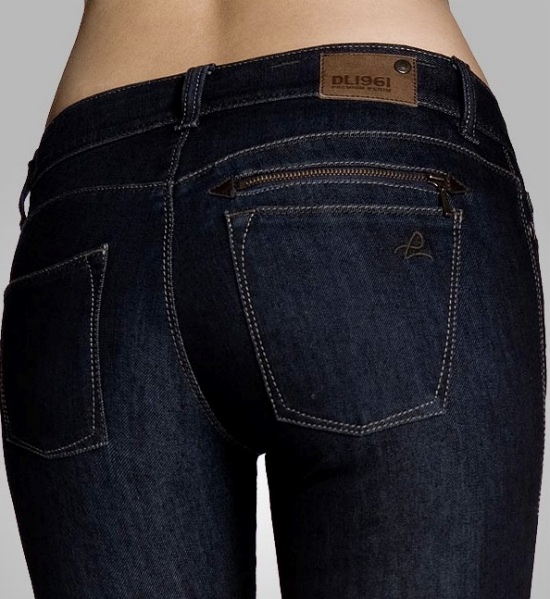 Cotton/Poly Blends
There's a denim blend that I find doesn't stretch out very much and doesn't have much give at all and that's the cotton/poly blend. I don't mean a super stretch pair of jeans which polyester in which makes them scratchy and itchy on your skin, I actually mean a cotton/poly blend only. I haven't seen any of these in a while, but they used to be really popular back in the days of Rock & Republic. This denim blend didn't stretch out much at all. They are stiffer and they are not the most comfiest of jeans, tending to run small because of the non stretch factor, but they don't stretch out really badly and they hold their shape and size with a lot of wear. The only downside with this blend though is it can cause a lot of gapping at the back of the waist due to the fabrication. But if you want a more rigid pair of jeans which don't stretch too much, try looking for a cotton/poly blend. It was usually 60% cotton and 40% polyester.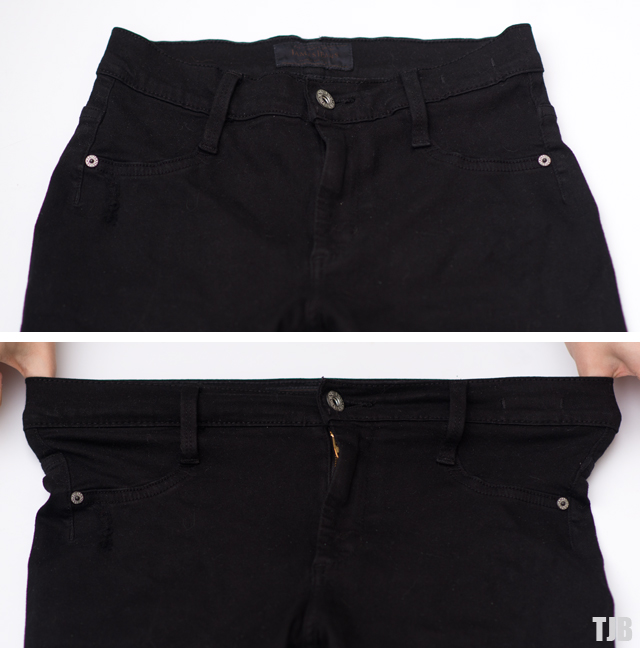 4 Way Stretch Denim
DL1961 and Yoga Jeans were one of the first to release a type of 4 way stretch denim, meaning the jeans won't sag or lose their shape as they stretch out in 4 different directions, then recover very well. I own quite a few pairs of the DL1961 Jeans with the DLpro fabrication and they are wonderful – the denim is super soft and stretchy, just like a legging, but the material is thicker, so they are flattering like jeans. The older versions are a poly/cotton blend, but the newer ones have elastane and lycra. They really don't get baggy!
– Buy DL1961 online here and Yoga Jeans online here.
Super Stretch/Jegging Jeans
When it comes to the classic Jegging or Super Stretch Jean that is extremely popular and everywhere today, you do need to be careful. They may be really comfortable and as stretchy as leggings, but if you don't get them right, they will stretch and get saggy, just like the classic 98/2 blend. I find the cheaper brands which make these jeans tend to become quite baggy after time, but if you choose something like the 7 For All Mankind Leggings, the normal PAIGE Verdugo jeans, the Rag & Bone Legging, the J Brand 620, the new GRLFND skinny jeans or the AG Legging Jeans, these are very stretchy and comfortable, with minimal stretching out qualities. This does depend on how much you wear them though. I find the Rag & Bone and GRLFRND do stretch out quite a bit out of that list.
– Buy these jeans online at REVOLVE and Shopbop.
Super Stretch/Retain Its Shape Denim
Now this is somewhat of a miracle isn't it? But it exists. It's a blend of amazing stretch which snaps back into shape without damage, a soft cotton, and a poly mix to keep it held in place. So far, the best super stretchy denim that I have come across which actually retains its shape and size is the PAIGE TRANSCEND Denim, The James Jeans Twiggy Dancer, and the new DL1961 Instasculpt Denim. These are like super stretchy leggings which you can pull out almost 2 sizes, but they mould to your body and cling like leggings do. Even after multiple wears, they don't stretch out and lose their shape at all, they remain tight and perfect. I've got experience with both the TRANSCEND Denim and the Twiggy Dancer, so I can say this is true! So if you are looking for a very comfortable jean to wear that wont stretch out, these are it.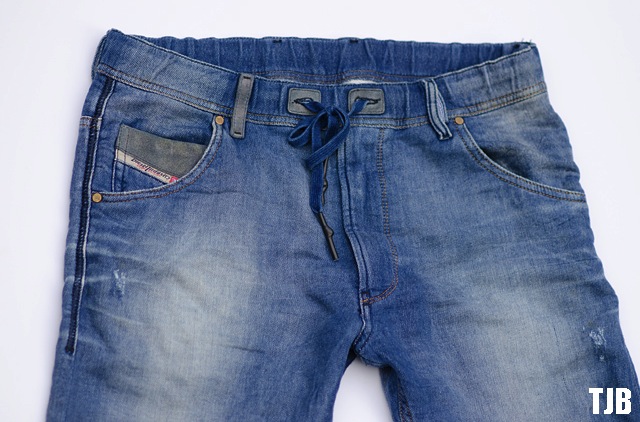 Jogg Jeans
Finally, I've included the Jogg Jeans from Diesel. You might not have heard about these, but since it's a newer fabrication, I have to include it. These are a hybrid denim which mixes denim and sweat pants together, creating a soft, comfortable sweat pant jean. Now, depending on which wash and cut you buy and whether or not you buy an older, original pair of Jogg Jeans or a newer pair, they will stretch. Adam has had countless pairs of Jogg Jeans because he loves the comfort, but the older pairs have become baggy and lost their shape. The newer styles tend to retain that a little bit better. They are great jeans though!
– Buy Diesel Jogg Jeans online by clicking here.
General Advice On Stretchy Jeans
My best advice to you if you if you want a classic jean with a more rigid or thicker denim, but you hate your jeans sagging in the butt and legs, is to buy them really tight and stretch them out, like I mentioned above. You can wet stretch them by dampening the tight areas and wearing them until they fit perfectly. Sometimes this is the only option if you have fallen in love with a specific pair you know will be loose after wear, just take a size down if you know it will stretch out and wet stretch them. I know it's hassle, but if you are a denim lover and you can't resist the jeans, it's the only way!
Otherwise, go for one of the other denim blends that I mentioned above. If you love a tight fit that is super skinny, then a TRANSCEND or Twiggy Dancer would be ideal for you because of how comfy they are and how much stretch they contain. They are definitely worth the investment and are a pleasure, not a chore, to wear. But please do take all the general advice from this post if you can, to help you make up your mind. Do leave me any questions below in the comments section too!

Buy all these jeans online at Shopbop, REVOLVE, Diesel and Levi's.