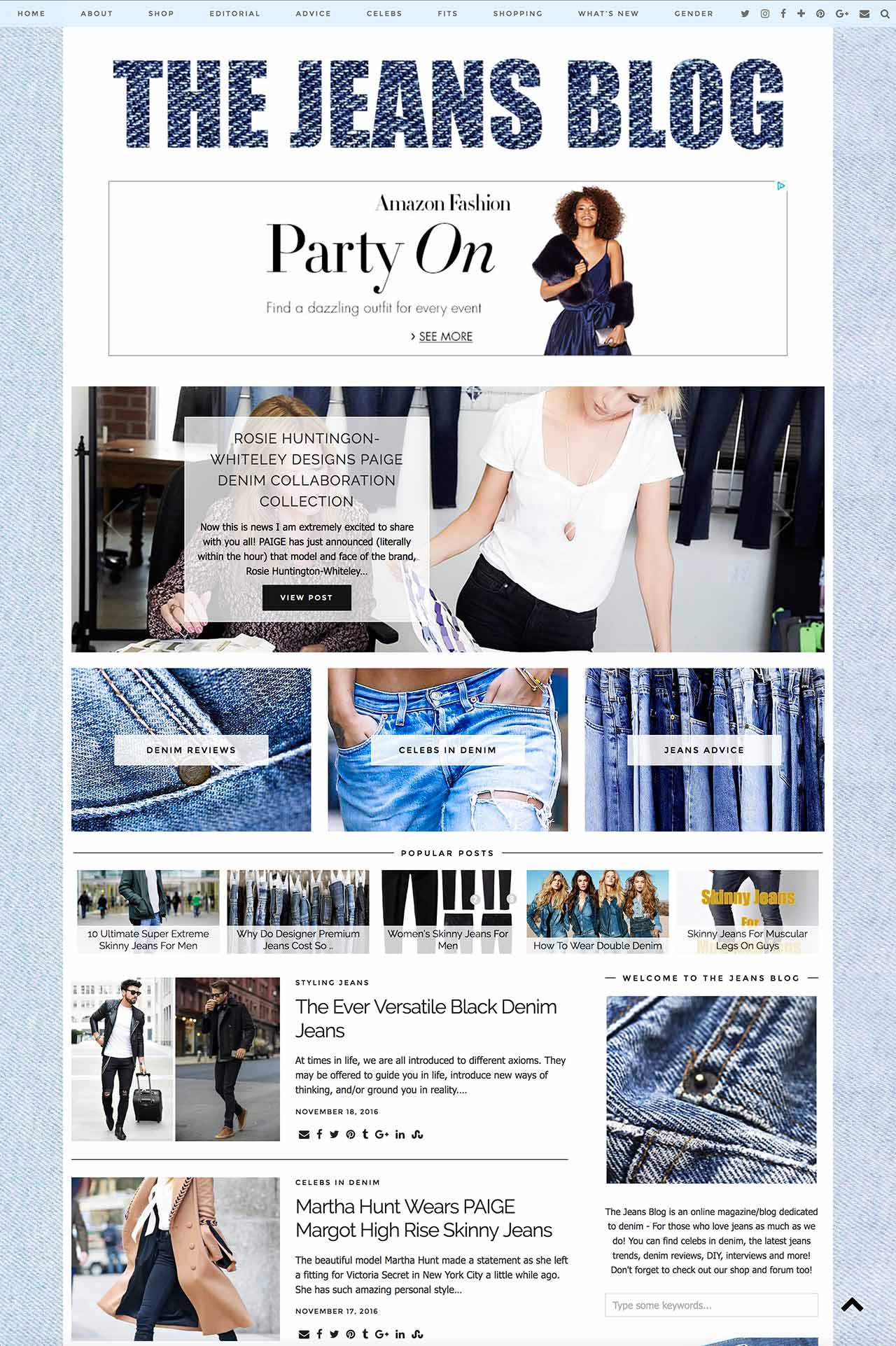 Why work with us? The Jeans Blog is an online magazine dedicated entirely to denim, for both men and women. It's owned and run by Lorna Burford, who you may know as the previous editor of DenimBlog and the owner of Raindrops of Sapphire. Lorna is a fashion addict and professional blogger that has had over 10 years experience in the blogging industry, with a huge passion and knowledge of denim. The Jeans Blog has loyal followers and readers from all over the world, with a huge majority of them being based in the US. It's been featured in numerous publications and Lorna herself has done many denim interviews as well. With a vast knowledge of SEO, collaborations with top brands, a retina ready website, and photos shot with a Nikon D610, The Jeans Blog is a great website to work with and promote your brand. You can find out more in our about page.
The Jeans Blog has had over 3,00,000 views in total and has a combined social reach of over 20,000…

What We Offer & Statistics

We can offer numerous ways in which we can partner up and work together. We make sure that every collaboration and partnership is personal and unique, so it keeps things interesting and true to the voice of the blog. These collaborations are done in a way that are always relevant to the site, so you can guarantee that the readers would find it engaging and not something that would be totally different to the usual content they love and have come to know here at The Jeans Blog. Some of these ways include:
Reviewing Denim
Sponsored Blog Posts
Advertising Banners
Social Media Exposure
Writing Content For Your Blog
Ambassador Of Your Brand
Giveaways & Contests
Sponsored Packages and more…
Monthly Stats – 30,000 page views and 18,000 unique visitors
Domain Authority – 52
Page Authority – 50
Top Countries: United States (highest), United Kingdom, Canada, Australia, Germany…
Instagram – 10,000 +
Twitter – 5,500 +
Facebook – 1,500 + and more…
You can see past collaborative posts here, here, here, here, here, here and here for examples. For more information, please get in contact for a media pack.
Brands We Have Worked With
We have worked with numerous brands and companies, ranging from high end designers to high street fashion denim brands. These have been reviewing jeans from the new collections, putting together sponsored posts and even collaborating on designing jeans for sale. Some of these include:
Denim Brands & Stores: 3×1, 7 For All Mankind, AMO, BLANK NYC, Citizens of Humanity, Cult of Individuality, Diesel, Donna Ida, East Dane, FitCode, Hudson, J Brand, James Jeans, Joe's Jeans, Levi's, LuisaViaRoma, MOTHER, PAIGE, PRPS, Rag & Bone/JEAN, RE/DONE Levi's, Revolve Clothing, Siwy, Shopbop, Singer22, Trilogy, True Religion, Wrangler, Yoga Jeans and more…
Awards & Publications
The Jeans Blog has been shortlisted for a few awards, while Lorna herself has won awards for her writing and blogging as well. It has also been featured in various different publications, both online and in print, including InStyle, Marie Claire Korea and many more. Awards include:
UK Blog Awards 2015 Fashion Blog of the Year – Finalist
Cosmopolitan Blog Awards Content Of The Year 2016 – Finalist
Get in touch with me on my contact page or email info[at]thejeansblog[dot]com for more information.