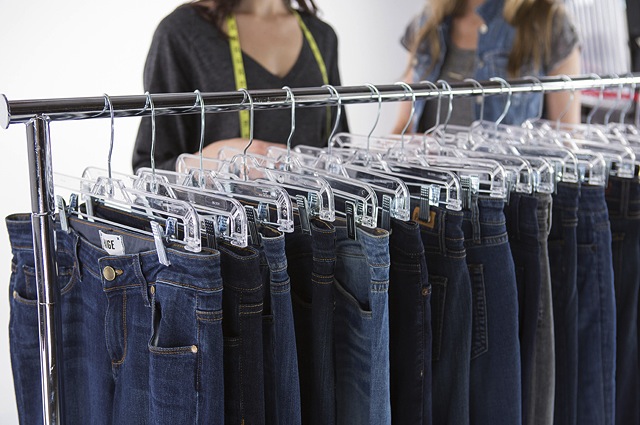 Fitcode is a new technology that's just come on the scene and it might be what you are looking for! If you have trouble finding the perfect fit jeans online as you don't know which style will best suit your body shape or flatter your hips and butt the most, Fitcode could be the answer!
Many ladies don't have the time or the travel ability to head to a premium denim store to try on the jeans in person, so online shopping can be quite daunting, but Fitcode is designed to take the scariness out of the process and tailor the choices to your requirements. I got the chance to interview the ladies behind the company and find out more about how it all works and why it's a great system to use if you need help in that department! Check out the interview below and check out the website here!
The Jeans Blog – Can you tell us what Fitcode is?
Fitcode – Fitcode is a lifestyle technology company that offers women a new way to shop premium denim jeans online – by fit, not size.
TJB – How did you come up with the idea for it?
Fitcode – After years of trying (unsuccessfully) to shop for denim online, and as many years working in the fashion industry as a model, I began to realize neither the consumer nor the retailer were happy with the online shopping process.
By combining our frustrations as consumers with our experience behind the scenes as models, my co-founder Bri and I began creating Fitcode to help consumers shop online more successfully. By changing the focus from size to fit and providing realistic images of real women in unaltered jeans, we believed we could create an environment that would benefit both the consumer and the retailer.
TJB – How does it work?
Fitcode – Fitcode works through a unique combination of a 5 question fit quiz, an algorithm fed by hundreds of denim measurements, and finally our hands on approach to picking denim specifically for your unique body shape.
After taking the fit quiz and getting their Fitcode, the user can then shop in their "denim boutique" through a curated page of jeans hand-picked for them, access a denim details pages on each of the jeans that contains in-depth fit information, and even see a video of a woman with their Fitcode in that jean.
Additionally, the user can install the extension on Chrome (and soon Safari and Firefox!) and see their Fitcode badge on jeans on supported retailer sites (Nordstom.com currently), which highlights denim within their Fitcode and gives them access to the denim details page out in the wild.
TJB – It's brand new on the scene, when will you be launching Fitcode?
Fitcode – Fitcode is currently in its beta testing phase and ready for users, but we are excited to launch formally on July 14th of this year.
TJB – Who would be your ideal customer?
Fitcode – Our ideal customer is any woman who loves to feel good in her jeans but may not have time to stop into a store and try or buy from there. From the busy mom to the bustling fashionista, Fitcode is here to help all women find jeans that fit.
TJB – What unique experience can people expect to get when using the site?
Fitcode – Our unique focus on fit, not size and our in-depth denim details page that offers the consumer otherwise unknown fit information on each jean along with the chance to comparison shop between brands and retail sites, means that women can get their best fit jean at the best price.
TJB – What's been your history with denim?
Fitcode – A lifelong denim lover, my most informed history with denim comes from shooting years of denim for many top online retailers. After wearing thousands of jeans over the years, I have seen first hand what it takes to make a pair of jeans look good for a photo and how how fit and size vary widely across brands.
TJB – It sounds great! Thank you!