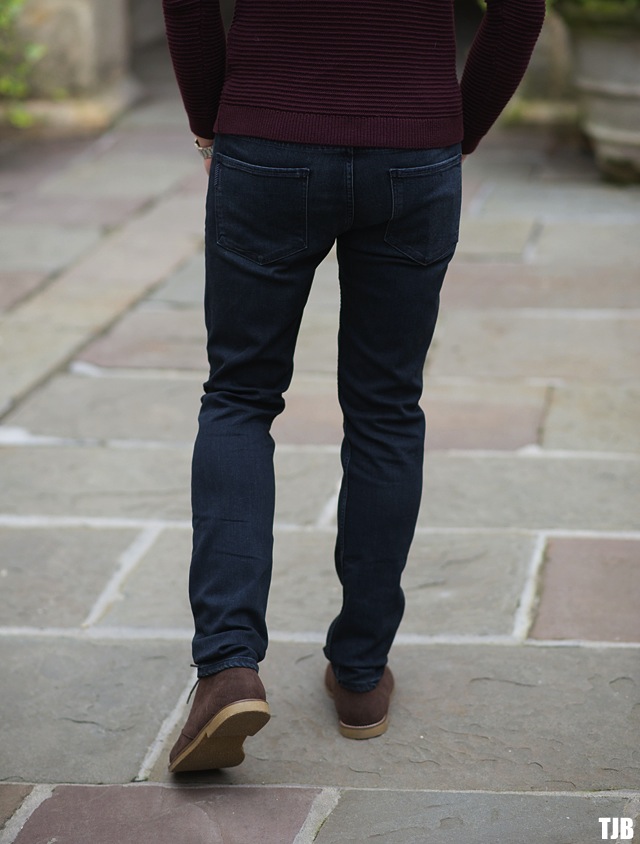 This review is for the Paige Transcend Croft Skinny Jeans in Hopper wash which we received directly from Paige a few week ago. These jean are from their range of Transcend Jeans, Which are their bestselling fabric, ultra soft and incredibly comfortable, with lots of other benefits that you can read about just below. Lets get this review started.
The Fit – This latest pair is in the Croft cut, which has a super skinny fit (Paige's slimmest). I'm personally a fan of slimmer cuts and this pair fits the bill perfectly. They are not an extremely skinny fit despite the name, in my opinion this is for the better as I was worried they would have that leggings look which seems to be all too popular amongst brands these days when they create skinny jeans. They are still close cut to the thigh, but a little more roomy in the calf area which is great for high tops and boots. The rise is fairly low at 9.5 inches wile the leg opening is a fairly generous 12 3/4 inches, considering they are a skinny fit. But again, this is something preferable to me as it makes pairing with footwear a little easier.
The Sizing – I took a 31 waist with these, in comparison I take a 30 with their nearest rival, the Diesel Jogg Jeans Thavar / Tepphar or a 31 regular Diesel and a 32 in Levi's, but the 31 was definitely the perfect size for me in these. I could have sized down one but it would have been unnecessary. They would have fitted as they are so stretchy, but it wouldn't have made them fit any better. Finally they have chosen a zip fly to complete the look as I don't think buttons would suit the fabric.
The jeans provide a great silhouette overall, very flattering on the legs and butt without being overly tight, in part due to the transcend fabric which I will explain more about soon. They are unbelievably comfortable and very stretchy, in contrast to wearing normal denim, which you cannot wait to get out of at the end of the day, these can be lounged in for a long period of time without any discomfort.
The Denim – The Transcend denim is absolutely sublime, so soft and comfortable, it does feel like you are wearing jogging trousers, and not designer denim, but the difference being they have a great fit. Another bonus aspect is that they hold their shape, even after multiple wears for extended hours, they still fit exactly me the same as when they did new, something that competing brands fall down on. Comparing to Jogg Jeans from Diesel they are simply a step up, the Joggs after a few wears start to lose structure after extended wears and they start to have a permanent sag and overall looseness. The Transcend show no such signs despite heavy wear. The denim is comprised of multiple parts, 54% Rayon, 23% Cotton, 22% Polyester and finally 1% Spandex. And of course like all Paige Jeans, produced in the USA.
The Wash – The new Hopper wash is a beautiful very dark blue, which can almost look like a washed black with tints of navy when out in the daylight. It has a similar look to a classic pair of jeans I used to live in, Nudie Indigo On Black, which was a beautiful wash. But this pair matches that perfectly. It is a great colour that will go with almost anything, can be dressed up smart with boots or equally impressive teamed with a pair of high tops. The detailing on this pair is kept to a minimum with no overly contrasting colours from the buttons and studs, appearing in a dark brown colour as is the leather patch on the waistband. Even the Paige markings on the back pocket are kept tonal and subtle, so much so as it's barely noticeable. All in all a perfect wash for everyday wear.
Overall Opinion – These are a fantastic addition to the Paige line, and a pair I'm quite happy to add to my wardrobe, so much so I own three pairs of Croft now. As mentioned the Diesel Jogg Jeans in the Thavar cut is otherwise my most favourite pair of jeans. The Diesel brand was the first to unveil super soft, stretchy denim for men and what made me finally so goodbye to 100% denim jeans forever. However, this pair of Transcend has gone one better, now making them my current favourite. They have a better fit, holds their shape and have a more striking wash. Definitely recommended. I'm hoping they release many more washes to their Transcend collection, especially a lighter wash for summer. These are a definite must try for any of you looking to find comfortable, stretchy jeans that hold their shape in a slim fit, or simply wanting to copy Harry Style's favourite jeans cut.