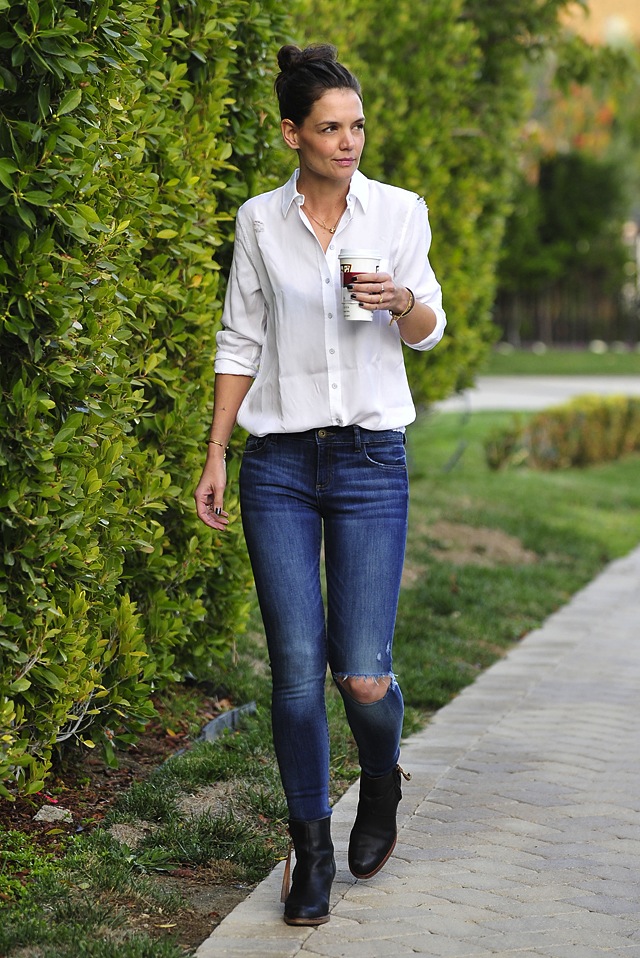 Get Katie Holmes' DL1961 Skinny Jeans & White Shirt Look
A style icon in her own right, Katie Holmes was spotted while grabbing some coffee on January 5th 2015 in Los Angeles, California. She was once famed for having a glamorous fashion sense like her friend Victoria Beckham, but then decided that comfort and practicality was more important during her marriage and early motherhood years, but I'm now pleased to report that over the last couple of years, Katie Holmes has managed to marry the two styles together and create one individual look, which resembles her perfectly.
Katie definitely loves skinny jeans as we tend to spot her out in them quite frequently, much like this pair here, the DL1961 Florence Instasculpt Skinny Jeans in Seymour. She tends to often favour dark blue washes, but she's branching out a bit by incorporating distressing here! Keeping it clean and sophisticated though, Katie styled her DL1961 Jeans with a Blue Shirt Shop button up and some black ankle boots. I've personally scoured the internet for the exact pieces and some look a like shirts and boots for you Jeans Blog readers to copy or get Katie Holmes' look. I know most of you denim lovers will adore this simple, yet elegant outfit, so check out the buying options below!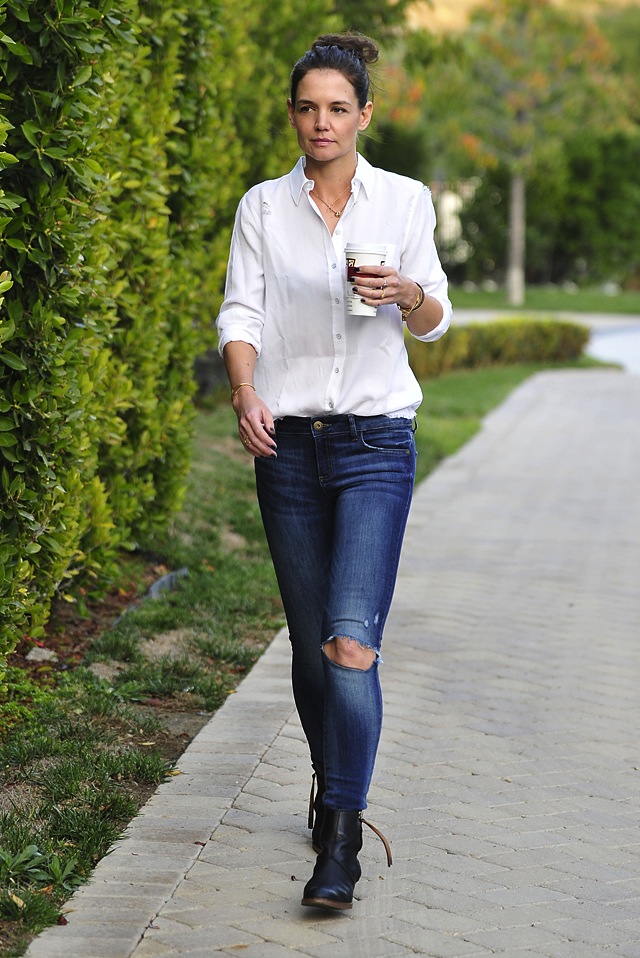 These are the exact jeans that Katie Holmes wore, the Florence Instasculpt Skinny Jeans in Seymour. These jeans are engineered to instantly sculpt the legs, butt and waist while providing extreme comfort and shape retention, meaning they wont stretch out or get baggy. They use DL1961's DLX 4 way stretch denim for this. They feature a slimming 30" inseam making them suitable for most ladies and a comfortable 9" rise, keeping everything tucked in. Not only is the fit and denim perfect on these jeans, but the wash is gorgeous too! That perfect shade of dark blue with fading, distressing and a ripped knee. It really helps bring this smart look into a casual element. Shop all DL1961 Jeans online at Shopbop here or buy the exact pair here.
White signature Button Up Blouses
Equipment | Equipment | Equipment | Equipment
When it comes to the crisp white shirt that Katie wore, she did choose a white button up from the Blue Shirt Shop which is coming soon to DL1961! It's an extension of their clothing line and it looks amazing! Since hers isn't available just yet, you can get the clean white button down look from anywhere and one of my favourite brands that does classic versions in a feminine way is Equipment. I've listed 4 different white shirts by them which I think would complete Katie's look wonderfully. Nothing beats a crisp, white shirt with jeans!
Black Ankle Boots
Katie is a huge, and I mean huge, fan of ankle boots. We spot her almost exclusively in them when we see her out in candids. Usually she likes to opt for ankle boots with a slight heel to them like the Rag & Bone Harrow boots, however for this look she went with a pair of flat black boots. I'm not 100% sure on the brand she is wearing here, but I know that these Sam Edelman Petty Booties make a great alternative, as do many others! You can shop the full ankle boots collection online at Shopbop so you can rock her style! What do you think of Katie's simple and clean skinny jeans look here?
– Celebrity images from StarTraks Photo/Jack Hammer.