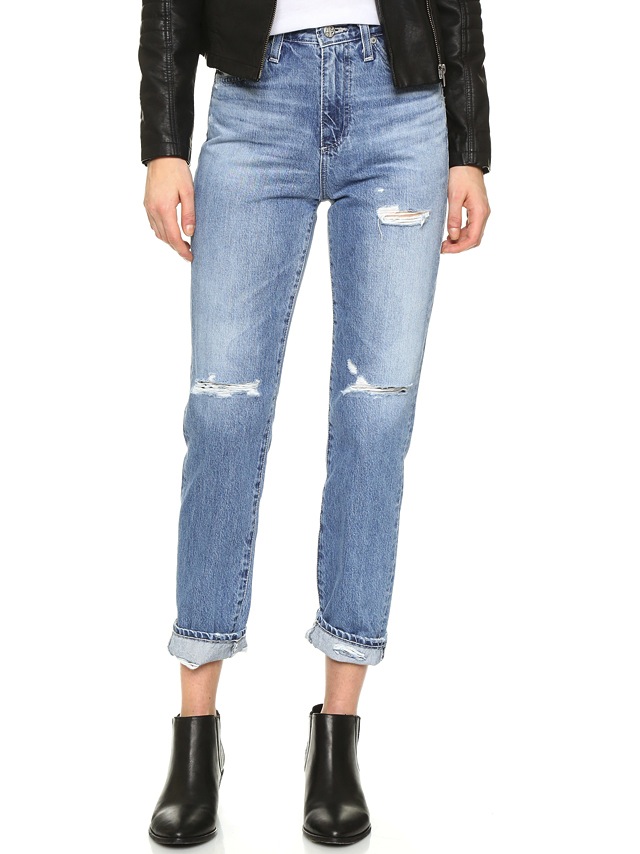 The brand new AG The Phoebe High Waisted Jeans in 17 Years Oasis are amazing! Not only are they keeping on trend with the classic high rise, straight leg vintage inspired fits that are popular right now, but they are also modern in a way that doesn't date them. They have heavy fading and whiskering to make the wash look authentic, but they also have rips and distressing to increase their vintage factor, making them look really used.
The best thing about these jeans is the fit though, they aren't designed to be worn tight so they have a slight slouch to them, which given the fact that they are 100% cotton, will only add to the comfort and move-ability of the jeans. They feature a 10.75 inch rise, an inseam of 28.25 inches and a leg opening of 13.5 inches, so you can see what kind of fit they will give.
AG Jeans is always known for having their signature stitching on the back pockets, but to keep with the vintage theme here, they decided to make these jeans plain. What do you think of the AG The Phoebe jeans? You can buy them online for $245 at Shopbop and Revolve Clothing. We'd love to hear your thoughts! You can also see lots more fit pictures below.