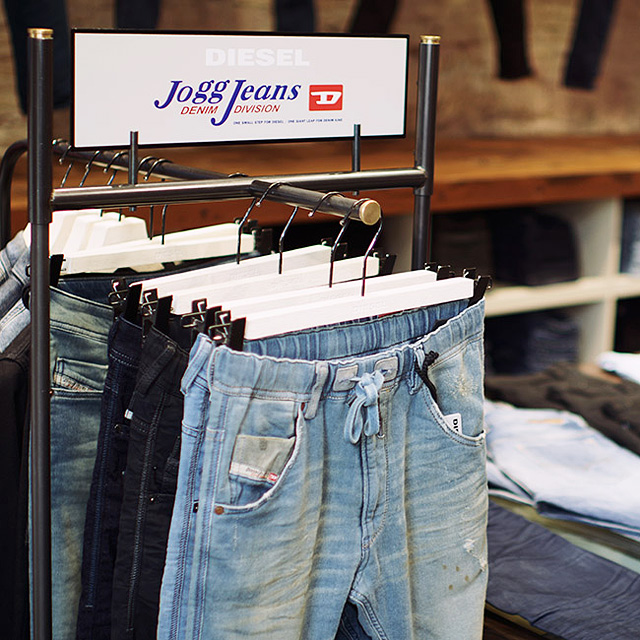 We all love denim, this is a blog about denim after all! So, jeans are a must have addition to every wardrobe and they team well with most outfits. I personally live in jeans, but sometimes they are not the most ideal or comfiest of clothing choices, especially for travelling or on a hot day. This is where Diesel's Jogg Jeans come in. They have been available in their clothing range for a couple of years now, and loved by so many!
At first, I was very anxious to try them as the very idea of mixing jogging trousers with denim just didn't seem like it would work. I was finally persuaded to try a pair and once I slipped them on, I was convinced! And very much in love with them. The feeling of softness is unlike any pair of jeans I've tried before. They are pretty much all I wear now (I've since gained 6 pairs!) and despite the soft material, they still look just like denim jeans. Plus, the restriction free movement whilst wearing them is fantastic, even in the skinny cuts.
So, what actually are Jogg Jeans? They are a hybrid fabric, mixing jersey and denim together. The unique flexible material of Jogg Jeans denim is exclusive to Diesel and it means you can literally do anything in them! This includes, yoga, all types of dance, running and more, they are that stretchy. To show just how versatile and cool Jogg Jeans are, Diesel created a campaign video, showcasing the movement of the denim through an explosive interplay of classical and street-based dance. The focus was on shape and movement – exploring the surreal flexible denim 'look' of Jogg Denim. The movement emphasizes the extremes – pushing the human body to the limits of shape and form by showcasing 26 of the world's favourite dance styles from krumping and twerking to rumba and bhangra, revealing the movement potential of Diesel's Jogg Jeans. It's definitely a cool video and really shows how amazing Jogg Jeans are, you can watch it by clicking here.
"Jogg Jeans puts the durability of Diesel denim into motion. A cutting edge crossbreed between jeans and activewear, crafted in a unique fabric that weaves together the style of denim with the versatility of jersey, it's the original hybrid jean. You now have the freedom to move like never before."
I personally find that Jogg Jeans are more popular for the guys and they come in many of the famous cuts like Krooley, Thavar, Tepphar and more, as well as in a whole range of washes. Some of them have drawstrings at the waist and no zipper, while others have the normal button up and zip fly. They act and look just like jeans, but with the comfort of sweat pants. If you haven't tried them yet, I definitely recommend you do! So many people have been converted to the new world of Jogg Jeans! I've included a few of the best pairs of Jogg Jeans available right now as well as a pair of Jogg Shorts too, which are perfect for summer! These are definitely a great invention from Diesel, I can't wait to see what new washes and fits come out for their Autumn Winter 2014 collection. Check them out below!
Diesel Jogg Jeans Thavar 0604Z
Diesel Jogg Jeans Krooley 807T
Diesel Jeans Jogg Thavar 0830Q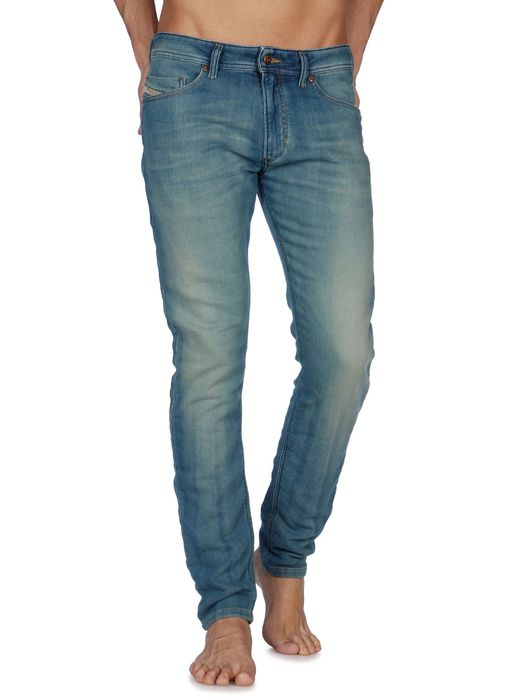 Diesel Jeans Jogg Tepphar 811W
Diesel Jeans Jogg Sleenker 0608V