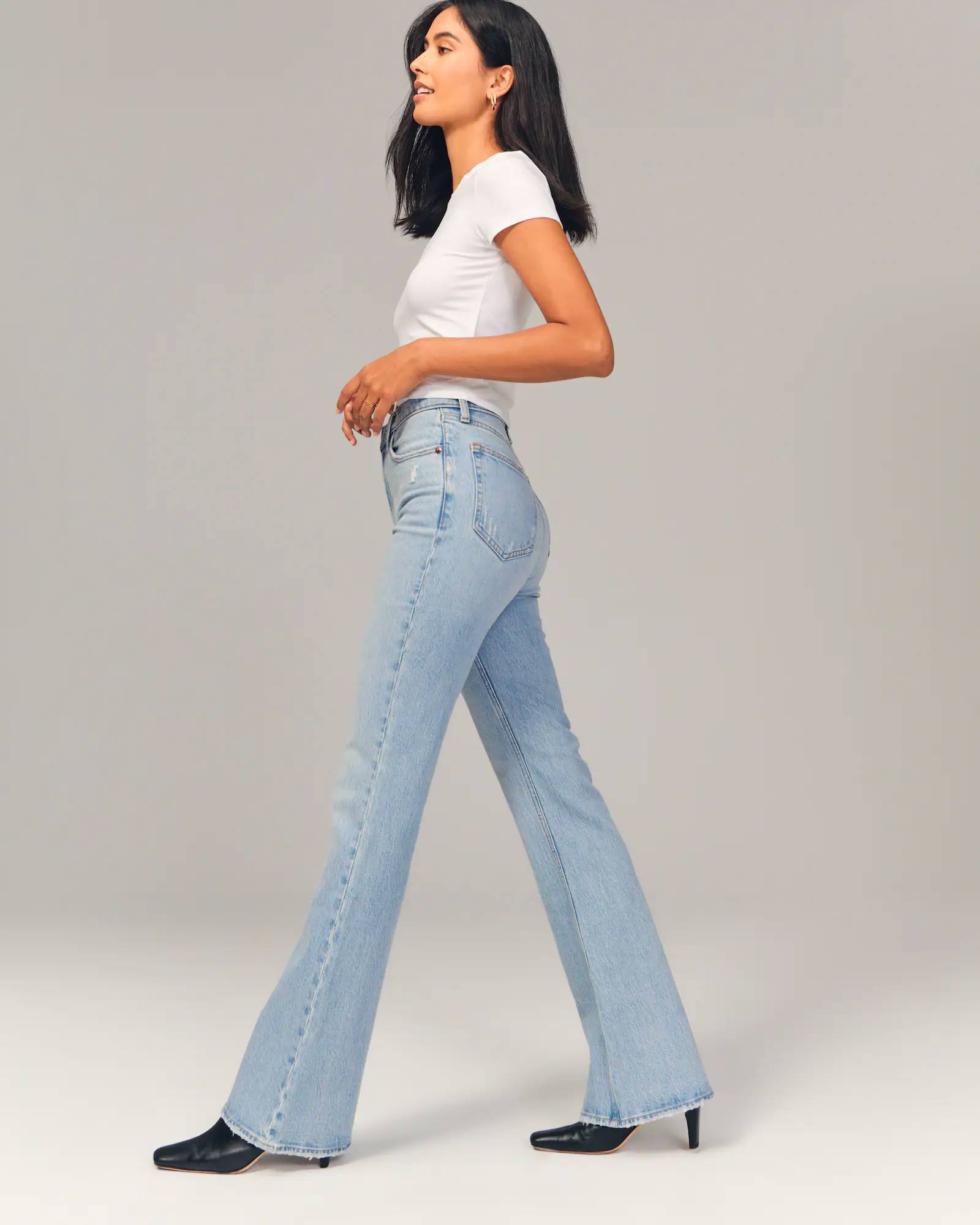 When it comes to more affordable jeans that fit really well, Abercrombie & Fitch always come out on top! I've seen that they have won awards for their denim and so many of their jeans are popular among celebrities, influencers and everyone else. I think their most popular fits are the mom jeans and the super skinny jeans, as they're a classic everyday style that you can't go wrong with! The good thing about Abercrombie & Fitch jeans though is how inclusive they are. They go from size 23 up to 37 and they have 5 different inseam lengths ranging from extra short to extra long. So, since Abercrombie denim is such a winner, loved by so many of you, I've put together a style guide of the top 6 Abercrombie & Fitch jeans that you need right now! Check them out below!
Abercrombie & Fitch Ultra High Rise 90's Relaxed Jeans
Buy these Relaxed Jeans here for $89
Since relaxed fit jeans are trending at the moment, the Ultra High Rise 90's Relaxed Jeans are one you don't want to miss out on! They come in 19 different washes, which is amazing, and they retail for only $89 (you can always get a discount in some way too). I think these would be perfect with some sneakers and a crisp button down shirt!
Abercrombie & Fitch High Rise Mom Jeans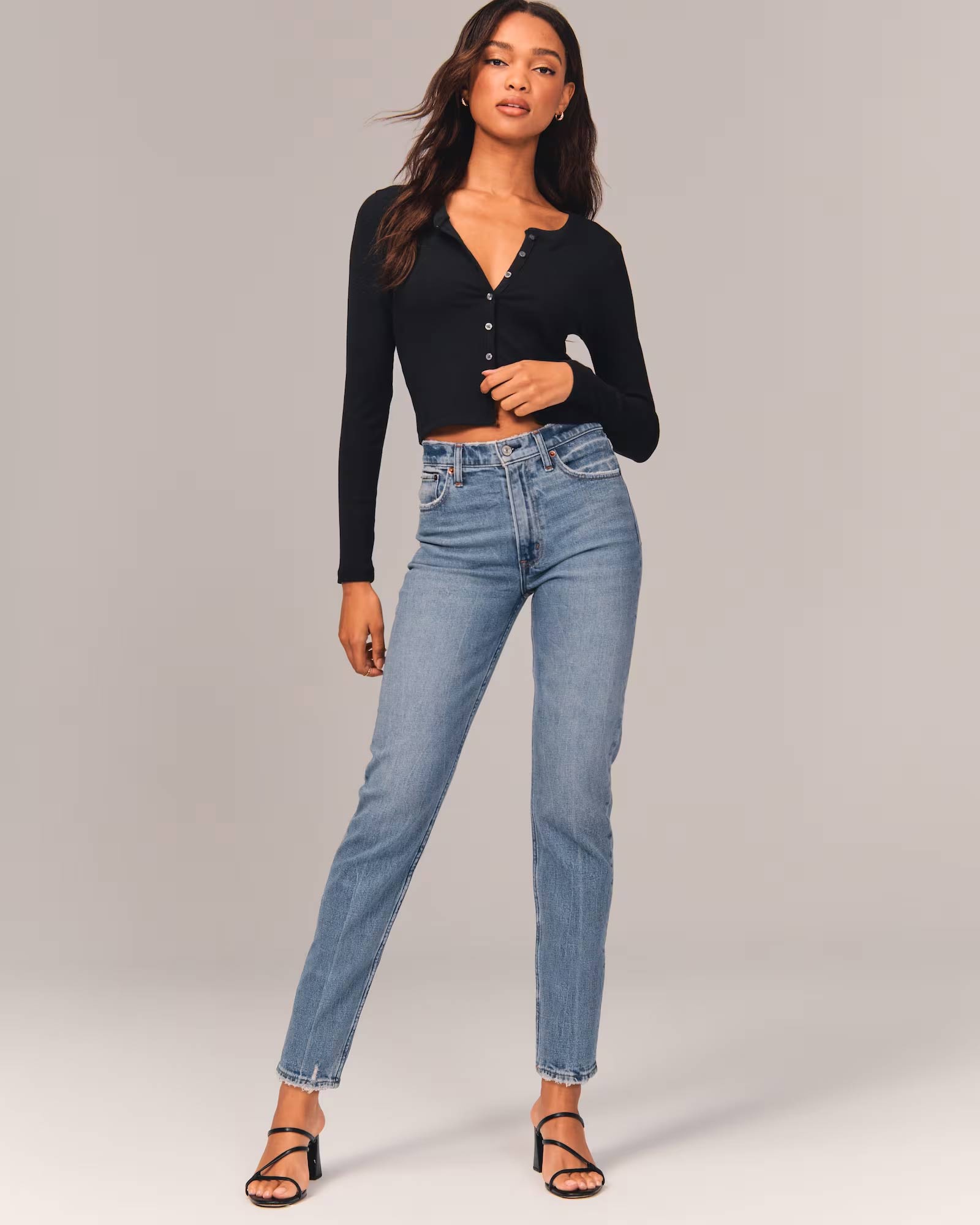 Buy the Mom Jeans online for $90
The High Rise Mom Jeans has been one of the most popular fits from Abercrombie for a while! I'd say that it's a staple in their collection and loved by everyone. This fit comes in 6 different washes, including a Curve Love selection, and it retails for $90. I love that you can get the perfect fit in these no matter your body type as there are so many sizing options.
Abercrombie & Fitch High Rise Vintage Flares Jeans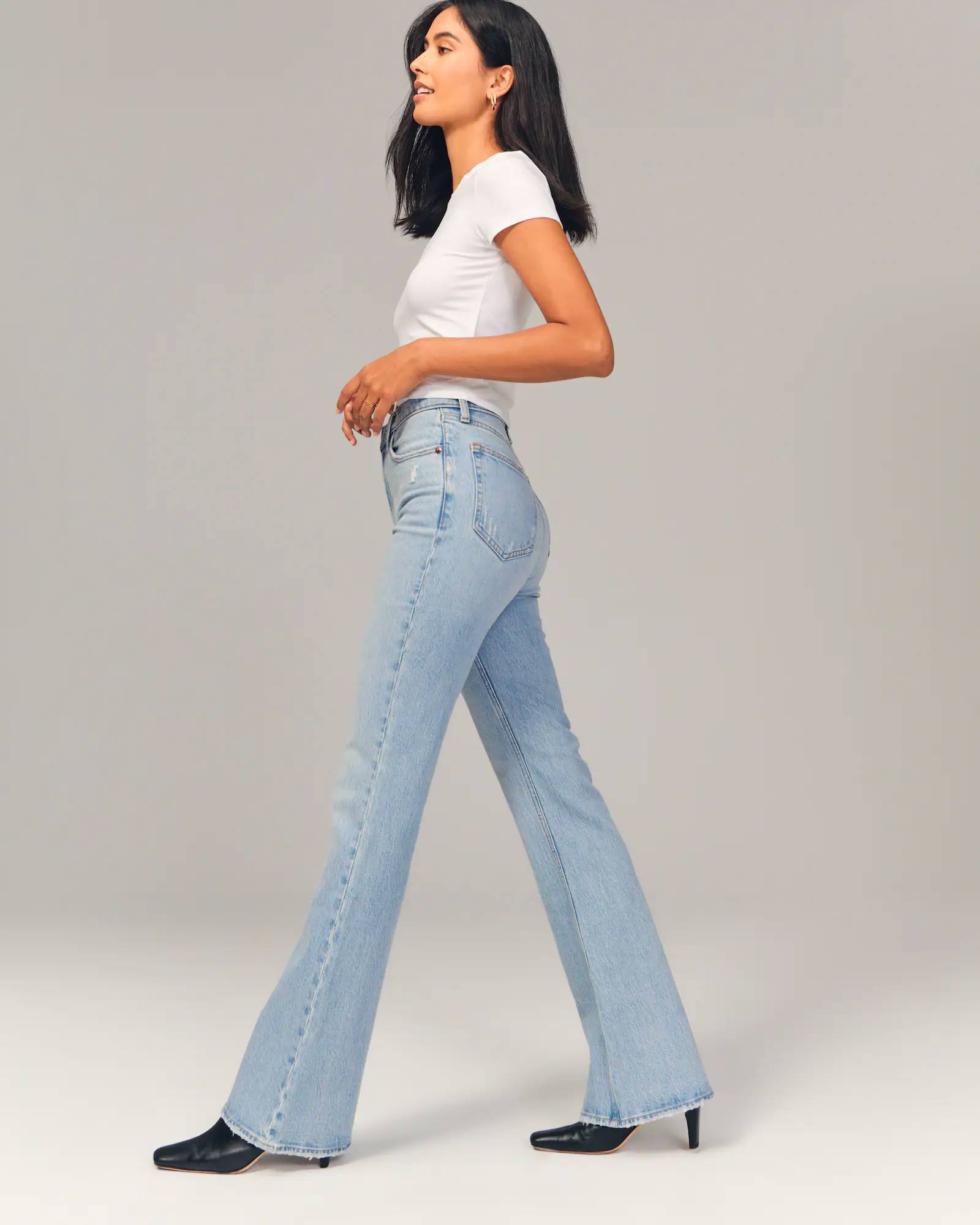 Shop the Vintage Flared Jeans for $90 here
Now we know that flared jeans are having a moment again and the Abercrombie & Fitch High Rise Vintage Flared Jeans are just gorgeous! You will absolutely get the perfect fit too since they come in sizes 23 – 37 and there are 5 different inseam lengths, so you wont have to worry about hemming them if you're shorter like myself, or worry about them being too short if you're blessed with height! These jeans come in 5 different washes as well, so they're definitely a must have for $90!
Abercrombie & Fitch High Rise Super Skinny Jeans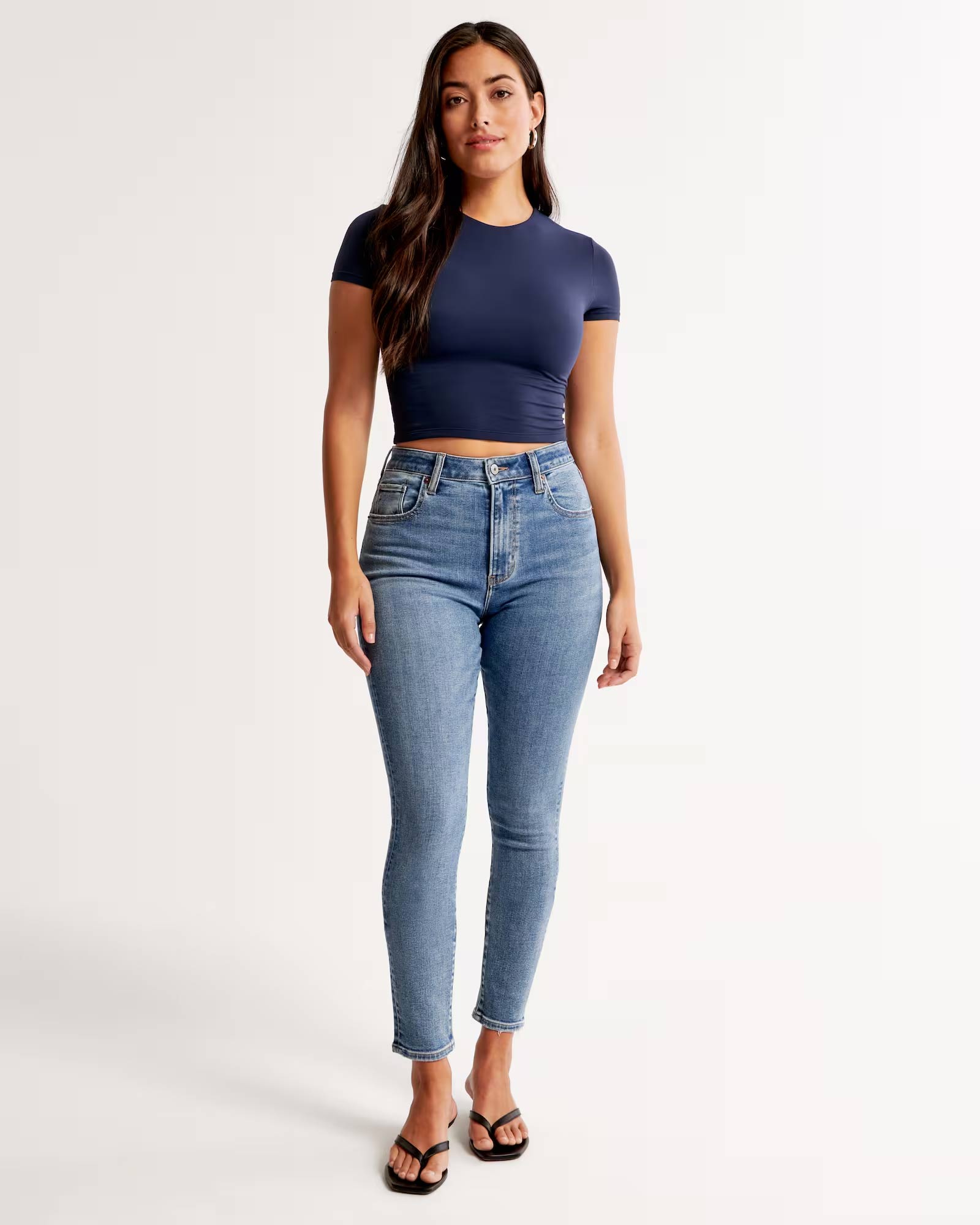 Get the High Rise Skinny by clicking here
Next up we have one of the popular fits, the High Rise Skinny Jeans! These of course come in the regular fit as well as their Curve Love fit, which is designed for bigger hips and thighs, and smaller waists. There's 9 different washes in the High Rise Skinny, and of course they come in a wide range of sizes and 5 different inseams, so they are literally the perfect skinny jean! I have tried a pair of these and the fit is really flattering and comfortable too! Plus, they only retail for $80! Curve Love and Regular Skinny.
Abercrombie & Fitch High Rise Loose Jeans
Get these High Rise Loose Jeans for $90
Now this is a brand new fit to Abercrombie & Fitch – the High Rise Loose Jeans. These do come in a low rise version as well, but this particular higher waist is going to be really popular. It retails for $90 brand new and comes in 6 different washes. Since baggier jeans are on trend, these are a pair you need!
Abercrombie & Fitch 90's Ultra High Rise Straight Jeans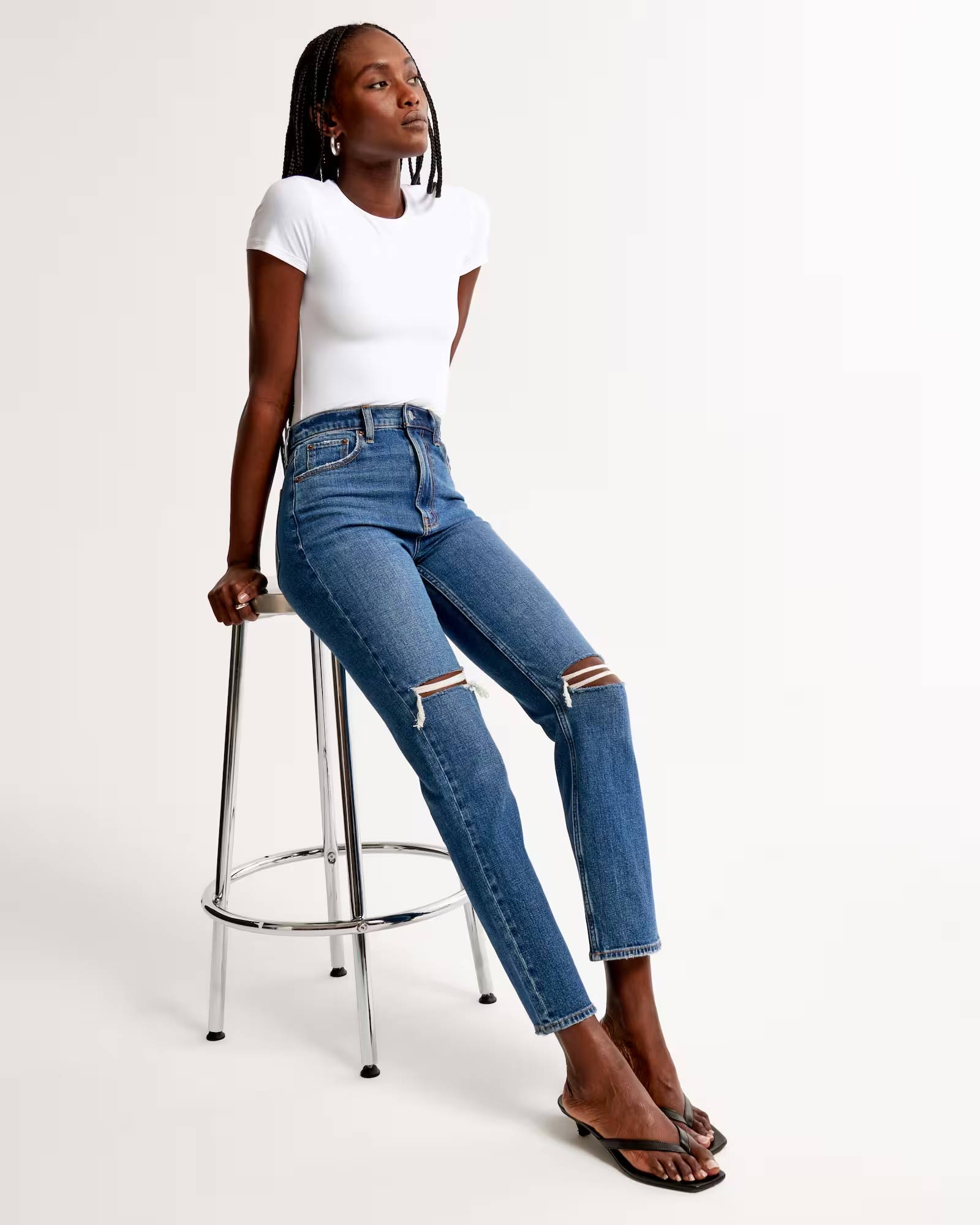 Buy these 90's High Rise Straight Jeans here

And last, but definitely not least, we have the 90's Ultra High Rise Straight Jean! These are so reminiscent of the 90's and remind me a lot of Rachel's jeans in Friends. They also come in a regular high rise straight, and not a 90's fit, and with both straight cuts combined, they have 39 washes! The most of them all! They retail for $100 and they're definitely going to be a popular fit, so I can't recommend these jeans enough!
– So these are the top 6 Abercrombie & Fitch jean styles – which pair do you love?