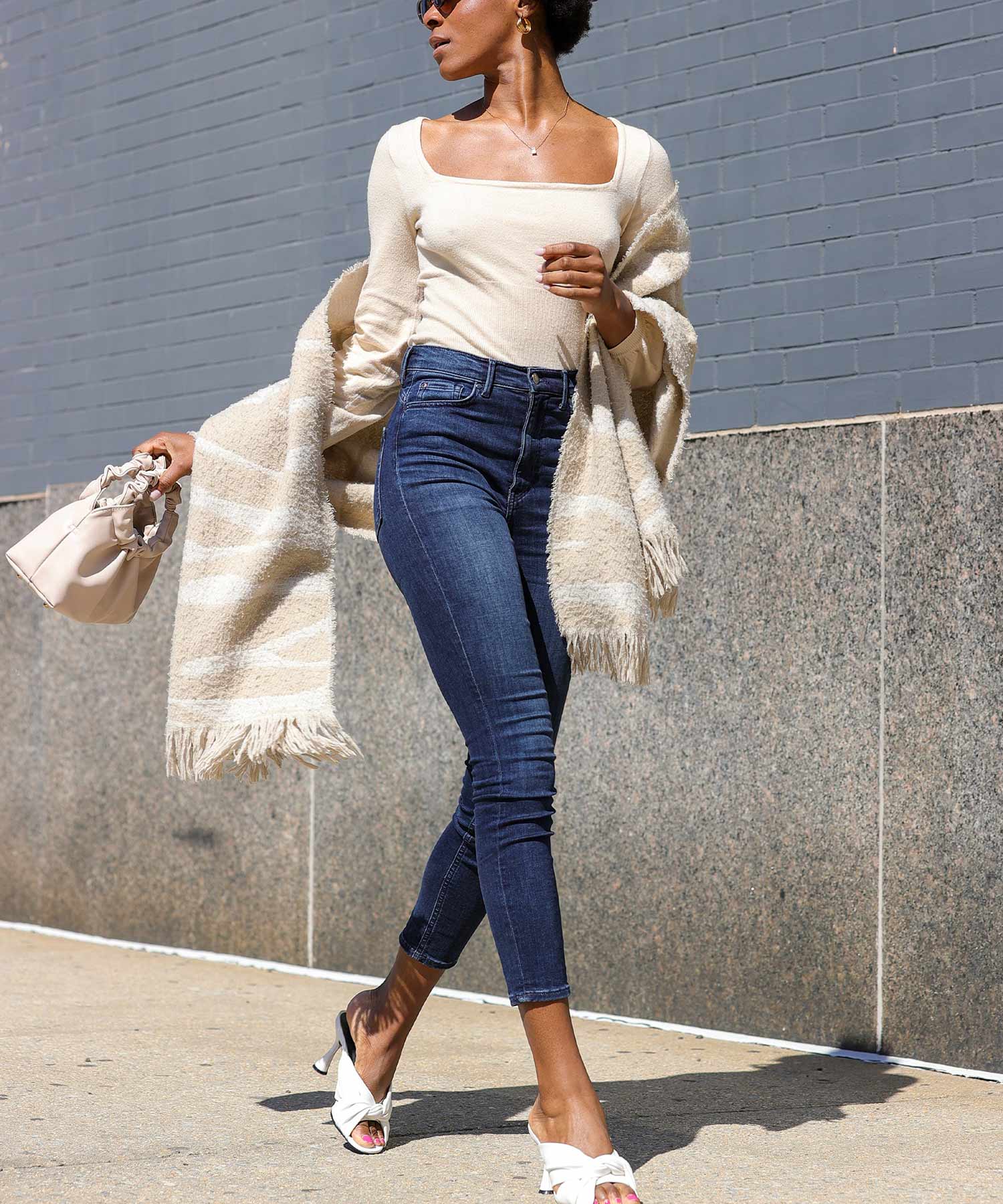 You might not realize it, but denim leggings (often called "jeggings") are one of the biggest innovations to have ever become part of our collective fashion vernacular. Unlike many fads, denim leggings have managed to stay in the mainstream after entering it in the late 2000s, arguably outlasting the less comfortable super-skinny jeans that inspired them.
Denim leggings' perfect combination of timeless denim style and comfort has proven to be a winning combination. While it's hard to beat a great pair of traditional jeans, finding that perfect pair has always been a challenge. A pair of jeans that looks flattering on you might not be all that comfortable—and a comfortable pair won't always have the sleek look that goes so well with the rest of your wardrobe. Denim leggings let you have it all and are usually quite affordable and long-lasting to boot.
Today, these leggings can be seen worn in a wide range of situations by people of all ages. You'll just as likely see them at a party as you would in a casual corporate setting. They're already as effortless as clothes can get. But if you want to elevate your look, these classic pairings should give your denim leggings a leg up:
Ankle Boots: Pair your denim leggings with stylish ankle boots for a chic and versatile look. The sleekness of denim leggings is an especially good match with sleeker ankle boots. Choose a classic black for an understated look or a bold-hued pair to add a pop of color to your outfit.
Long Cardigan: Throw on a long, cozy cardigan over your jeggings for a relaxed yet fashionable appearance. This combination works well if you like the look and comfort of denim leggings but aren't especially keen on the way they highlight your hips and butt. If you're going with this combination, longer and looser cardigans are usually the way to go.
Statement Blouse: You can dress up your denim leggings with a fashionable statement blouse. Whether it's something with an unusual cut or a piece with unique patterns, a good pair of jeggings will add an element of sophistication. For an even more upscale look, choose blouses made from silk or other premium materials.
Blazer: A well-fitted blazer can instantly transform your jeggings-anchored outfit into a polished ensemble that's fit for many business casual settings. For the best results in professional settings, choose a neutral blazer that complements the color of your leggings. Save the statement blazers for more casual nights out.
Heeled Sandals: The right pair of heeled sandals can make your denim leggings look a bit more dressed up. The extra height works with the typical slim legging silhouette to elongate your legs and add a small touch of elegance to your outfit.
Statement Jewelry: Key statement accessories can make a significant difference in how your denim leggings work within your ensemble. A bold statement necklace, a chunky bracelet, or a pair of statement earrings can be the key pieces that take your jeggings from casual to stylish.
Belt: If you're not a fan of the looser tops that often go with denim leggings, you can cinch your waist with a stylish belt to create a defined silhouette. Doing this adds an extra layer of detail and style to your denim leggings and gives your ensemble a chic vibe.
Tunic Top: A long, flowing tunic top is another classic jegging pairing. Consider getting a piece made with natural fabric and that has more texturing. You can also add a belt to accentuate your waist for a more put-together look.
Leather Jacket: Layer a leather or faux leather jacket over your top for a classically edgy biker-inspired twist. This combination works for much the same reasons that regular jeans do but offers the comfort and freedom that only stretchy leggings can give.
General Tips for Styling Denim Leggings
Some denim leggings look more like jeans and others more closely resemble leggings. The garment they look more like generally determines whether or not incorporating your jeggings into certain ensemble combinations looks appropriate.
Denim leggings give you the look of jeans but offer the forgiving fit of leggings. This leniency, however, has its limits. Stick with your size when possible and avoid baggy or overly tight sizes for maximum outfit versatility.
As with jeans, darker jeggings tend to be safer bets for a more sophisticated appearance. Lighter jeans tend to evoke a more casual, carefree look.
Denim leggings may look like jeans at a glance, but because of their materials, they can lack the signature textures at the waist and ankles that make regular jeans what they are. Using longer tops and belts that cover the waist and footwear that takes attention away from the hems can help denim leggings look more like jeans.
It takes very little effort to integrate denim leggings into most outfits. But if you want your ensembles to be a bit more on fleek, mixing and matching the pieces above should be a great way to get started. Don't limit yourself to these suggestions, though. Checking out look books for both jeans and leggings should help give you plenty of other ideas on how to style your favorite pairs of denim leggings.