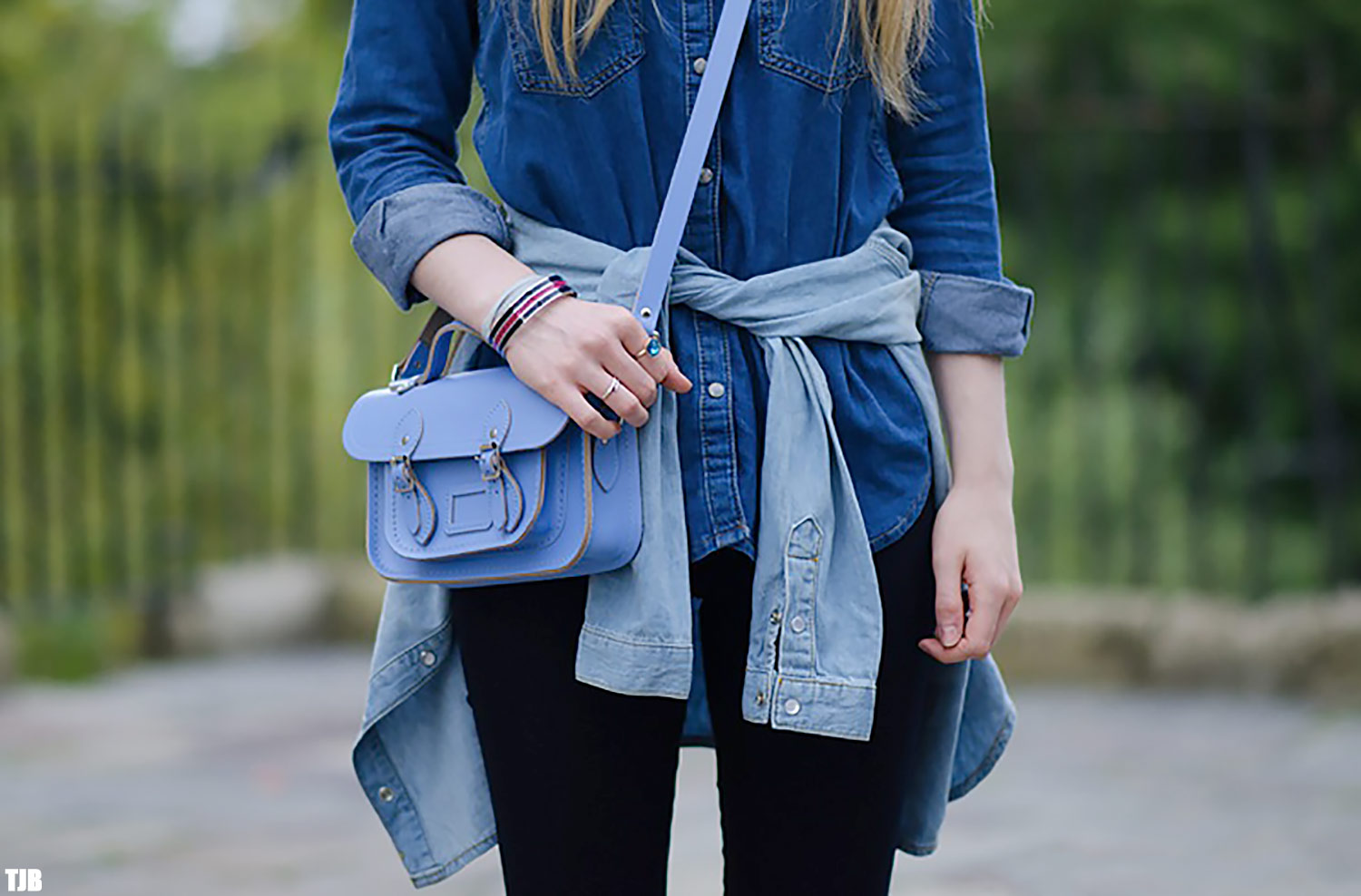 How To Wear Denim On Denim
You may remember my post on how to wear double denim from a couple of months ago, but one thing that I didn't cover too widely in it was triple denim or denim on denim multiple times. As Fall is now here, triple denim outfits are going to be cropping up everywhere as people just want to incorporate more and more denim into their wardrobe. A lot of people still think that double denim is a no go, but a lot are coming around to the idea, so hopefully you will all like triple denim too!
I recently wore this triple denim outfit (above and just below) and I couldn't love it more! Being the denim addict that I am, the more opportunities I get to wear denim, the more I will jump on it! So, with that being said, how do you wear multiple denim on denim and make it look chic, not bleak? The key is in the shades of denim you choose and of course, the styling! Find out my top tips for rocking it in the Fall/Winter as well as the Spring/Summer and guys, don't worry, this isn't just a post for the ladies, I've styled multiple denim outfits for you too!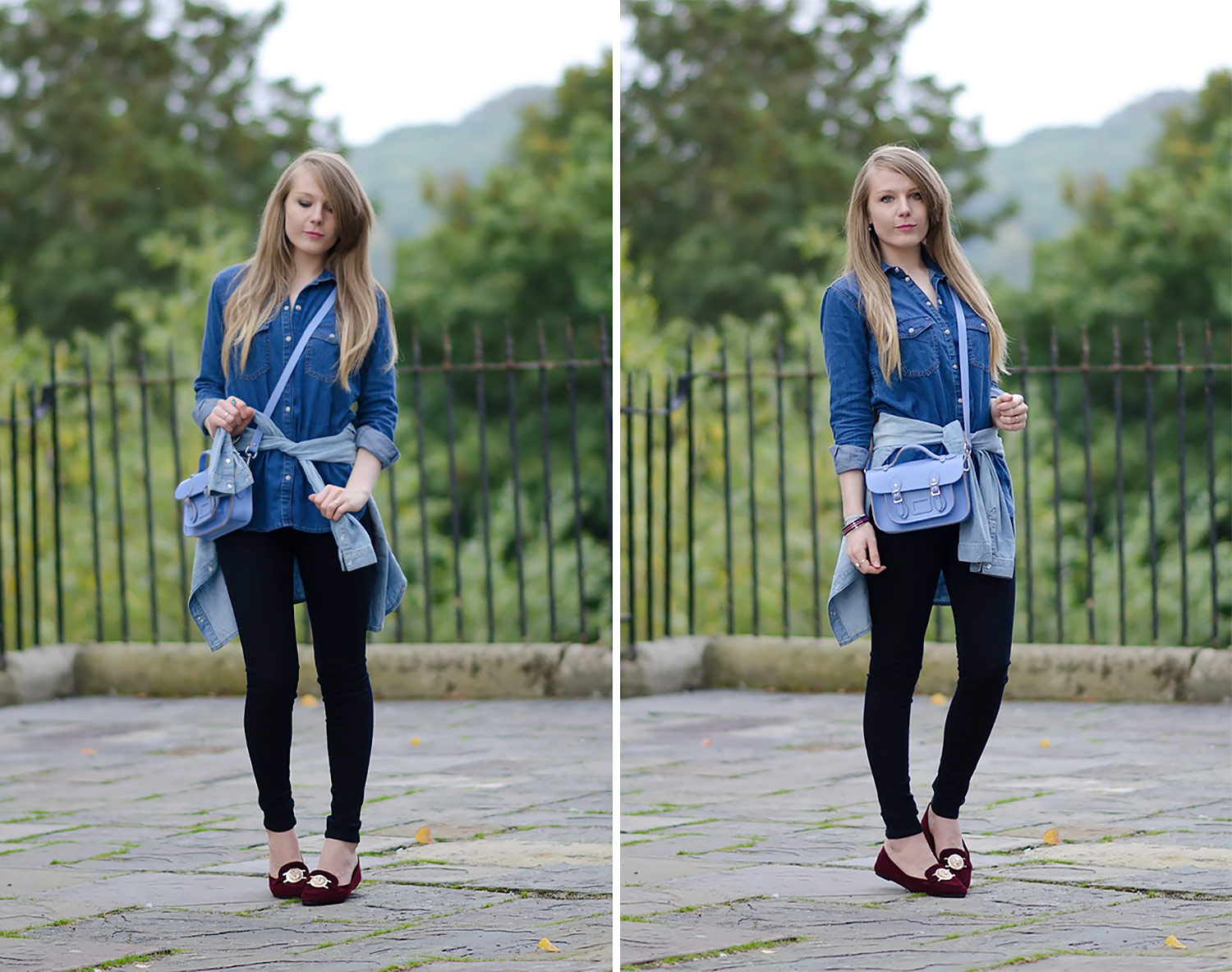 One of the ways I personally love to wear denim on denim looks is with a really dark indigo blue skinny jean (in this case I had on the James Jeans Twiggy Dancer) or a pair in jet black, then I like to opt for a medium blue denim shirt to wear on my top half and tie a light blue denim shirt around my waist. The contrast of the three different shades of denim really play off against each other and they don't look too over the top.
So to create an outfit that looks stylish and put together, without looking too denim heavy, the key is choosing three very different shades of blue. I even added blue accessories to mine just to add a few more elements of blue that weren't denim, to keep it subtle. I find this look works for both Fall or Spring as it uses various shades of blue, depending on which climate you live in of course.
Triple Denim For Fall & Winter
This look at the top on Micah Gianelli is my absolute favourite! She's always so stylish and put together, I just love her combination of black skinny jeans, a mid blue shirt and then a similar denim jacket to layer over the top. In my opinion, if you are going to wear all three pieces (as opposed to tying one around your waist) then you can get away with having the top two items, like the shirt and jacket, the same shade as they are so close together. It just works.
A lot of fashion bloggers love doing denim on denim on denim with boyfriend jeans as well, but sprucing them up by wearing heels. Doing this is really important as wearing so much denim can really swamp your body, especially if it's baggy, so the heels help to elongate your legs.
Since these are triple denim looks for Fall, I also recommend wearing boots with your skinny jeans! I like to keep mine the same shade as my jeans though, to really help lengthen your legs and keep the outfit looking smarter rather than sloppy. If you are going for a more casual look and you have a lighter pair of jeans on, some beige or light brown boots would work just as well. You can buy most of the pieces you need here at Shopbop, Revolve, Nationltd and ASOS.
Triple Denim For Spring & Summer
Now for Spring/Summer, triple denim changes a little bit and can be even more inventive as you have less denim on! The same rules from above apply, about choosing different shades of blues, however you can switch the jeans out for denim shorts or a denim skirt and you can change the jacket for a sleeveless version! I find sticking to a lighter colour palette in general though can really work, so try choosing white, chambray and bleached denim as opposed to really dark indigo and black shades.
You can even throw short denim overalls into the mix here too! Layer them over a denim shirt and then why not tie another denim shirt or jacket around your waist? That's definitely a cool look and one I saw quite a lot of during the Summer, especially at festivals!
Cropped and tie front denim shirts are also a big hit in the warmer months, creating a skin coloured gap between the two shades of denim. This gives you more room to be less picky on your denim shades and it means you can even opt for two similar colours as they wont clash too much! Just make sure your third choice is completely different though as you don't want three of the same. It starts to creep into denim suit territory, think Justin and Britney.
Another amazing thing about denim on denim for Summer is the accessorizing. Why not try a double denim look, but then finish it off with a denim clutch or bag? Or even better, why not tie a denim headband with a bow on it in your hair, this creates a triple denim look without being too heavy if it's too warm outside! You can buy most of the pieces you need here at Shopbop, Revolve and ASOS.
There's also another great option for triple or even quadruple denim in an outfit – opting for some denim socks! You can get denim over the knee socks, which you could pair with a denim skirt, denim jacket and accessories. Denim comes in every piece of clothing possible, and it's great to accessorize with!
– Which of all these looks do you like the most? And do you prefer to wear triple denim for the warmer or colder months?
Triple Denim For Men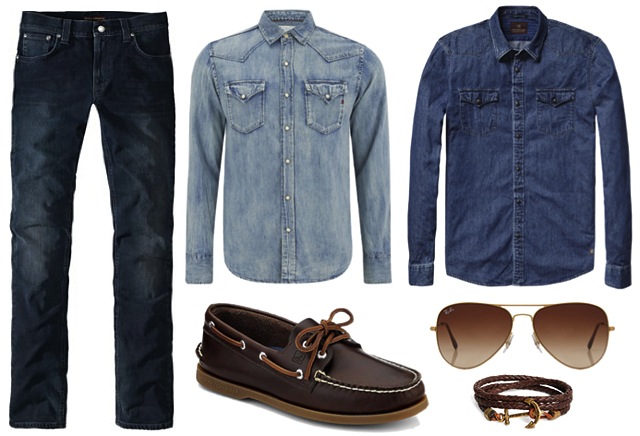 And guys, as this is a denim blog, I didn't leave you out! I couldn't find many photos online of men in triple denim unfortunately, however I decided to create my own looks for you. This one is pretty similar to my own outfit at the top of this post actually and the same rules apply, keep the shades of denim completely different to one another.
I would wear those Nudie Jeans with a cuff at the ankles because I've paired them with the boat shoes (no socks, or wear hidden ones), this helps keep it relaxed and easy. I would then wear the mid blue denim shirt and tie the light blue one around my waist. I finished it off quite easy with a simple pair of Ray-Ban aviators and a leather bracelet. So this is how guys can wear triple denim in the day time and look stylish and put together. Of course you can tailor this to suit your own style, but just remember the rules of keeping the shades completely different if ones being tied.
Now this denim on denim outfit is on the smarter side, meaning you could wear it to certain fashion events or something similar. I chose a pair of black skinny jeans as the base as black jeans are the smartest of them all. I then went for a darker blue denim shirt, as again, the darker the shades, the more put together it feels.
This would be fine on its own with the driving shoes and Daniel Wellington watch for a double denim look, but I layered on a waistcoat to pull it together and make it sophisticated, but the other reason that I did this is because it hides the main bulk of the denim shirt, so you only have hints of it. This is really helpful when you layer the similar washed denim jacket over the top to round off your triple denim outfit. I would try and choose one with minimal distressing and fading, but I loved the colour of this one and the style, so that's why I chose it. If you want to be a little more quirky, you can also cuff your jeans as wearing shorter skinny pants these days is hot from an editorial point of view and I also think it looks great.
– So, out of these two triple denim outfits, which would you prefer? You can shop all of these pieces and more online at East Dane, SSENSE and ASOS.
Images courtesy of Micah Gianelli, Secret Little Stars, Kiki's Parlour, Chic Times, Chic Obsession & Style Scrapbook.
*Last updated on 24th September 2023.