6 Autumn Outfit Essentials For Jeans
It's no secret that the autumn/fall is my favourite season! Although I will say after spending the summer in the United States, the summer might be my new favourite, ha ha. But as it stands in the United Kingdom, the cooler temperatures of autumn are my personal love! Not only are the leaves a gorgeous golden hue, but it means that I get to wear my favourite cooler weather essentials!
I thought I would put together a list of 6 autumn outfit essentials to go with your jeans! Of course jeans are a staple piece for all of us here at The Jeans Blog (that's what happens when you're a denim addict), so it only makes sense that we use them as our first point of call and then create the outfits around them. So, ladies, read on to find out what my autumn essentials are!
Stylish Boots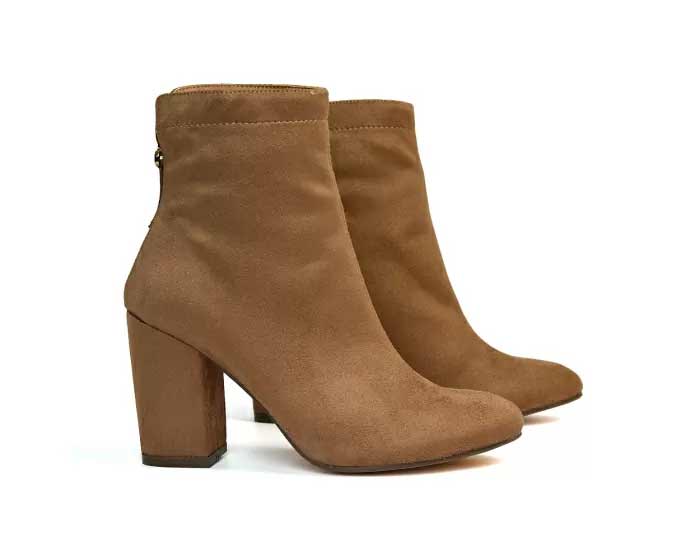 A good pair of stylish boots are something that I always gravitate towards when the temperatures cool down. I pretty much only wear boots and a pair of sneakers/trainers. My personal favourite boots are heeled ankle boots, or over the knee boots. Both of these create such a nice silhouette to a pair of black jeans – it's the ultimate essential footwear if you want to look stylish.
You can of course invest in an expensive pair of Christian Louboutin knee high boots if money is no option, but for most of us, picking up a pair of affordable boots for autumn is the perfect option. I've chosen two styles from XY London, those are the Evia Zip Up Black Heel Boots and the Emmett Flared Knee High Block Heel Boots. For those of you that aren't a fan of heels though and prefer to wear flats, these biker style boots are a cute alternative! Just be sure to tuck your skinny jeans into them.
A Tailored Coat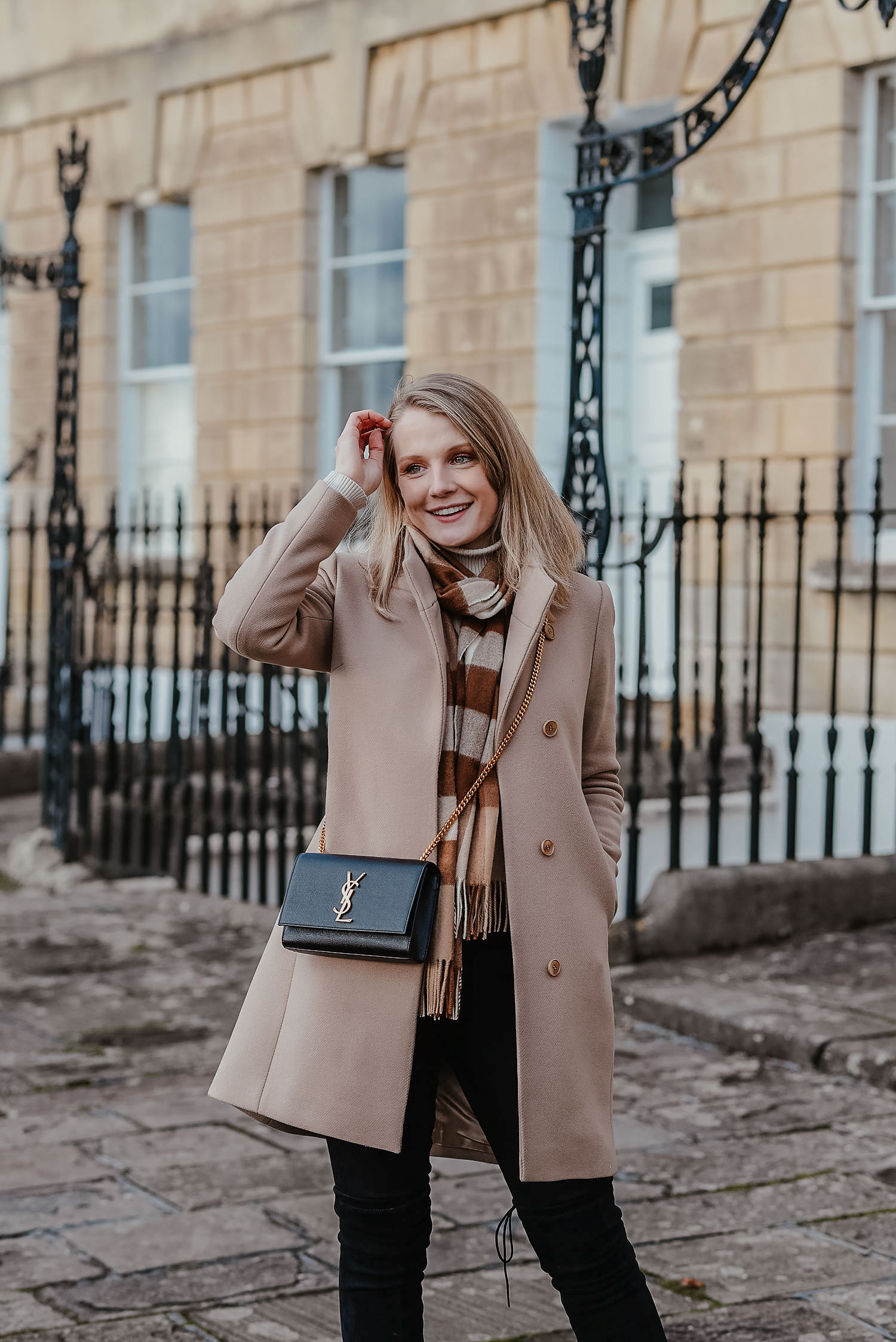 Next up is a tailored coat. The good thing about autumn is that it's never too cold that you have to wear a huge puffy coat, so you can definitely get away with a tailored version. These tailored coats end up looking so chic and stylish as they really embody your silhouette, so I can never get enough of them. This is the REISS Mia Camel Coat and I'm modelling the Petite REISS Mia Coat here in the image above. It comes in both regular and petite lengths, and it's my favourite coat in the entire collection. It's definitely worth the investment in my opinion! You can't go cheap when it comes to tailored coats.
A Soft Neutral Scarf
When it comes to your scarf, a neutral soft option is the best choice. I'm all for 'less is more' and when you have a cream, taupe, camel, light brown, grey, black… coloured scarf (any of the neutral tones), you can reach for it and wear it with pretty much any outfit that you put together. That's the beauty of it. You can of course invest in some Burberry cashmere or you can find a cheaper alternative that looks just as good. The choice is yours when it comes to neckwear like this. It totally depends on your personal style, your skin tone and colouring, and your budget.
A Black Leather Jacket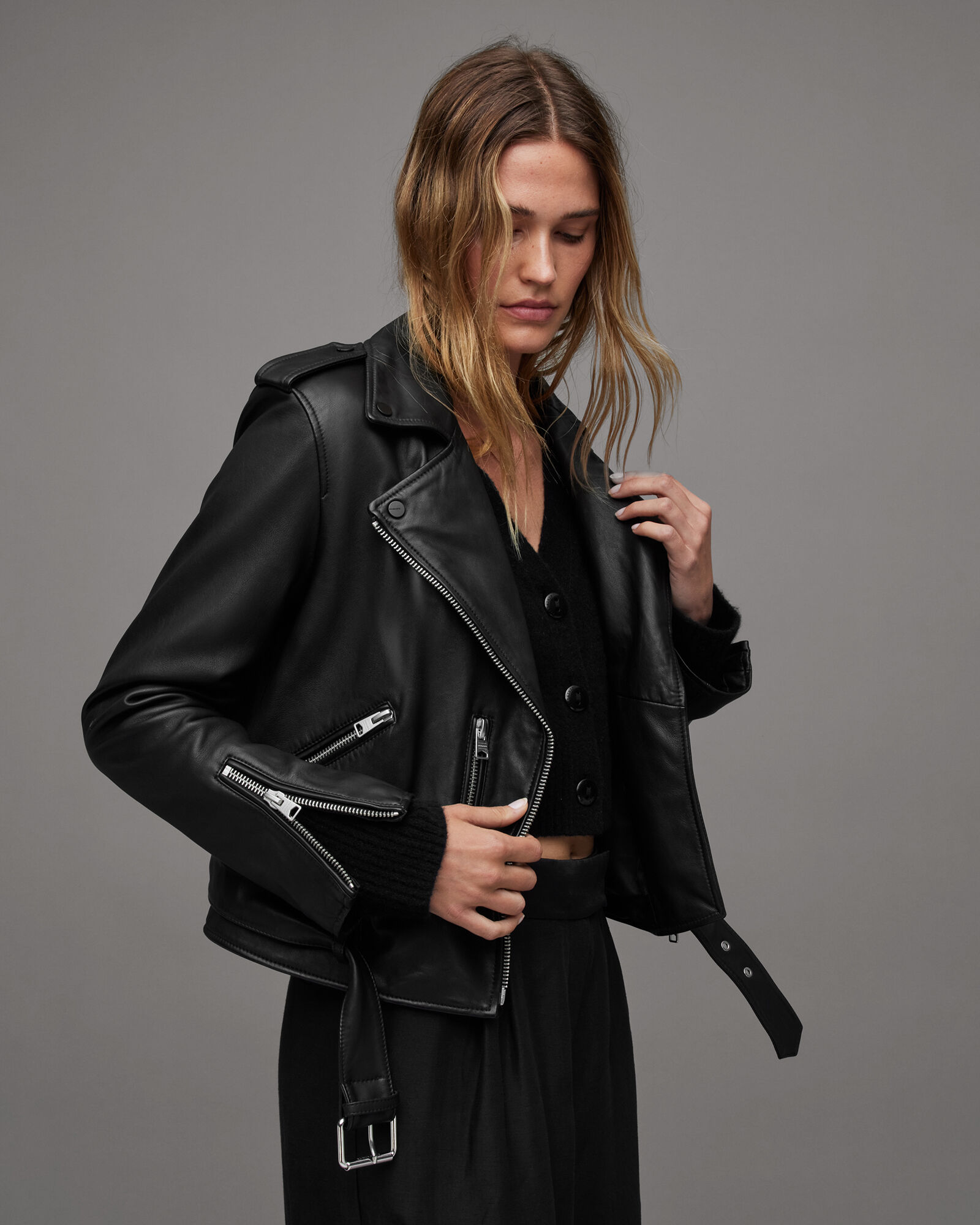 For the days where you don't need a tailored coat, you absolutely should have a black leather jacket in your collection! It's iconic and it's a statement piece – you can't go wrong with it. This one here is the Allsaints Balfern Biker Jacket and it's one that I've owned (in both silver and gold hardware) for years. It's my all time favourite jacket! I also own a bigger size for layering over knitwear. You can of course opt for a vegan leather if you don't wear real leather, just make sure your leather jacket fits you well and looks great! You want to make sure the sleeves do not come past your wrists and onto your hands, and the shoulder seams should fit right on your shoulders – this ensures the perfect fit!
A Neutral Crossbody Bag
Next up is a neutral coloured crossbody bag. I always opt for crossbody in the autumn time because I think it's important to be hands free so that your hands don't get too cold, plus it just sits really nicely over some knitwear or your tailored coat option. This particular bag here is the DeMillier The Vancouver Bag and it's super cute! It's made from high quality artisans in the south of Spain, and it's also a sustainable, ethical brand, which I like! The affordability compared to a designer brand like YSL or Celine is also amazing! You can of course choose any neutral colour, but a simple shade means it's extremely versatile and can be paired with anything you wear. There are loads of crossbody bags on the market, so take your pick!
Simple Lightweight Knitwear
Finally, we have lightweight knitwear! I say lightweight because in the autumn, we often have warmer days mixed in with cooler days, and if you're laying a leather jacket or tailored coat over this, it's perfect. You wont be too hot or too cold. Layering is key in the autumn time as it's important for changing temperatures. This one featured here is the COS Crew-Neck Merino Wool knit and it's a great versatile example!
So, all of these items are essentials for wearing with your jeans this autumn! Choose a pair of black skinny jeans as a staple classic, or even a straight mom fit light blue pair of jeans to add a bit more of a casual element. Whatever denim you opt for, all of these pieces will work perfectly with it!