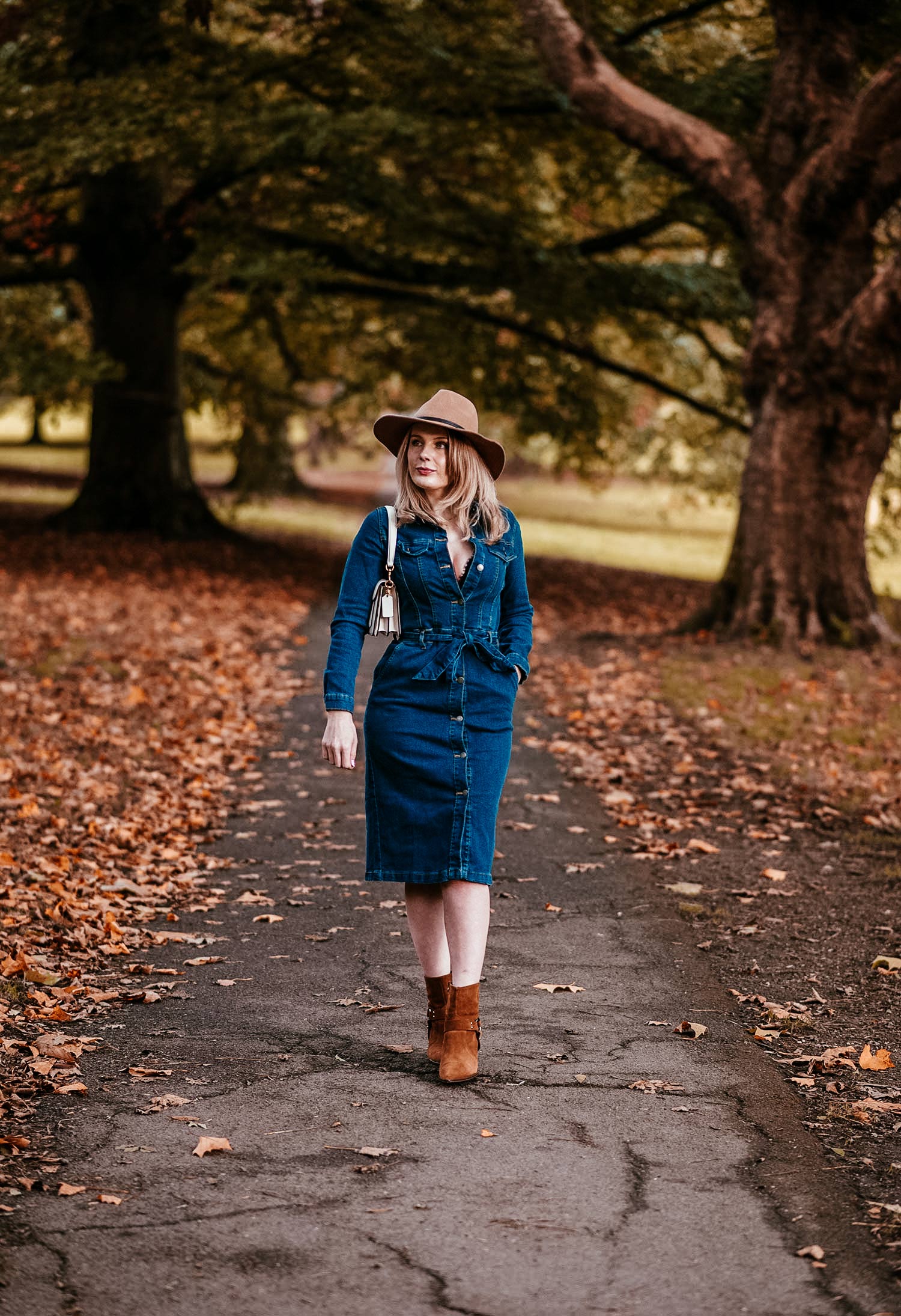 How To Wear A Denim Dress For Autumn
There have been various autumn seasons where the denim dress has been the trending article of clothing, making it the must have statement piece. It's one of those pieces that you can wear at any time of the year, however autumn seems to be the most popular season for denim dresses, especially in darker washes, so I thought I would put this blog post together, showcasing how to style a denim dress for autumn.
You might remember a previous blog post that I wrote, titled how to wear a denim dress, and this focused on all seasons and all stylings, but since we are in autumn at the moment, I wanted to delve deeper into how to wear a denim dress for this specific season, showcasing my own version.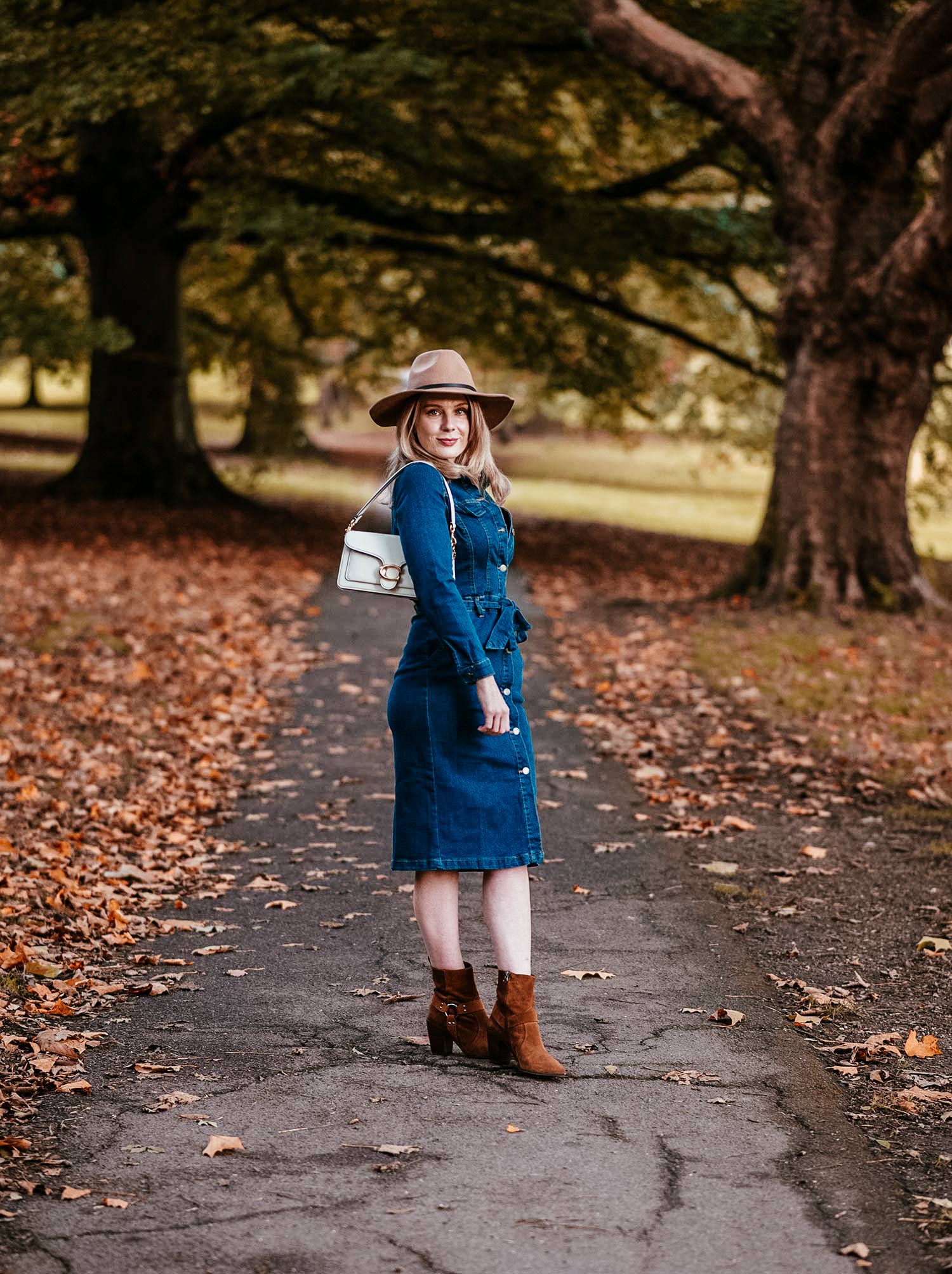 I teamed up with Very.co.uk to put this denim dress outfit together, choosing all of the pieces here to make this full outfit, and I absolutely love it! They have so many amazing items for autumn, it wasn't easy just creating one ensemble when I wanted to make so many!
Autumn is the best season of the year when it comes to fashion, especially denim, and their selection will have your bank balance shaking, ha ha! We're talking amazing knitwear pieces, classic and trending premium denim, amazing bags, the most gorgeous ankle boots, and even different jumpsuits for women, along with what I'm wearing.
So what am I wearing here? This denim dress is the Pixie Girl Petite Button Through Belted Dress in a gorgeous indigo blue wash and it's amazing! I took a size UK 10 in it, and the length and arms are perfect on my 5ft 4 frame. It's super stretchy too, making it really comfortable and a joy to wear, especially since the tie waist really cinches you in, highlighting the hourglass shape.
I styled this gorgeous denim dress with a pair of their Mint Velvet Imogen Cowboy Boots, the really pretty Coach Tabby 26 Shoulder Bag, and topped it off with an Accessorize Wool Fedora Hat. All of these pieces worn together make this denim dress outfit perfect for autumn, so let me tell you how you can style your own denim dress for the fall season and look great doing it!
Tips On How To Style A Denim Dress For Fall
When it comes to denim dresses, there really is a fit for everyone. We saw Kylie Minogue rocking a maxi style denim dress before, but there are also short ones, A-Line style ones, button up versions, shift dress styles, overall/dungaree interpretations and so many more.
Choose the right denim dress for your figure and occasion
If you're on the slim side, with a straighter figure, the shift dress and overall styles can look amazing, whereas if you're more on the curvier side, a more figure hugging option that cinches at the waist will help accentuate that. Longer, thicker denim can look good on taller frames, whereas shorter versions look good on petite heights, as it's not overwhelming. It's important to get the right fitting denim dress for your body shape, as it's the focal point of the outfit.
Opt for a cool pair of boots
When it comes to autumn, boots are always the best option for footwear. Matching a pair of boots with your denim dress is going to look chic and fashionable – you cannot go wrong! You can opt for ankle boots, below the knee, or even over the knee boots. Just make sure they're a style that suits you and your vibe, as well as a good length for the dress. Ankle work with just about any length denim dress, while over the knee should go with a mini option, and just below the knee looks good with a mid thigh, or mid calf boot.
Choose a dark wash
This might go without saying, but this time of the year is always about darker shades, so opting for an indigo blue or a black denim dress is the way to go. You want to leave the light shades and chambray styles for the summertime. The darker washes are where it's at for that perfect autumn look!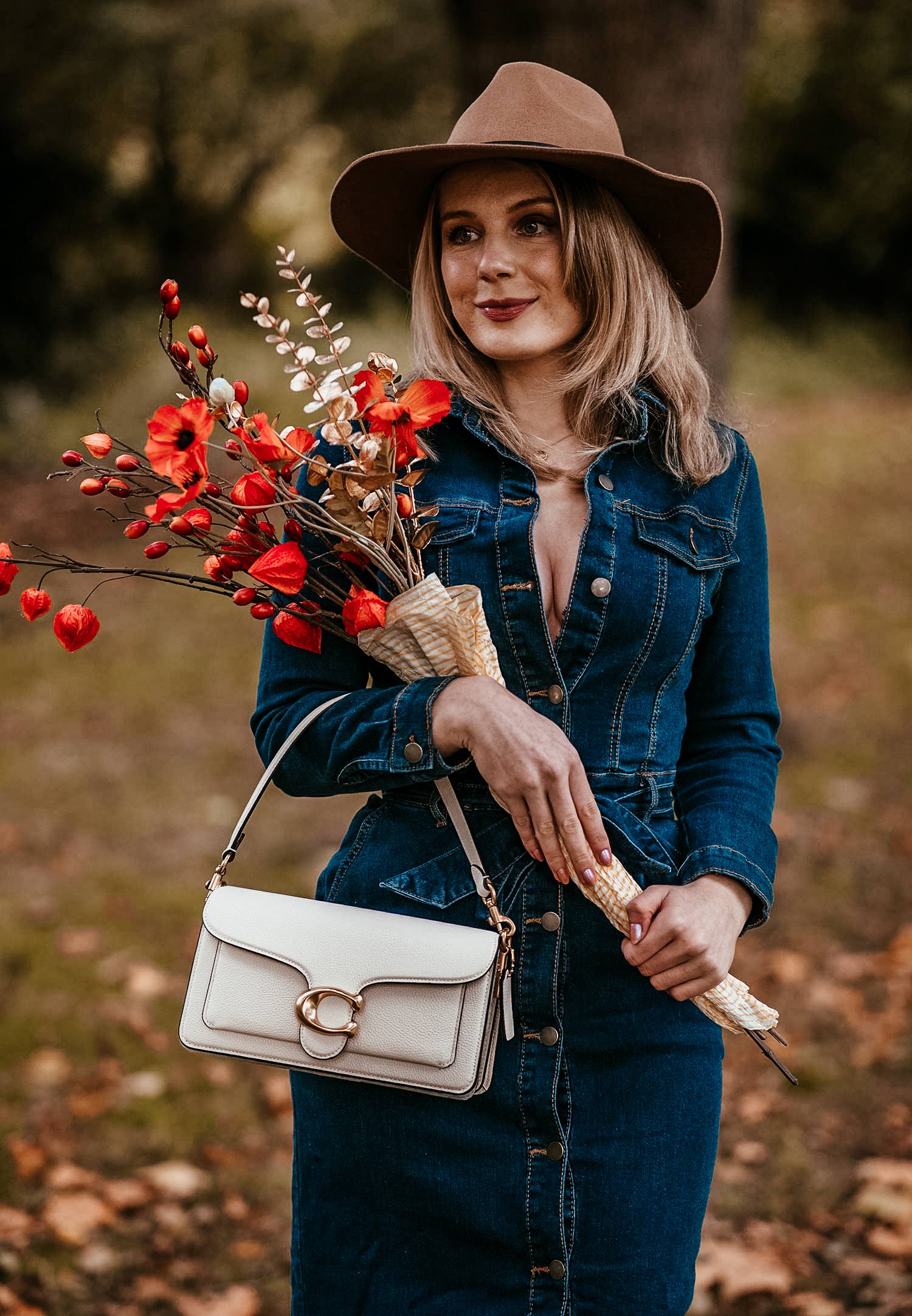 Accessorize with various statement pieces
The one thing that's amazing about autumn is that you can layer and accessorize, which is key when learning how to style a denim dress for autumn. You want to think about going for a wide brim hat like a fedora, as it really completes the top and bottom of the dress. You might want to go for a statement pair of earrings to balance things out. You can choose a bold statement bag, or a neutral tone, as it adds another element to the dress. You might even want to wear a shorter scarf if it's chilly enough and you're not showing off some layered necklaces. Accessories are an important part of fall fashion, so don't skimp out.
Layering is key for colder days
Layering a longer coat over your denim dress can look as chic as a runway shot. Imagine a cream or brown, long, tailored coat over this specific denim dress – it's killer! Depending on your specific denim dress, various jackets and coats are needed for the colder days without taking away from the outfit. You can even opt for tights as well if it's a colder fall day! I think that would be perfect.
So these are my tips on how to wear a denim dress for autumn and this is the way that I styled my own denim dress from Very.co.uk. I absolutely love how this turned out and I can't wait to style it in more ways! What do you think of this outfit?