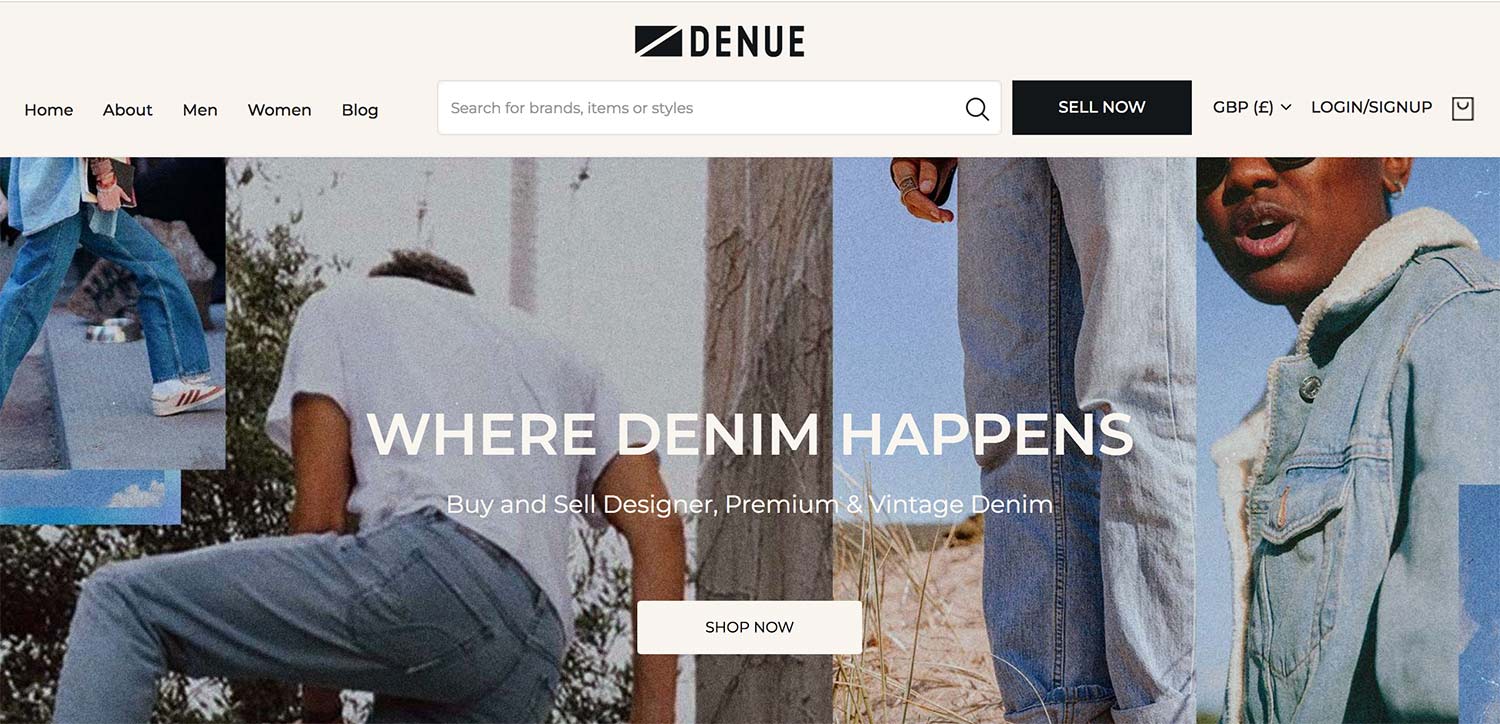 Buy or sell your designer, premium and vintage denim at DENUE!
I'm super excited to share this new marketplace with you – DENUE! I think it's one of the coolest concepts as us denim lovers don't get enough space in the re-sell market!
DENUE is a marketplace just for designer jeans, premium denim, and vintage denim, all in one place! That's right – they don't allow anything but denim on the website, so if you're looking to buy some pre-loved jeans and keep them in circulation, this is the place for you!
As a denim addict myself, I couldn't wait to list some of my jeans on their website (I've got 7 listed so far) as I've been wanting them to go to a good home, but there's some amazing vintage denim from other sellers listed as well. You never know, you might just find that rare denim gem you have been looking for!
I caught up with the founder of DENUE to find out more about the website, the inspiration behind it, and more! So please do check out the interview below, and head over there to check out the denim! If you have some jeans to list, now is the time!
Click Here To Check Out My Jeans On DENUE

The Jeans Blog – We're huge lovers of denim here! Could you tell our readers about DENUE?
DENUE – Sure! Denue is a global marketplace for the world to buy, sell and explore designer, premium and vintage denim. It was created with a mission to keep quality denim in circulation and provide consumers with a sustainable and viable alternative for adding denim to their wardrobe. We officially launched in November 2022.
TJB – I love this concept! What made you start this marketplace?
DENUE – There were a few different factors that went into it. I was buying a lot of jeans and either not wearing them or wearing them for a short time before moving on. I had a lot of jeans in my closet that were in great condition but weren't seeing the light of day. I started looking into existing options for selling jeans online and had some luck with selling them so I knew people were buying denim from second-hand platforms.
I noticed jeans and other denim garments were kind of scattered across the existing platforms depending on whether they were designer brands, pre-owned premium or vintage. I wanted to create a platform with all of the denim in one place. A dedicated marketplace for the denim heads I guess or those looking specifically for denim.
I think denim is very uniquely positioned for the marketplace environment. It's a fabric that ages beautifully and develops more character with time and wear. As fashion trends change, evolve and re-appear, jeans are usually a big part of that. I wanted to create a place where you could buy, sell and find denim from the past and present in various conditions and whatever fit the buyer's current personal style.
TJB – That's amazing! How long have you been passionate about denim?
DENUE – The obsession and fascination started in 2009 in a pretty natural/organic way that I would assume a lot of people go through. I was heading into my last year of university and was starting to develop more of an interest in fashion, what I was wearing, how things fit etc. Up until that point I think I was working with a rotation of Levi's and Abercrombie jeans and was looking to change it up. Someone recommended I check out Nudie. I remember I went out and bought a pair of their dry denim and a pair of their washed jeans that weekend—the most I had ever spent on jeans at the time. That was really the start of it and I haven't looked back.
TJB – I first started collecting premium jeans in 2005 and the denim market has changed dramatically since then. I remember when it was booming. Now with fast fashion everywhere, this concept is fantastic. Keeping older jeans in circulation! Is sustainability an important factor for you?
DENUE – Sustainability is a major pillar for Denue for sure. The environmental stats on creating new denim are pretty staggering. Though there are a lot of brands producing their denim in sustainable ways—there is definitely still more work to do. Extending or prolonging the life of a denim garment is the most sustainable thing you can do. Denue was created with a mission to extend the life of denim that already exists. I think that any denim someone may want already exists.
TJB – It's something that we here at The Jeans Blog are making a conscious effort about too. I personally always sell or donate my old pieces, so I'm really excited to have my personal jeans on DENUE. Can you tell our readers how easy it is to list and buy from you?
DENUE – Yes we are excited to have your collection available on Denue as well!
For sure. To list, you just need to register for an account, connect your PayPal business account and setup your shipping rates and you are all set to start listing. It is always free to list and our fee is 5% on any sold denim. Sellers also pay the PayPal processing fee which varies by country. Every transaction is processed through PayPal and sellers can be located in any country where PayPal is available. Sellers will be paid out their earnings in their local currency.
We currently leave the shipping rates and preferred carrier up to the seller. Once the item has been shipped and updated as so in the platform with tracking details, then earnings will be released to the seller. Buyers can pay with a PayPal account or debit/credit card.
As we are a marketplace, each seller has their own processing times which are available on their profile or listing. Once an item has shipped, the buyer will receive an email notification with the tracking details. Anything purchased with a PayPal account is covered by PayPal Buyer Protection and anything else is covered by Denue Buyer Protection. All of these details can be found on the website on the security page.
TJB – That's amazing! 5% is way cheaper than most marketplaces. Do you offer any protection against fakes or if a transaction doesn't go well? Or is this covered by PayPal?
DENUE – Yes the goal will always be to keep our fees as low as possible. That said, this 5% may change down the road but given how fresh and new we are I don't think it is fair to take more than that from our sellers at the current time.
If the purchase is made with a PayPal account then PayPal will cover any issues with the order should they arise. Full details of PayPal's Buyer and Seller Protection can be found by clicking here. If the purchase is made with a debit or credit card then we have a buyer protection program that would protect any purchases provided the order meets the criteria for our buyer/seller protection. All details on our buyer and seller protection can be found by clicking here.
TJB – Thank you! And for fun, what are your personal favourite brands?
DENUE – Nudie has to be #1 for me. As mentioned earlier, they were my first dive into the world of premium denim and I have been obsessed with their fits and washes ever since. They are leading the way in terms of sustainability in denim and I love their company ethos. I kind of go through phases with the jeans I wear but there is always a pair of Nudies or two or three in the rotation. Close seconds would be fellow Canadians, Naked & Famous, and another Swedish brand, COF Studio.
TJB – I do agree that Nudie is an incredible brand! Thank you for this interview!
If you're interested in selling on DENUE, register here!
*A carefully selected collaboration.