Styling Socks With Jeans in Winter 2023
If you need some new inspiration on how to style your jeans, looking towards your socks might be a good idea. Styling socks with jeans can be a really easy way to make your outfit cool and sophisticated, especially with the way the trends are at the moment and cropped legs are in.
Jeans are one of the most essential pieces in most people's wardrobes. They're an iconic piece that you can style in a million different ways. You can dress them up to make them ready for a party, or you can use them as a casual everyday piece.
One of the ways you can style a pair of jeans to make a cool outfit for the cooler months is with socks. Socks have long been one of the most underrated pieces – but luckily, they have gained much appreciation in recent years. Styling your jeans with a beautiful pair of dress socks can make all the difference! Check out five simple ways to make your socks lift your jeans to new heights.
1. Style casual with casual
Casual outfits are some of the coolest outfits ever. You can do so much with a casual outfit and wear it in many different contexts. For many jeans-lovers, the casual outfit is the preferred one for the everyday look. When styling your jeans with socks, you can choose to style casual with casual. Choose a classic pair of jeans (perhaps a mom fit or a cropped skinny) and pair them with a simple pair of plain socks. Even though it's a classic look, it can still be a sophisticated and really cool combination. You just have to make sure that you choose socks of a high quality. You can easily tell the difference. Another pro of choosing a high-quality sock is that you'll be able to not only see the difference, but also feel it.
2. Dress up your jeans
Another way to go about it is to use your socks to dress up your jeans. Do this by choosing a beautiful and sophisticated pair of socks. You can go with jeans that are a bit darker and slimmer for an elegant look. You can roll them up to show more of your carefully selected pair of socks. Consider going with dress socks that have some elegant details like dots or a nice rim as this can look quirky and fun. When it comes to colors, there are plenty of options. If you want them to stand out more, you can go with lighter socks or a dark pair of jeans. They could be light blue or yellow. There's lots of combinations to go for.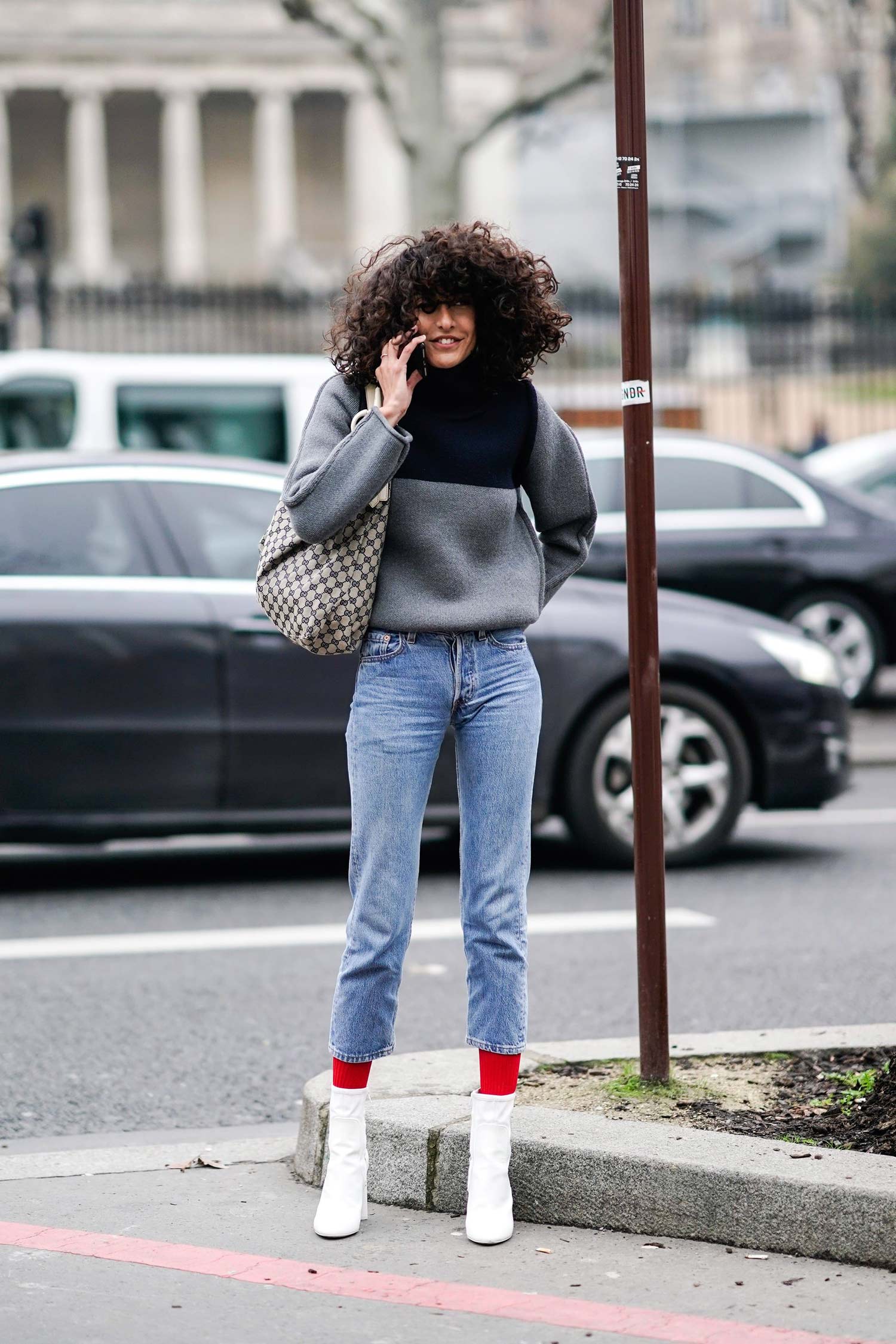 3. Go sophisticated and personal
Sophisticated and personal outfits are some of the best outfits – they're timeless. This is the type of outfit where you can be both personal and very well-dressed at the same time. This look is perfect for choosing a more colorful sock, perhaps even with a pattern. Today, you're able to find socks in every single color and with all kinds of patterns. It's basically only your imagination setting the boundaries. A tip is to let both your jeans and the rest of your outfit be rather simple – and then let your socks do the popping.
4. Go edgy and quirky
This is a trend that we're seeing much more of at the moment and it's really fun! Visualize a pair of quirky and cool socks that are fun, worn with cropped mom jeans and styled with some combat boots. Similar to the photo in the main image, having the top of your socks poking out of some combat boots is a great way to keep you warmer, and looking fashionable at the same time. You can choose to keep your socks plain and minimal, or you can go for a more bold print, the choice is down to your own personal style.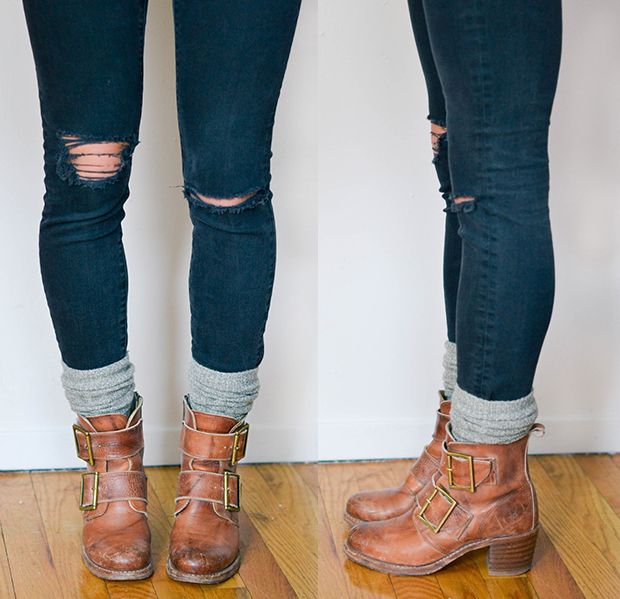 5. Socks layered over jeans with boots
The other way to really make your socks a main focal point of your outfit is to tuck a pair of skinny jeans into a pair of longer socks, then wear a pair of boots. This look is perfect for the winter as it will keep your feet warm as no skin will be showing. I've seen lots of ladies out there with longer socks showing out of the top of their boots, and these can be ankle boots or taller calf boots, it's your choice. Since you're wearing boots though, keep the socks plain and neutral for this look – it's key for a classic vibe!
Image courtesy of Unsplash.