It's the age old question when it comes to denim, but how long should bootcut jeans be for a proper fit? Are yours too short, too long or simply just not fitting right? The Jeans Blog has you covered! This post is for both men and women as bootcut jeans are a unisex cut, we're going to cover how bootcut jeans are supposed to fit and most importantly, how to wear your bootcut jeans.
How Long Should Bootcut Jeans Be For Women?
When it comes to how long jeans should be for women, this mostly depends entirely on what footwear you choose to style the jeans with, but also what type of look you are going for. I generally tend to stray away from bootcut jeans now as I have petite legs (see our bootcut or skinny jeans for petite women post) and I often find they can swamp my frame, but for those of you who absolutely adore them and you are one of the lucky ladies that looks fantastic in them, here are the length tips for you!
Our favourite picks for 2017

Bootcut Jeans With Heels

Shop bootcut jeans for women at Revolve Clothing
So, where should your jeans fall? When wearing bootcut jeans with heels, the ideal length for the hem is 1cm off of the floor. This leaves enough gap so that the denim doesn't drag/touch the ground and get dirty and it also creates a really sleek, clean and straight silhouette with the way the leg falls. You don't want to go any longer as they will start bunching and getting dirty or damaged and you definitely don't want to go much shorter than the 1cm guideline (2cm at most) as this can make your legs look short. Covering up your heels so only the tip is showing through really helps to lengthen and elongate your legs, creating a gorgeous look and is ideally how your jeans should fit. I recommend hemming your bootcut jeans to your favourite height shoes and keeping them for those only. Hopefully you will have a lot of heels with the same heel height, so they can work with multiple pairs!
Bootcut Jeans With Flats
Shop bootcut jeans for women at Shopbop
If you are on the taller side and love to wear flats often, bootcut jeans can still work if you know how to wear them and understand the proper jean length for your size. I know they are often seen as jeans for heels only as they are smarter, but giving a nod back to the 90's here can also work for you. When you wear bootcut jeans with flats, make sure you are wearing a mid to light blue wash and that the hems do touch the floor. I'm not saying that they should drag and get damaged with bunches of excess fabric, but having them just skimming the floor with a raw hem or a slightly frayed hem will really add to that easy Californian/Australian relaxed look. I personally don't think smart bootcut jeans work with flats, so only wear the casual ones. Definitely don't have them shorter than the floor though as this will make you look really short and it wont be flattering.
Wear Cropped Bootcut/Flare Jeans

Shop cropped flared jeans online at Shopbop
I mentioned earlier that you don't want to have your bootcut jeans shorter than 1-2cm off the ground at most, however that rule applies to the full length and smart styles. A more recent trend that's come to light is the cropped flare/bootcut which hits you around lower to mid calf. These jeans are intentionally cropped to this length to give off a brand new feel and cut and they are increasing in popularity right now. You want to make sure that these hit you a few inches above your ankle, below half way from knee to ankle, somewhere in the third lower quadrant of your legs. These will look fantastic worn at this length!
How Long Should Bootcut Jeans Be For Men?
Many men often opt for bootcut jeans as they feel more comfortable in them, not feeling like skinny jeans suit them, so making sure you get the right length is the key to looking stylish. There's nothing worse than showing up somewhere smart with bootcut jeans that are miles too long and don't have a proper fitting, flapping around and making your entire outfit look ill fitting, so make sure you hem them and follow these rules for the proper length for different shoes and you will look sharp!
Our favourite picks for 2017

Bootcut Jeans With Boots
Shop bootcut jeans for men at ASOS
So how long should bootcut jeans be for men? When it comes to wearing them with boots, whether they are slip on Chelsea style boots, slim and understated western boots or the regular lace up boots, since this is a dressier look, make sure your jeans are about 1-2cm off the floor. Much like the women's tips with heels, you don't want them dragging on the floor and getting ruined, but you don't want them so short that they look like they shrank in the wash either. About 1-2 cm off the floor is the ideal length and will give you that sleek appearance.
Bootcut Jeans With Sneakers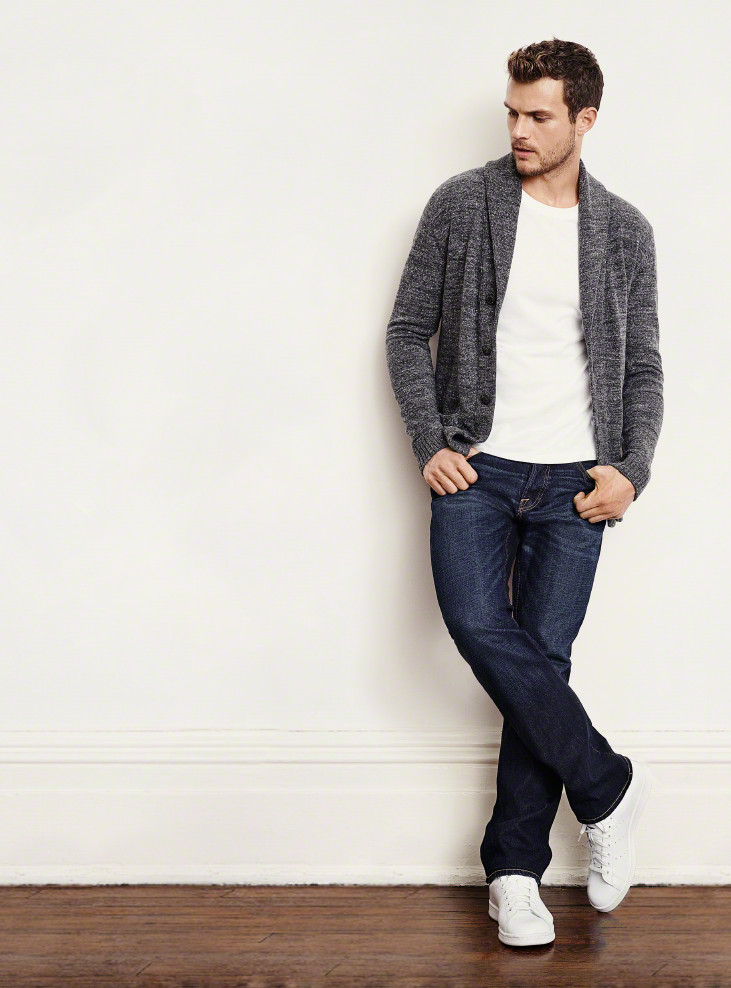 Shop bootcut jeans for men at East Dane
When it comes to bootcut jeans with sneakers for men, I find having them a little shorter than I suggested with boots is ideal for a proper fit and great look. Usually due to the leg opening fitting tighter around a sneaker, the jeans don't go near the floor as much. Leaving about an inch and a half of space from your hemline to the bottom of the shoe will look good, much like the photo above. A little bunching makes the bootcut jeans look casual and it suits the style more. If you have them too short and there's no bunching, the straight fit can make you look quite short which isn't ideal. I definitely recommend a slimmer bootcut for sneakers too, nothing too wide and verging on the flares width.
Wear Bootcut Jeans With A Cuff
Shop bootcut jeans for men at Revolve Clothing
If you don't want to get your bootcut jeans hemmed and you prefer a really casual style, here's how to cuff your jeans like like a pro. This doesn't work too well on flares or really wide bootcut jeans, but the slimmer versions it can work just fine on. Roll the hems up a couple of times and style them with thick or chunky boots only. There's a lot of material around the bottom of your ankle so you need a bigger and wider boot to support it. You don't want a really slim shoe or sneaker with lots of flapping material on your ankle, that looks silly. I know cuffing jeans obviously works best on straight leg or skinny jeans, but for those of you who want to give this look a go and have slim bootcut jeans that suit you well, it can work! I think the fit above is just right!
Main image courtesy of Emma Miller.