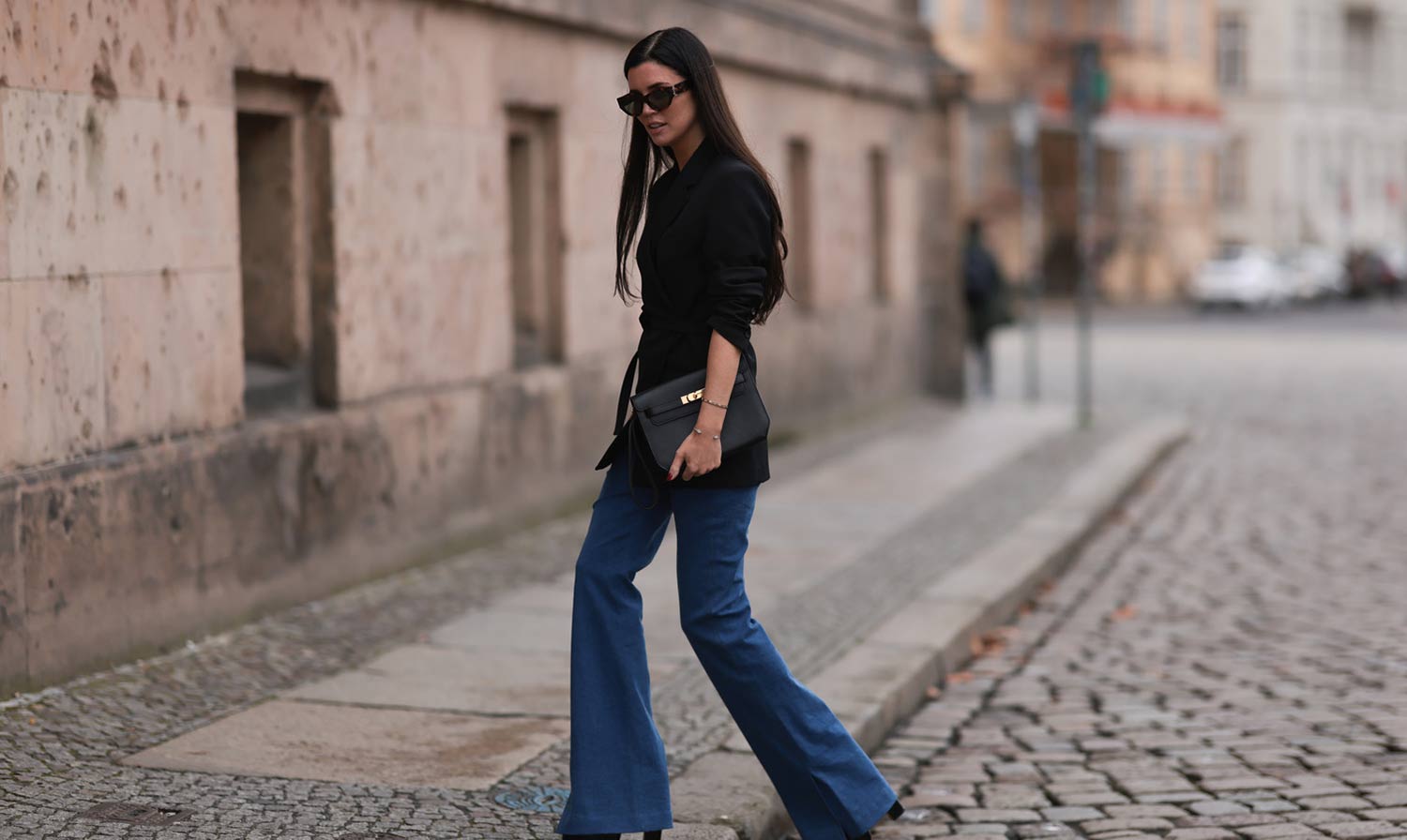 Are you looking for a stylish way to rock your flared jeans? Whether you're out and about attending a function, or just keeping things casual, flared jeans are a great way to bring some style to your everyday wardrobe. They took a backseat for a while in favor of the skinny jean, but it's no surprise that they're back and becoming a prominent part of people's ensembles – they might even become as popular as they were in the 70's, who knows!
Just like the skinny jean, flared jeans can be as versatile as you want them to be. As I'll share with you in this article, you can pair them with literally anything! From a leather biker jacket to a satin blazer, or from the casual Kate Upton Astros jacket (that would be a really fun pop of color) to a simple band tee, or button up shirt. I can't think of anything that flares wouldn't go with. There's something for everyone. So here are some different ways to style your flared jeans for any occasion. From night-out looks to casual wear, you'll be sure to find the perfect look for you. So grab your flares and let's get started!
Why Flared Jeans are a Must-Have Item
Flared jeans are a must-have item in your wardrobe for so many reasons! Not only do they add a touch of retro flair to your outfit, but they also have a way of elongating your legs and creating a flattering silhouette. Flared jeans are incredibly versatile and can be dressed up or down for any occasion. With their timeless appeal and ability to make a statement, it's no wonder why flared jeans have made such a comeback in the fashion world and everybody is loving them!

Flared Jeans for Casual Outfits
When it comes to casual outfits, flared jeans are a game-changer. They bring a relaxed yet stylish vibe to your look, whether you're running errands or meeting friends for brunch. Pair your flared jeans with a cozy sweater and some ankle boots for a chic and comfortable outfit. If you want to amp up the cool factor, throw on a leather jacket and a pair of statement sneakers. Flared jeans effortlessly elevate any casual outfit and add a touch of effortless appeal to your everyday style.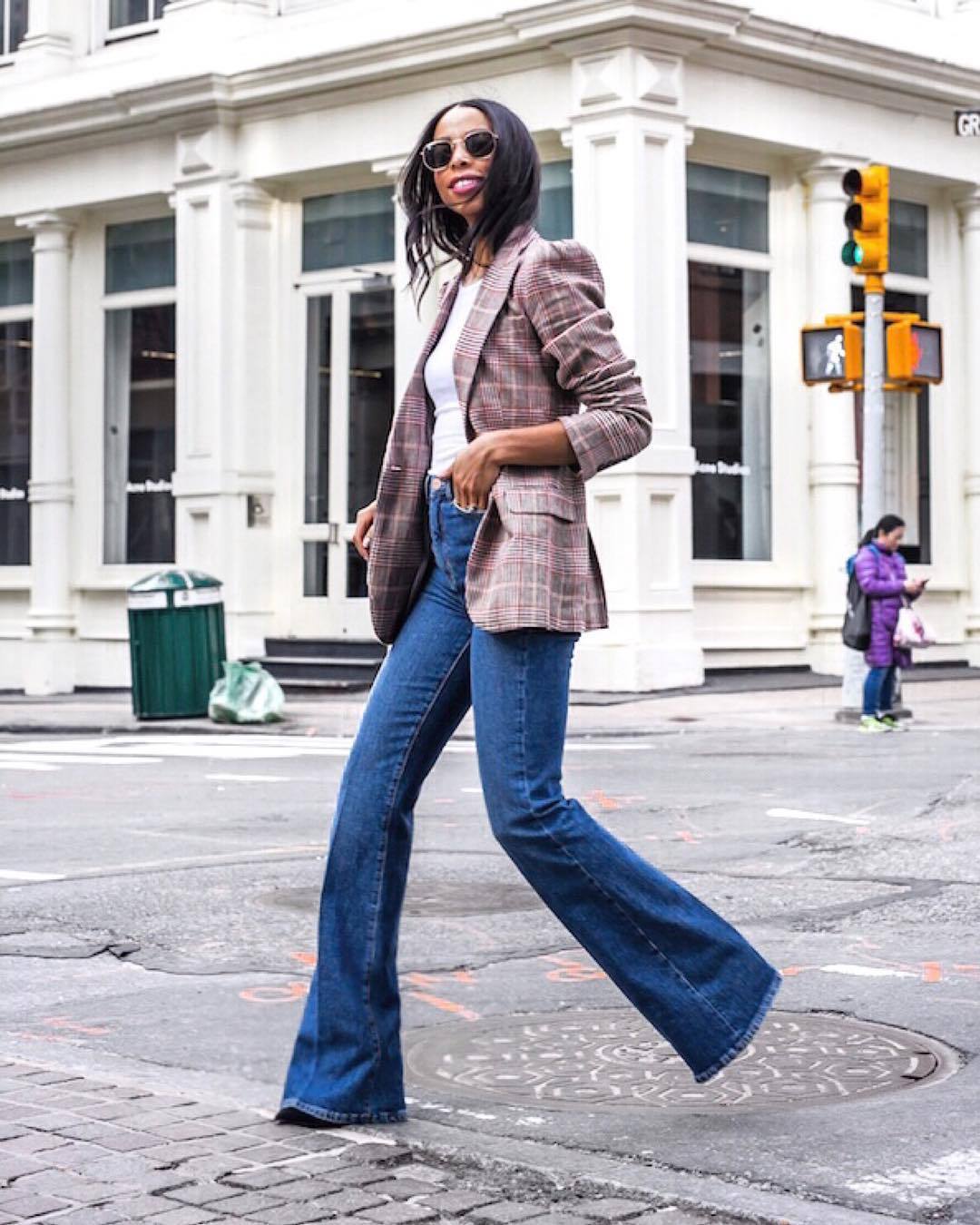 Dressing Up Flared Jeans for Formal Occasions
When it comes to dressing up flared jeans for formal occasions, it's all about finding the right balance between elegance and flair. Pair your flares with a tailored blazer and a chic blouse for a sophisticated look. Add some heels to elevate your style and complete the ensemble with statement accessories like a clutch or a statement belt. With the right combination, you can rock flared jeans and make a stylish statement at any formal event. Just remember the perfect length for bootcut jeans is about 1cm off of the floor.
How to Wear Flared Jeans to the Office
You can also elevate your office attire with a pair of flared jeans. Opt for a dark wash and pair them with a tailored blazer for a polished look. Pair with a crisp button-down shirt and add some sophisticated heels to complete the outfit. Remember to keep accessories minimal and professional to maintain a sleek and professional appearance. Flared jeans can bring a touch of fashion-forward style to your office wardrobe while still maintaining a polished and professional look, as long as your office allows denim!

Accessories that Complement Flared Jeans
Complete your flared jeans look with the perfect accessories. Add a wide-brimmed hat and a statement belt for a boho-inspired outfit. Layer on some chunky jewelry to amp up the retro vibe. Finish off your look with a fringe bag or a pair of oversized sunglasses for a touch of vintage glam. Accessories are the key to taking your flared jeans to the next level and adding that extra flair to your ensemble if you want to create more of a boho-chic vibe that's synonymous with wide leg jeans. Vests and gilets are also a perfect layer to throw on for the fall to keep this fashion theme going.
Tips and Tricks for Wearing Flared Jeans
Ready to take your flared jeans game to the next level? Here are some tips and tricks to help you rock this timeless trend with confidence. First, consider the length of your flares – they should hit just above the ground when you're wearing heels (around 1cm off of the floor) or if you want to be fashion forward, touching the ground is trending too. Just be careful if it's wet, nobody wants to reenact the water creeping up the bottoms of your jeans from the 90's!
If you're wearing flats like sneakers, make sure they skim the top of your shoes and don't touch the floor. This is a bit different to the tailored trousers trend where they bunch up and drag on the floor. When it comes to styling, remember that balance is key – pair your flares with a fitted top to create a flattering silhouette. Finally, don't be afraid to experiment with different accessories to add a personal touch to your flared jeans ensemble.
Where to Buy the Best Flared Jeans
If you're ready to rock flared jeans and make a statement with your style, you might be wondering where to find the best pair. Luckily, there are plenty of options out there! From high-end designer brands to affordable retailers, you can find flared jeans to suit any budget. Some popular places to shop for the best flared jeans include department stores, specialty denim boutiques, and online retailers. Keep an eye out for sales and discounts to score a great deal on your perfect pair of flared jeans. There are some buying options in this blog post for you that I've personally selected!

Conclusion
Flared jeans are truly a versatile and stylish addition to any wardrobe. They have the ability to effortlessly elevate any outfit, whether you're going for a casual, formal, or office look. The retro flair they bring to your ensemble is undeniably chic, and they have the power to create a flattering silhouette that elongates your legs.
When it comes to casual outfits, flared jeans are a game-changer. They add a relaxed yet stylish vibe to your look, perfect for running errands or meeting friends for brunch. For formal occasions, flared jeans can be dressed up with a tailored blazer and chic blouse, allowing you to make a fashionable statement. And even for the office, flared jeans can be elevated with a crisp button-down shirt and sophisticated heels.