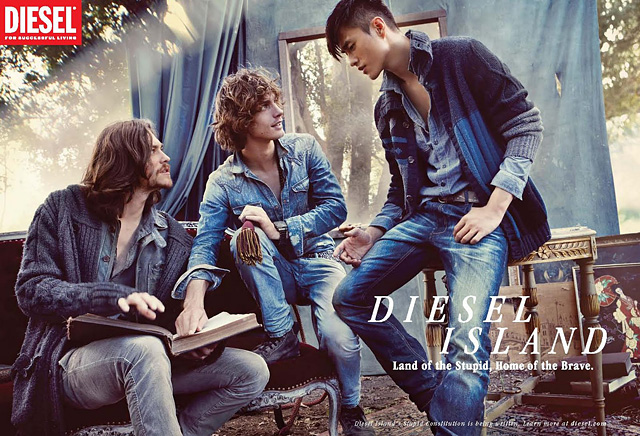 Diesel is a very famous Italian denim brand, probably one of the most popular across Europe, being spotted on guys left right and centre. I thought it would be good to include a history on the brand and tell you how it got started, as well as how it's become one of the most successful jeans brands on the market today!
Renzo Rosso (the founder of Diesel) began to show an interest in fashion as a teenager, when a friend managed to get several meters of American denim. He borrowed his mother's sewing machine and produced his first item of clothing, a skintight pair of bell-bottoms with a 17-inch flare. There was only one problem though! He had neglected to sew a strip of fabric behind the zipper, so every time he zipped them up, he went into a cold sweat, dreading the possibility of a painful accident. Perhaps he wasn't great at making the jeans, but he definitely had the visual ideas of being able to sell them and design them.
In 1978, Renzo Rosso put his love for fashion into practice and started working for a clothing manufacturer called Moltex, which was owned by Adriano Goldschmied. You may recognise the name as he is known as the Godfather of denim, being behind AG Jeans, Citizens of Humanity and Goldsign. After working for Adriano for a while, Renzo used a loan from his father to buy a 40% holding in the company, which he then changed the name to Diesel. The jeans that were being made were then marketed under the Diesel brand. A little while later, Renzo bought out Adriano Goldschmied's interest in the Diesel brand name in 1985 for $500,000. That's an expensive share!
It was then (now that he had full control of the company) that he came up with the idea of making jeans that looked used. Something that was newer and not really thought of, it was a big risk, but definitely one that paid of. Distressing began to take place, creating some very inventive washes and as a result, a new breed of jeans was born. One thing that I think makes Diesel iconic, other than its famous coin pocket strip and unique washes, is the fact that Renzo is very well cultured. He learned his marketing skills in the United States, while his creativity is in his Italian blood and nature, then he learned systems from Germany, making a great mix of knowledge which led to the company turning over €1.3 billion in 2009. Yep, that's billion, not million! Renzo is now worth an estimated $3 billion in total.
Renzo made a name for himself in the denim market, creating iconic jeans names and fits like Viker, Doozy, Liv, Matic, Lowky, Thanaz, Zathan and more. The jeans are most popular among men and the younger market, however Diesel recently branched out into making their women's line more sleek and mature, while the men's line remains the same and branded, which definitely works for them. He also branched out into ready to wear and accessories, creating a whole fashion house, including lines like Diesel Black Gold, 55 DSL and DDG.
There was a time about 6 years ago when Diesel hit its peak with the online community. There were jeans that were considered rare or amazing, meaning that members were willing to pay over the retail value in order to get them. The amazing washes that became iconic (like 772, 71J, 81M, 61X and more) were to blame for that! Everyone had to have a piece of them in the right cut, often sizing down to get the ultimate fit for when they stretched out a little bit. Diesel definitely ruled the roost for premium denim during the 2000-2010 period.
Renzo is now 57 and is president of OTB (standing for Only The Brave) which is the holding group that controls Diesel, Viktor & Rolf, Maison Martin Margiela and Marni, running the company from his headquarters in the countryside, north of Venice in Italy. He's come a long way after being born on a farm in Brugine! Renzo most recently hired Nicola Formichetti who was previously Lady Gaga's stylist. He is now the creative director of the brand, driving it in a newer direction towards luxury goods and it seems to be taking off.
Diesel now has 15 lines, 12 licenses, 19 subsidiaries, and 400 stand-alone stores in 80 different countries. The brand has branched out incredibly and were also behind the creation of the new Jogg Jeans. A hybrid pant made up of a mix of denim and sweat pants, creating one of the most comfortable and stretchiest materials to make a pair of jeans from. The result is a flattering pair of jeans that you can dance, do yoga and more in! They really are the inventors and creators of fantastic new technologies, shaping the denim world as we know it! You can buy current Diesel Jeans online at ASOS.com.