James Jeans Twiggy Dancer in Black Flex Distressed Review
My review this week is on the James Jeans Twiggy Dancer skinny jeans in Black Flex Distressed. You might remember that I did an interview with James Jeans about their Twiggy Dancer jeans a few months ago when they had just been released. For those of you who haven't read it or heard about the Twiggy Dancer, they are James' latest hybrid fabric which crosses stretch dancing leggings with denim, creating the ultimate in morning to night wear.
The Fabric: The best thing I can say about these jeans is the pure comfort they have to them. That's always something that I look for in my jeans now as I spend a lot of time sitting and writing on a computer for work, so being comfortable is the ultimate point for me, next to looking good. The denim is made up of a blend of 50% modal, 41.5% cotton, 6% poly and 2.5% spandex, creating the ultimate stretchy jean. Not only are these as free moving as a pair of leggings, but the denim sucks you in and holds you in everywhere, creating a really nice silhouette. I literally can't fault these black jeans!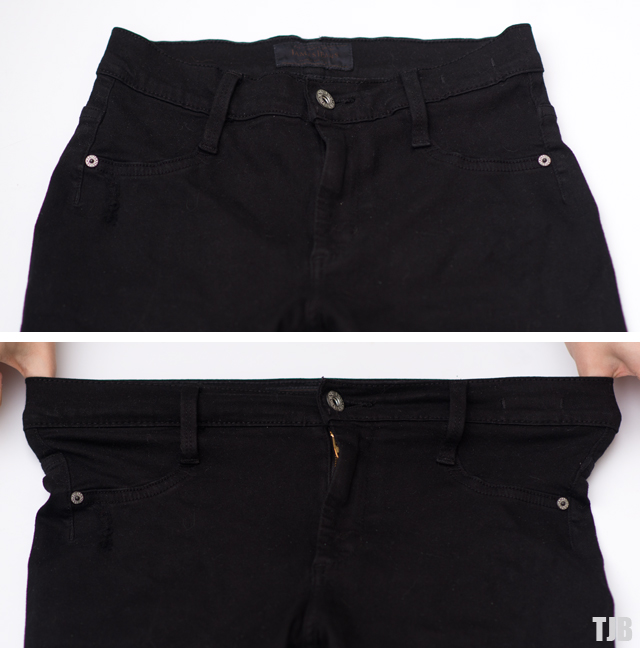 The Fit: Combining the amazing denim with the classic Twiggy fit from James Jeans is where these get even better! I've always loved the James Jeans Twiggy ever since it first came out as the rise is the perfect height at 9 inches, the inseam is 30 inches so it's a great length for most people and the leg opening is a narrow 8 inches. You might think that's tiny, but given the amount of stretch in these, they slip over your ankles without a problem. Now you know how much of a classic skinny these actually are, the back pockets are also positioned perfectly so they enhance your butt and give it shape. They are the perfect size, not too small or too big, and they are placed at a great angle and spacing to make it look pert. In all honesty, I think if the Twiggy didn't exist, my denim collection wouldn't be complete. That's how much I love this cut!
The Sizing: In terms of sizing, I took my usual size of  26 and they work perfectly. When you get these out of the package or see them on the shelf at a boutique, you will think they look tiny, but I've illustrated just how much they stretch out in my photo so you can see what you are working with. They stretch about 2-3 inches when pulled at the waistband! For reference, I'm a size 26 in most brands like AG, Paige, Rag & Bone etc so these do run true to size.
The Wash: Now getting to the wash, what could be more classic than a distressed black? I love black skinny jeans as much as the next person, so I do have quite a few pairs of them now in numerous cuts from numerous brands, but these are in my top two favourites along with my Citizens of Humanity Rocket in Axel. The distressed areas hit just above the knee up to mid thigh on both legs and they don't show too much skin at all. The threads are still very close together and unless you blow them out with your foot or rip them over time, I think they wont show much skin at all which is great if you still want to keep them looking classic. Distressed jeans can often be taken too far, but these have the right balance for both casual wear and dressing up!
Overall: I literally can't think of anything that I dislike about these jeans and when I have to list the good and the bad points, that's not helpful! I love everything from the fit and cut to the wash and comfort, so I really can't pick at anything. I guess if I had to, it would be that they were slightly shorter but that's only due to my shorter legs. I honestly promise that if you are out there and wanting a pair of super skinny black jeans that are extremely comfortable, I recommend these to you straight away. You can literally dance and do yoga in them if you want to, and then head off to go shopping. That's how versatile they are! Buy these jeans online at Revolve Clothing for $180.