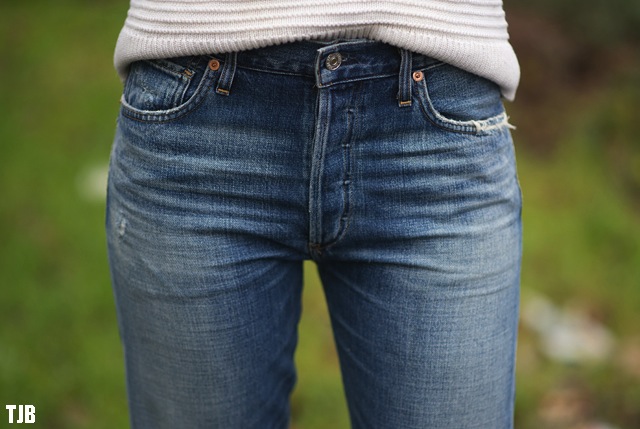 My denim review this week is on the Citizens of Humanity Liya High Rise Classic Fit Jeans in Fade Out. I did a post recently on the Vintage Mom Jeans Trend and how it's gaining popularity as the weeks go by, but one of my favourite jeans within this trend is this pair. I included them in the post and mentioned how much I thought they embodied that 90's persona so well, but everything about them is just perfect to me. You probably already know just how much I'm usually into skinny jeans since it seems to be the only cut that I live in, so it's refreshing and nice to try out something new like this and actually like it! Carry on reading to find out what I thought about these Citizens Liya jeans.
Fit and Size: I took a size 27 in the Liya as I knew they were a vintage fit and designed to be worn slightly loose, so even though I am a 26 in Citizens jeans usually, a 27 felt right with these. You can see from the modelled photos that they fit really well, nice and snug, in the waist, crotch and butt area, but then they drop down into more of a straight leg fit with a slouch to it. In comparison to my butt and hips, I do have slimmer legs for that proportion, so they might fit a little tighter on other people, which is what I would prefer, but that isn't possible unfortunately, unless I sized down, but that would be uncomfortable. So I do think they run slightly small if you compare them to the stretchy Rockets, but for their thicker denim, if that's what you are used to, then I would guess they are true to size, if that makes sense.
The measurements for these jeans are as follows. The rise is 10.75 inches, the inseam is 28.25 inches and the leg opening is 12.5 inches. You can see from the photo above that the rise is really high, but given these are a vintage mom jeans fit, that's expected and it's extremely flattering as well. The leg opening is more of a tapered straight which hits at the ankles on me, which is great since I have shorter legs. You can cuff these, but that made my legs look shorter, so I didn't want to do that. It would look great on the taller ladies though! The back pockets are longer and wider than their usual pockets, which isn't as flattering as the Rocket's in my opinion, but it ties in nicely with the cut of the jeans. They also aren't too high that it's unflattering and awkward, they are well placed.
Denim: Now getting to the denim on the Liya, this is what excites me! It's made up of a 77% cotton and 23% rayon blend, but it's such a good replication of a vintage pair of jeans, you almost can't tell the difference. The weight of it is nice and sturdy and there's very little stretch to them, however with their fit being slouchy, it's comfortable. I did think that the fabric was going to feel rough, but I was completely wrong. It is of course more coarse than a sateen denim or something like the Transcend fabric from Paige, but in terms of thicker, vintage inspired denim, it's pretty soft. That's something I'm extremely pleased with, so I do love the denim on these. I also own the Torn wash in the Liya and that fabric is even softer than these!
Wash: The Fade Out wash is really gorgeous though. Other than the fit, it's what really attracted me to these jeans in the first place. It's part of the Citizens of Humanity Premium Vintage collection and those of you who own a pair of jeans from this collection will know just how much care and attention to detail goes into the washes. They are a true replication of a vintage pair of jeans which haven't been washed out too much. The button fly features those lust worthy crinkles and fading while the whiskering on the lap is to die for. It's like these have been your favourite jeans for years and I'm only on the crotch area so far. They have little distressed areas around the edges of pockets, fading through the thighs, honeycombs on the backs of the knees and darker blue denim around the side seams. With all of this fading and perfectly done whiskering, these jeans truly do represent what they intended and I can't stop staring at them when I get them out. I'm sure those of you who are denim addicts will know exactly what I'm on about!
Details: There aren't that many details on these jeans as they have been kept quite plain for a reason, but they feature the white patch on the back which says Premium Vintage, they also have the little C of H tab just above the coin pocket and they also feature plain back pockets, so other than those little logos (which are usually hidden by tops) you wouldn't notice that they were Citizens of Humanity unless you knew them off by heart. Having minimal detailing like this makes me love them even more as they truly could be mistaken for a vintage pair of jeans you found in a vintage shop!
Overall Opinion: If you have made it this far through the review, I'm sure you already know what my overall opinion is, but if you have skipped to this part… I love them. The Citizens Liya really embody the vintage mom jeans trend perfectly, but in a modern and flattering way. The wash is simply stunning in more ways than you can imagine and the button fly and minimal detailing is iconic of an old jean from the 90's. Accompanied with their comfort and fit, these jeans are one of my favourites this year so far and I can't wait to wear them more when the weather warms up! They make a refreshing change to my constant skinny jeans wearing. If any of you have these too, I would love to hear your thoughts on them!
Buy these jeans online for $268 at Shopbop.com or at REVOLVE Clothing
Buy these jeans online for $268 at Shopbop.com or at REVOLVE Clothing