The Vintage Mom Jeans Fit Trend
You may have noticed that the Mom Jeans or the vintage fit denim trend has been gaining popularity over the past couple of years. We have seen so many fashion bloggers, celebrities and members of the public opting for vintage Levi's 501's and going for a 90's a look, but the trend has come into its own right now and is taking off like crazy. If you didn't fancy going for vintage or used jeans before to get the Mom Jeans fit, don't worry, many denim brands have created their own take on the trend so it means you can buy old but new.
You might already be familiar with RE/DONE Levi's who take old Levi's jeans and deconstruct them, making them into a more feminine and modern fit all while keeping that vintage essence and classic fit, but there are brands like Citizens of Humanity, AG Jeans, Cheap Monday, FRAME Denim, Alexander Wang, Current/Elliott and more who are creating that beloved high rise, straight cropped leg fit which gives a nod back to the 80's and 90's. You can check out RE/DONE Levi's for their range here and also if you are on a budget, Topshop have some great Mom Jeans for a much lower price, check those out here.
Fashion Month is coming up and I can definitely see so many denim street style photos cropping up of Mom Jeans being worn, especially in London as it seems to be home to the more grungy/vintage scene with the markets. With that in mind, if you want to get ahead of the game, I've included some Mom Jeans fashion inspiration from bloggers as well, so you can get a great idea of how to style this wonderful jeans trend. I personally just bought the Citizens of Humanity Liya in two different washes and plan on wearing them with leather jackets and heels, or baggy sweaters tucked in only at the front. You can check out how to style vintage Mom Jeans below and also the 8 best pairs to buy!
How To Wear Mom Jeans
I've included quite a few photos of style bloggers and street style stars wearing their Mom Jeans and I think it gives quite a few great options on how to wear mom jeans. Tucked in shirts and cropped sweaters seem like one of the best ways to really show off the worn in button fly and high rise of the jeans, appealing nicely to the cut of the jeans and how they are supposed to be worn. As long as you tuck your top in or wear something cropped, you can then add layers on top in the form of jackets or long coats, making it look more modern.
Lots of ladies seem to love styling them with lower heeled ankle boots as well, but heels can work just as good. Be sure to stay away from any footwear that's too chunky (if the jeans are full length) as it can make the silhouette look sloppy and overwhelming. If you decide to have them cropped or cuffed, you can be a little more lenient with your shoe choices. The best thing about wearing Mom Jeans though is how you plan on bringing them into the current times and trends, making them feel relevant and not dated. So with these tips in mind, you can be sure to look fashionable when you wear Mom Jeans and not silly.
8 Of The Best Premium Vintage Mom Jeans
Citizens of Humanity Liya High Rise Jeans in Fade Out
AG The Phoebe High Waisted Jeans in 17 Years Oasis
Cheap Monday The Donna Jeans in Blizz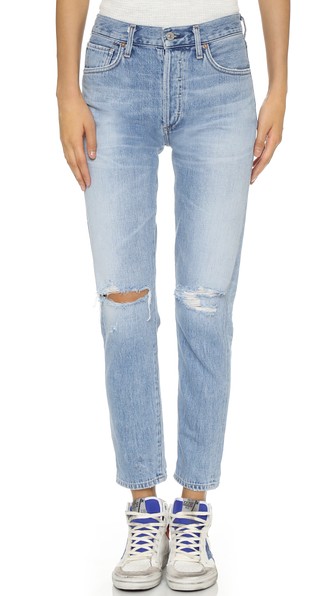 Citizens of Humanity Liya High Rise Jeans in Torn
FRAME Le Original Jeans in Wetherly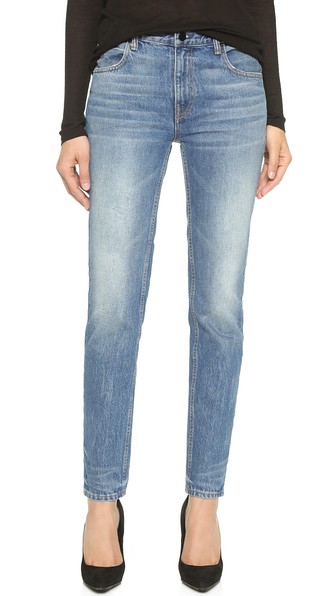 Denim x Alexander Wang 002 Relaxed Fit Skinny Jeans in Light Indigo Aged
Current/Elliott The Mamacita Jeans in Tidal Wave Destroy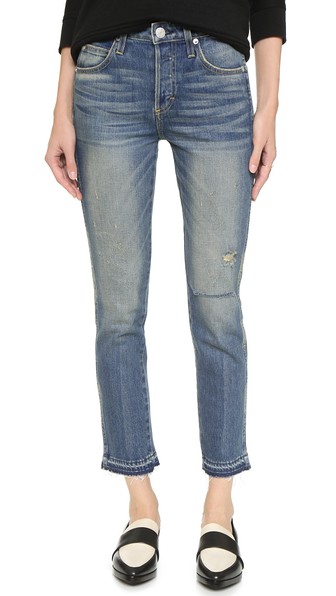 AMO Babe High Rise Cropped Slim Jeans in Dive Bar
I've also rounded up 8 pairs of the best vintage Mom Jeans around at the moment. The Citizens of Humanity Liya are a pair that I swear by and plan on doing a review on very soon, but they are a great high rise, straight leg cut which is perfect for this trend. However, the AG Jeans and the FRAME Jeans look just as good! There's lots here to choose from if you want to go premium like most of us here do and I think they will all be really easy to style. You can either go for something really slim and long if you're tall like the Cheap Monday pair or try something with more slouch like the FRAME and Current/Elliott pairs. Which Mom Jeans are you going to go for?
Blogger images sourced from Palm Prints, Look Book, Style Caster, Notorious Mag, Where To Get It, Where Did You Get That and Pinterest.