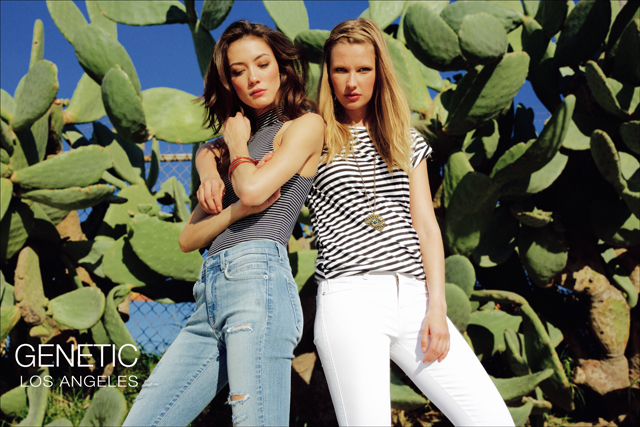 Exclusive GENETIC Los Angeles denim interview and re-launch news
A denim brand we have known and loved for years has re-launched! GENETIC Los Angeles, formerly known as Genetic Denim, has got a new vibe and a new price point. Under new management, the denim brand has seen dramatic changes to the prices, now ranging from $119 – $159 instead of the previously priced denim of $187 – $300. For the first time, the brand is also now offering the highest quality leather, both in pants and jackets, with a much lower price point too. How have they done this while still keeping the premium quality and fit? The Jeans Blog caught up with new CEO of GENETIC Los Angeles, Hubert Guez and Lori Foltz, director of sales and merchandising, to find out more about the changes, the brand direction, the new styles and more in this exclusive interview. You can shop the newest GENETIC Los Angeles jeans online at their website here.
The Jeans Blog – What inspired you to do the relaunch?
Hubert – We are under new ownership and we are want to challenge the definition of "premium denim". Premium denim is all about high quality fabric, great fit and on trend design. It's also boasted a price tag of $159-$300. We can give you all these things, but at $119-$159 and it's made start to finish, here in Los Angeles.
TJB – What was the main focus for it? The price difference?
Hubert – The price difference is a major reason for the relaunch, in addition to get the brand out there, we are focusing on a direct to consumer model and selective partnerships with boutiques and retailers. 
TJB – How are you able to make the same great quality jeans with a lower price tag?
Hubert – Many factors play into this, but mainly that we are changing how we do wholesale sales by not having a showroom (middle man) margin and setting up an on online wholesale site for our retail partners. We also are making our product in house, without large shipping fees etc that get inflated up the pipeline to the consumer. Lastly, by making our product in-house and having a shorter cycle of production, we can make less units of each style to continue to offer a large selection of fashion denim without the overhead of too much inventory and markdowns that push up the price of more expensive fashion pieces. In this model, we will offer some items as online exclusives, such as leather pants that are lambskin, priced at $595.
TJB – Have you introduced any new fits you love for SS16?
Hubert – Yes. We have my personal favorite the Dylan, that is a high rise cropped flare, as well as the Leah Culotte and Miley twisted seam skinny.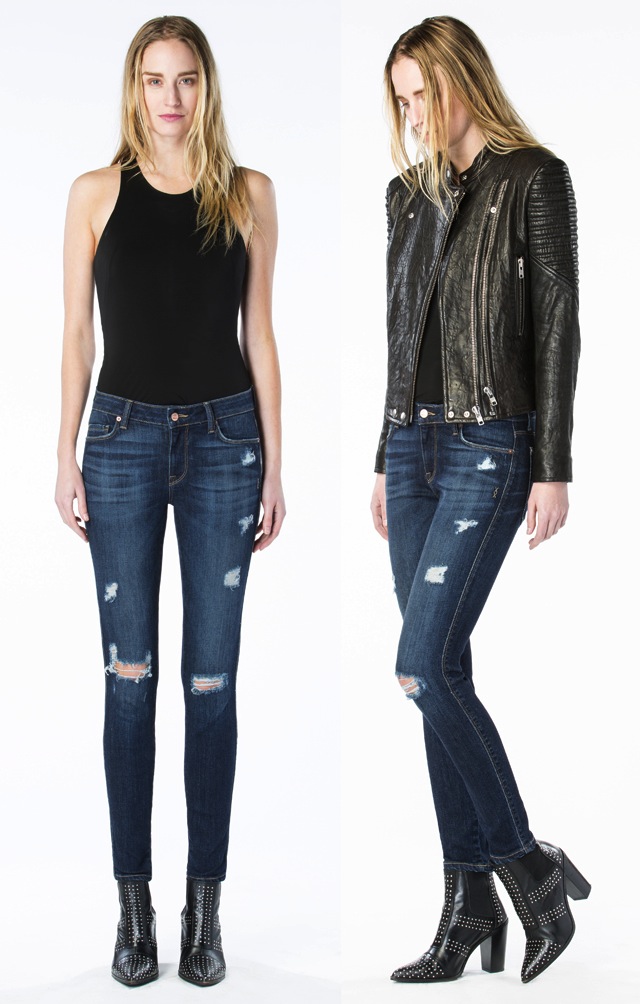 TJB – Are there any new design details on GENETIC that we should look out for?
Hubert – In relaunching the brand, we really wanted to keep signature details in tact, but we have updated our pocket placements and worked to make our fit and fabric the key focus of the brand. We are working to introduce new hardware design details in FW16 you can look forward to, as well as translating one of my favorite jackets, the Blondie, to new bodies such as a dress and a long sleeve denim jacket
TJB – I used to love the branding and what GENETIC stood for with the DNA lines, are you still keeping the meaning/heritage of the brand alive?
Hubert – Absolutely. We have evolved, as all good brands do these days, but we continue to make denim you love and want to live in. We still offer very soft fabrications and are introducing new fabrics that focus on stretch and recovery. If anything, we are more focused as a brand than ever to present a cohesive premium denim line that is the creative spirit of Los Angeles in a relatable and wearable way.
TJB – Is there anything else new coming for FW16?
Hubert – Yes. We are very excited about the direction of both Pre-Fall and Fall 16. You'll see a bit of 70's inspiration with embroidery details, and patchwork. We have a military group, then we focus on dark and clean, old-school denim styling, more fluid silhouettes, and playing with texture in suede and corduroy.
TJB – What's your favourite old GENETIC jean and your favourite brand new one for SS16? How do they compare?
Lori – My favorite pair was always the Shya, mid-rise skinny, in our soft sateen twill colors. It's been my favorite fit and this fabric is something I can wear on an airplane all day or put it with heels and look fabulous on a date.The Shya also seems to be a customer favorite, so we decided to keep this pant as close as possible to the original with just minor tweaks to the fit, so our customer can buy what she already knows and loves with confidence as well as offer the same fabric. My favorite new fit though, is all of our high-rise offerings in the Runaway, Birkin and Dylan. I never knew how flattering high rise was for my shape till recently and I can't get enough of it. The Runaway in Brentwood is the perfect spring jean that is soft in a beautiful light denim wash and right amount of destruction. And the Birkin is a high rise crop straight, in the mom jean trend, but also just good for days I want something other than a skinny.
TJB – How many jeans do you personally own and what makes you so passionate about denim?
Lori – I own more jeans than I can count. I find the best way to really be an expert about denim is to wear it every day, find what you love about fit and fabric and keep challenging ourselves to make the best product possible. Denim is something that becomes personal and unique to everyone who wears them, like a blank canvas. You have the opportunity to reach such a broad range of customers in this fashion medium and it's exciting to see everyone's own interpretation of the product.
TJB – Thank you so much! I'm personally really excited to see where GENETIC takes everything over the coming months! Congratulations on the re-launch!