6 Cool New Men's Denim Brands To Try For 2016
Men's jeans have come a long way. No longer are there just the clean styles that we see season to season, designers have taken queue from women's denim and started having more fun by incorporating more details into their jeans. While most have stuck with smart jeans styles, it has mostly been the relatively newer denim brands that are testing out the waters of how they can push denim. See the new styles that these brands have to offer for 2016 below and read why they stand out.
FEAR OF GOD
FEAR OF GOD popped up on the scene back in 2013 and has taken what we thought we didn't need and made it a must have, like side-zip hoodies, sweatpants and long bomber jackets. 2015 marked the year that designer Jerry Lorenzo first introduced denim into the line with the FOURTH COLLECTION with plans of only expanding the denim line further. For their first attempt at denim, FEAR OF GOD kept true to their fatigue sense of aesthetics. Taking inspiration from vintage styles, these jeans have a replicated wash that feels authentic to the natural wear of denim. The true heritage to denim is there when handling the design of their jeans. Along with the natural feeling of the details, the jeans also come with what has become a FEAR OF GOD signature of ankle zips at the inseam of each pair. These are modern jeans with the sense of heritage, which is why they are on the list of most wanted by just about everyone from Kanye West to Justin Bieber. You can get FEAR OF GOD now from BARNEYS by clicking here.
AMIRI
AMIRI jumped on the scene only a couple of seasons back and was an instant hit amongst just about everyone from Justin Bieber to Tyga. The label is known for their signature ribbed leather inserts under distressing and heavy stacked detailing, but the brand has quickly started to expand with clean denim styles to hang amongst those signature pairs. Mike Amiri has truly taken the men's denim market to a new level with his pieces and there is no stopping him. He has found a way to do just minor tweaks to the jeans between the two seasons, that have kept the line feeling fresh. You can click here to purchase AMIRI from BARNEYS.
John Elliott
The focus of JOHN ELLIOTT has been fit. They have had denim in the past and for the new season they redid what they knew into a more tailored versatile cut that is clean and smart. Though more streamlined, it didn't mean that they were not going to have fun with the washes of their new jeans. Keeping as true to the heritage of denim as possible, designer John Elliott has created washes ranging from crisp whites and khakis to distressed greys. They are a perfect counterpart and in line to the brand's essentials that they have to offer. You can click here to purchase JOHN ELLIOTT from REVOLVE.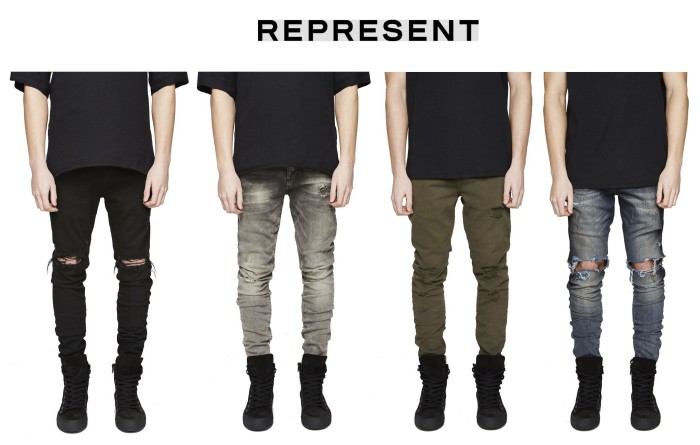 REPRESENT
REPRESENT is not afraid of taking denim as far as it can go in terms of distressing, yet they still make styles that appeals to every man. They first started out with moto jeans in both distressed and clean versions, but recently the brand has started to release classic distressed jeans. They have kept in vein of their signature cool aesthetic while giving the jeans an update each season in the washes and minor details like splatters. From blues and greens to the classic blues and blacks, REPRESENT is one that offers variety to styles in not just wash, but details too, perfect for 2016. You can click here to purchase REPRESENT from their website.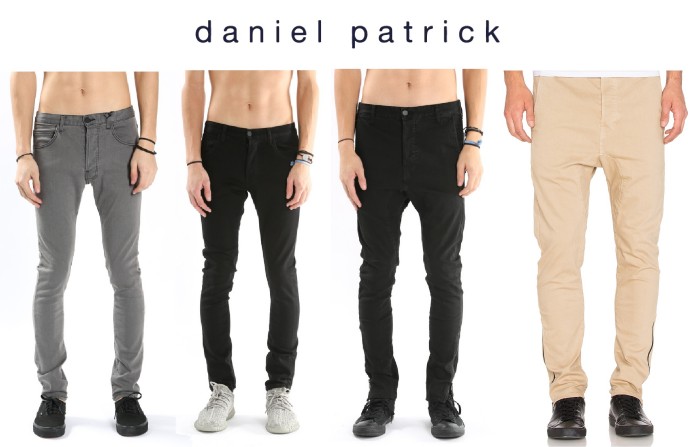 Daniel Patrick
Knomadik by Daniel Patrick launched back in 2012 and since then they have released jeans cuts that are cool and much more forward than what is out in the market at the moment, like a drop-crotch. Designer Daniel Patrick has reinvented denim in his own personal way by creating a new pattern that is different from the usual jeans style. With inspiration from the chino, the jeans feature signatures like the center panels and matte black ankle zips. The brand didn't just keep to the forward mindset and also offer classic jeans that are both distressed and clean. You can click here to check out the styles at the Daniel Patrick website.
MR. COMPLETELY
MR.COMPLETELY has a way of blending their signature detailing that feels fluid. Their jeans make a statement, yet still have an appeal to them that will make even the most classically dressed guy want to give them a try. There's raw hems, bleaching, paint and distressing to name a few, yet the jeans still have cohesion and versatility for the most part. Not to mention they come in a slim cut that is not the average skinny and have a slight flare to them that will suit many body types. There is really no surprise why they have become a favorite amongst celebs like The Weeknd for not only his stage looks, but also for off-duty, which is ideal for 2016. You can click here to purchase MR.COMPLETELY from REVOLVE.