Canadian denim brand, Yoga Jeans, is one that I have grown quite fond of over the duration of this year. Not only because their denim is really soft and stretchy as well as flattering, but because the team are so friendly and lovely and the jeans are priced very reasonably, making them a lot cheaper than most on the market.
I was lucky enough to be able to chat to Eric Wazana, the founder of Yoga Jeans, about the brand and company, the technology behind the fabric and about when Yoga Jeans first came on the scene, all the way back in 2005, making them one of the leaders for the jegging trend that we all know and love today! You can also check out their website by clicking here.
The Jeans Blog – So, for those who haven't heard of Yoga Jeans, could you tell us a bit about the brand?
Eric – Yoga Jeans introduced "Supreme comfort" to today's world of denim by fusing perfect fit, diagonal stretch and sexiness into one pair of jeans, creating what is now known as every retailer's coveted secret: the Yoga JeansTM. Embracing the body's natural movements, Yoga JeansTM styles are designed to leave every woman feeling sexy, confident and comfortable.
TJB – Why did you decide on the name Yoga Jeans?
Eric – In 2005 we set off to have 'the' most comfortable jeans in the world. We figured we would put two words that would never go together – Yoga (flexibility) and Jeans (often restricting). This unexpected pairing is why the trademark board of Canada was reluctant to approve our application. They initially pointed out to our lawyers it was misleading. Following a detailed explanation on Yoga JeansTM denim, all was understood and approved.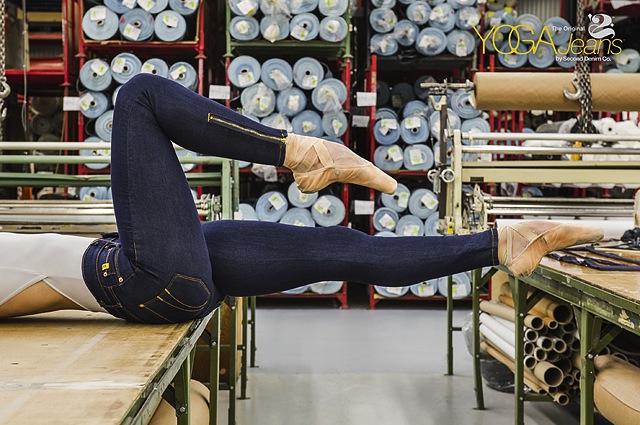 TJB – How long ago did you come up with the concept for Yoga Jeans and when was it founded?
Eric – We launched it to the general public in 2007, but we officially started working on Yoga Jeans in 2005. We successfully managed to infuse years of research and development all into one jean. The people behind the brand are a group of talented professionals that put technology, insight, good energies, positive karma, and creativity all in one melting pot to bring to market, season after season, a jean that makes women feel confident, beautiful and at peace with their body.
TJB – So does that make Yoga Jeans the original super stretch jean brand?
Eric – To us we will always be the original. We identified that lack in the market place almost a decade ago. Our product is a real jean that fits comfortably like no other brand. We have been around before the whole Jegging craze. I guess we will let you make your own conclusions.
TJB – How is the super stretch movement affecting the brand?
Eric – Everyone loves denim and athleisure is now a big thing and on the rise. The Yoga Jeans denim is growing exponentially, we are very grateful to all these new customers adopting our brand.
TJB – How is Yoga Jeans unique and different to the other brands on the market?
Eric – Denim brands are typically very segmented and after a specific niche in the marketplace. Our denim goes off the concept "a jean for EVERY woman" we offer all rises, all legs and all fits, we don't cater to any niche, if you love jeans we have the perfect jeans for you! We pay attention to details and are conscious that those details vary from one body type to another. We are fortunate to be able to do this thanks to our state of the art 52,000 square foot facility where all our Yoga Jeans are made.
TJB – You purchased your factory 3 years ago, how has this changed the brand?
Eric – Having your own factory comes with many challenges but we feel it allows us to bring the best jeans to the market place. We are in total control of all the ingredients that go into the final product and more importantly the way it is made. It allows us to produce in a sustainable way without having to cut any corner. For us this is priceless.
TJB – Could you tell us what your personal favourite jeans are?
Eric – If we are talking womens jeans, I would say the LBJ – little black jean, every woman should own a pair and feel her most confident in them. There is nothing sexier than a women that exudes confidence.
TJB – Why is denim so important to you?
Eric – Denim for me is the canvas to any wardrobe, it is the base that you build your personal style off of, as fashion continues to evolve, denim stays constant. Though we see different "treatments" of the denim, it will never disappear. Denim to me is timeless.
TJB – Thank you, Eric!