The 6 Skinny Jeans Every Woman Needs
The skinny jean. It might as well be known as 'jeans' right? Skinny jeans are that popular now and are the ultimate staple when it comes to denim. I haven't met anyone that doesn't own at least one pair, and when we go shopping for a new pair of classic jeans which aren't trend related, we always gravitate towards a pair of skinny jeans.
I remember the days, about 10 years ago, when premium denim started to become popular, brands were introducing a skinny to test the water over their bootcuts, and it was a hit. It's amazing to me now though that I wouldn't even class those skinny jeans as 'skinny jeans' anymore, purely because they used to have between a 12″ – 14″ leg opening! That's pretty much considered a straight, or slim straight in today's standards.
So with all of this in mind, it brings me to this blog post. There are now so many types of skinny jeans that you can choose from, it can be overwhelming. As skinny is the new black, there's literally dozens of cuts and designs you can choose from when shopping for a new pair of skinny jeans, so I wanted to take it back to basics and list 6 skinny jeans every woman should own. This list is in order of importance as well, so if you're only looking to buy one pair, you should make it one of the top 3 on this list, but I do recommend the high rise skinny! I can't be without mine. Let me know what skinny jeans you favour!
The High Rise Skinny Jean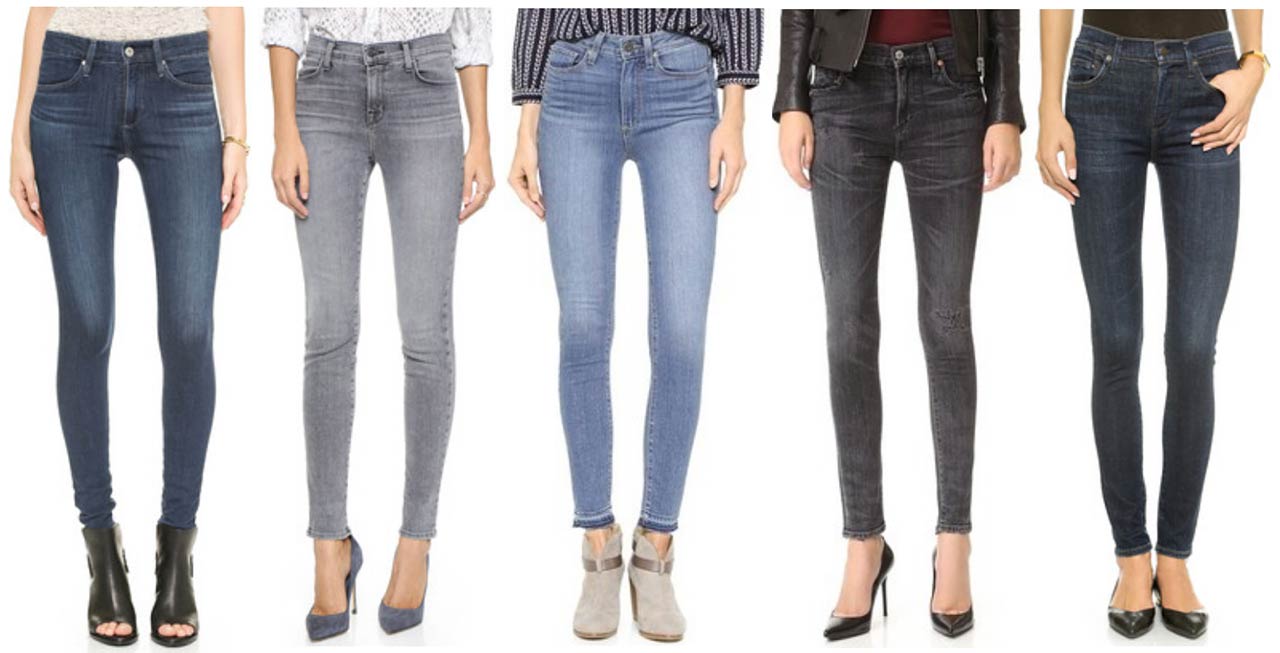 AG | J Brand | PAIGE | Citizens of Humanity | Citizens of Humanity
High rise skinny jeans are my ultimate go to! I used to be obsessed with low rises when I was in my teens and early twenties, sometimes even opting for 6 inches or less, but who can do that anymore? I certainly can't! High rises are a holy grail in denim because not only are they comfortable, they hide your modesty (goodbye plumbers butt!) and are actually slimming on the muffin top areas. They create a great silhouette and it means you can wear them with shorter, cropped tops without feeling conscious.
My favourite high rise skinny (ever) would have to be the Citizens of Humanity Rocket, but the Hudson Barbara Jeans or the J Brand Maria are very close. I've listed some options above, but when it comes to choosing a high rise, anything between a 9.5″ – 10.5″ rise is considered to be a high rise on a skinny jean. Make sure you check the measurements when buying online so you know where the jeans are going to hit. I've put these high rise skinny jeans as full length versions as everyone needs a pair of full length skinny jeans in their lives, but of course they come in cropped as well, which I will get to now.
The Ankle Peg Cropped Skinny Jean
DL1961 | Citizens of Humanity | FRAME | AG | Stella McCartney
Cropped or ankle peg jeans became popular a few years ago when the demand for shorter inseams finally got met. Not only are these ideal jeans for petite women needing shorter jeans to create full length pairs, but it also means there's no dreaded hemming involved! Hallelujah.
For me, the cropped ankle skinny is my favourite cut, especially when it's in a high rise, so the Citizens of Humanity Rocket Crop is my all time go to jean (as I'm sure you know). In my mind, I don't think you can beat a gorgeous, flattering high rise with a slightly shorter inseam. It shows off your shoes perfectly, it lets your ankles breathe, and because the inseam is shorter, it can be much slimmer than a full length skinny so that it sits tight against your calves and ankles. The streamlined fit like this is something I crave! Cropped skinny jeans, whether you want a higher rise or not (that's just my preference), are a must!
The Classic/Vintage Skinny Jean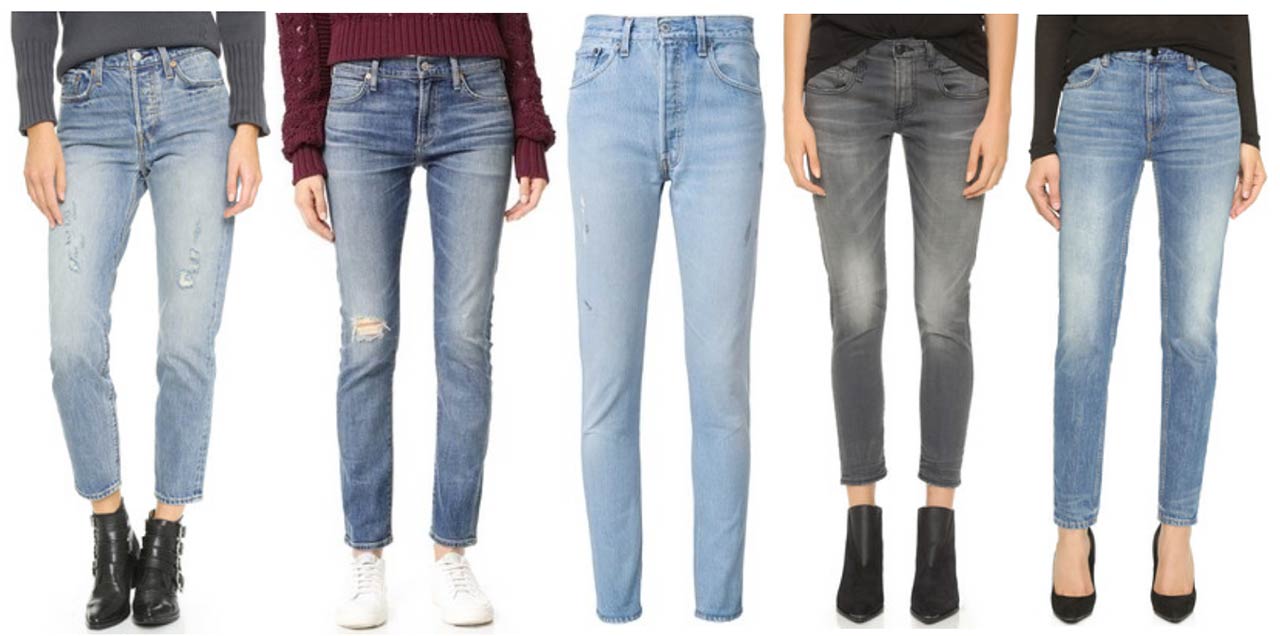 Levi's | Citizens of Humanity | RE/DONE Levi's | R13 | Denim x Alexander Wang
If you're not a lady who loves to keep up with the celebs in denim and prefer to go it your own way, you might be wondering why on earth I'm going all retro and vintage on you right now. The 80's have been making a huge comeback with denim in the last couple of years, mostly due to the vintage Levi's craze and the brand RE/DONE Levi's which take vintage jeans and reconstruct them into a more modern fit, while keeping the heritage of the jean. Literally everyone is wearing vintage inspired jeans, so much so that premium denim brands have all released their own take on vintage skinny jeans in the last year.
You can either head to your local thrift shop to find a vintage pair of Levi's jeans yourself, or if you prefer to have a more modern fit, a pair from RE/DONE Levi's is great, but other brands like Citizens of Humanity have the Liya fit, Denim x Alexander Wang have a great vintage inspired jean, and you can even go for a more classic approach to when skinny jeans became popular 10 years ago and opt for one of the 12″ leg opening, mid rise skinnies. It depends how classic or vintage you want to go!
They are actually flattering though, so don't worry. It's a nice breath of fresh air to see a fit like this. I know it's a current trend of the moment to go back to old jeans, but since these jeans are so old, I think it proves they stand the test of time and are worth investing in.
The Distressed Skinny Jean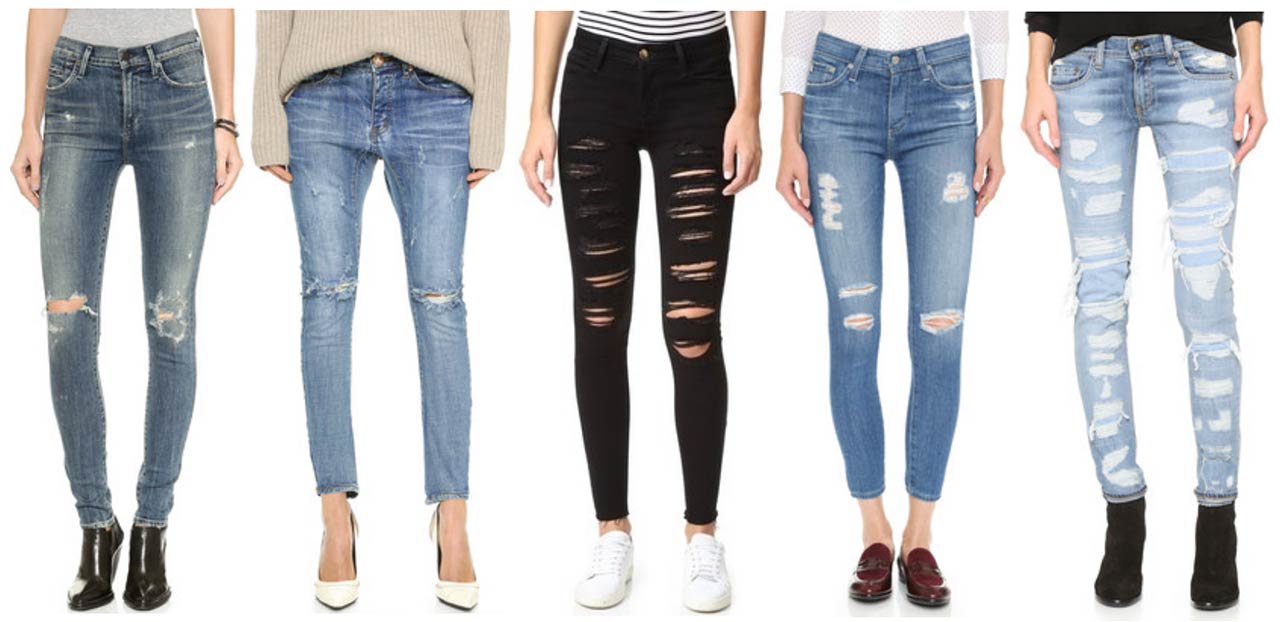 Citizens of Humanity | One Teaspoon | Joe's Jeans | AG | Rag & Bone
Everyone loves a plain, classic jean which is versatile and can be dressed up or down, but clean jeans can also become boring and lack in the wash department. I find a lot of them can be quite flat and dull if you don't choose your brand/wash carefully, so distressing is important. I'm pretty sure that everyone needs a pair of distressed skinny jeans in their life, I know I do (multiple pairs!) as they really create something 3D and nice to look at.
You don't have to go overboard with rips all over the place and huge white shredding though, you can go subtle with just a few abrasions here and there, or just a rip at the knee etc. Lucky for you, distressed jeans are as popular as the skinny jean itself, so you wont fall short trying to find a pair that you love, trust me!
Brands I would look to when looking for authentic, vintage inspired distressing would definitely be AG, Citizens of Humanity, and Diesel – their washes can be absolutely incredible. If you prefer subtlety, PAIGE and J Brand are good choices (I'm not talking about the old Thrasher and Zombie jeans), but if you want extreme rips, One Teaspoon are a great choice. Either way, distressing is important to the character of the jean, it tells a story in a way that brings them to life.
The Raw Hem Skinny Jean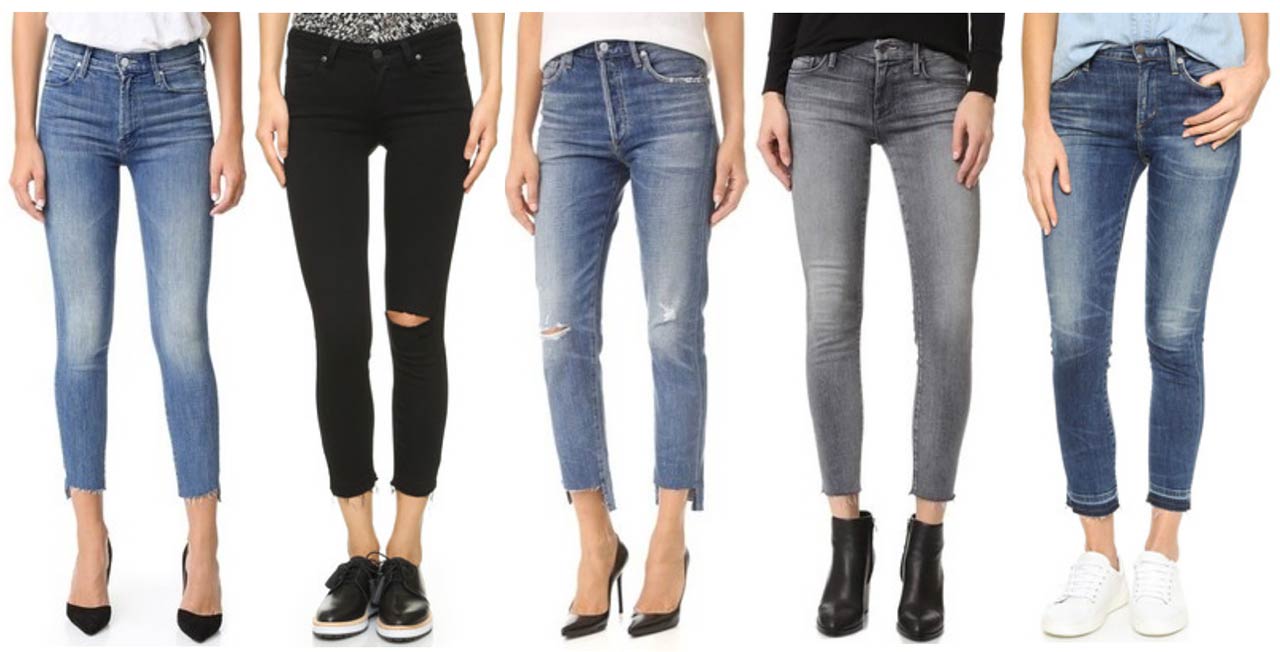 MOTHER | PAIGE | Citizens of Humanity | MOTHER | Citizens of Humanity
Raw hems are a trend that's been cropping up over the past year, and it's one that I completely fell in love with. I would say that once you have your staple skinny jeans, you definitely should invest in a raw hem skinny jean. There's so many out there and they really just add something extra to the jean itself. You want to make sure they're cropped and ankle length, plus you need to make sure the hem is frayed and roughed up, those are my two tips. A hem that is literally just chopped off doesn't look good as it gives the impression your jeans were too long and you just chopped them off lazily instead of going to a tailor. You need to make sure they are frayed and rubbed.
It's not a trend that everyone loves, I know that as I have a friend who hates it, but being the denim lover that I am, I'm always open to most trends and it's so nice to see different styles coming out. When you have worked with jeans for as long as I have, you get used to seeing the 'same old, same old' pairs and you literally wonder what they could possibly do next as there's no more skinny cuts they can develop, so a raw hem was welcomed by me! MOTHER, 7 For All Mankind, Citizens of Humanity and PAIGE all do very nice raw hems. Even shorter in the front and longer in the back (mullet jeans I call them) are popular now too with a raw hem.
If you want something different to your normal skinny jeans, I definitely recommend a raw hem. They are fun and interesting, plus really cute! Even if the trend only lasts a couple of years, it's still worth it as they're versatile enough and subtle enough to be worn at any time in my opinion. Of course though, if you're not looking to shell out big bucks on a new pair of raw hem jeans, then why not breathe some life back into an old pair of skinny jeans you have and do a DIY raw hem on them? I've done it and showed you in a tutorial just how easy it is!
The Aesthetically Pretty Skinny Jean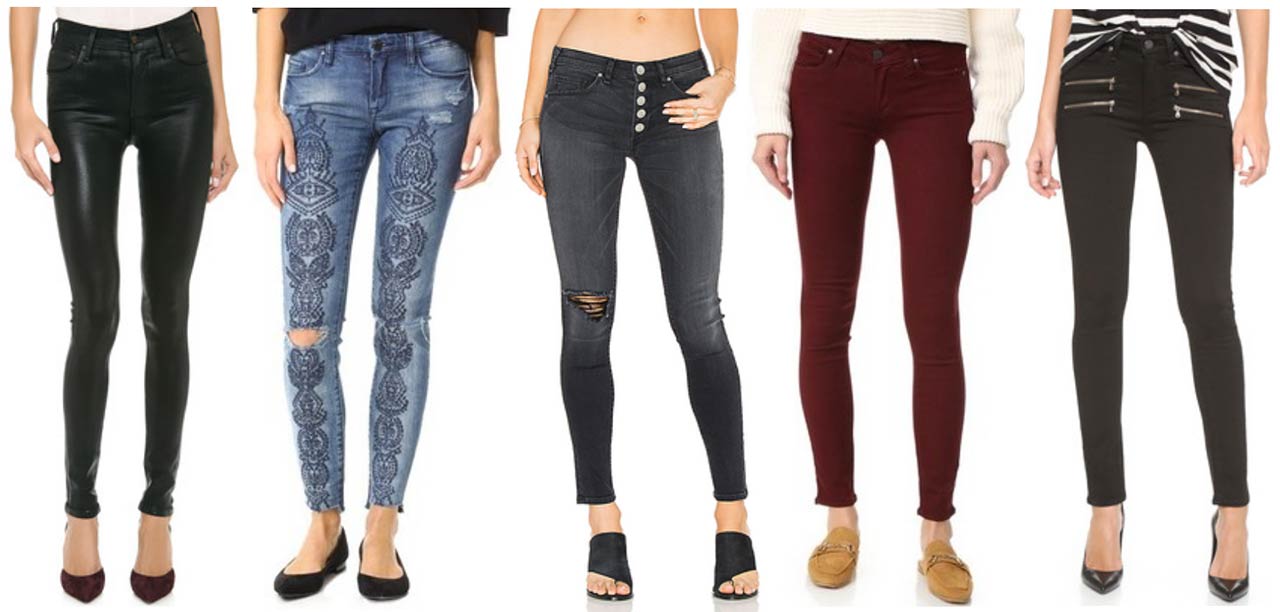 Citizens of Humanity | BLANK Denim | McGuire Denim | PAIGE | PAIGE
Finally, we have the aesthetically pretty skinny jeans! You may be wondering what I mean by this, but denim brands are known for adding things like zippers, prints, colour, coatings, and unique detailing to their jeans to make them stand out and different. If you already have a collection of skinny jeans that are classic and clean, choosing a pair which are interesting is the next step forward. If you're not into anything too much like lace and embellishment all over the front of the jeans, then why not try something subtle like ankle zippers or zips on the hips? The PAIGE Edgemont is a great version of this!
If you are bored of the usual blue and black, why not choose a coloured skinny jean? One of the most classic colours and what's trending again in the coming season is burgundy or oxblood jeans, so one of those shades is ideal. Plus, you'd be surprised at just how versatile a deep red can be. I find mine to really liven up my outfits and that particular jewel tone adds a sense of luxury and richness (in the fabric sense, not money) to the look. Otherwise, you can choose things like an exposed button fly, patchwork or even go for a coated, leatherette option.
Citizens of Humanity and AG make amazing faux leather style coated jeans, as do PAIGE, so I definitely recommend those for the Fall/Winter seasons to add some glamour to your look. It's also a great way to get the leather pants look without going broke, while being animal friendly. If you do want a print, then why not try camo or these Stella McCartney star print jeans. Leopard was a huge trend a while back, but it's more about stars right now. If it's your first pair of detailed skinny jeans though, I would definitely say go for a colour like burgundy, or opt for zippers. They make a great addition to your collection. Happy skinny jean shopping!
Main image courtesy of Chic Flavours.