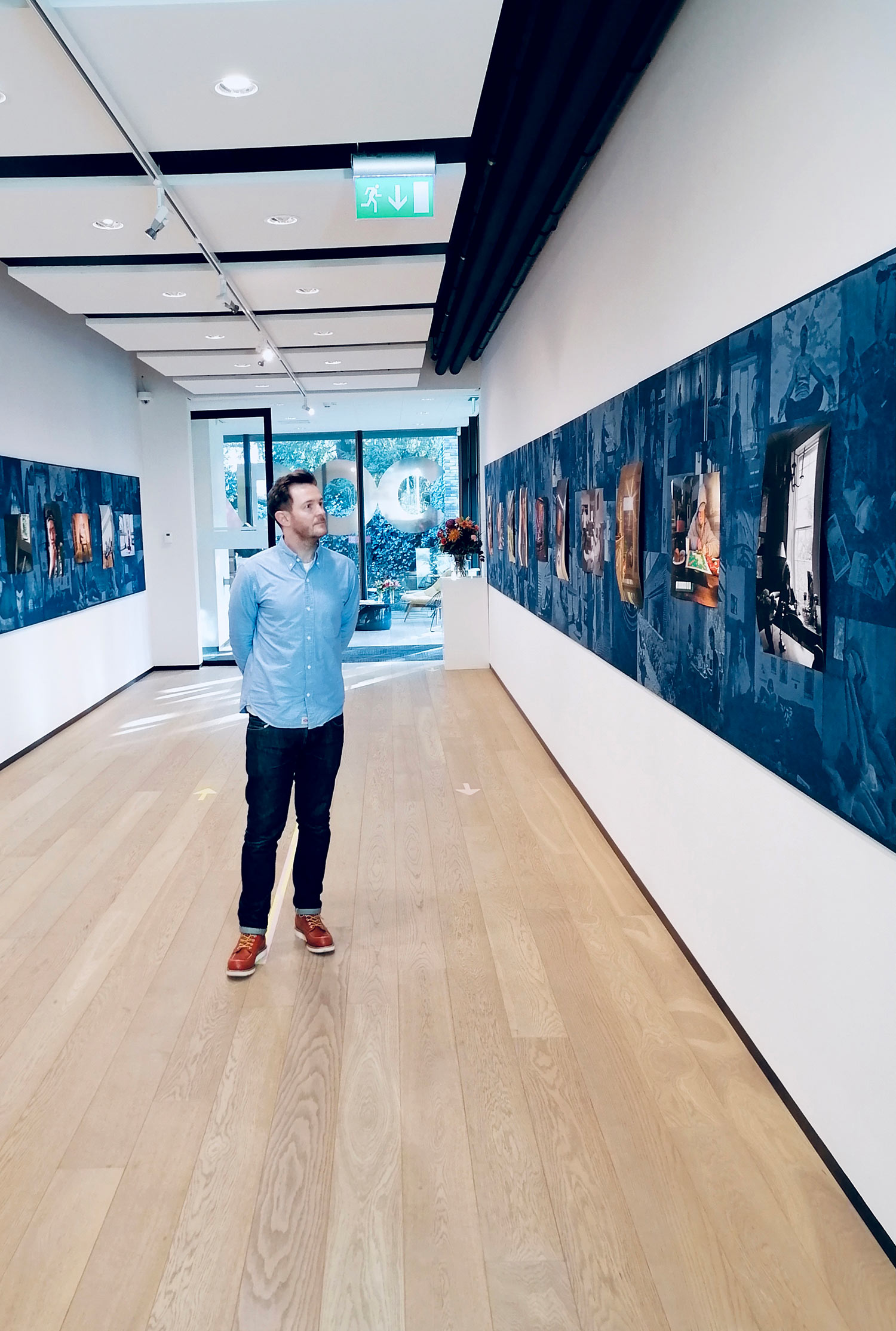 Ian Berry's Solo Exhibition Splendid Isolation at the Museum Rijswijk Holland/Art in Denim
It is ten years since I first wrote about the art in denim of Ian Berry and I've since done many articles on him and his incredible work all made out of tiny pieces of denim jeans, all layered up and blended together to make photorealistic artworks. Looking at this latest show in Holland (which was hard to miss if you go on Instagram) is like reminiscing through past articles as it is his most comprehensive show looking at his 15 year career working with our favourite material – jeans – by my favourite artist.
Ian Berry shows many pieces in the Dutch Museum in a show called Splendid Isolation and on the surface it looks like he has had a splendid time in 2020. We followed his heartfelt project with his son, Elliott, with the Clapping Hands of #iclapfor that were projected around the world to say thank you to those that cared for us. They were also turned into a pin badge with Pin Your Thanks joining the likes of Ringo Starr, Joe Lycett, and Kiera Knightley. It even got a permanent mural in Walthamstow with Atma and Wood Street Walls.
Sadly, at the start of lockdown, all of his photoshoots that he was due to work on were cancelled. Thinking on his feet, he quickly set up Stay Behind closed Doors – a project asking his friends and contacts to send their photos in isolation – and they were sent in from around the world from both professional and amateur photographers. This wasn't reactionary – this was Ian's work that we all know in denim taking on a new meaning. For years Ian Berry has always portrayed isolation, whether in the lonely Hoppereqsue bar scenes, the lone soul in a launderette or of course, his major 2016 Behind Closed Doors body of work. The phrase becoming one of the most common of 2020.
It was this curated photo project Stay Behind Doors that opened the museum show and with photos from the likes of Martha Cooper, Michael Cuffe, and Jenny Beavan OBE, along with denim names such as Tricia Carey of Tencel, Hassan Kwame aka Danyaki, and Soloman Russell – aka Left Hand Twill, that greeted the visitors in the Garden Gallery. Many of the submissions also Lasered by Tonello on to stretched Cone Denim with the likes of Kara Nichols from Cone Denim and Alice Tonello. This led to the Main Hall where some of the older pieces of Behind Closed Doors were complemented by some new – like Con's Hall – made during lockdown. As you walk in, you are faced with Ian Berry's Lock Down Living Room, all recreated in denim.
Ian Berry remade his chesterfield record player and even his succulent plants, all out of jeans creating an indigo filled welcome to the hall. Take a few more steps and look back – he also made his living room in his more 2D format. Like a mirror image. Walk around within it you will learn about some of Ian Berry's music taste, with albums of the likes of the Ramones, Television and Patti Smith made all in denim. If you know Ian Berry's work, you will have seen his various Record Collections first done in 2012 and here with Soho Records. Look a bit further and you'll see books, notably Denim Dudes by Amy Leverton, Blue Blooded and Denim Branded.
Further on there is a denim bed, with two pieces of the artists wife sleeping. Sleeping Alone I and II. On a bedside table, of course made of denim, features a picture of Elliott as a younger baby. On the opposite side is a window looking out to his lock down view. It's night time and it's a view over Canary Wharf. On a wall is a projection of the #iclapfor Clapping Hands.
This really is Ian Berry's Lockdown Living room.
'With all the shoots cancelled I realised that when I lived in Sweden I always wanted to portray London and New York, then when in London suddenly always wanted to go to LA. With lockdown and let's be fair, it was a gorgeous Spring, I started to realise what was around me a lot more.' Said Ian Berry.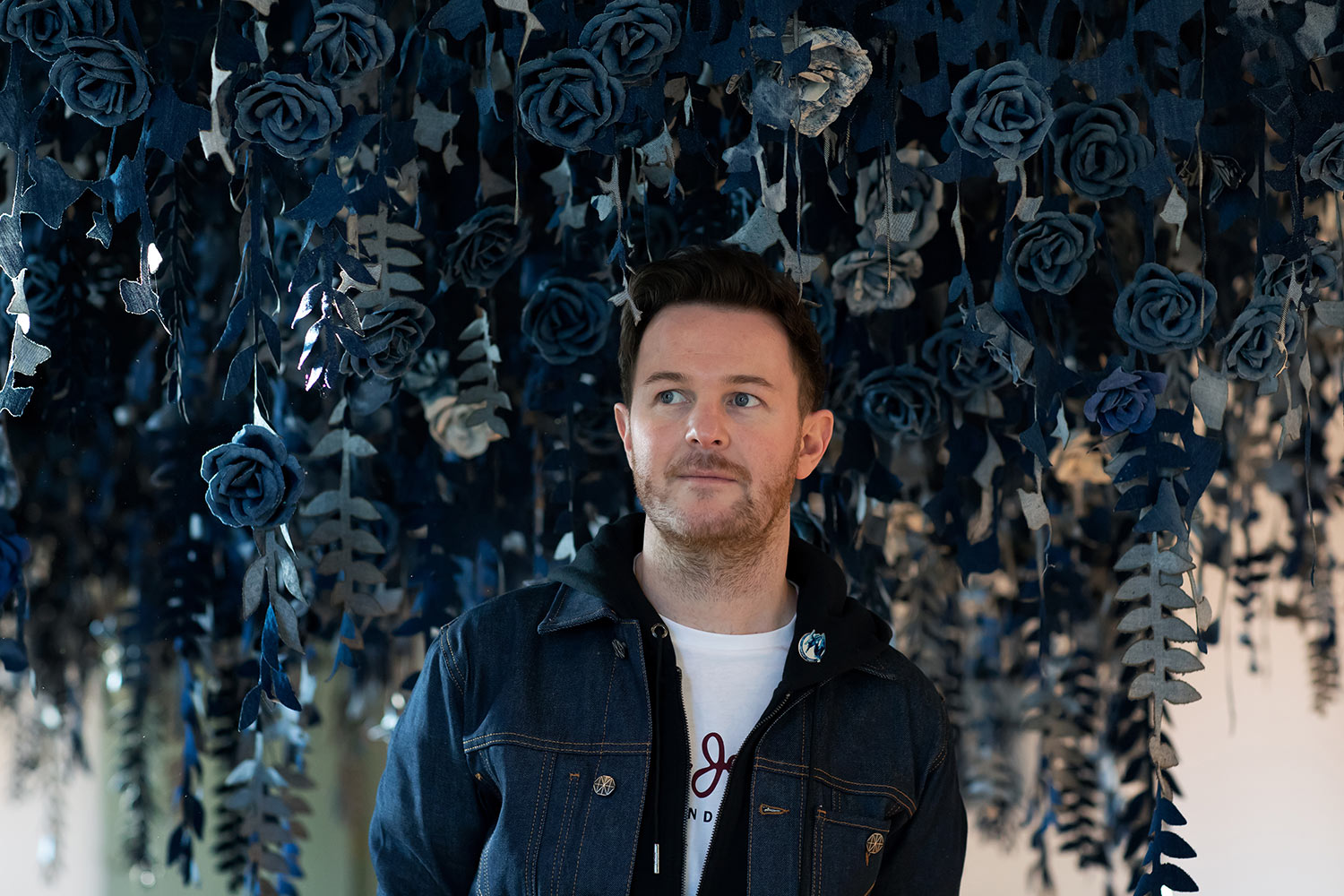 And when you go upstairs in the museum you feel Spring is staring straight at you with Ian Berry's stunning hanging Secret Garden – a favourite of many since he first showed a version of it at the Children's Museum of Arts in New York. Various installations have followed in France, Barcelona, Basel and even in Selfridges London. A permanent one hangs at the San Fran Flower Mart and one of the consistent ingredients of all of these are where he sources his help from.
For years we have known many brands and suppliers have wanted to work with the creative Ian Berry, and most find a polite rebuff by the in-demand textile artist. But with this show we see long term collaborators Tonello helping him with the lasering and washing of the denim from their Italian base. Cone Denim supply a lot of the denim and of course it was their famous fabric from White Oak that was used in the first installation in New York.
Film of the making of the garden with Tonello
Having written about Ian Berry for many years, it looks like not only a celebration of looking back over his body of work and large oeuvre, but also showing some of the support he has received. Title sponsors Pepe Jeans London I know have bought his work from many of his London Exhibitions for many years. I recall Berry telling me years ago how much he appreciates this; 'So many people write to us and ask me to make, this, that, and the other, but Pepe Jeans London came to the shows and bought the work thus showing me they see me as an artist not just someone to create something commercially.'
In 2017 he did a fantastic Pepe Jeans installation at the London Regent Street flagship store looking at the surveillance of London – being the most watched city in the world. Indeed three of the pieces bought by Pepe Jeans London over the years were curated in to the show with The Morning After, Searching for the Faith and Hope depicting a London Laundry and a reinterpretation of the New Stand.
Many brands and mills send Ian Berry fabric to work from but he says 'Pepe have sent me denim since 2013 and it's great as it's seconded or material that in the past would have gone to landfill, but I get boxes of the same kind so it's like getting large pots of paint rather than only ever getting one unique small tube. Pepe have great washes that help me blend the works together, my work improved a lot in the period when I started using it within my mix.'
Along with Pepe Jeans London, Tonello and Cone Denim, other supporters include industry leaders Tencel as well as specialist scissor and other specialist tools for textile art Famore Cutlery. Bereik provided hundreds of digital billboards all around the Netherlands. With the support of Pepe Jeans London, a TV ad campaign could be shown on national prime time TV and I couldn't be happier for Ian Berry that his work has gained a new audience.
But also it must be said, it was fantastic to see the Dutch Denim community rally around him. The opening weekend looked like the Who's Who of the denim world attended with names like King's of Indigo's Tony Tonnaer, Lucel van den Hoeven and Joanne Schouten of Denim Days, Amsterdenim with Douwe Bob, Lennart Nijgh of Benzak, Adriana Galijasevic, Silvia Rancani of the Denim Window (and whose brilliant Denim Dog line could be bought in the shop), Wouter Munnichs and Robin Denim along many others. With limited numbers available due to social distancing every single place was taken. And the most common comment about Ian Berry's work in denim was 'They are so much more incredible in real life'
They were treated to the largest collection to date of Ian Berry's work, spanning over a decade of his 15 years working with denim. Some of the oldest were still the most popular with First Sun portraying a busy gathering on Primrose Hill in London. The oldest was made in 2010 called 'Commuters'.
While the show also showcases the development of his technique, he is definitely the master of his craft, you also get to see the connections in his work. Though we know denim is versatile, Ian has shown this in his various subjects and installations, but you get the sense of this sensitive artist that looks at social issues and community. Diana Wind, Curator of Contemporary Art of Museum Rijswijk adds:
'Ian Berry's oeuvre places him in the tradition of the many foregoing artists who have found their inspiration in the city. However, the way in which he depicts life in the city is unique. This is not only on account of his chosen medium. It is also because his series encapsulate so candidly life as it is. The perfection of the execution first elicits admiration and appreciation. To fully take in the three-dimensionality of the work, you need to get up close and look with concentration. And then you are drawn in deeper, into the layers of meaning captured within the story. The initial familiarity lulls you for a little longer, but you soon begin to see that he is addressing the pressing issues of our time. Like no other artist, Berry is able to scrutinise contemporary life without moralising. He is an archaeologist of the modern human condition and brings it all so close to home that it crawls under your skin.'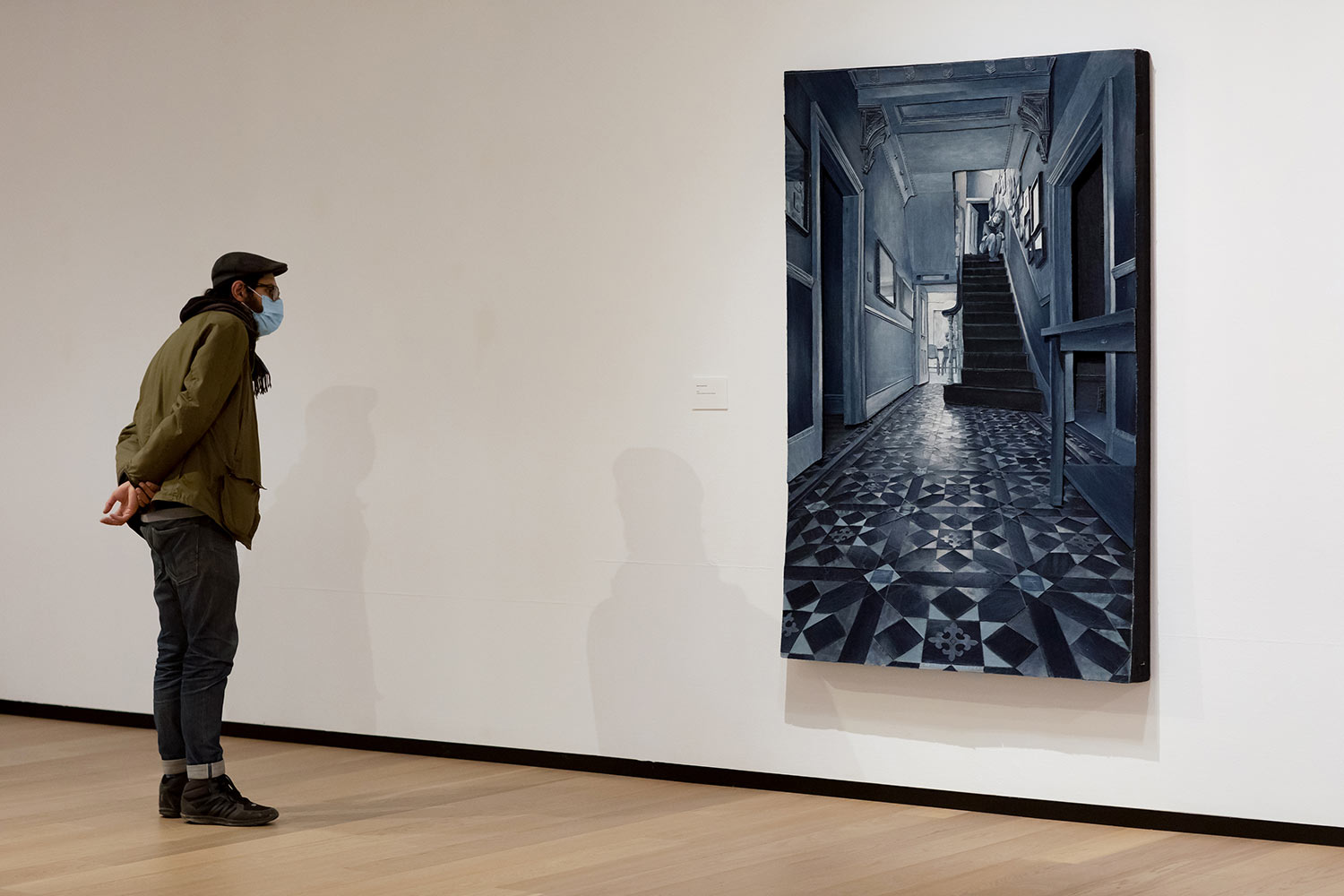 And the show ends on the heartfelt short film of #iclapfor showing the artists evolution. We all know he's more than just made in denim, but here the projections provide perhaps a new medium and way of getting his work and ideas out there. Many were in tears at the 5 minutes film with little Elliott Berry and the reasons behind the campaign to raise awareness and funds for those that supported us in 2020.
In a year where Ian seems like he didn't sleep, the productive artist also fit in a collaboration with double Oscar winner in Costume Design Jenny Beavan OBE. Together they made a jacket with Blackhorse Lane and adorned it with all the answers to #iclapfor using pin badges and sew ons – acknowledging all the different care workers and those on the front line. Inside the jacket is sewn in messages of support from the like of Emma Thompson and Stephen Fry. The piece will eventually be auctioned off with Pin Your Thanks. The jacket along with an installation of the Clapping Hands on lenticular posters were also shown at the museum
The lenticular posters and a catalogue of the show are available in the museum shop along with other items curated by Ian Berry.
The museum is due to reopen on the 19th January and there is still a good time frame to be able to see the work until the 5th April 2021. You can get your tickets here along with purchase the book here.