My favourite artist Ian Berry has popped up again in the capital, this time showing in famed department store Selfridges & Co on Oxford Street, London.
I have been following Ian for many years and it is interesting to see how his work develops. Here he shows part of his new amazing pools body of work all made in his trademark denim, our favourite material! It was inspired by his Los Angeles trip last year. I love the new use of bright denim in this work. It features the Roosevelt Hotel where he stayed, the hotel where David Hockney painted the bottom of the pool. It was exciting to see Ian becoming friends with David over this last year as from my many previous talks with Ian, I knew that Hockney was his idol.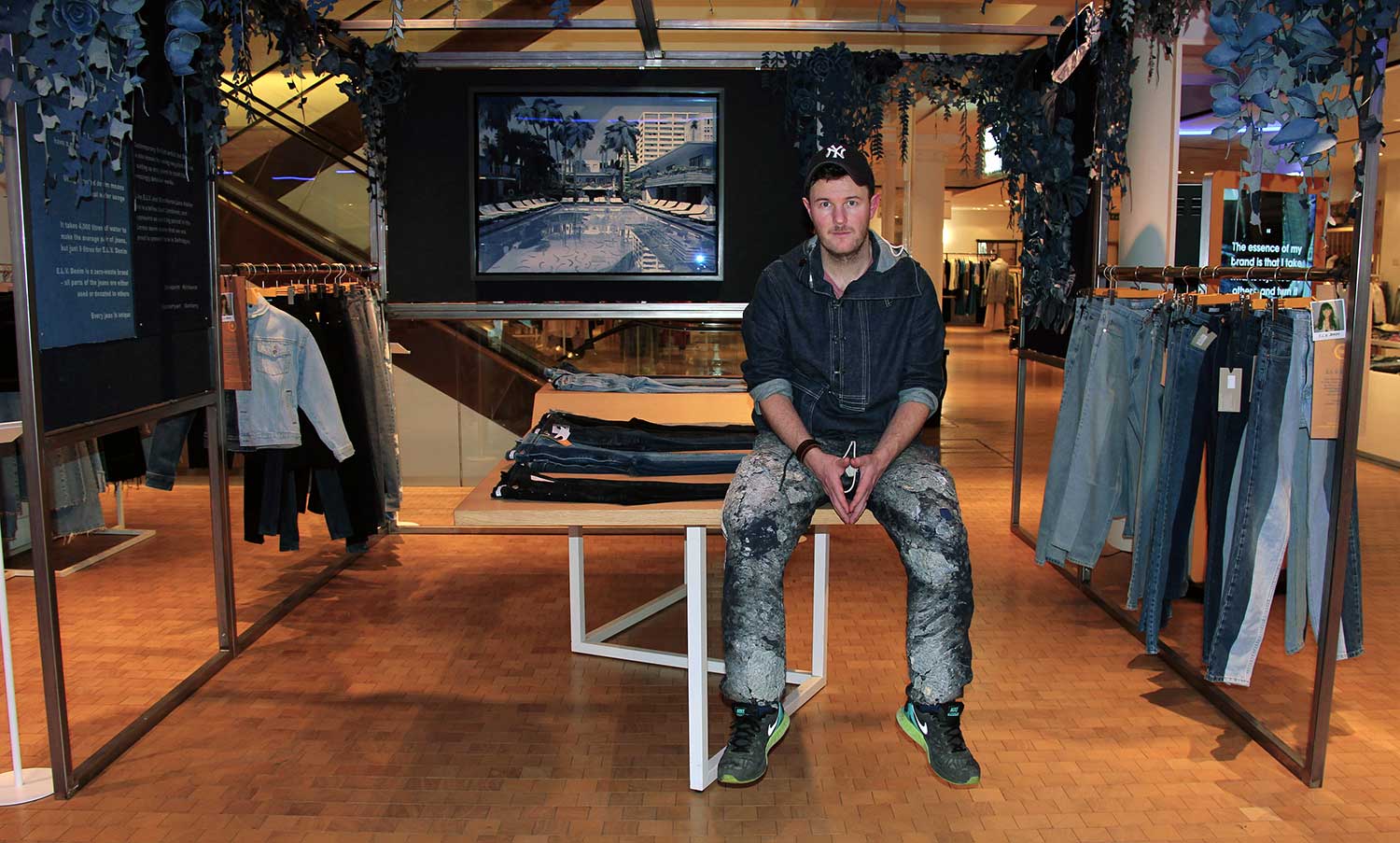 In Selfridges Ian also shows his only self-portrait, showing him sat amongst all of the jeans in the studio. This is fitting as he is showing on the Third Floor of the Department Store in the 'Denim Studio' amongst all the jeans in the world's largest denim section. The stand is also complemented by a touch of his 'Secret Garden' Installation that we have seen grow all over the world, from New York to France, San Fran to now London. I think it looks absolutely stunning!
Ian's display coincides with the Bright New Things programme that Selfridges runs to promote sustainability with style and of course Ian's recycled denim masterpieces show a great way to repurpose old materials. In the store you'll find swimwear made out of regenerated ocean fishnets, sneakers made from recycled materials and, of course, vintage denim repurposed to make new stylish and fitted pairs shown by designer Anna Foster with her E.L.V denim collection.
Ian is part of a growing denim community in London and the UK where many brands focus on sustainability as well as low volumes. Anna Foster, E.L.V Denim recreates denim jeans from old vintage to make it into something 'super-modern, sophisticated and with an incredible fit'. They are also made at Blackhorse Lane Atelier that really reduces the carbon footprint. I have heard Ian speak positively many times about Blackhorse Lane and his friend Han that has made a factory and made it the heart of the community in Walthamstow. The Atelier, who themselves have a great brand is the only craft Jean maker in London.
Along with great designers and brands like Mohsin Sajid at Endrime, Toogood, Le Kilt, the Cooper Collection, King & Tuckfield, Ullac, Snake and Dagger, Huit, and many, many more, London and the UK is starting to forge quite a name! Add in Hewitt Heritage Fabrics, who produces selvage denim in Lancashire and famed stores like Son of a Stag, Clutch, and Rivet and Hide, could London be seen now as one of the world's major denim cities?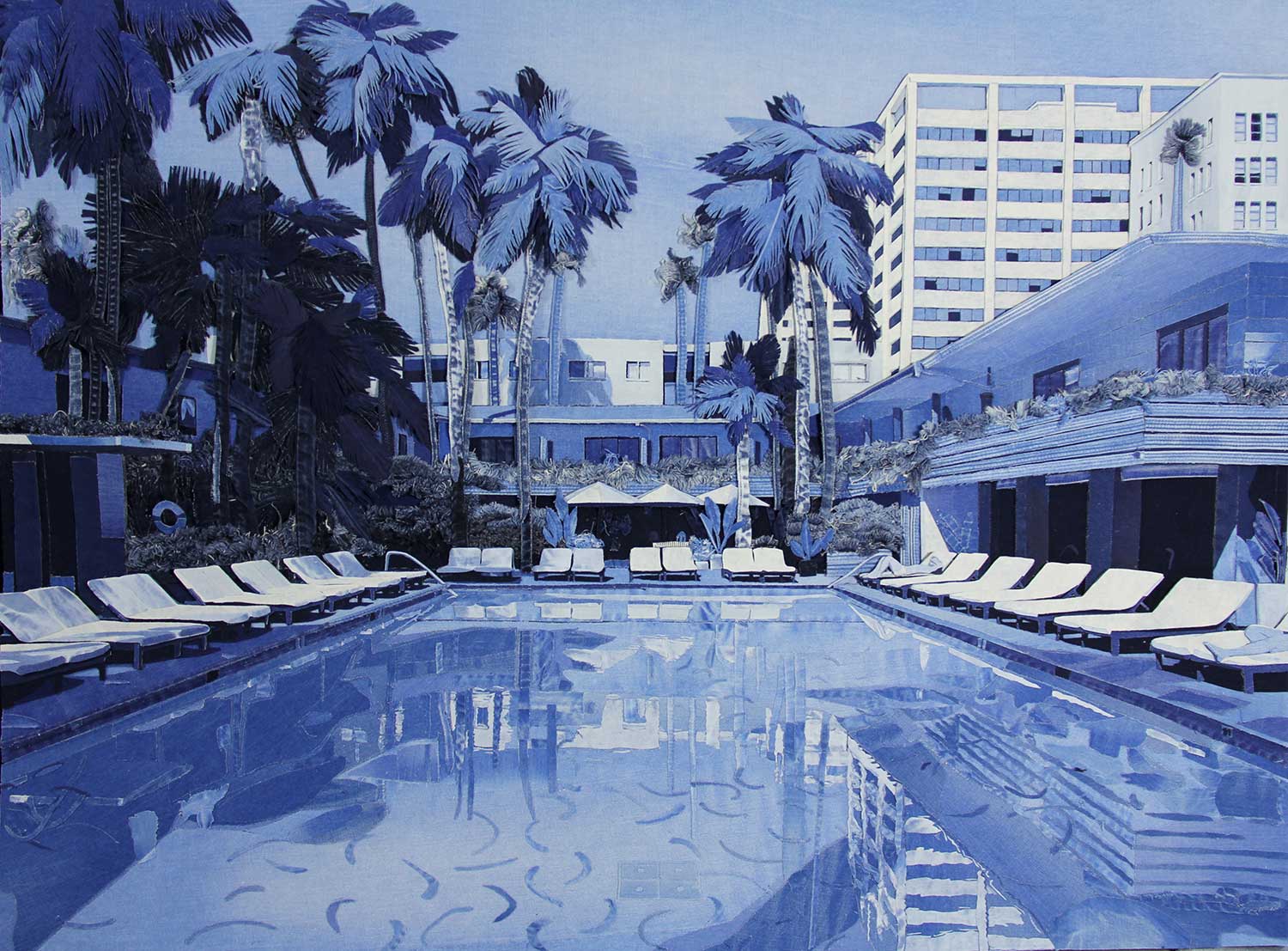 Ian's display comes off the back of another show that showed over the winter months at the Smallest Gallery in Soho on Dean Street. Ian remade the gallery into a Record Store in the heart of London's music industry's home and was also a comment on how many record stores are closing down, another loss to the high street. We did a blog post on that, so click here to see it.
Following him on Instagram (@ianberry.art), Ian seems to be forever non-stop over the last 12 months with shows in New York, Kentucky, France, San Francisco, Miami, New Orleans and the ones mentioned in London. He also stunned the crowds in January at the London Art Fair. It's great to see Ian show around the world and in prestigious locations. If you are down in London, you can see the work in Selfridges until March 31st. I'm hoping I get to see it before then!