Soho Records Denim Exhibition by Ian Berry
I'm so excited to see my favourite artist showing again here in the UK. Ian Berry, who I wrote about before (here, here and here) as you may know makes all of his work out of denim. He's just been showing during Art Basel but he hasn't forgotten us here in the UK with his latest Soho Records exhibition, showing at the Smallest Gallery in Soho, a curated space in the heart of London.
Just looking at all the detail and the collection of all the records, tees and posters all made in denim is quite astonishing up close. I love that he has chosen the albums that have a connection to the denim history, like Sticky Fingers, Born in the USA and the Ramones, which have obvious links, but then the further you look you see little clusters of records that plays homage to the rich links between music and denim. How amazing is that?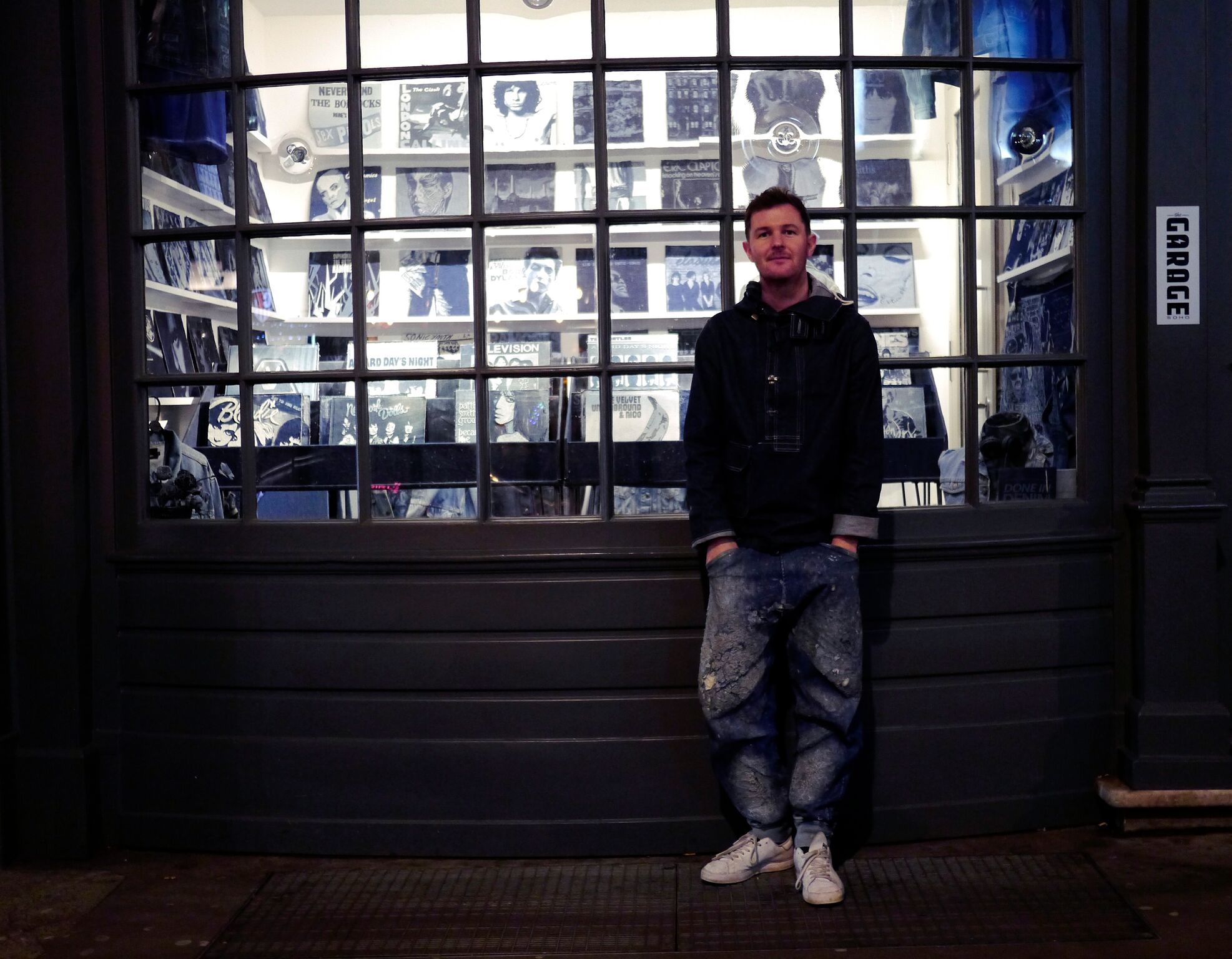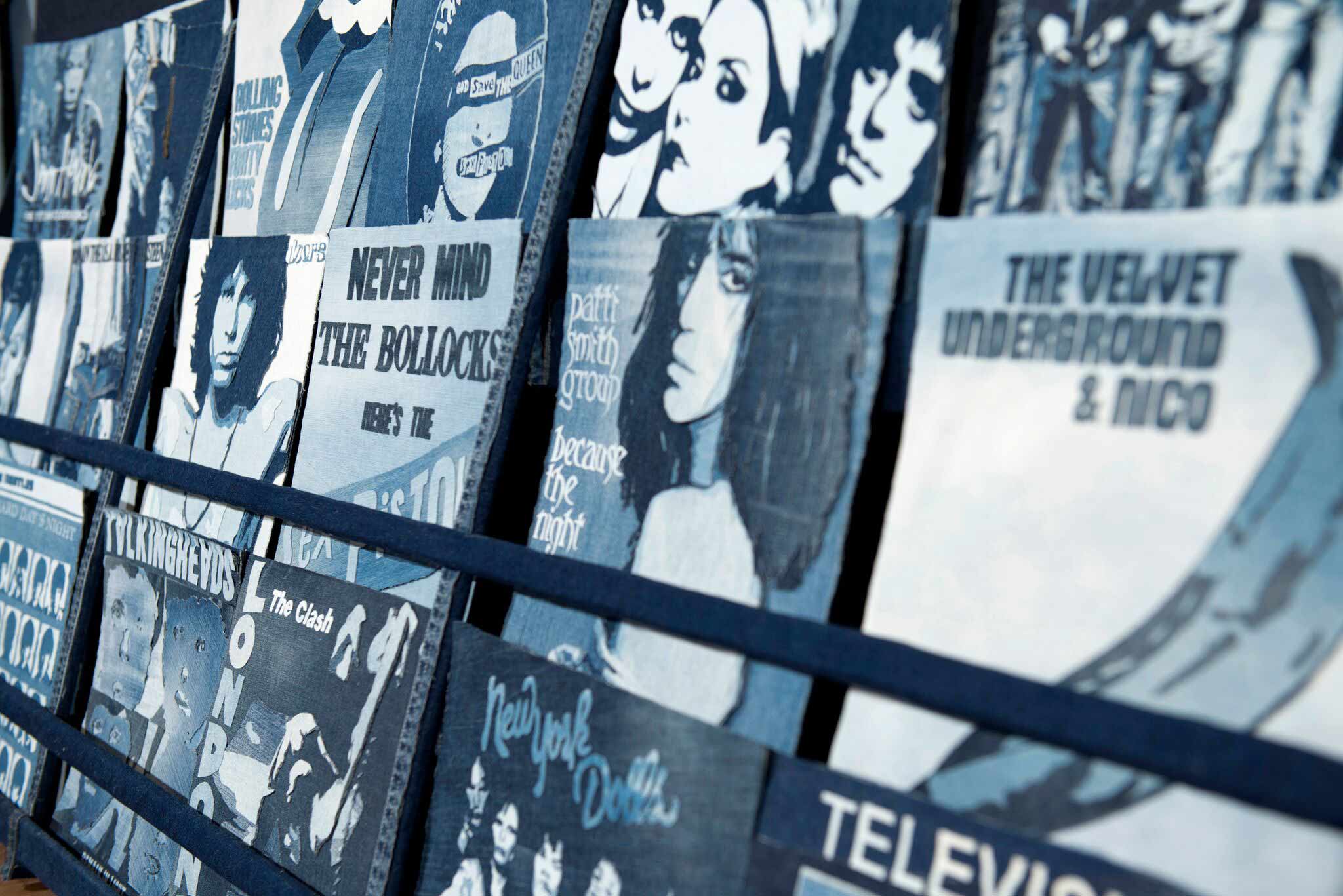 There is Jimmi Hendrix which is a nod to Woodstock, where it was said 'you either wore denim, or went naked' to the hippy folksy look with Bob Dylan. Ian said his favourite denim music period though was with the CBGB scene of the 70's and 80's:
I loved the attitude of the people down the Bowery and they just did, no matter their background, there was a creative cauldron that I wish I could have spent a day in'.
Bands such as New York Dolls, Patti Smith, Blondie, Velvet Underground, Ramones and of course Television all had a denim look, but it is the latter's Richard Hell that wore a ripped denim and tee look that Malcolm Maclaren credited for the look he created with the Sex Pistols – which made a whole movement – Punk! All this is traced with every album Ian picked.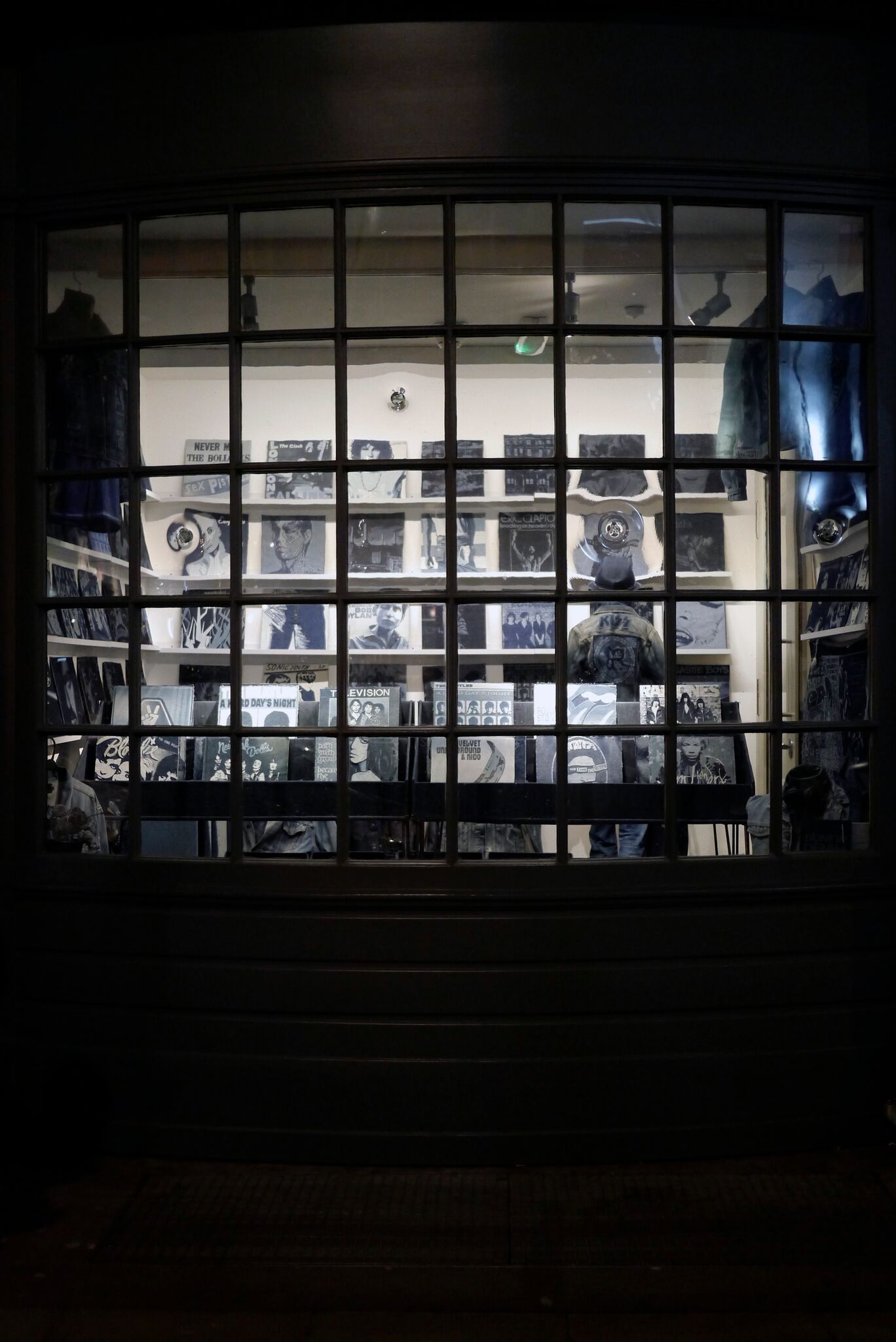 It is even more fitting to be in Soho, which is the home of UK music, as well as where so many record stores were once based. Sadly, many now closed and it is this social commentary that Ian often reflects on, our changing communities and changing the fabric of our urban environment. While record sales may have had a recent revival, the stores continue to close, leaving our high streets a little less rich and a void for a community who would frequent them. If you go and see the installation over time you will see it evolve and change, perhaps becoming topical, with new records and changes to its eventual demise and closure at the end of January.
Ian worked with Tonello in Italy to get some their technical expertise with lasering and washing some of the denim for the backgrounds provided by Cone. They also helped alongside Cone Denim for the Secret Garden last year in New York and a soon to be revealed piece in San Francisco. It is proving to be quite a team and I'm glad that Ian finally gave in and got some help from the denim industry as I can see the help has enabled him to create some of his visions and also work on larger scales. It also helps to bring some of the denim world other than the brands to be showcased to others other than just at trade events.
Secret Garden, photo by Lucinda Grange
It's been a big year for Ian, with many trips to America – showing installations in Kentucky, New York and soon San Francisco for a permanent installation. He also toured the states and took in many denim locations, driving from New York to Kentucky he has taken in 15 states in 2018 with separate trips to Florida and California.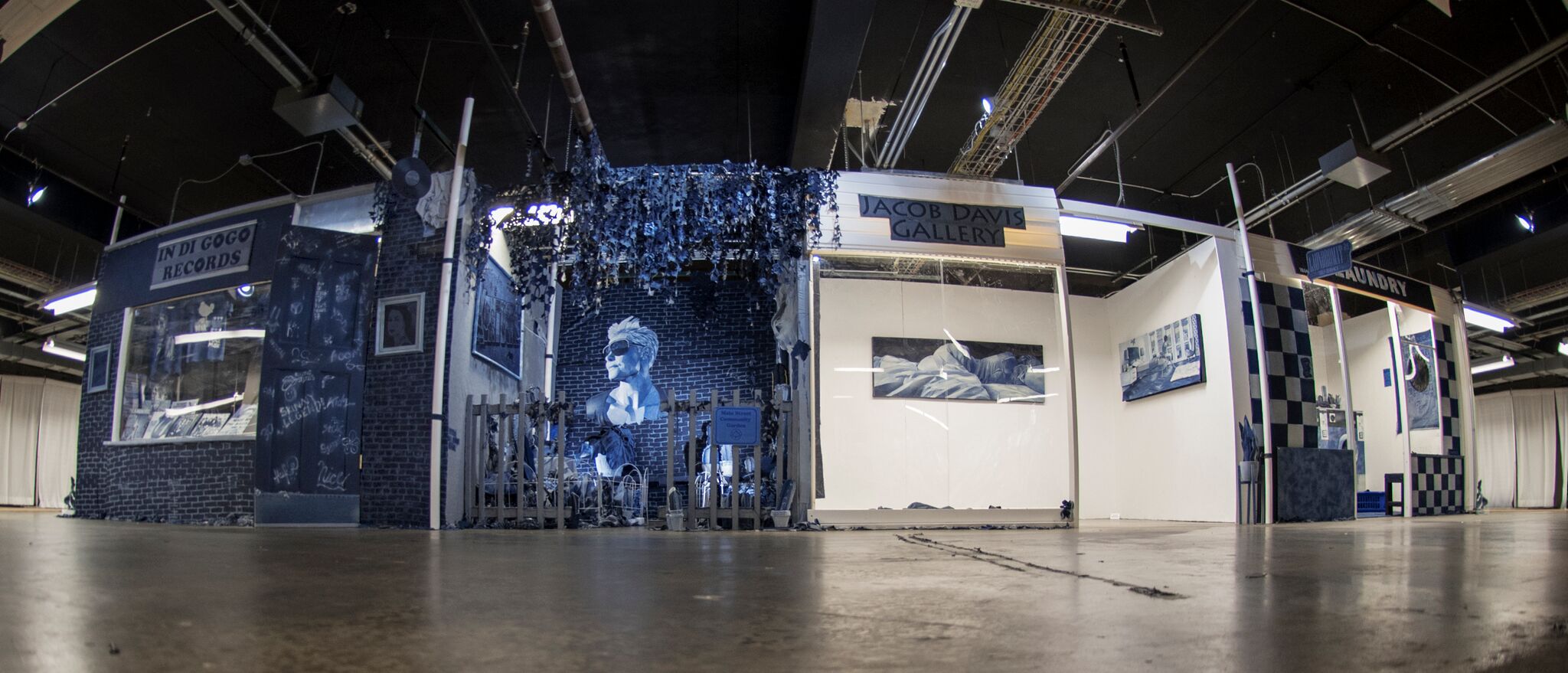 An amazing installation in Kentucky showing a row of stores and community garden, all in denim.
Visits have included Greensboro, North Carolina where Evan Morrison showed him the remains of White Oak, Wrangler, Revolution Mill as well as Hudson's Hill in the city named 'Jeansboro'. Further visits include in the garment district in New York and to see the Levi's Archive in San Francisco with Tracey Panek who got out a special art denim collection.
Ian and Evan Morrison at the historic White Oak, Greensboro
Ian Berry at the Levi's Archive
Ian often says his art is not about it being in denim, saying it is just the material he sees the world in. 'I portray contemporary life and I see no better material than the material of our time'. This all said, he does seem to be gaining more and more knowledge of the material especially as you add in the trips to Nimes (de Nimes equals the term denim) and a visit to his friend there that founded Atiliers de Nimes to bring denim production back to the home that gave it its name as well as the frequent trips to Italy (Genoa – jeans) with visits to the denim valleys, especially to his friends at Tonello, MYR and Officina +39, he's proving to be a man who's knowledgeable about his material.
Ian with Guillaume Sagot – founder of Ateliers de Nimes, in Nimes, France
He went to Nimes as he was with an artist in residence close by in another textile area, in-between Mazamet and Nimes, in Tarn which was home to France's industrial revolution and as well as the wool industry, denim. It's the home of famed denim designers Francois and Marithe Girbaud but like many places the industry has left.
Ian made a striking installation in a former factory, where it showed the nature reclaiming the building, the foliage creeping through the roof – it was all of course made of denim. Ian said:
'It was the most fantastic time to be in France, the people there were so open and welcome to me, it felt like home. That's not surprising given the nature of the place and history. The terrain and fast running rivers were just like my native Yorkshire. Huddersfield, where I am from, was in the heart of the industrial revolution and this was the beating heart of the French textile production. It's sad to see some of the decline where the work has left to cheaper shores, sometimes people talk about sustainability but what about the sustainability of people?

I'm proud of Huddersfield's, Yorkshire's and the North of England's history and importance to the industrial revolution (admittedly Lancashire was more cotton) and I think of my home town in Huddersfield and while the big industries have gone, smaller companies remain and are innovative and are the ones at the cutting edge, in fact Huddersfield is the only town in the world that can add it's name to a cloth and it adds value to it.'
The last sentiment is ironic given you could say that about Ian Berry's work with denim too.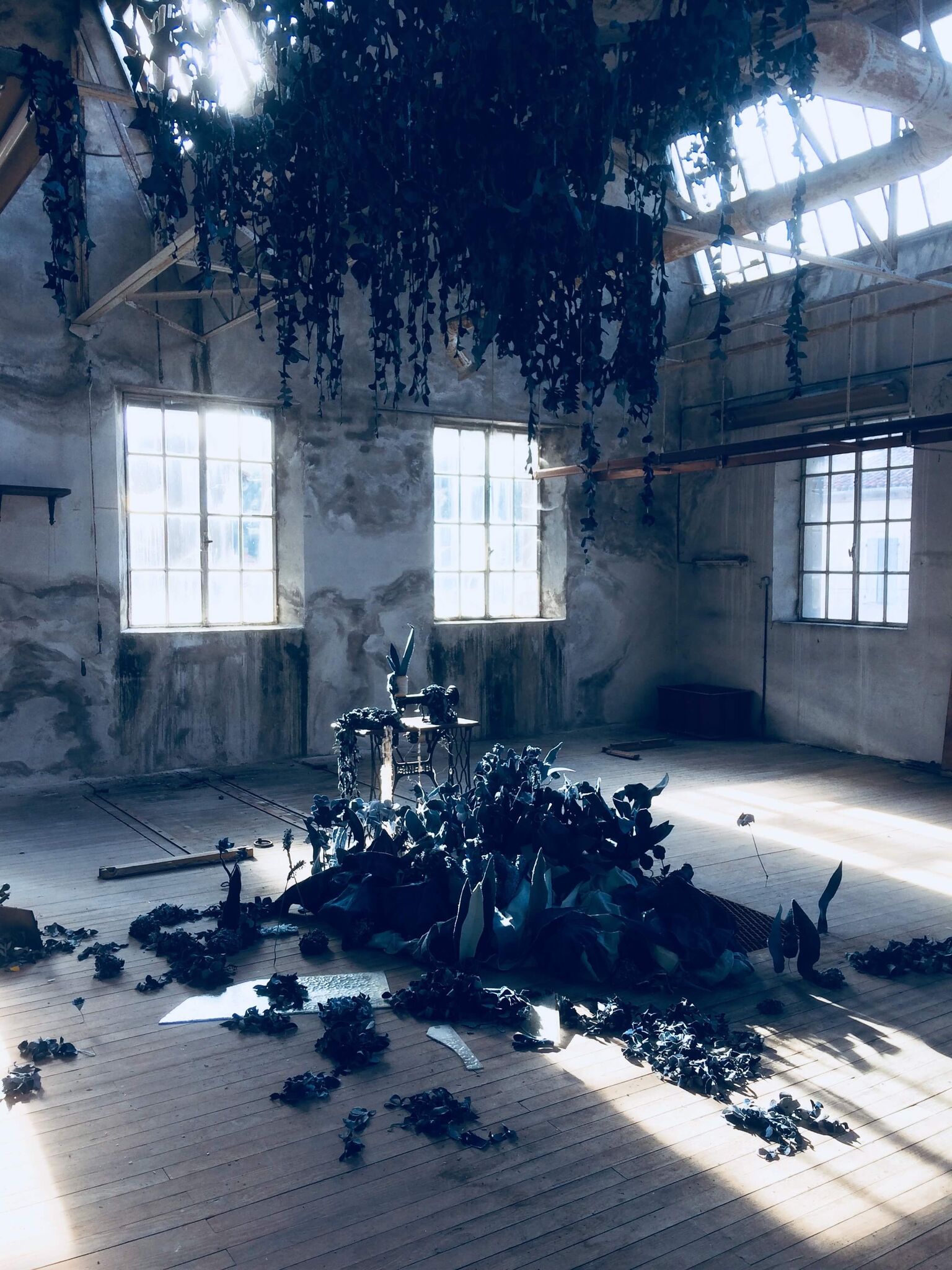 Factory installation, France
The installation, like the Secret Garden before, is beautiful and poignant, with flowers, plants and vines all coming through the roof. In another installation there he had a real stream going through the plants, perhaps a comment on denims use of water which companies like Tonello are helping to combat. His Residency had a big impact in the town, bringing the community together and drawing record crowds. It had such an impact that the Mayor bestowed on him the Medal of Honor, something only given out five times in 30 years. It shows the power of his work and Ian himself, it has been great to see him grow into installations in the last few years as he has grown in confidence.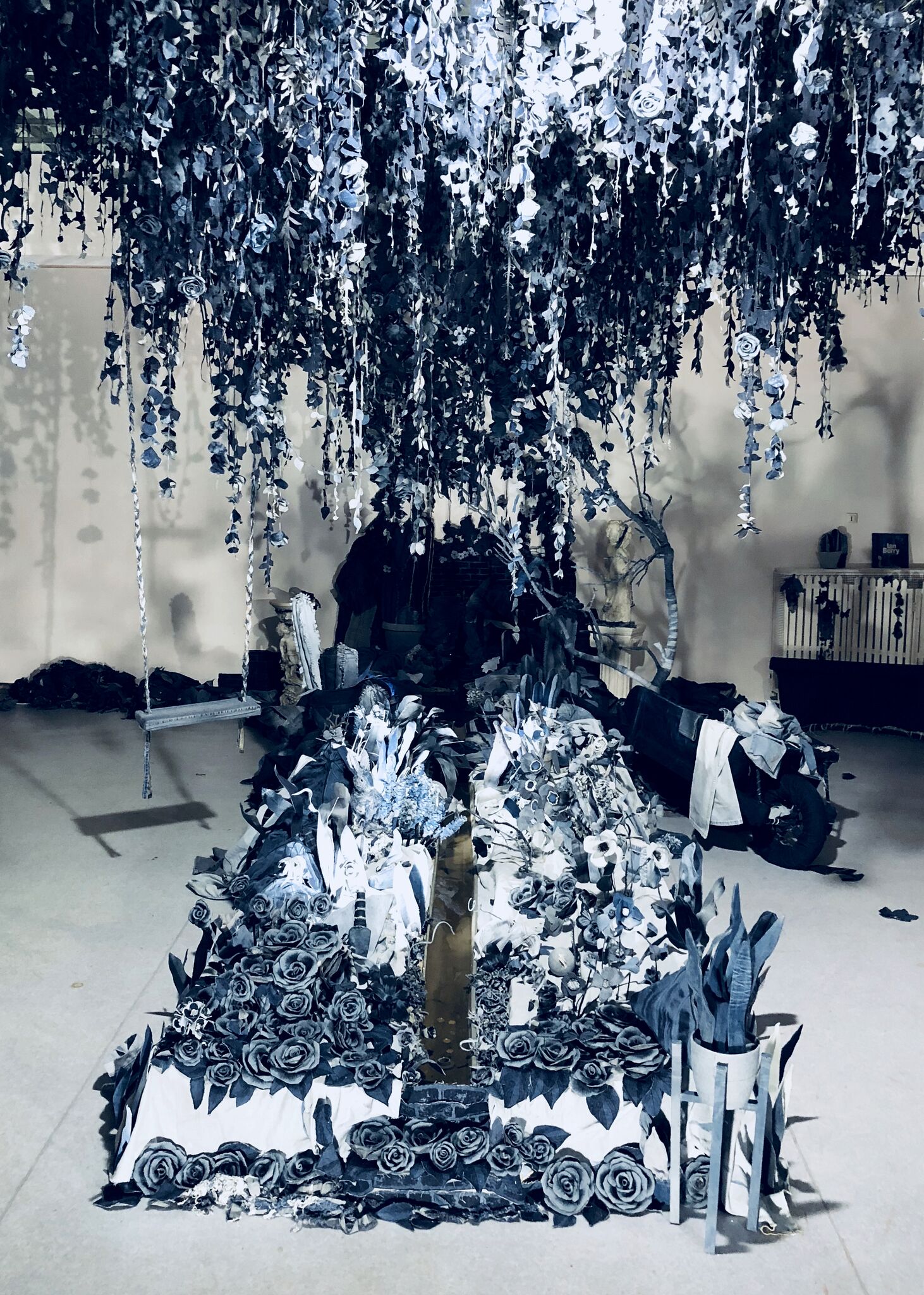 Secret Garden with stream, France
When I first came across him was doing was doing amazing portraits, official portraits too – of people like Debbie Harry, Lapo Elkann, Giorgio Armani, Jennifer Saunders and of course Ayrton Senna. I'm privy to some info of who will also be next and it shows Ian is the go to artist for those who want an artist to make their portrait to the highest of standards. They are so realistic and over his 12 years has mastered his craft out of our favourite material. 2019 is going to continue to be a great year for Ian, and he need not worry about the knock offs we see.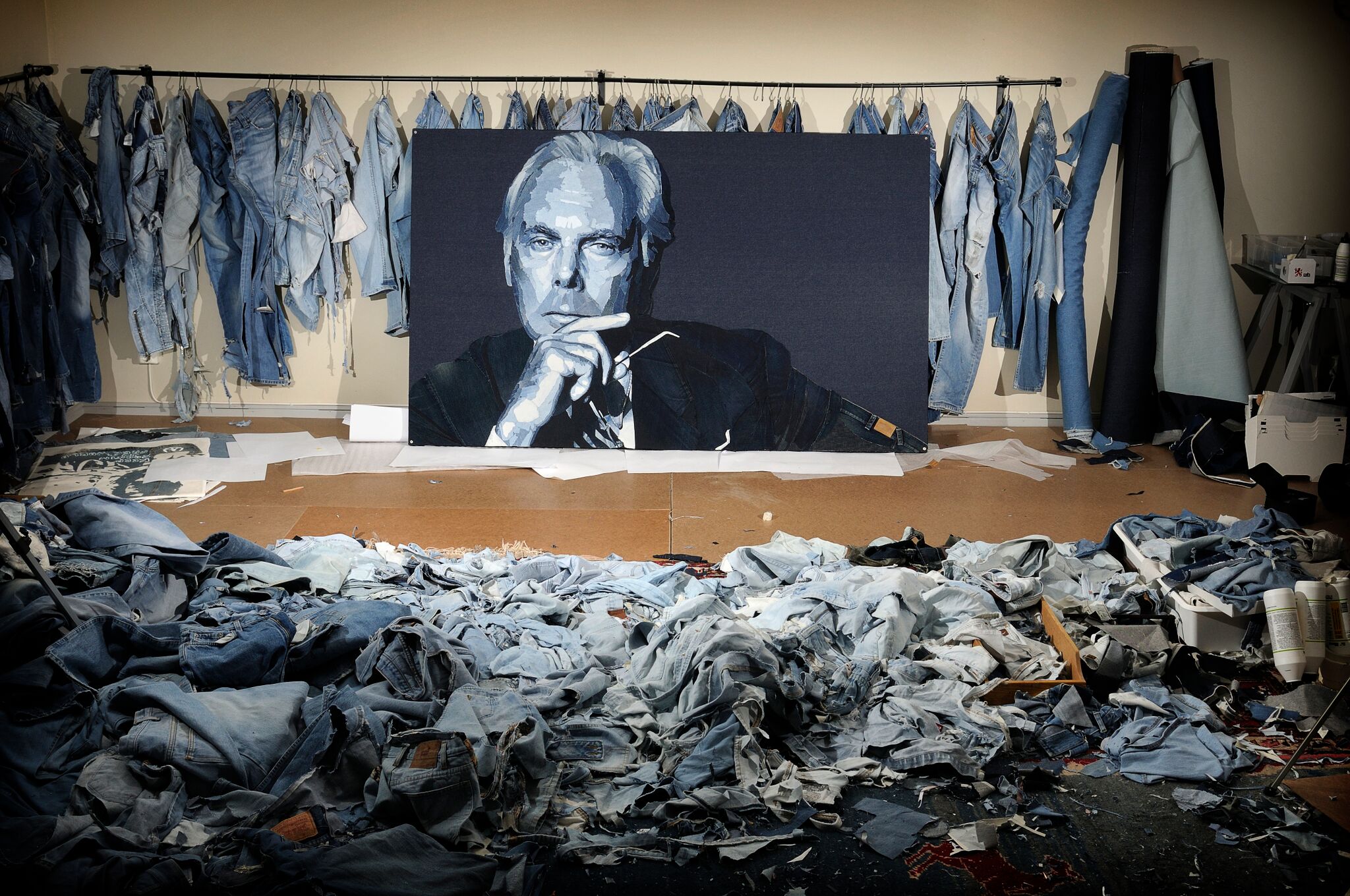 In a year we have seen more and more of this mentality, it is great to see he is still getting the plaudits in the art world, with museum sales and even giving the freedom of the city in a town in France! I loved to get a copy of his book this year and you should too as it is fitting for your blue denim Santa's sack and should be in any denim heads collection as it documents his work that stretches into a second decade and showing around the world. Let's not forget this is an artist noted to have been one of the top thirty under thirty in the world.
It's made out of denim, but not just for the denim world. I for one support Ian as his art takes over the world and has so much meaning, which I think the other copy cat artists who use denim as their medium fail to capture. If you want to check out his record exhibition, the address is below!
Smallest Gallery in Soho
62 Dean Street | Soho | London | W1D 4QF
– on until January 20th 2019.
Photo Credit: Opal Turner, Sadia Rafique & Emil Langvad