One of my favourite artists, Ian Berry (also known as Denimu), has taken some time out of his busy schedule to chat to The Jeans Blog about his amazing denim artwork. I've had the pleasure of knowing Ian for a few years now with an online friendship and I couldn't love his artwork more than I do. Being as obsessed with denim as I am, to actually see someone else love it just as much and create stunning pictures with denim as the medium, couldn't make me any happier. Ian is an incredibly talented artist, not only can he make his pictures look realistic and 3 Dimensional, the sheer fact that he uses jeans to make them is even more magical, they have such a multi-tonal blue denim feel, it's gorgeous.
Even though Ian has an obsession with denim, he actually started using the fabric as his medium of choice by chance. I remember him telling me that he went home after university and his mum had prepared his old room to throw things out or to take to the charity shop as he was moving to London. There were piles of books, DVDs and a huge pile of his old worn jeans. That's when Ian noticed all the different shades and thought rather than sending them to the charity shop, he could experiment with them and see if he could recreate the images he had in his head with denim. The rest is history! It can take Ian weeks to finish a piece of art too, sometimes even taking half a day just to stick one piece down as it requires a lot of work to find that exact shade and fabric that he needs at that moment. If he was working a normal 9 to 5 job, you could look at a month for the piece to be finished.
I could go on talking a lot more about his work as artist Denimu, but you can read the interview just below and see some photos of his amazing denim studio (it looks like heaven to me!) and some of his best artwork as well as Ian working on some pieces. It's truly fascinating and if you love denim as much as we do here at The Jeans Blog, you are going to fall completely in love with Denimu and his denim artwork!
The Jeans Blog – So you love art, what made you use denim as the medium of your choice?
Ian – It is often said it is an obsession but I am not as obsessed with denim as many of the denim fanatics. It was more born out of the realisation I was so comfortable wearing denim, like many many people and you don't need to know everything about it to enjoy it.
In truth, when I started to use denim it was for the aesthetical value, seeing the indigo all piled up in an old closet. It was only when I started working with it did the memories come back of when I was wearing them and then all the symbols that denim stands for. My biggest obsession with it now is that is allows me to communicate to many people, in many walks of life, with a fabric that is so globalised and familiar while being democratic and accessible.
TJB – How do you manage to get the denim to look 3D in your pieces?
Ian – It is something that is often lost in the reproduced image, online or in print. But the pieces are very three dimensional and have a lot of depth to them. This is created by one, the image I chose, often with lots of perspective so the piece is coming out of the denim canvas, but mainly it is layering up many shades of denim, building them up shade by shade. The pieces are very heavy though because of this.
TJB – This is something new and exciting, what denim do you actually use?
Ian – I get the fabric from all over the place, I can open the door and there are bags of it outside my home, there are deliveries from all around the world but I also scour vintage stores and charity shops as well as getting sent boxes from denim brands. There is a part of me that likes the worn denim, as it creates another layer of the story, while I also get many donated jeans, and many of the same pairs that have proven very useful to keep that consistency throughout a piece and also to get comfortable with certain shades.
TJB – There are many different types of denim and washes, what are the best types and colours you go for?
Ian – It all depends on what kind of piece I am doing, certainly the contrast between a scene or a portrait. Mainly though I like to have pieces that are really washed, with varying tones. It takes a lot longer but the effects are so much better, and allows me to get the different tones. I find I can get say a metallic surfaces of a diner out of just one shade of jeans, or the shiny bar top out of cutting out different faded jeans, often from around the belt area or the cats whiskers. When I'm in the swing of it, it comes pretty naturally.
TJB – Your artwork looks amazing and is very unique and inspiring, we are glad it's getting more recognition. Will you always continue to use only denim?
Ian – Thank you. I hope so. I have so many ideas at the moment about how to use it. I cant see myself getting bored with it, it is so versatile and everyday I'm finding new ways to use it so it makes it exciting still for me. I will keep pushing the work and working bigger and bigger.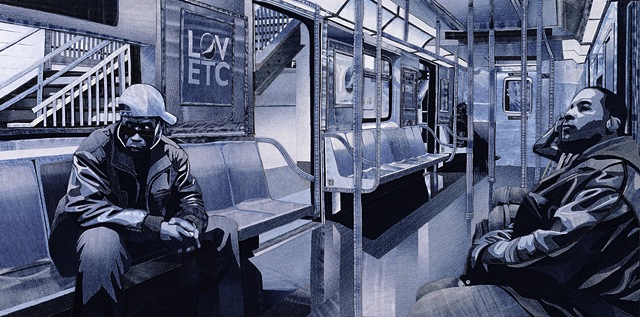 TJB – What inspires you to create your art?
Ian – The inspiration comes from everywhere, but more recently than not I would say the urban environment. You may see that as denim being more of a urban fabric now than a rural, but perhaps also I am living in a more rural environment and craving the depths and layers of a rich urban city, like New York or London. I could write so much here, but don't know where to start, and then wouldn't know where to finish – a big inspiration has come from learning new ways how to use the fabric all the time, normally each day I discover a new way so it keeps it fresh and interesting to me and I keep wanting to push it. I get to the point where I push it so much to try and create a photo-realistic piece using the varying shades and qualities that people normally don't realize it is denim on first view.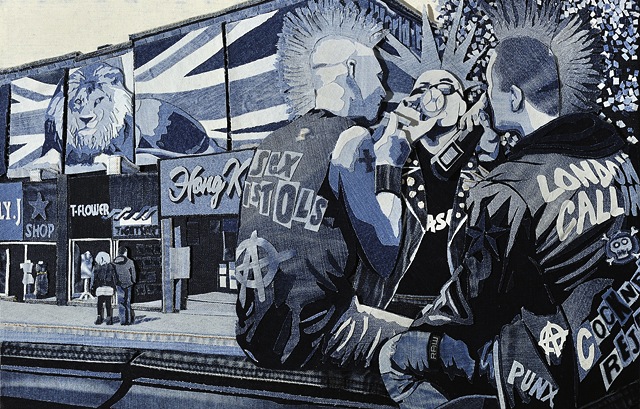 TJB – Denim and the music industry used to go hand in hand, can you tell us more about your music pieces?
Ian – In some ways it goes hand in hand today more than then, it is just so ubiquitous that you don't even notice it when they wear the denim now as it is so common. In fact many of the artists (singers) now have their own labels!
But yes, in the past it really helped shape the story of denim, as well as cementing that rebellious tone of it. I was particularly interested in the time in New York in the 70's, more specifically down the Bowery at CBGB's when bands such as The Ramones were seen sporting denim as well as Debbie Harry for the women. But the main one was actually Television's Richard Hell who wore ripped jeans and a tee shirt that was copied by Malcolm Maclaren and exported to London to the Sex Pistols that created the whole look of the punk era.
I was fascinated about the history and the story of denim and this was a key time. There was of course some who even put denim on the albums cover, like Bruce Springsteen and of course the denim clad crotch on Warhol's Rolling Stones LP, Sticky Fingers. I really wish I could go back to that time, I like the attitude they had. In fact just today I was down the Bowery in a dive bar and got talking to a guy who was there during that time so it was totally fascinating to get an insight to how it was like from someone who was there first hand.
TJB – We also spotted the Hollywood actors artwork, like the Debbie Harry piece, can you give some insight into these too?
Ian – A few years ago I started a collection based on Denim Icons, people that had helped shape the denim story, like those mentioned above. I cannot imagine a time when denim was not the go to item of clothing in the wardrobe. And if it was, it was for the labourer.
It was when Monroe, Dean, Brando was seen on, and off stage, wearing it, it became popular to wear as fashion and also carrying on that rebellious flair (before it was linked with the cowboy also) so I really did, reading between the lines of a time when I wasn't born, see this as a key moment in the history of the worlds most popular garment. I really thought it deserved some recognition, and while these icons have been done to death, I did it anyway and commemorated their role in making denim what it is today. It is a tough club to get in though!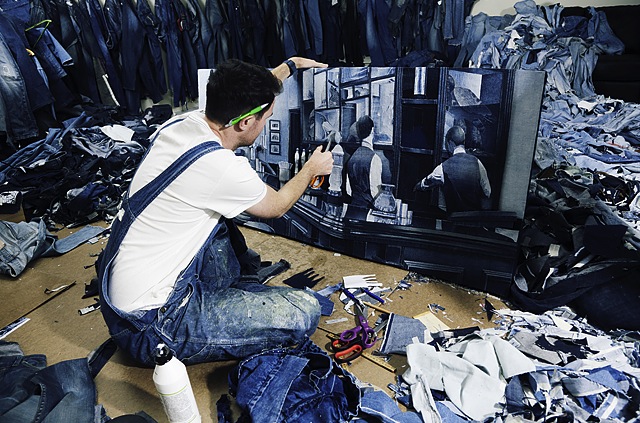 TJB – What's next on the list for you? We would love to know if you have something exciting coming up!
Ian – I'm going to take a step back now and try and spend the time in the studio making a new collection. It is currently empty but I write this from New York where I have arranged some photo shoots to work from. I don't plan another solo show until next year, the work is so time consuming and I want to get it right. As I mentioned above I want to work much bigger and work on pushing the technique to the limit.
TJB – Thank you, Ian!