An Interview With Ian Berry On His Secret Garden Denim Art Installation
Ian Berry has been back in America again and had another successful trip. With shows in Miami during Basel Week and then the wonderful installation in a New York Museum (The Secret Garden at the children's museum of the arts in New York), it was quite a December for him. We recently shared with you his latest denim exhibition with Pepe Jeans, but this is something different again. He's always pushing the boundaries! I caught up with Ian as I wanted to know more about everything, so check out this interview below.
The Jeans Blog: Art Basel is now an event for people to be seen as much as for the art. How do you enjoy being in Miami for it?
Ian: For me it's a great experience, my work takes so long to make so there is a lot of time alone in the studio, and also, I never have enough work to send anywhere. I have actually had to decline showing in Miami for the last few years, which has been a little sad. I love being there as you are meeting other artists and collectors and can spend a long time talking about art and being inspired by art.
For me, it's great to meet and be showing with artists that I looked up to so much and would follow in magazines ten years ago.
As for being seen, I think the first year I did it I was more conscious of what I was wearing, but this year not at all, it was so hot I really didn't care. Beside a lot of the time there I was installing some work, so was pretty scruffy. I'm happier drinking in Deuce Bar in South Beach over any swanky place. I don't really prescribe to all that.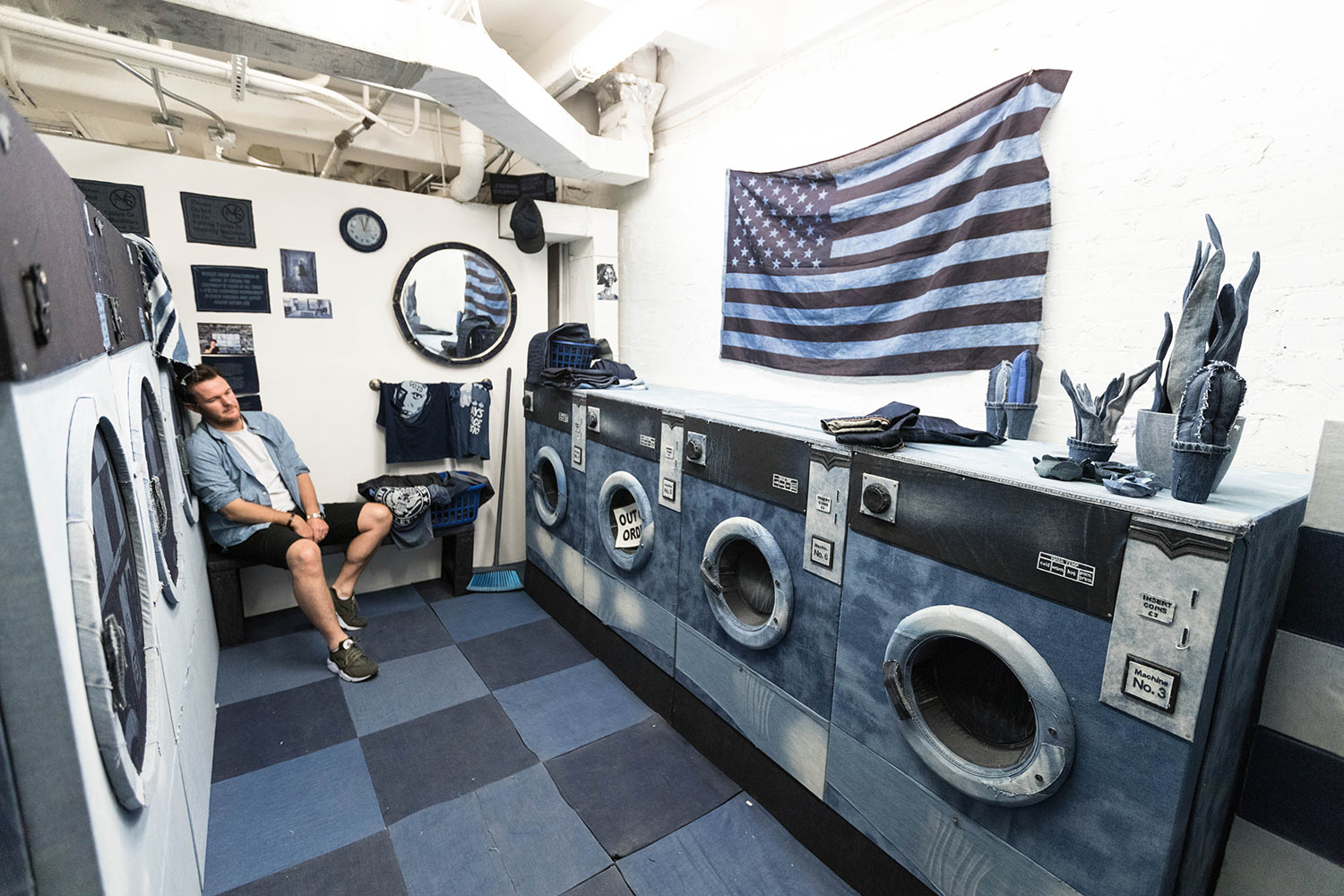 You talk about your installation, and from what I have seen, it was very impressive. Seeing Denim and a launderette makes you think of a certain ad from the 80's, was this on your thoughts?
Well, giving my brief stint as an Art Director in Advertising, you can't help but know about the BBH ad with the launderette and Nick Cayman. It wasn't the reason I did it though. I had just moved back to London when I started making launderette scenes. I'm interested in the changing fabric of our communities, and the laundrettes are all closing down. Add to that I love perspective and metallic items in denim – I spent a period obsessed with them… even though I never grew up going to one.
I find it sad how this place where members of the community would interact with one another would close down, along with the pubs and other places. All turned into estate agents or apartments. It changes the face of the area. The feel of it. Most high streets are becoming the same.
After making the pieces, there were four of them, I don't like to just hang work in the gallery, so I wanted it to be more immersive and interactive, so, started to make the whole launderette – all in denim, life size. As you know, I first showed it in London but it has since travelled around France and now here in Miami, I added to it.
It now got a (kind of) face lift, with a shopfront and also a few little details to turn it from a launderette to a Laundromat, to make it fit in with the locals in Miami. As I was showing it at the Juxtapoz clubhouse – which was one of my favourite magazines, that focuses on street art and urban culture, I let people tag the window and scratch into it, which gave an extra dimension to it. It was great seeing people going in and taking pictures with it.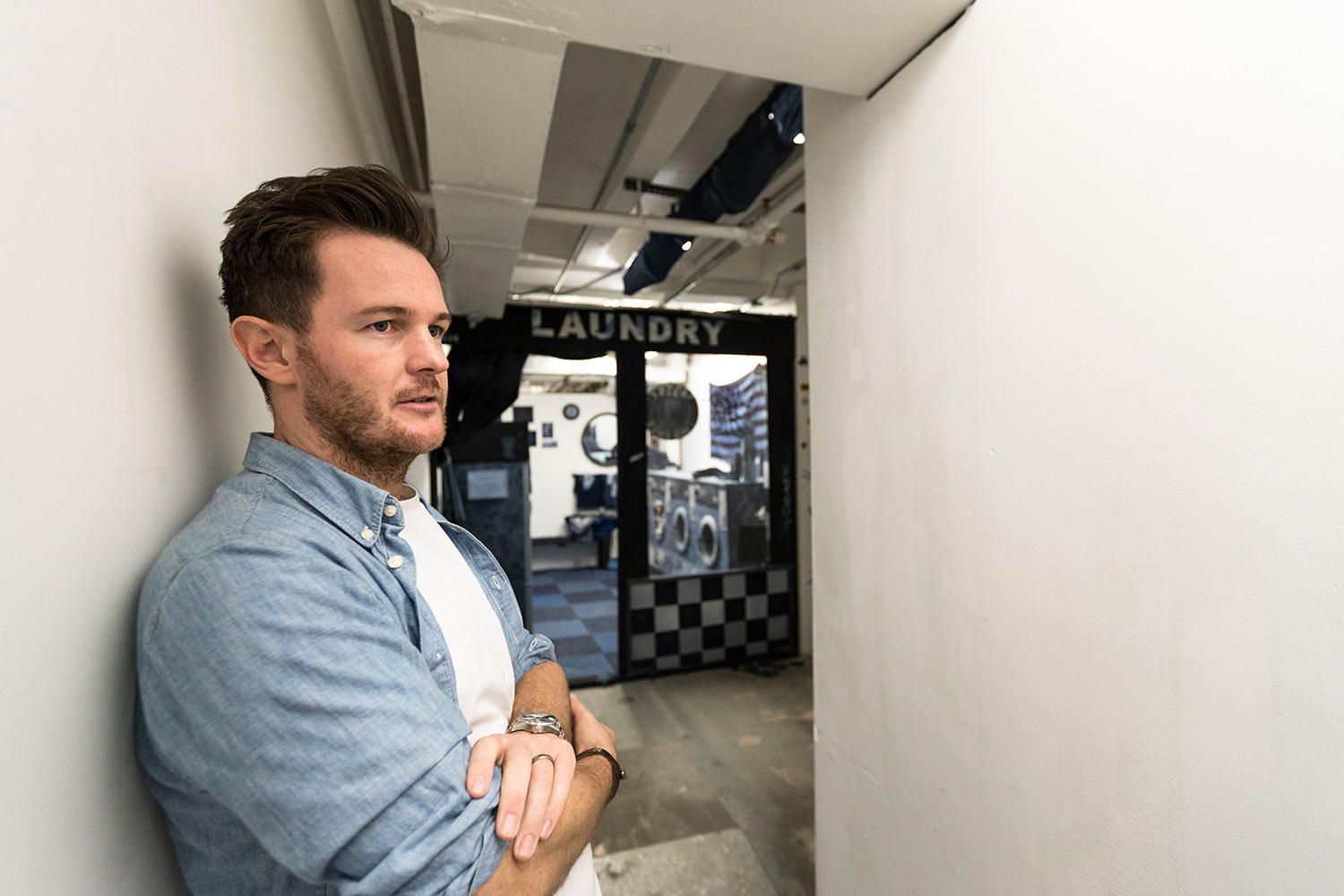 So, this all happened only days after you opened another Installation in New York. Do you ever sleep?
Well, this trip there was very little, either working late, or, staying out late but adrenaline is a good thing, and good job New Yorker's are known for drinking Cowfee.
The Secret Garden looked like something very special, are installations something you will do more of?
I will strike a balance between the two. I like to do things that are interactive and to challenge myself with new work, it keeps it exciting and fresh for me. Plus, the nature of this in the New York Children's Museum of the Arts I wanted something for both the Children and parents to be able to walk and be inspired by.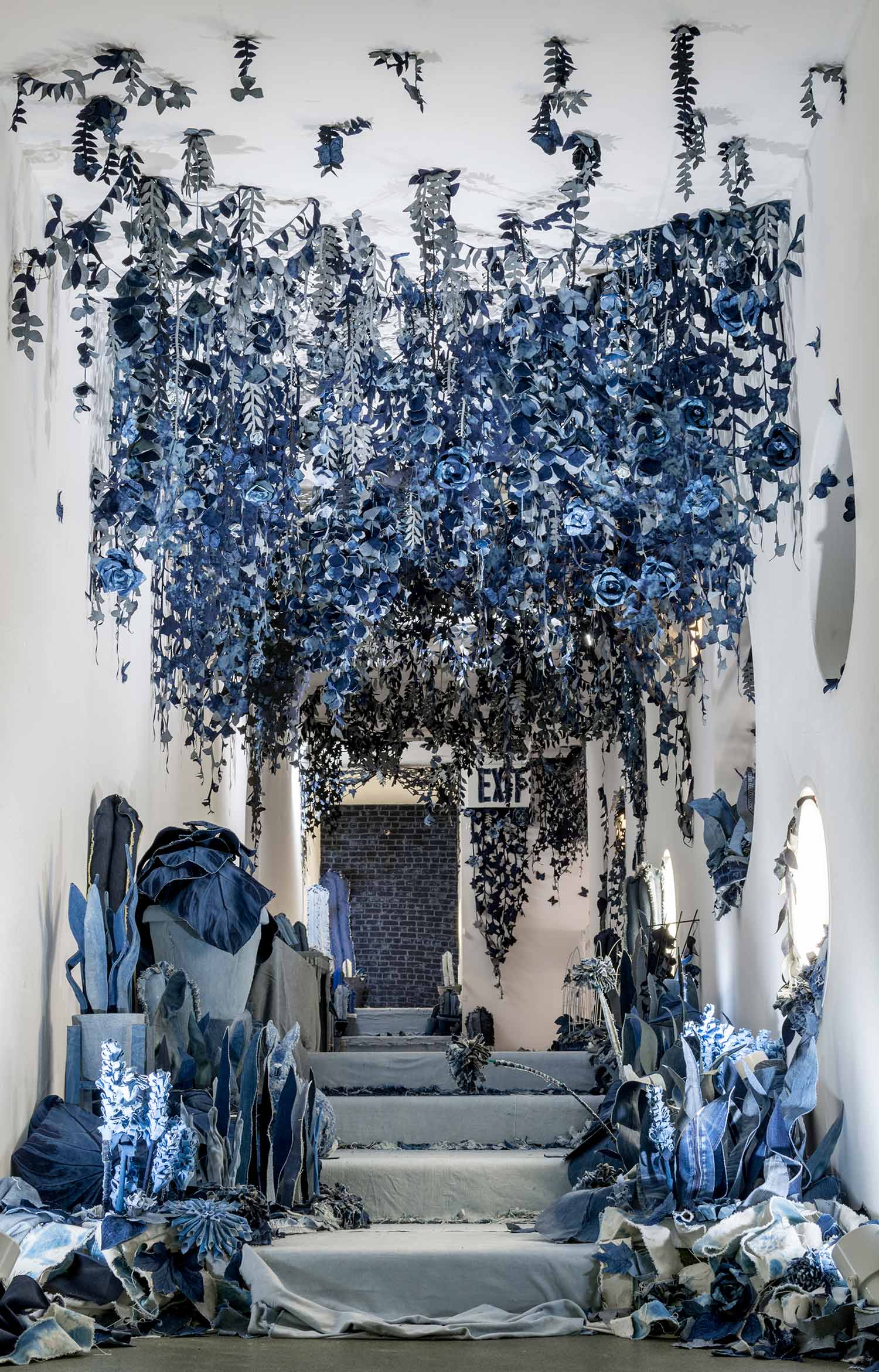 I saw that you had put a cotton plant at the beginning of the install, and explained that that is where denim jeans come from. It was a nice touch, was this a reason for making the install to show children something made from plants, to pants, back to plants again?
I thought it was a nice thing to show the kids that, as I bet not many know. That said, it was a hindsight thing.
The idea came from thinking of myself as a kid, and kids today. Many don't seem to be outdoors as much. They all have gadgets to preoccupy them and others just wrapped in cotton wool.
I also thought of New York and thought many children won't have a garden, (I know they have great parks though) and thought making a garden all out of denim may make them see it differently, and, their parents too. Too often I see parents preoccupied with their phones when the child is playing (guilty as charged) and I had juxtaposed the garden with the piece Behind Closed Doors of the woman sat alone on the steps. I didn't make the link obvious but when making that piece I was thinking about why she was sat like that in a perfect house, and it was because of the kids leaving home to university.
I wanted a place where the parent and child could spend some time together, and perhaps think about all the secret gardens in New York and community gardens. Make memories while you can!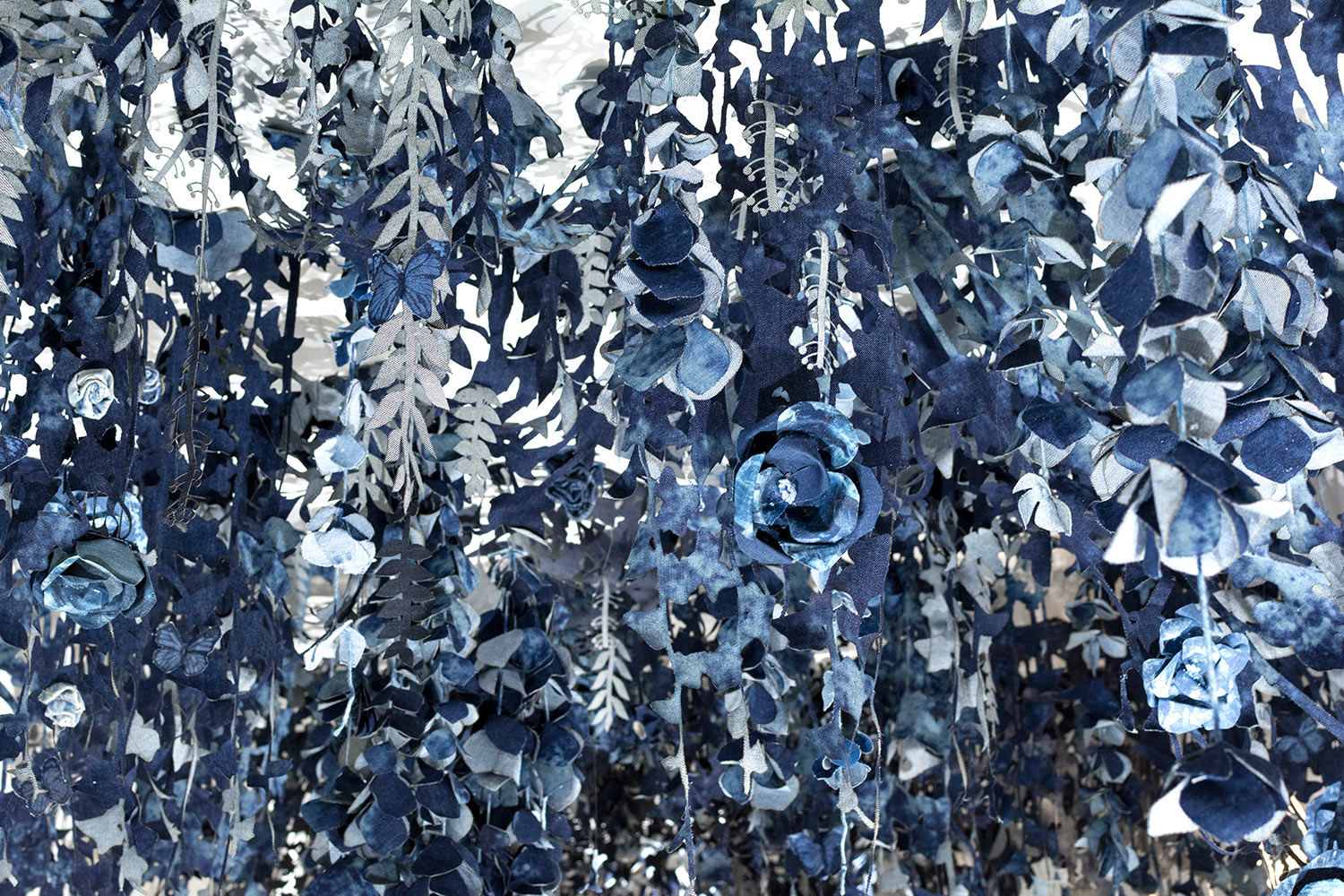 There is so much work in the piece, and every image I look at I see something different. Flowers, plants, butterflies, and even a rabbit! Was it based on any particular garden?
In the thoughts, there was the hidden urban community gardens in New York, but being British I was very much thinking of an English country garden as well – and obviously the title, which was supposed to be only a working title, stuck. While not based on the Secret Garden it's a book that has so many routes in popular culture you can't get away from it. It was more that magical and mystical feeling I wanted. Alice in Wonderland kept coming to mind too!
So many people from the denim industry helped to support you too. How important was this to you?
It was incredibly important and I couldn't have done it, in time, without them. There were dozens of different people but a key player that really helped was Tonello. They were so kind to offer so much technical help with the washing of the denim to create textures and to laser the denim. This was a crucial part, and something that I had only dabbled with before.
Now I pride my work on being all handmade, just scissors, my hands, glue. But it would not have been possible to work this way to make this installation. Beside, these are now the tools of the denim industry so I think it is still ok for me to use them – and stay on concept!
The nice part of it though is Tonello strives to be at the forefront of sustainable practices and it was great to use tech that promotes this, like the ozone machine that saves on wasting water. This has to be the future of the industry and consumers should demand to know where their jeans come from, and how they are made.
It was also nice to make something as pure and as environmental as a garden, using this technology.
Cone denim provided all the material to work from, and of course it was nice to be able to use American denim in America. Sadly, it was some of the last denim ever made in America as Cone closes the White Oak plant in North Carolina. It's hard to believe that the denim industry has moved out from the USA.
And while there were many individuals who offered help I must give a big shout out to Christine Rucci who I told about the commission early on. I feared I wouldn't be able to do it in time and was going to decline, she convinced me to do it and also offered help – and she came through with flying colours (or just indigo) and it was great to work with someone with 35 years in the industry and so much knowledge on denim.
It is important for me to get the backing of people in the industry and their support really drives me forward.
And finally, how did it feel to do something for Children?
It is so important to give back. I wanted to be an artist at a young age and often would hear there is no career in art, and notions of the starving artist. These are, quite simply, dangerous notions to give children and only normally comes from people who never tried. They normally don't have bad intentions, in fact the opposite, but children need to be seeing other young people working in the arts, music, and other creative fields and see what is possible. The Children's Museum of the Arts is such a good place for this, to be able to work directly with practising artists and to have all the tools to learn with – I only wish that more Cities would have these places, and governments would get out of their stale grey ways and realise the creative fields is one of the things that drives economies on and should be encouraged at school age level as much as maths and science.
In the UK and USA it is not only an economy driver and very much a unique USP, it is somewhat a soft power tool, so it baffles me how so many politicians dismiss its importance.
Every child will have something they are good at and we should harness it.
The installation is on until April at the CMA at 103 Charlton Street.
Thank you, Ian! It was a pleasure learning all about your exhibition!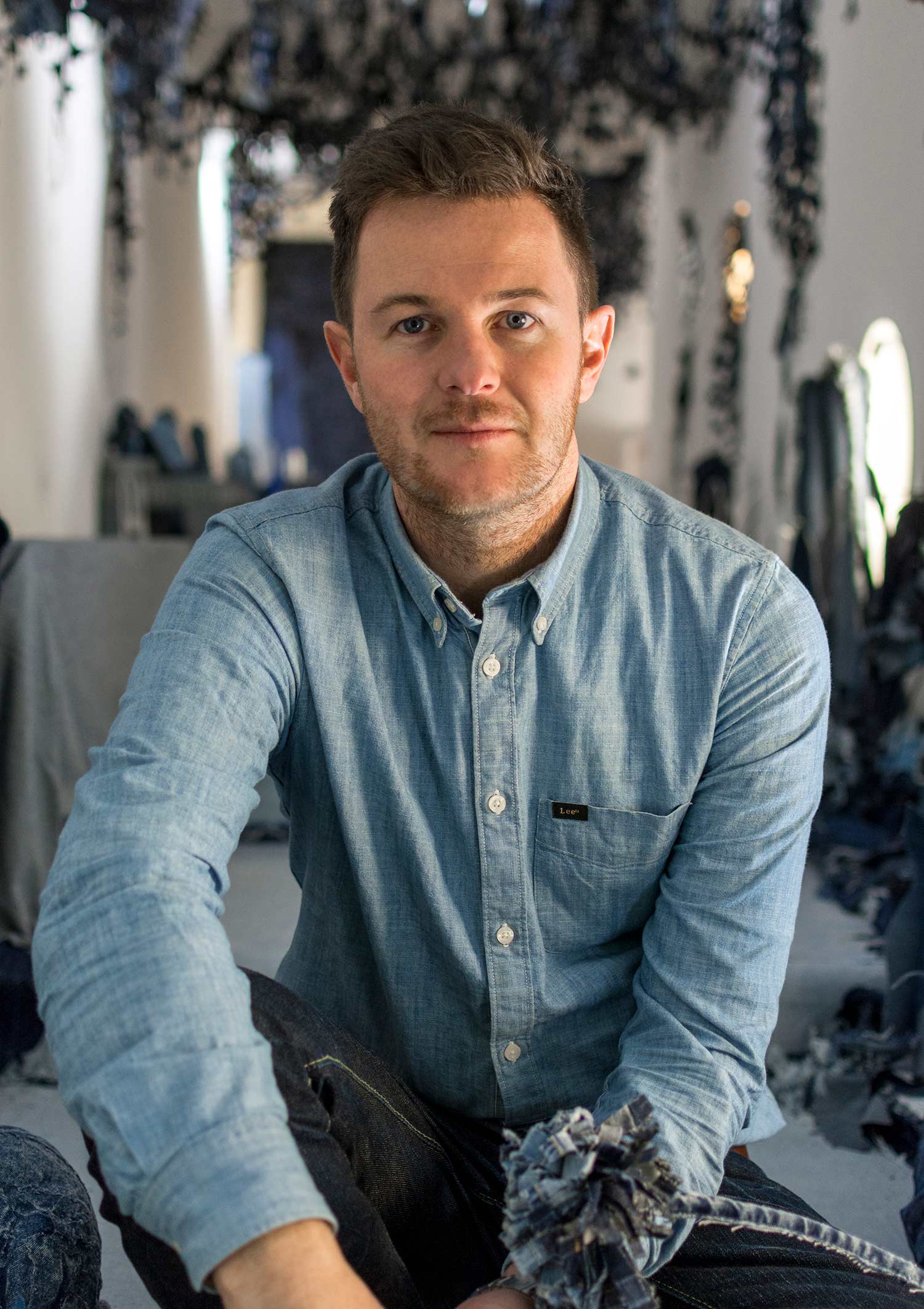 Photography Credit: Laundry photos – Antonio Palou / Garden photos – Lucinda Grange