Keeping Up With The Kardashian's star, Khloe Kardashian, stopped by The Imagine Center for some spiritual healing in Los Angeles, California. She recently welcomed her first baby into the world, True, so we haven't seen her on the blog lately, but she hasn't wasted any time getting back into shape though by the looks of these photos.
Since Khloe launched her denim brand, GOOD AMERICAN, a while ago, we have seen her exclusively in the brand and she hasn't opted to wear any other denim since. I think that's amazing because it proves she's passionate about the jeans and loves how they fit her. For this outing, she chose to wear the GOOD AMERICAN GOOD WAIST Raw Edge Skinny Jeans in Black044 which she styled with a black wrap silk shirt and some Christian Louboutin Pigalle Heels in Black.
Over the years we have seen Khloe's style change dramatically, just like we did with Kim's, and she's gone from dressing mostly casual and quite garish at times, to looking chic and sophisticated at every sighting. I love the way she dresses now and I enjoy seeing all the different GOOD AMERICAN Jeans that she styles on numerous occasions. There's so many washes to choose from that it's endless with the combinations, but she always manages to look classy.
These GOOD AMERICAN GOOD WAIST Raw Edge Skinny Jeans in Black044 are quite cool though. We usually see grey or washed black in a plain, solid wash, or with ripped knees, but Khloe took these one step further and decided to have rips as well as slashes around the knees, and some rips further up the thighs too, so they remind me of a more subtle version of the FRAME Le Rip Jeans that were extremely popular a few years ago.
I like the addition of the raw hem though as I think it suits the black pieces nicely, as the casual wash helps to tone it down a little bit and stop it from looking too evening appropriate. I love how a pair of jeans can do that and help you go from dressed up to dressed down in a matter of minutes, just by changing a few pieces, or adding in rips/distressing to the denim itself. Are you a fan of GOOD AMERICAN or have you still not tried them yet? As they're not available in the UK or on any of the US based stores I use, I still haven't tried them, but I've heard good things. As always, let us know what you think of this look on Khloe Kardashian as well!
Shop these Jeans at GoodAmerican.com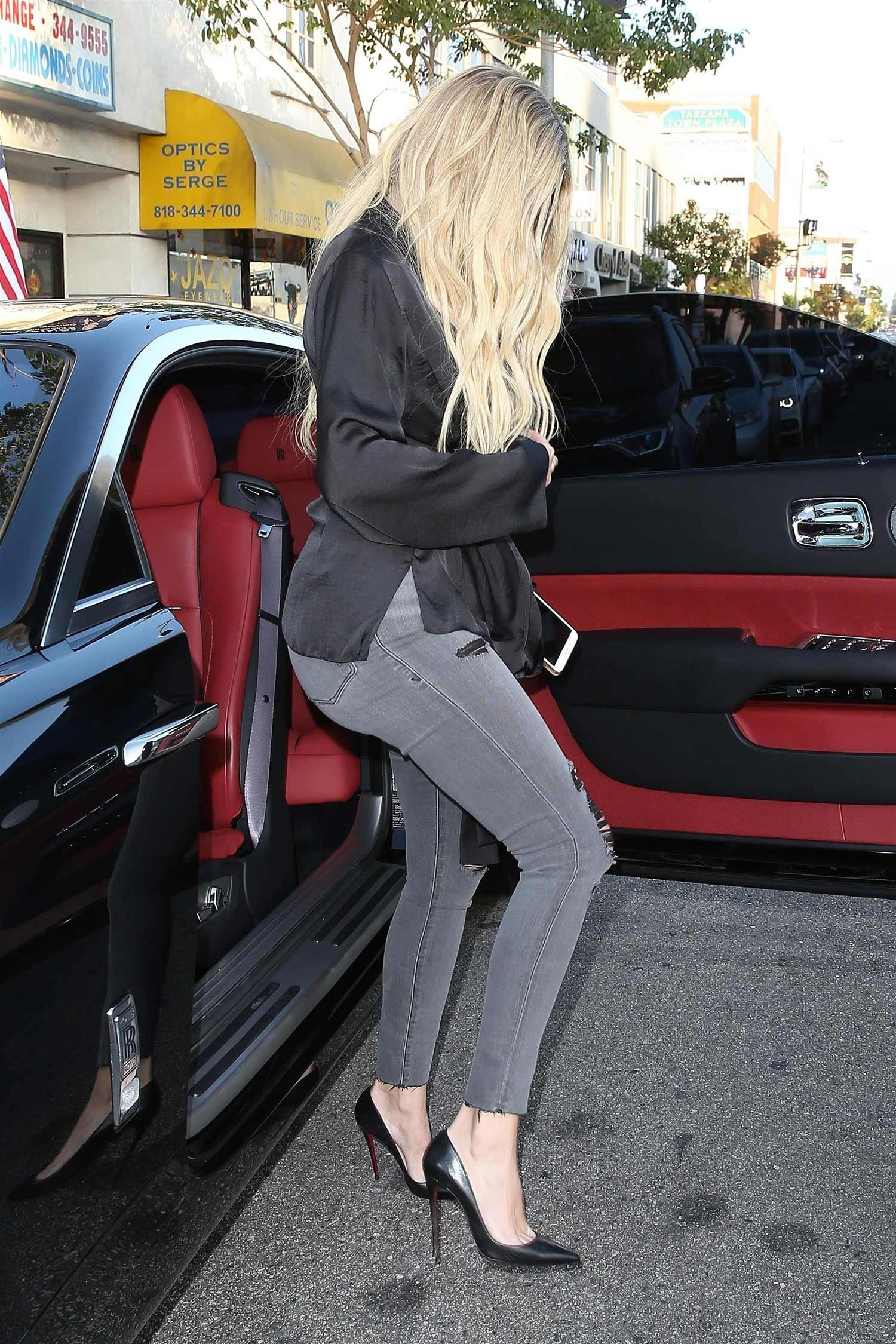 Image Credit: BACKGRID