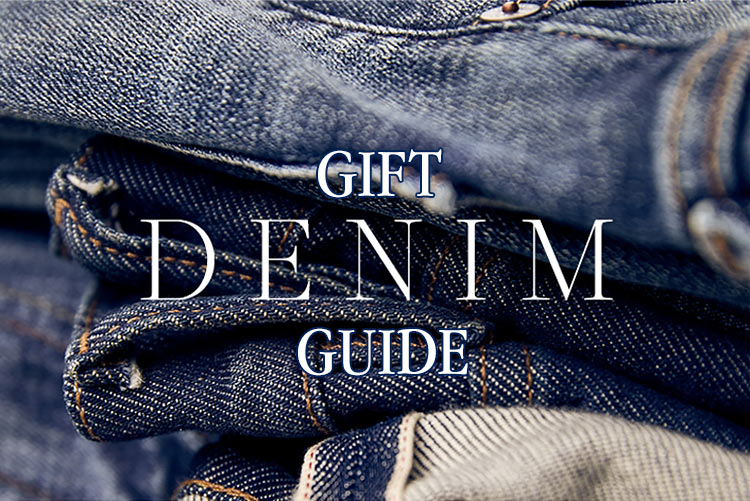 As the Holiday's are quickly approaching, we only have about 10 days left until Christmas. I thought it would be good to put together a small last minute gift guide which features denim, and everything that complements denim, for both men and women. I've been seeing a lot of gift guides everywhere I look, and I wasn't completely sure if I should put one together for you all, but there was a huge lack of denim options out there, so I went ahead with it. I've featured the items in this gift guide in a look book format, so you just have to scroll left and right with the arrows, and click the items to buy them, so it's in a very easy format! Happy shopping everyone and Happy Holidays from The Jeans Blog!
Women's Holiday Gift Guide

For the women, I've selected 10 different items and I think they're all festive and classic at the same time. I've chosen a denim jacket from L'AGENCE that I think is really suitable for every season, but I've also selected a silver foiled pair of skinny jeans from the brand, a washed black pair too, as well as a velvet blazer and a star print shirt. L'AGENCE make some great pieces, so that's why I've chosen quite a few from them. For the other pieces, I've opted for Rag & Bone jeans, which are a change from the usual skinny. There's a black wallet from See by Chloe, which is really elegant and classy at the same time as stylish. If you're looking for a cheaper option, there's a pair of Topshop blush pink boots for an amazing price that I recently got myself and I love them. If you want to go a bit more extravagant, there's a Gucci GG Belt that's always sought after by many! Finally, I opted to choose a pair of Zoe Chicco pearl and gold huggie earrings as they are very on trend at the moment, and make a great gift! I think any of these items look perfect as gifts, or if you're taking a fancy to them yourself, why not make it an early present for yourself?
Men's Holiday Gift Guide

Guys, I didn't leave you out either! I've chosen some great clothing and accessory options for you too, including this denim jacket by Ksubi as it has a great washed out look to it that will work for most men. For the jeans, I have included a black skinny option from Allsaints, a blue option from River Island, and a grey pair from Saint Laurent, so there's a varying price range for all budgets, depending on what you're looking for. Speaking of Saint Laurent, I've also chosen a pair of their suede Chelsea boots as everyone adores these and they make a great staple, year round, so if he deserves it, they're a great investment. For the men who like something a little more quirky, I have chosen an MCM wallet with a robot on it as they make some great pieces, which are really sturdy. I've personally had an MCM purse I've been using for 3 years and it's in perfect condition. I've gone for a sturdy brown belt by Coach, which you can't go wrong with, and then finally a denim shirt for the more casual guy, by FRAME. I think most of these options are great, but if you are looking for something cheaper, check the last option below.
House of Cavani make great men's suits, worn by numerous different celebrities and bloggers, and they have some great gift ideas for men this year! One option is this cool tie set in a paisley blue which I think would suit anyone! Especially those guys who wear suits to the office, or just fancy dressing up for an evening out. It makes a change from the garish, joke ties that are usually gifted at Christmas – at least these can be worn without shame, and all year round! What are you gifting this year? Let us know!
Main image of denim courtesy of Lucky Brand.