Ian Berry's Clapping Hands
Art in Denim, a projection, a mural, and a badge!
It was the weekly tribute to frontline workers during Covid-19 but after 10 weeks it ended 'on a high' which was rather sad as it had been amazing to watch Ian Berry's projections go around the country – and around the world. Ian is one of my favourite artists and of course is known for his work in denim, and I've written about him many times on here. I'm not alone either, David Hockney is a fan!
The projections even got close to me here in Bristol at the Clifton Suspension Bridge (above)!
Many have missed the clapping and there is talk of us doing it all again for the Birthday of the NHS on the 5th July. And that's great news for all those who still wanted to show their gratitude and concerned we'd forgotten about all those we clapped for. #iclapfor looks like it may have a new lease of life!
It's also positive news for Ian Berry, who has a visual of his famed Clapping Hands just launched as a badge with Pin Your Thanks – along with stars Keira Knightley, Ringo Starr, Joe Lycett, David James MBE, Dame Sarah Storey and Anoushka Shanka.
Ian had managed to get his from Land's End to John O'Groats and so many places between in Britain – quite an achievement! It also went as far as Colombia, Mexico City and Australia and many more!
It was amazing to see the mural in London in collaboration with Atma and Wood Street Walls. A beautiful longer lasting tribute – especially as its on the side of a doctor's surgery.
The beautiful and simple image of blue clapping hands is still being projected in a Batman-like beam onto buildings worldwide to say thank you to all those on the front line. And now we you can show your personal thanks to those that have supported us through this, with the 'People's Medal'. It's been incredible to see Ian grow throughout the years, I first wrote about him in 2011 and now he's with Ringo and Kiera, having done portraits of Debbie Harry and Giorgio Armani.
The idea came from Ian's six-year-old son Elliott who cutely loved the clapping for the NHS and when Ian made the distinctive blue hands from denim for a photo Elliott took of his hands, Elliott then even had the idea to project it onto buildings.
Projectionists across the UK saw what he'd done and then did the same in their towns and cities from Edinburgh Castle to the BT Tower in Birmingham and the idea has now gone global with projections in Brazil, Sweden, Italy and the USA and beyond. To launch Pin Your Thanks the team set up by volunteers with some of the country's finest from stage and film decided to launch with Ian's projections on London's South Bank with the Clapping Hands morphing into his badge, then those of the star designers.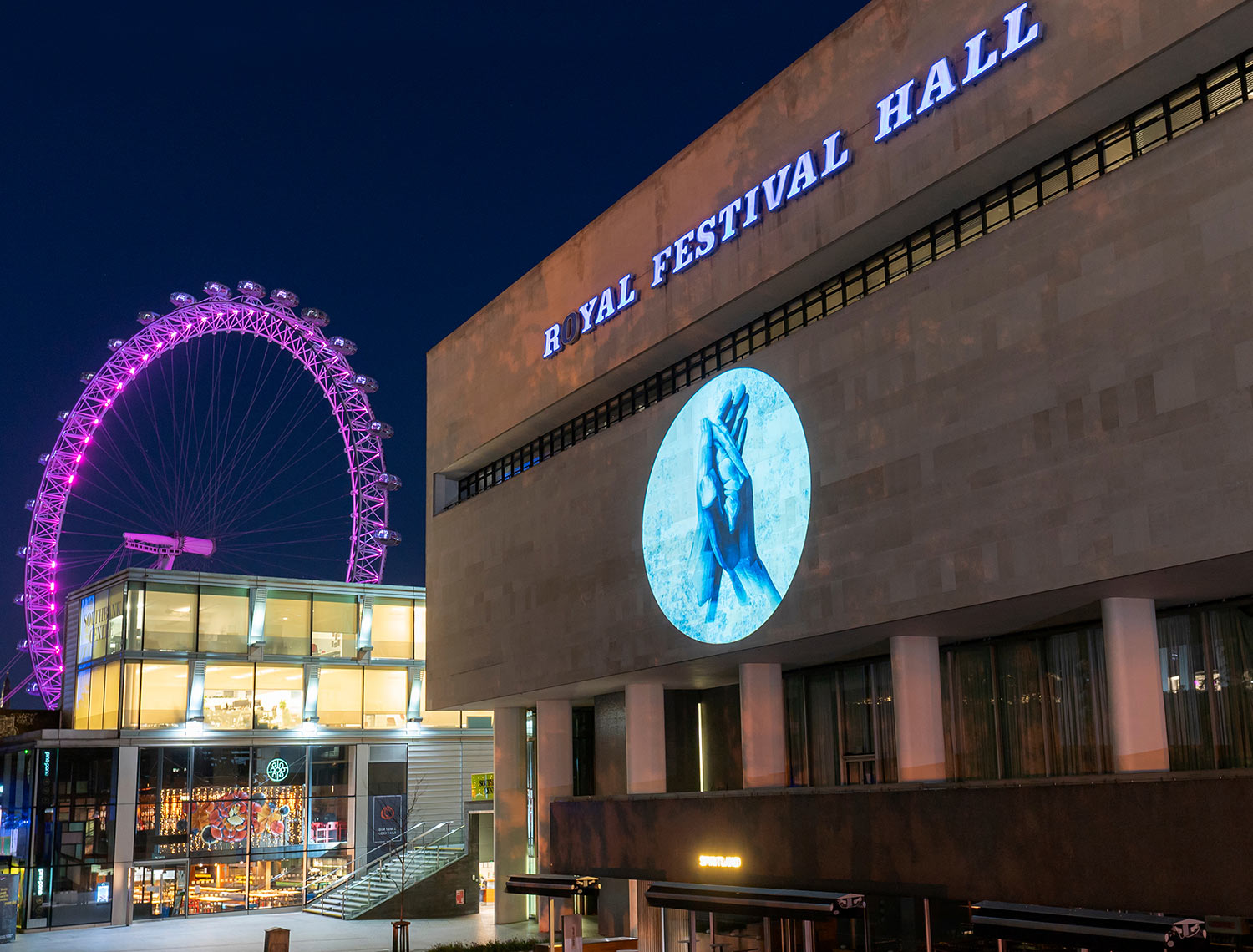 Ian was also giving people the chance to say who they are clapping for – be it friends, relatives, strangers or medical staff that have saved their lives – and the messages can also be projected onto buildings or posted on social media. Ian does this by posing the question, 'who do you clap for?' using the hashtag #iclapfor some were put on projections, there was also one on the Angel of the North that went through all the different Front Line workers.
Pin Your Thanks is an evolution of this, another way to show who you clap for, who you wish to show your heartfelt thanks to and a way for others to give their personal thanks. And a fashionable way to show your thanks, and what goes well with pin badges, denim jackets!
Co-founder Jenny Beavan OBE, double Academy Award-winning costume designer, acting as Creative Director for #PinYourThanks adds: "We were looking for exciting and innovative ways for people to express personal gratitude to their local heroes and Ian was invited on board before we even knew he was about to put out his Clapping Hands – and what a perfect fit it turned out to be. What a brilliant thoughtful artist he is.'
Ian said: "I know dozens of people who have caught coronavirus, including friends that have been battling it in the NHS. This all started because Elliott loved the clapping. He is still asking, when is it Thursday night and he now sees NHS workers as superheroes. The clapping allowed us the opportunity to explain what it was all about to him, where he was engaged with it. While I now understand the debate and arguments, we don't want to tell him it ended, so it's great he gets another chance in July." Ian didn't want to seem like he was jumping on the band wagon and sat on the idea for several weeks before putting it out – with no intention for it turning out how it did! Little did he know it would touch so many places. 'By trying not to get on the bandwagon, I actually missed the band wagon' Said Ian.
A beautiful tribute on the Baltic, Newcastle
Well I think it looked great and original, and he put a lot of positivity into the world and raised thousands for charity – both NHS Charities Together and Doctors Without Borders and will continue to do so with Pin Your Thanks along with other initiatives coming.
Ian will also have a major museum show tour with solo shows in Museum Rijswijk, Holland, Levi's Museum, Germany, Huddersfield Art Gallery, Yorkshire, the National Textile museum of Sweden along with being a part of a show in Basel! Busy times for Ian – whose as versatile as denim itself. #iclapfor so many people out there.