Straight leg jeans, with a cropped fit, have been trending in popularity for a few years now. The most common colour was always the vintage light blue, but this Winter, there are so many jeans available in various shades of black – and I love them all! I've put together a roundup of the 10 best and must have cropped straight black jeans for the Winter months and I think they would all look perfect with ankle boots! Whether that's combat style or the small heeled variety, you can't go wrong! The best thing at the moment is that these jeans currently have 20% off too! Use the code CYBER20 to take 20% off your order over $200 at Shopbop! Now is the perfect time to shop!
So first up, above, is the RE/DONE 70's Stove Pipe Jeans and these are actually my favourite in this entire list! I think the fit of them is perfect, the 26″ inseam is ideal (although I would need it shorter if I wanted a fit like the model), and the rips at the knee really give them a worn in vibe. The whiskering and faded black wash is just the perfect accompaniment to the design too! I love these ones!
Now these are also amazing! I think they're my second favourite in the list and I have no doubt that they would be extremely comfortable and flattering as they're by PAIGE. Again, with a faded black wash and lots of rips at the knees, you can't go wrong! Can you imagine these with some cool Dr. Martens?
MOTHER is also known for making jeans with a straight leg that leads into a small kick flare. This pair has a raw hem, as you can see, and a jet black wash, making them a little bit more dressy and smart. Perfect for dressing up in the evenings with heels and a blazer!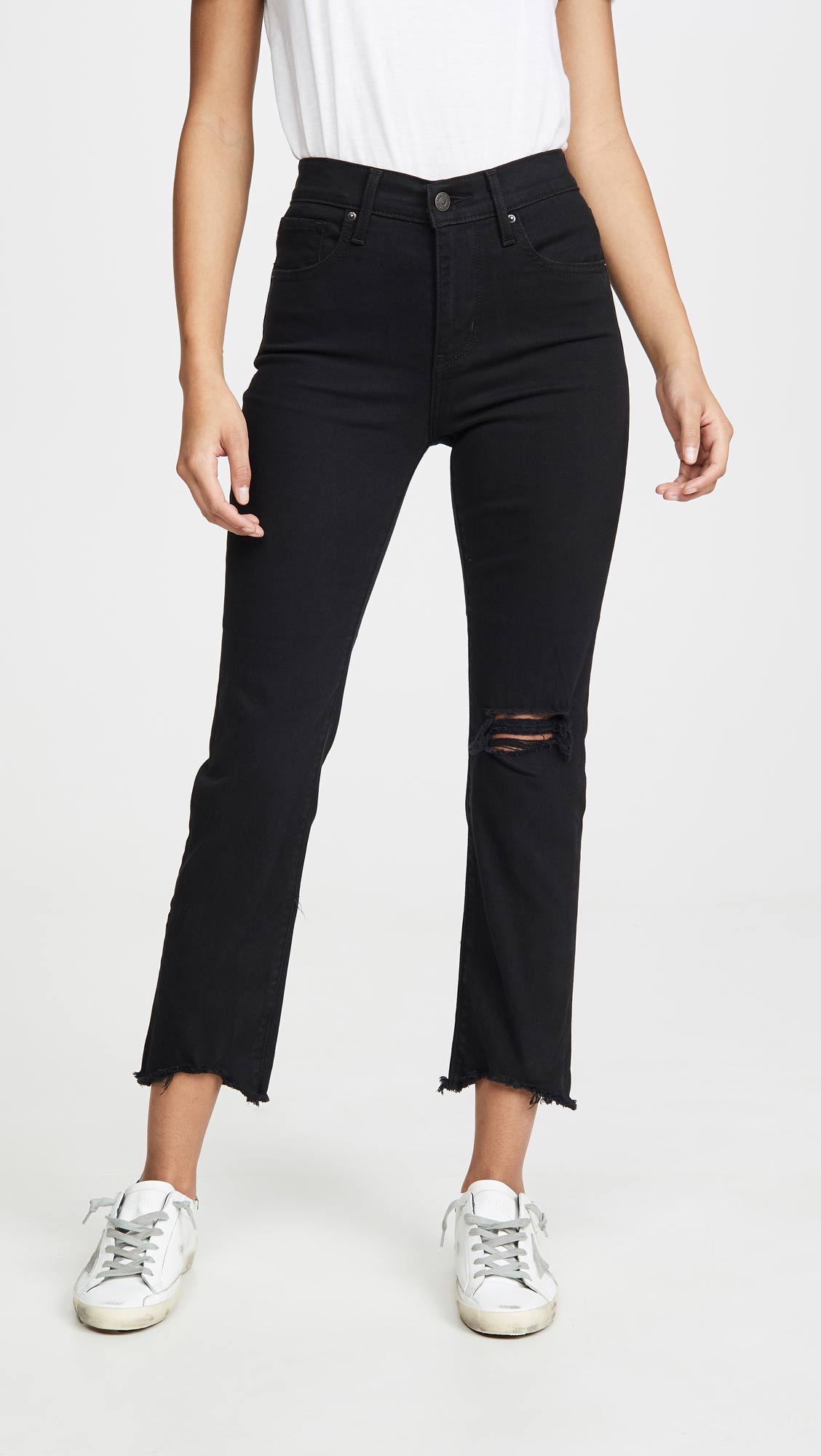 Everyone knows and loves Levi's, so it made sense to include their 724 straight fit in this roundup. With a frayed hem and a dark black wash, and a knee rip, these jeans combine both the casual and smart elements in one. Not to mention the affordable price tag, you can't go wrong!
Khloe Kardashian's brand, GOOD AMERICAN, has always been innovative, so I wasn't surprised when I saw these cropped straight fit black jeans here. These are a little more subtle and only have slight rips at the knee, so they would be good as a pair of understated jeans.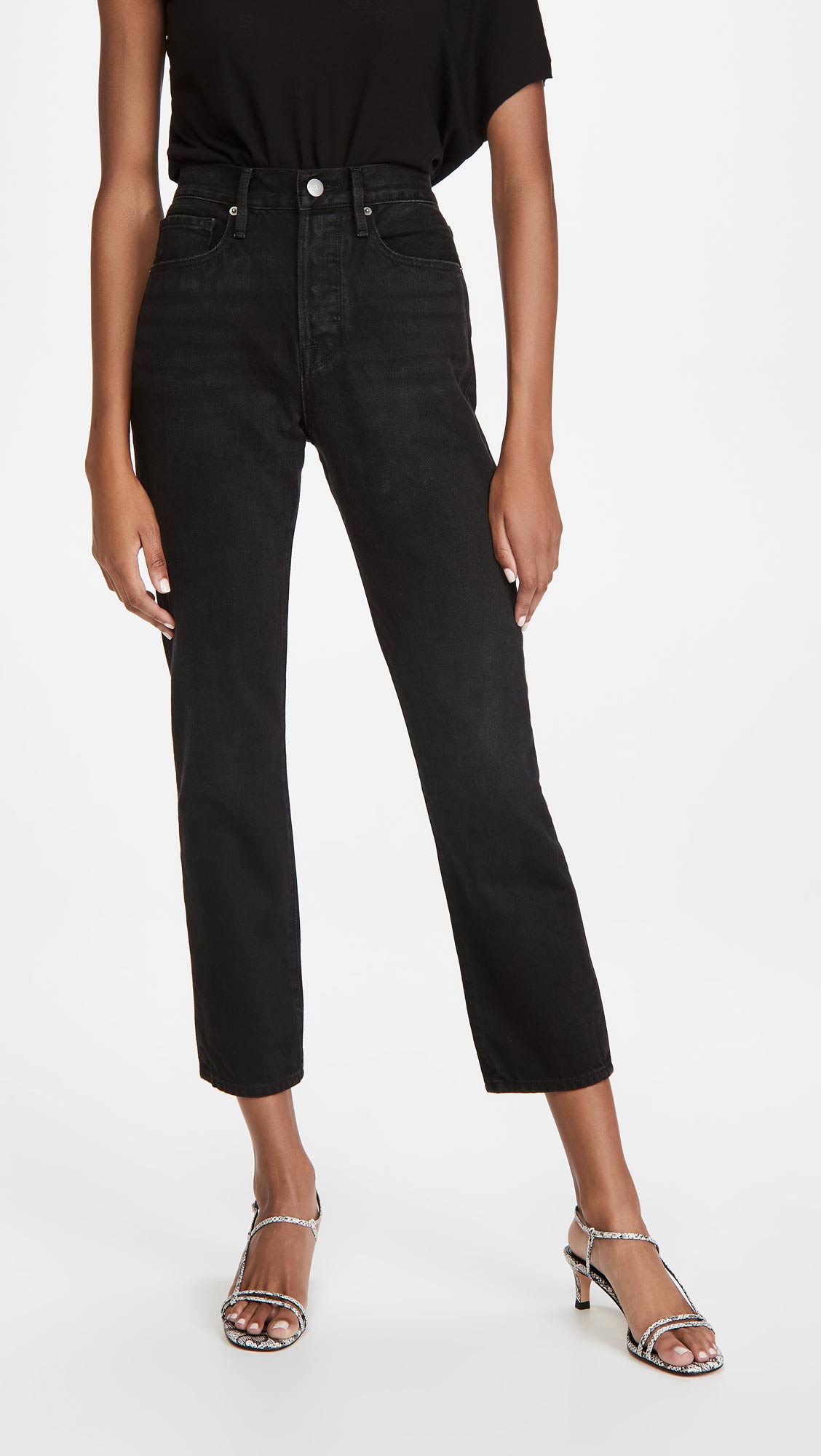 FRAME went for a classic approach here as they're a dark black (only a slight fade) and they have no distressing or rips, and no frayed hem. These are a pair that lend a more mature vibe and would look really good dressed up or down. They seem pretty versatile!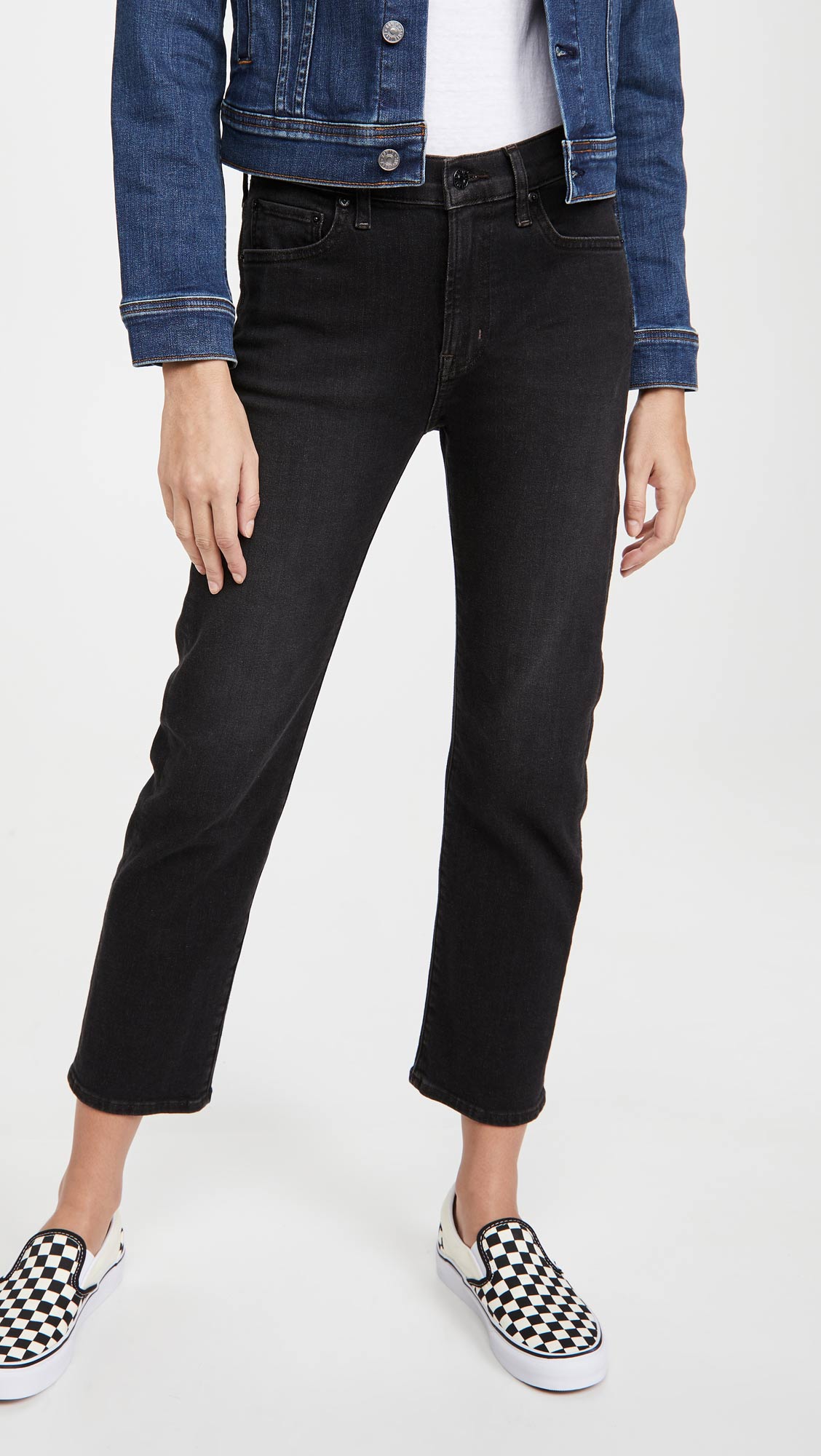 EDWIN's version have a slimmer silhouette than a lot of the others, but they're still muted in the sense that they're plain and classic. I feel like these have more of a dress down vibe to them though as they have a slightly lower crotch, which wouldn't be as easy to dress up.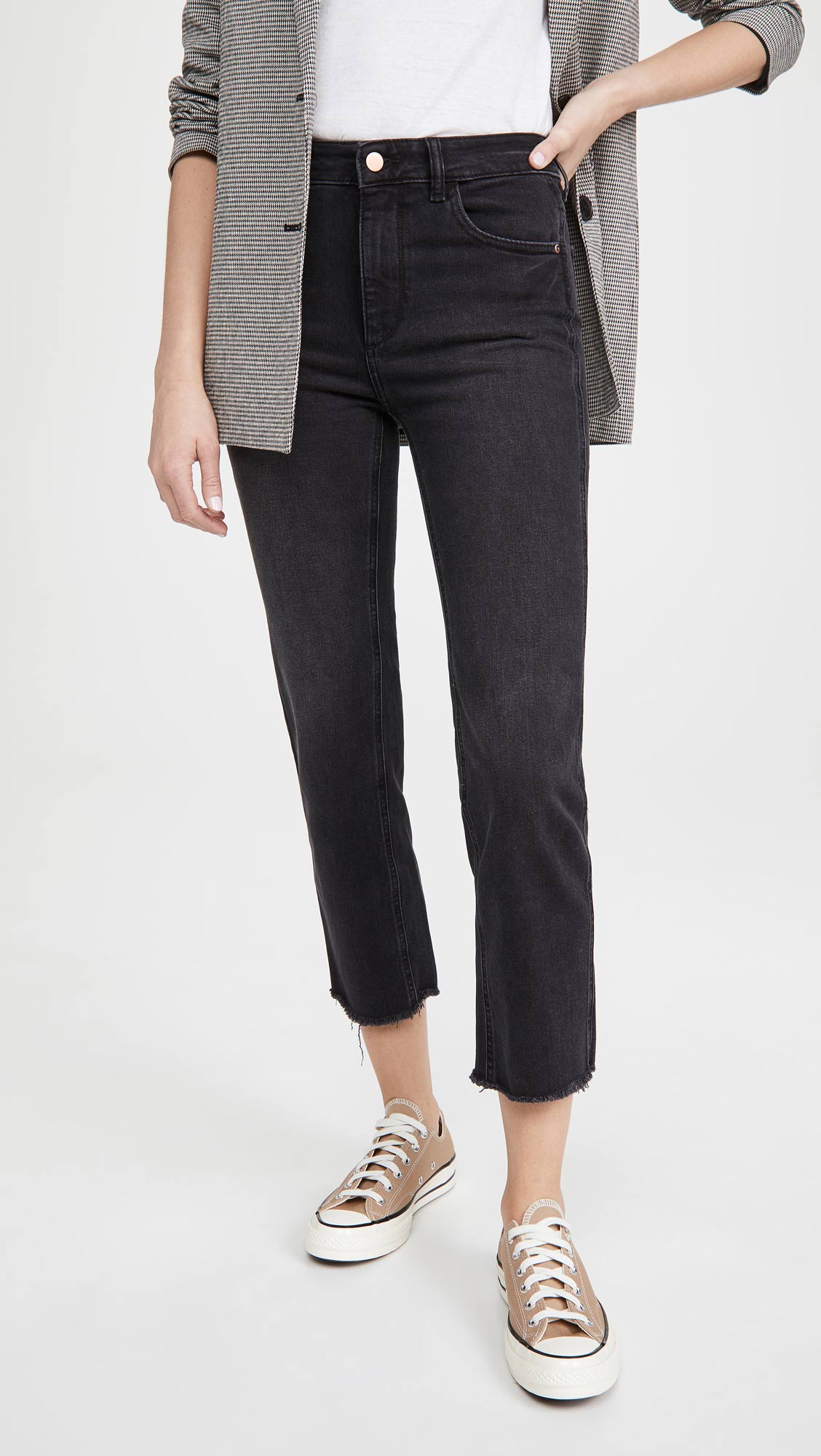 DL1961 created a straight cropped black jean with a really high rise and a frayed hem. Again, minus the distressing, so you could go smart with these, or smart casual, like the model. Another great style to go for if you prefer the minimal approach.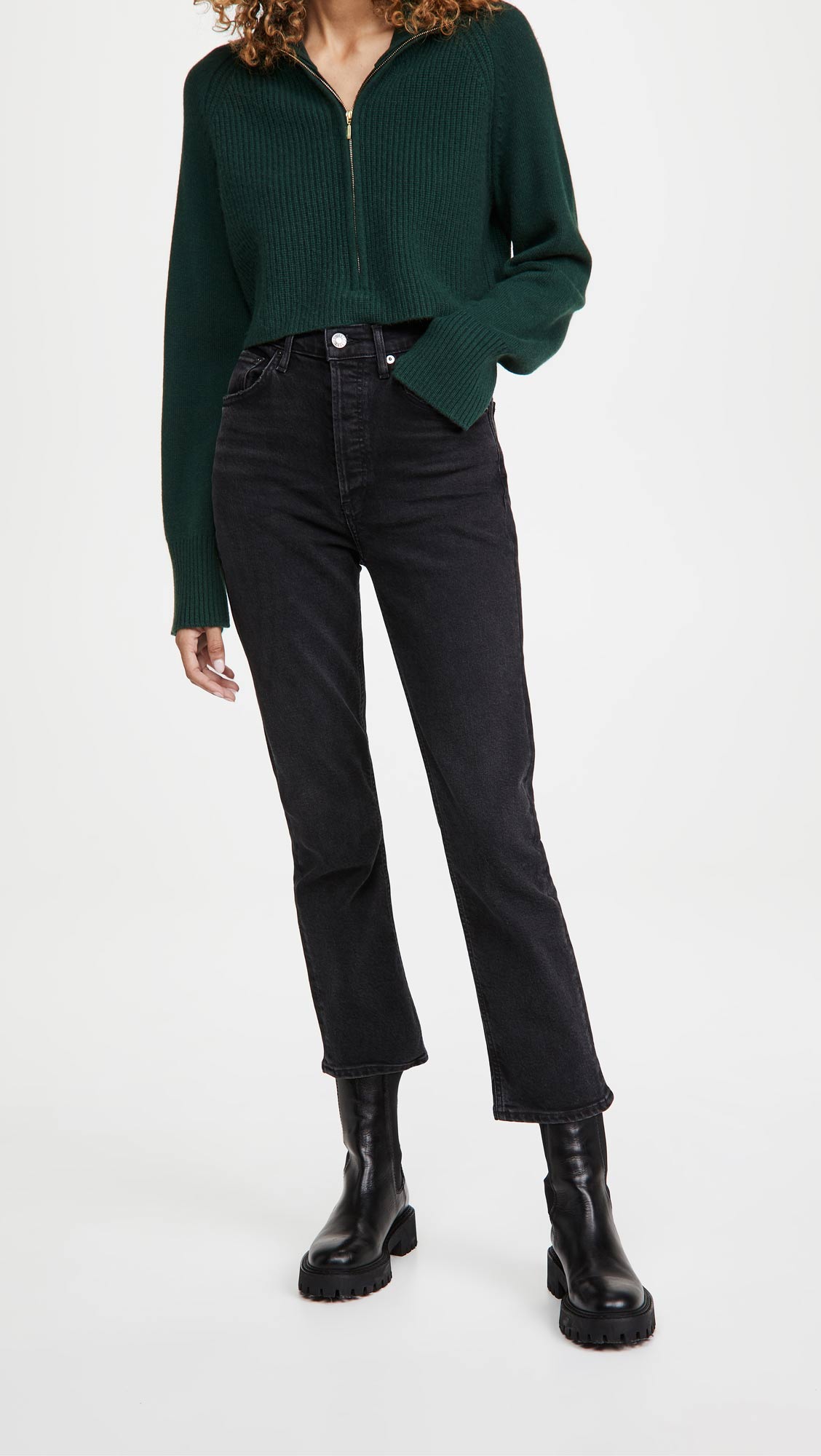 I'm a huge fan of AGOLDE as they make some great vintage inspired jeans (I live in my mom jeans from them), so it made sense to include their Riley! A Super high rise, a cropped leg, and a washed black that is actually pretty dark, you can't go wrong. Again, these are a pair that would look great with a blazer and some ankle boots.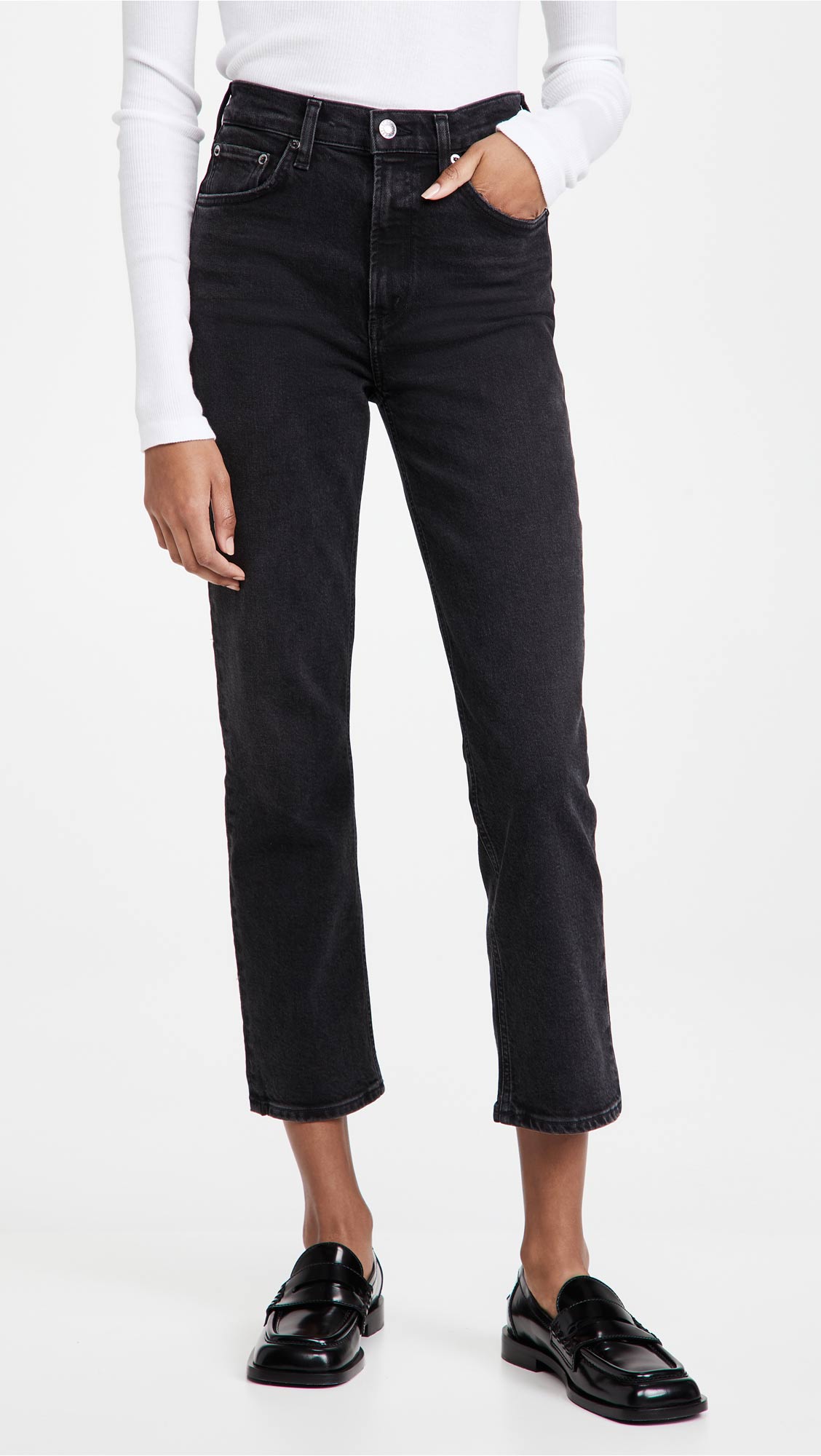 And finally we have another pair by AGOLDE as well, but this time the Wilder. These are slightly more boyfriend inspired, but fairly similar. I love this pair as they seem to lend a more casual vibe. I can imagine these looking really cool with an oversized sweater tucked in at the front, and some combat boots.
– So this is my round up of 10 cropped straight leg jeans in Black, that I think are perfect for Winter. Which pair of jeans here is your favourite? And how would you style them?