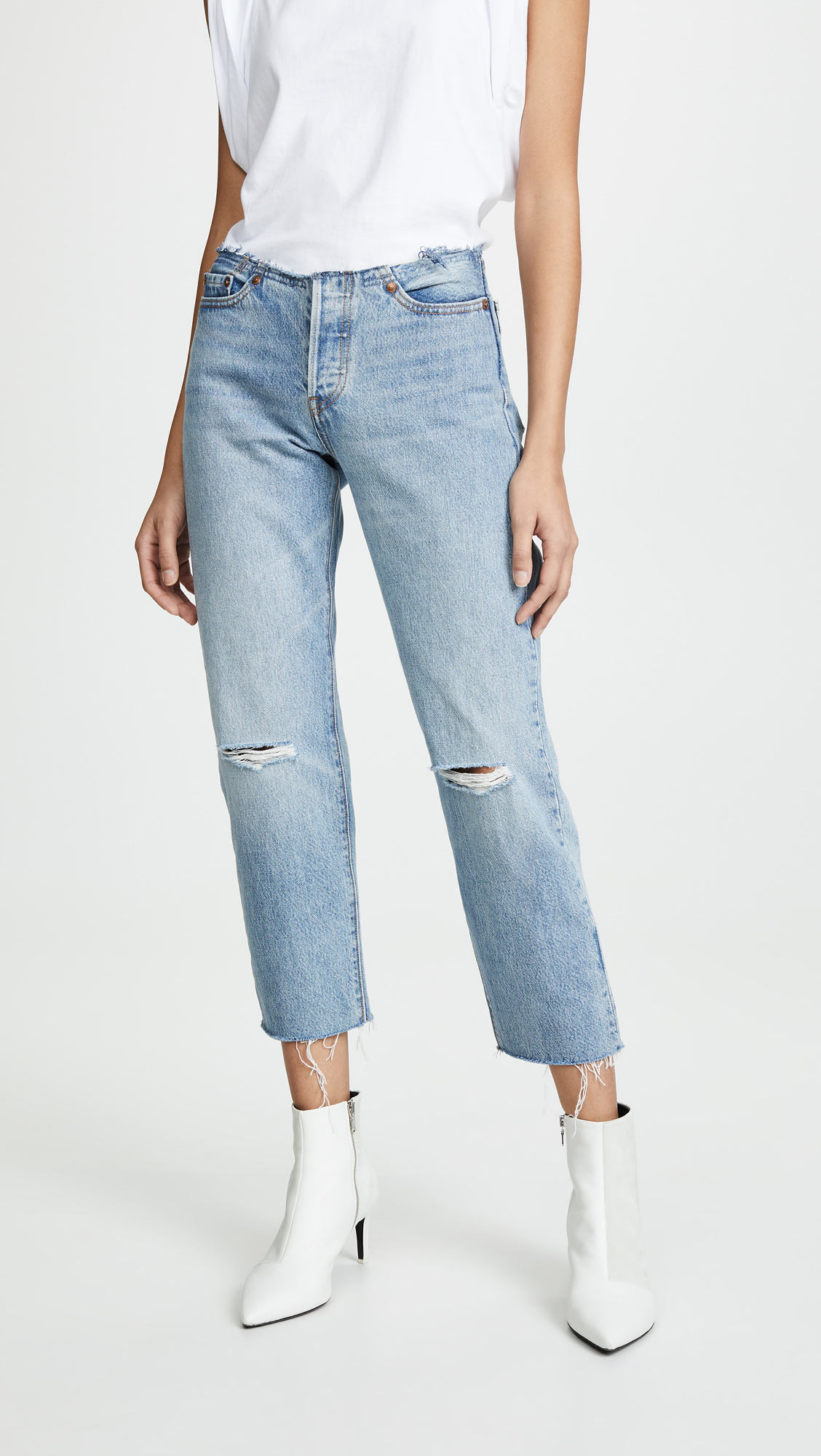 18 Cool New Straight Leg Jeans For Spring 2019
Spring is here and it brings with it the rise of straight leg jeans! I know most of you here adore skinny jeans, but they are taking a much needed back seat in favour of something a little more classic for 2019. Not only are we seeing straight legs, but there's been a bit of a revival of the 90's again when it comes to cut off, raw/frayed hems and it's transitioning to the waistband again! You can see the pair of Levi's above, they have removed the waist band entirely and just kept part of the button fly. I remember when this was a huge trend in the 90's on the low rise jeans as it made them even lower, but we're not used to seeing it on higher rises! What's your take on that?
With regards to straight leg jeans being popular now though, it's not just vintage looking jeans that are trending, it's a combination of all sorts of washes and designs. Whether you want jet black, washed black, grey, tuxedo striped, indigo, light or mid blue, distressing… there's pretty much a huge array of colours, just like there is for skinny jeans. Even the fits are all different too. Some are a close fit straight so they're more of a cigarette slim, while others are slouchier with a wider leg. Some jeans are coming with cropped inseams to make them more summer ready, while some are longer. There's really a huge array of jeans right now and they're overtaking the skinny market, that's for sure!
I know I recently did a blog post on new jeans for March, and I also did vintage style jeans, but these are your everyday straight legs that you can dress up or down, depending on your mood and I'm pretty sure we're going to be seeing a lot of them on the celebrities as the weather warms up! If I had to pick my favourites, it would be the white pair, the tuxedo stripe, and the Levi's. I think those three are super cool! Of course you're probably going to need a washed black as well for smartening up with a blazer in the evening, finished off with some ankle boots, so we have included those options in this top 18 straight leg jeans list! What jeans are your favourites here? And how do you feel about straight leg being the new skinny this season? As always, just click the jeans in the images below to buy them.