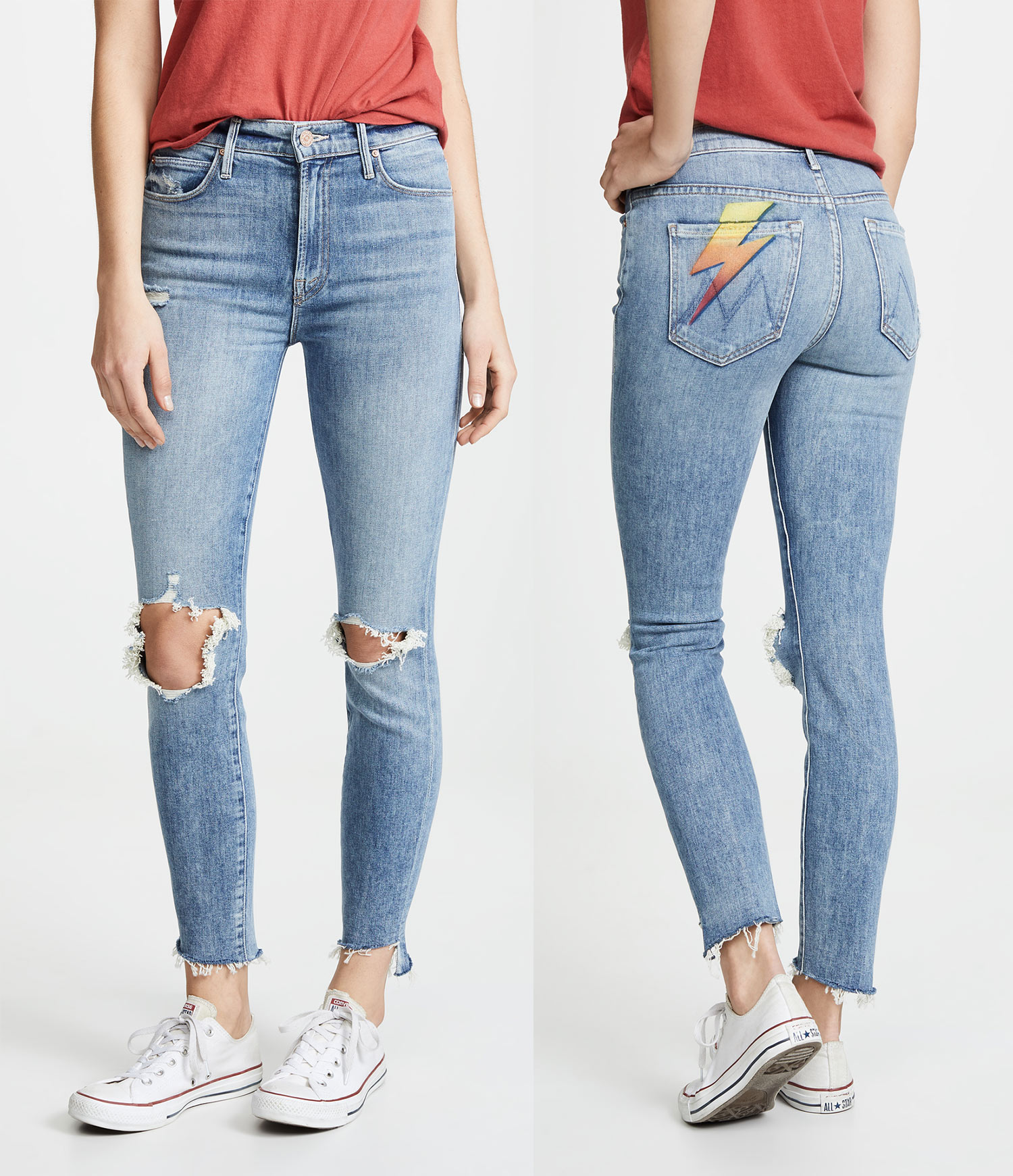 21 Hot New Jeans For March 2019
There are so many new jeans entering our computer screens right now! With the anticipation of Spring 2019 arriving, there's a whole selection of new denim and I am extremely excited about it! I was wondering what trends were going to be hot, and I had an idea it would be slim fits and wide leg, moving away from the traditional skinny, and I was right. I'm still waiting for the pastel tones to arrive, which I'm sure will happen once it warms up some more, but for now, we've got a whole selection of light blues, some distressing, embroidery, some wide leg, cropped fits, slight bootcuts, and of course I'm not leaving out skinny jeans either! How could I? They're a staple!
I thought the jeans above were really cool, the ripped, light, authentic looking wash is ideal for this time of year, but the lightening bolt on the back just adds so much fun to them, making them unique! They're by MOTHER if you didn't already know (I know the back pocket M stitching is a giveaway) and I'm sure we will be seeing these on the celebs soon and that's why I chose them as the main image! The other favourites of mine from the selection below are the La Vie Rebecca Taylor vintage looking slim fit, as I think those are perfectly on trend, the 7 For All Mankind Paperbag jeans with the bow on the front, as those are so chic! The MOTHER Runaway Weekender with the cropped flare and distressed knee holes, as they're very different to what we usually see, and the Levi's Wedgie Icon as they're more affordable, and of course a classic.
You can't go wrong with any of these jeans below, trust me, and even if you don't like blue, there's washed black and grey! I've chosen 21 new jeans for March 2019 which will see you through Spring entirely! All you have to do is click the image of the jeans you like below and you can buy them, it's pretty simple! I'd love to know which pairs in this round up that you're craving and want to buy? I also got a new pair of jeans from Citizens of Humanity that I will be reviewing later this week for you, which I think are perfect for Spring too, so stay tuned for those! Happy shopping everyone! Enjoy your Monday holiday day in the States!

*This post contains affiliate links to help keep this blog running.