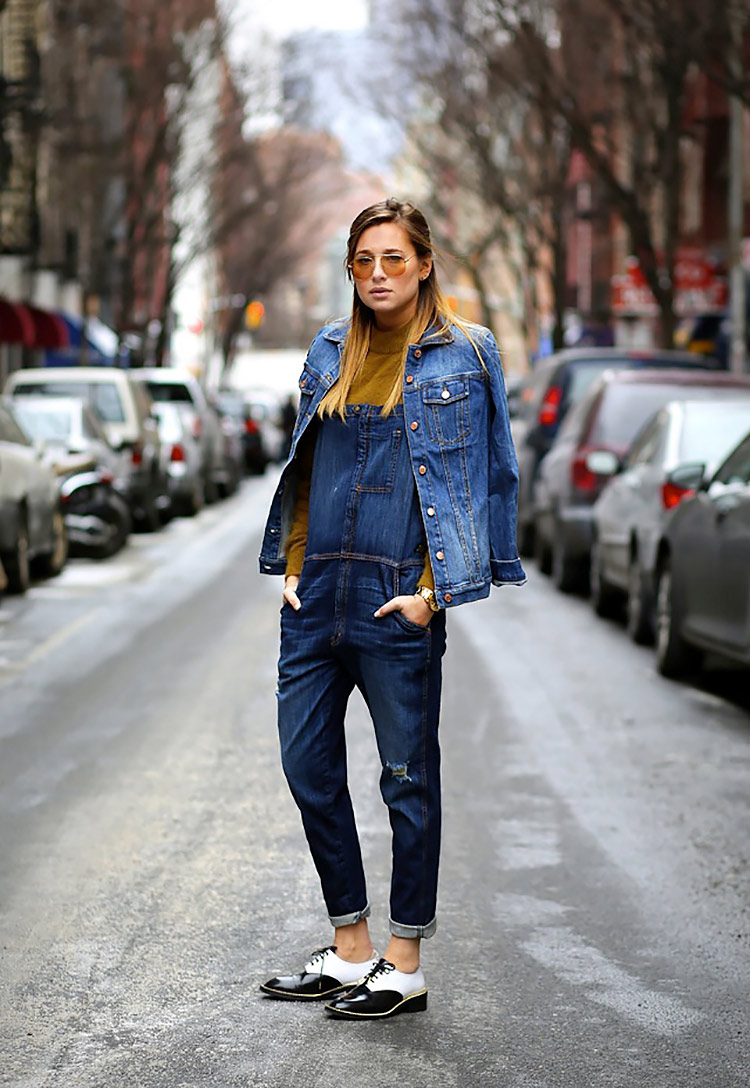 How To Wear Denim Overalls For Autumn
Denim overalls or dungarees, whichever you want to call them, have been going strong as a trend for a couple of years now, mainly hitting it big in the Summertime when worn with crop tops and sandals, however the trend has been carrying on into Autumn since 2014. It's all about changing the styling to be season appropriate. I find denim overalls to be somewhat of an ultimate classic piece that you really can't go wrong with. Many people have reservations about them as they can look too 90's or boyish, however I'm sure I can change your mind with these styling options in this post here on The Jeans Blog! There are ways in which you can make your denim overalls look mature, sophisticated and perfect for the cooler weather, it's all in the layering. Plus, they are a great way to wear double denim or denim on denim! Check out some of the looks below and get ready for the Fall! You can also buy various different denim dungarees online at Revolve Clothing, Shopbop and ASOS, with lots of different price ranges.
Styling Full Length Denim Overalls
As you can see from the gorgeous style bloggers and celebs above that styling denim overalls for Autumn can be easy! They make a great base for any look, so layering over a statement coat, throwing on some heels and wearing a few accessories can make the full length pairs look so chic! It can almost give you that hint of Parisian style which is always a must have. The key to getting it right with full length denim overalls is making sure they are slim fitting. Since you will be adding a lot of layers to your look, you don't want the overalls to be too baggy, this can really swamp your frame, so make sure you keep them skinny and fitted and you can't go wrong! You can also wear them with a sweater underneath, boots on the bottom or with a leather jacket, the layering options are actually endless!
Wear a sweater underneath
Layer a coat on top
Opt for skinny overalls
Don't choose baggy overalls, they swamp your body
Don't tuck full length overalls into boots

Styling Short Denim Dungarees
Styling short dungarees can be a little more trickier as you have to get the balance right. These are often seen as a Summertime par of denim overalls only, so what I do (as seen in the photo just above) is layer on a structured blazer and wear some ankle boots. You can also pair the denim short dungarees with a nice crisp shirt underneath, to really give it some polish. These can also work with coats, but I recommend keeping the length of the coat the same length as the dungarees or shorter, if you can. It can work if it's longer on the really tall ladies, but for those who are more on the petite side, keep it shorter. If it's too cold for bare legs though, definitely pull on a pair of tights to go underneath. This can really freshen up your outfit and keep you warm at the same time!
Layer a blazer on top or a same length/shorter fitting coat
Wear tights if it's too cold
A crisp shirt underneath works well for the warmer days
Wear ankle or thigh high boots with short denim overalls
I've put together 4 different styling options below, using two pairs of short dungarees and two pairs of long ones, so there is a look for everyone here! Which do you like the most?
How To Style Denim Overalls For Autumn
Dungarees – Topshop | Shirt – Equipment | Boots – Sam Edelman | Coat – Lanvin
I think this outfit above is so pretty! It reminds me of a Vogue inspired look or something a lot of fashion bloggers wear. It could definitely be worn to work if you worked in the fashion industry. The black short dungarees are gorgeous (I know, I own a pair from PAIGE)! The shirt keeps things crisp, the flat boots are easy to walk in and the coat adds texture. It's definitely an outfit I would love to wear when it starts to cool down in a couple of months.
Dunagrees – Similar | Shirt – Topshop | Jacket – Paige | Shoes | Clutch | Ring
Since this is a denim blog, it wouldn't be right without some type of double denim look, so I went with a triple denim combination! Going all out. I think the dark blue dungarees pair well with a lighter mid blue denim shirt, then throw on a light blue denim jacket, to really bring the denim combination together. I kept the shoes nude to keep it minimal and went for a subtle ring, but played it up with a leopard print clutch, adding some fun to the overall feel!
Dungarees – Topshop | Jacket – ALLSAINTS | Shoes – Jeffrey Campbell | Tights | Hat | Watch | Sunglasses
Now this is something different, it's more inspired by a rock and grunge vibe. I chose the black dungaree shorts as they make the perfect base, especially to layer over a pair of black tights, to keep you warm. The lace up boots are tough, as are the black sunglasses, but I went for a more edgy vibe and layered on that washed out leather jacket, I find it really toughens it up! The burgundy hat just brings that little bit of femininity and colour to it, so it's not entirely black. I didn't include a top here, but I recommend something like a basic white tee.
Dungarees – Similar | Sweater – Burberry | Coat – Valentino | Bag | Shoes | Ring
And finally, I went for something really chic, classic and mature. I actually find this look to be inspired by the lovely Olivia Palermo as it looks like something she would put together. I went with blue overalls again, this time in the cropped length. I love the idea of the cream sweater layered underneath, purely because it has amazing embellishment on the collar, this will really jazz it up! I then layered on the tan coloured cape coat, really pulling it together and matching the tote with it. I kept the shoes nude again, to keep it simple and went for another minimal ring. I love this outfit so much!
– So, to round things up, you really can't go wrong styling your denim dungarees for Autumn in either of these ways! You will look sophisticated, on trend and stylish! If you like the pieces above, the links to buy are just under each image. I hope you enjoyed this post and if you did, please do share it around!
All images of bloggers sourced from Google Images.