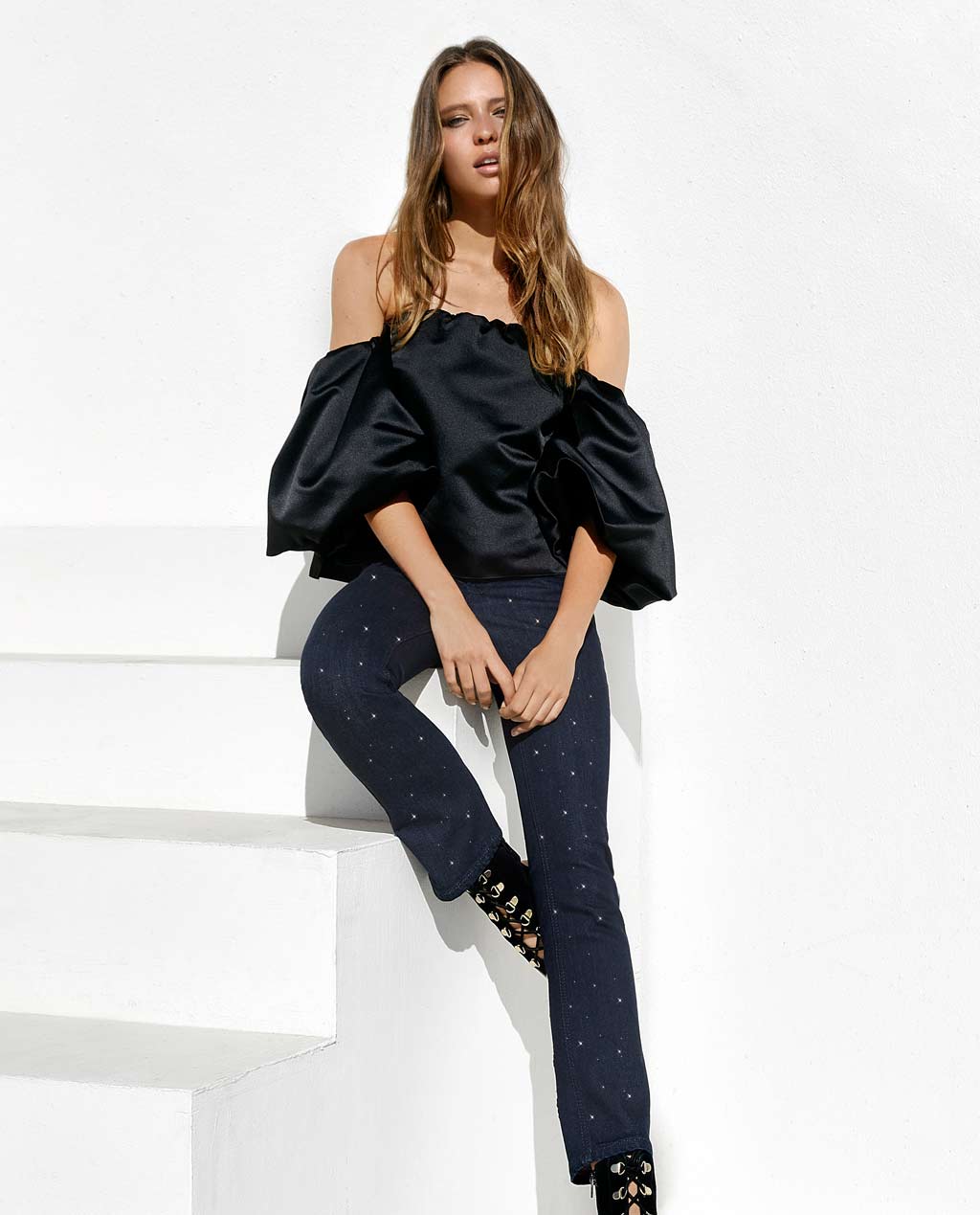 Remember ONE Denim? We introduced you to them earlier this year (see the interview here) and we even did a review, from both myself, and Adam, so you should be quite familiar with them! For those of you who are new to The Jeans Blog though, they're a premium denim brand that cut out the middle man, keeping the prices low! Their direct-to-consumer strategy (read more on it here) means that you can have all the quality and details of premium denim jeans and fabrics, without the price being inflated due to wholesale prices and then shop prices put on top. ONE Denim's women's jeans are all made from Japanese denim fabrics, while the men's are all made from premium selvedge fabrics.
ONE Denim's new collection focuses on embroidery and embellishment from Swarovski crystals, all done by the very talented Jenny King. She's one of the most talented mixed media and embroidery designers in the UK today, so you can guarantee these designs are good! Jenny's team specialise in satin-stitch Irish embroidery, Cornelly, hand, domestic, and fabric manipulation techniques – producing demi-couture embroidery, which is the highest quality of couture detail yet achieved. The best bit is that the embroidery is made on a hand-guided sewing machine that ceased production in the 1950's called 'The Irish' so although it requires time and precision, the free-hand satin stitched embroidery is of a high quality. I can vouch for that as they're embroidery in real life is amazing!
The new ONE Denim collection was actually inspired by magical powers and black flowers, but with a difference! They have added in hundreds of black Swarovski crystals to the jeans to create a mystical and alluring effect, attracting attention in a classy way. You can see from the photos above/below that the new styles are just stunning! Some of the jeans have the Swarovski crystals emblazoned all over the front of the jeans (not the back as you need to sit down), which just adds another element to the overall look, while others actually have the crystals positioned inside the embroidery, in the center of the flowers. I think all of these little details are magical and beautiful.
The prices range from around £185 – £295, but when you think about all of the work that goes into making these beautiful hand-sewn embroidered jeans, is a bargain. Can you just imagine the £800+ price tag these would have if they were made by a fashion house like Gucci? Or even if this amount of detailing went into a traditional premium denim brand you're familiar with, it would be well over £500 I'm sure! What do you think of the new embroidered and Swarovski crystal embellished jeans from ONE Denim? I think they're beautiful! Just perfect for the current month of December! You can check out the full women's collection here.