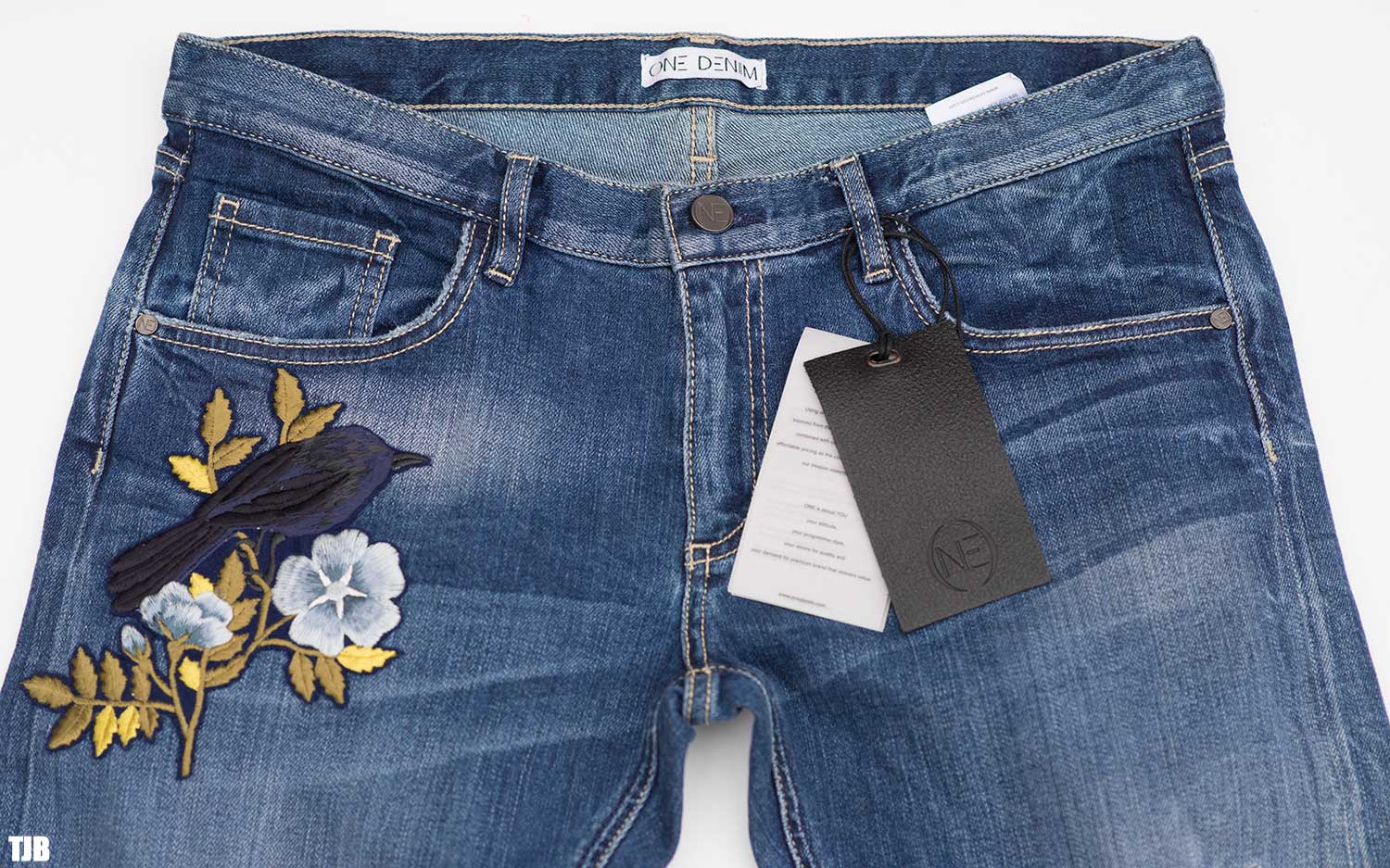 ONE Denim Direct To Consumer Jeans Review
For those of you who are regular readers, you will already know about ONE Denim as we have mentioned them numerous times already (here and here) as well as in a men's review from Adam (see here). For those of you who have missed it, ONE Denim are a direct to consumer brand that produce high quality, selvedge premium denim to buyers online, which means the price can be less than half of the usual premium denim retail price that we know. The quality is absolutely fantastic though and the detailing is amazing, so when I got the chance to check out some of their jeans, I was definitely surprised! Check out my review on a pair of their embroidered jeans and denim shorts below.
Shown as full length above and cuffed to suit my height below.
So these are the ONE Denim Slim Boyfriend Jeans in Japanese Selvedge with Embroidery. These were the first pair of jeans that I tested out from the brand as a sample and I am honestly impressed. I know the embroidered denim trend has kicked off huge this year, it's everywhere, and Gucci embroidered denim is usually at the top of the game, but ONE Denim are definitely up there with them.
The Size – Since these are a boyfriend jean and designed to fit more on the slouchy side, I tried a size 29 and they were definitely looser. I think I would have preferred the fit of a 28 though, so only size up one from your usual size. I would say as a brand that's made in the UK, they do run very similar in sizing to Topshop or Diesel, but definitely smaller fitting than brands like Hudson, Citizens of Humanity etc, so keep that in mind when purchasing.
The Cut – The cut of these ONE Denim jeans is a lot different to what I usually wear. It's more of a mid rise, straight slim leg. I usually prefer to wear high rise skinny jeans, so it's different for me. These jeans are a bit long for me, as you can see in the modelled photos above. They fit as a full length, but it's not that flattering to my shorter frame, which is why I have rolled the hems up a few times to wear them as crops. Unfortunately this loses the butterfly embroidery on the selvedge cuff, which is there at full length, so I do think these jeans would be much better suited to someone who is taller than I am with a longer leg length. I generally wear around a 27-28 inch inseam for my full length jeans, if that helps.
The Denim & Wash – This wash reminds me of an old school Diesel wash actually, as it's a really pretty mid blue with fading and whiskering around the lap and thighs. It's definitely detailed and well thought out, so it's one that I think looks authentic and definitely worth the money. The denim is made of 98% cotton and 2% polyurethane, with an 11oz weight, so it's more like your older, classic skinny jeans that were popular when premium denim first started on the scene. If you are a girl that loves your denim with some weight and less stretch to it, you should definitely check it out!
The Embroidery – Now getting to the star of the jeans, the embroidery. ONE Denim's embroidered jeans are made in the UK in collaboration with one of the most experienced embroidery designers, Jenny King. The demi-couture embroideries are made on a specialised hand guided sewing machine, which ceased production in the 1950's; an expensive process which requires a lot of time and precision. However, this results in the highest quality, beautiful satin stitch embroidered denim available on the market today. You can see the amazing detail and quality that has gone into the embroidery here and that bird with the flowers is literally incredible. I've spent a long while staring at it, and it's really giving Gucci a run for their money, that's for sure! The butterflies and little flowers in other places are perfect too! If these jeans were based on the embroidery alone, I would give them 10/10 already.
Overall Opinion – Since I am completely honest with all of my reviews, I do have mixed emotions with this pair of jeans. I absolutely love the wash, the embroidery, and the design of the jeans, but because I am shorter, they are a bit long for me, I prefer to have them cuffed, which does eliminate the other embroidered butterfly. I would prefer a slightly slimmer fit and a higher rise, so I am really excited in hoping that they do release a higher rise, skinnier jean. But as far as these jeans go, for their price of £165, I love them and think they are definitely worth the money. The quality and the way the jeans are made are definitely worth more than their price, and when you see the embroidery in real life, you'll be blown away by how gorgeous it is.
Shop These Jeans at ONEDenim.com for £165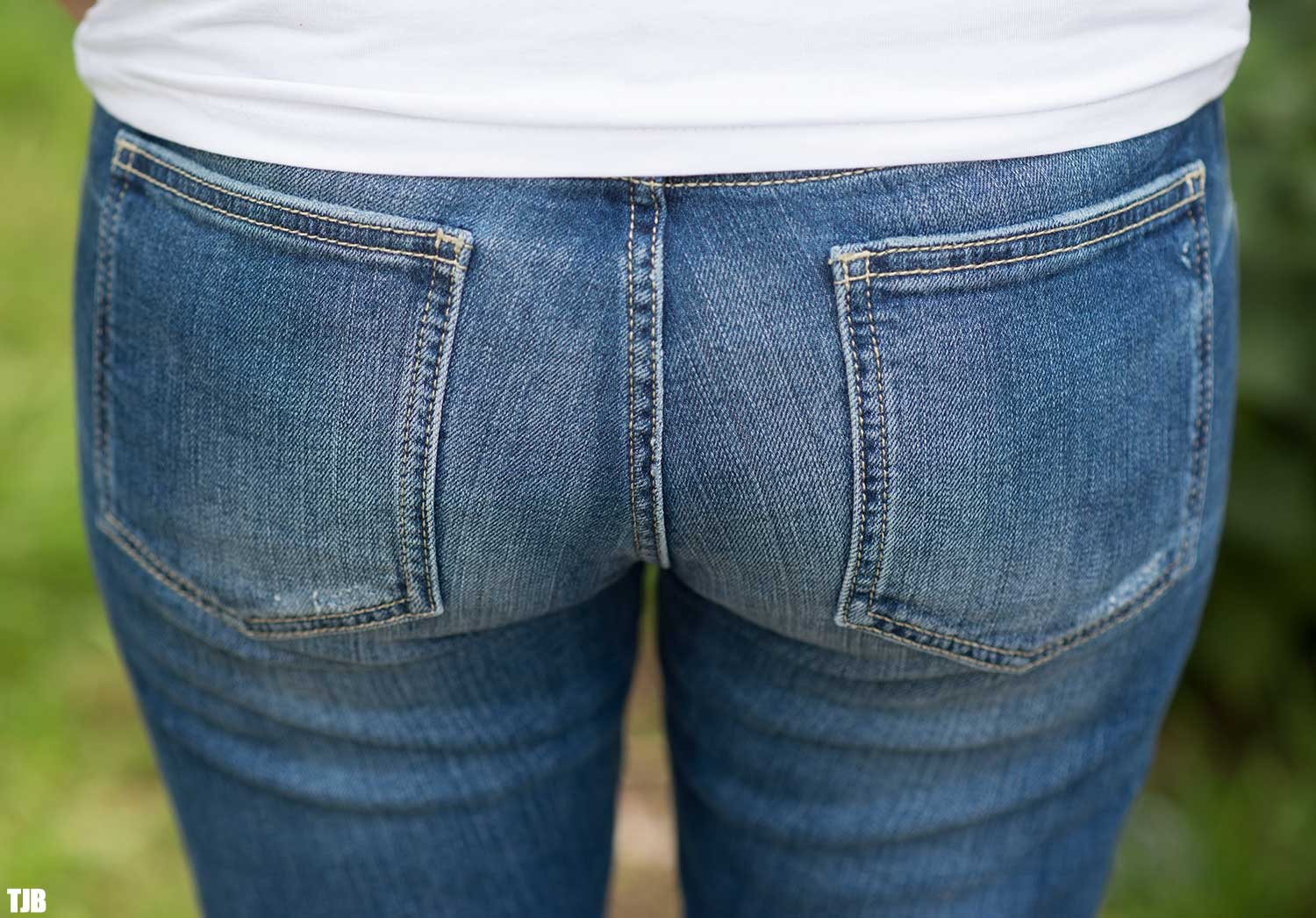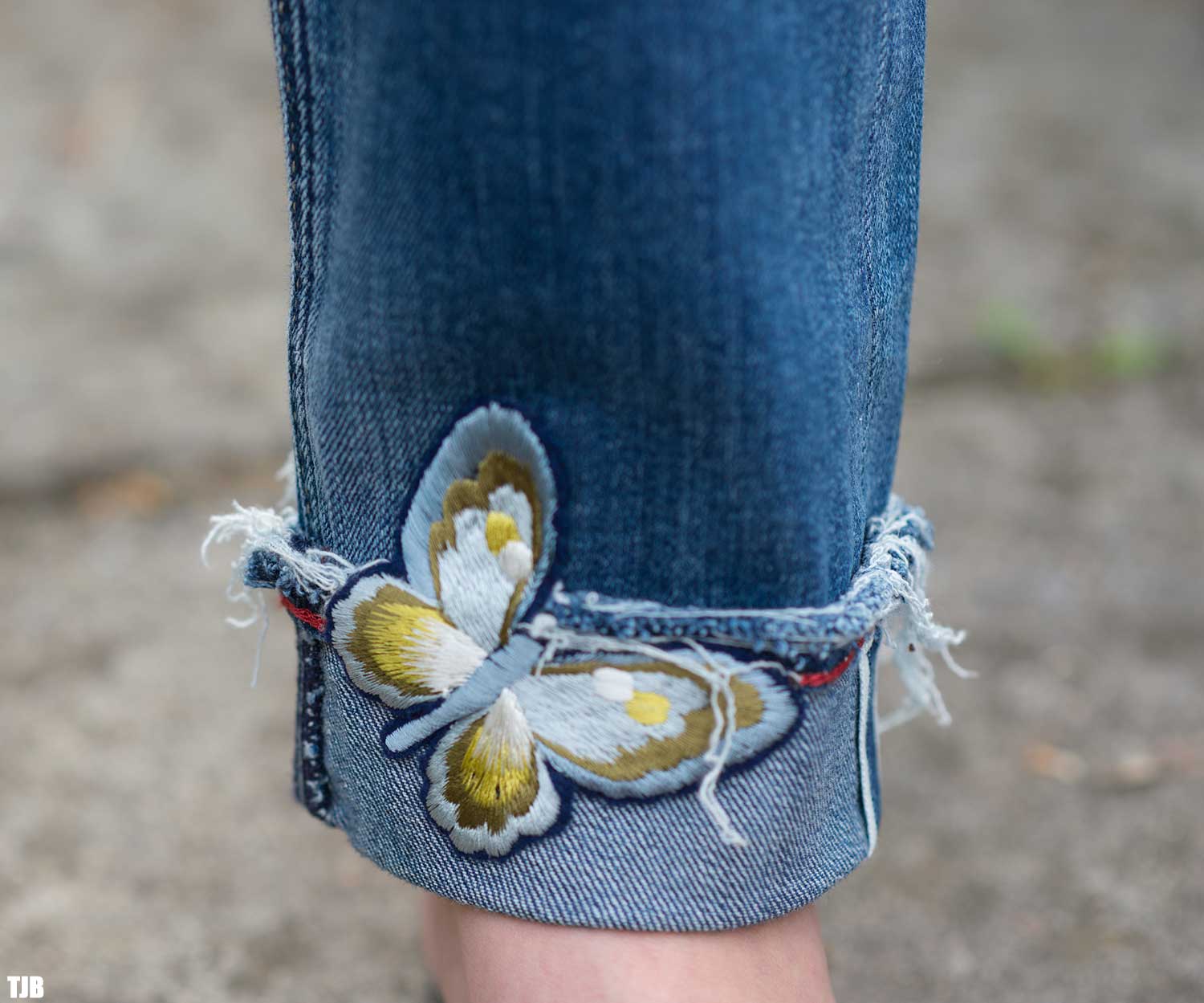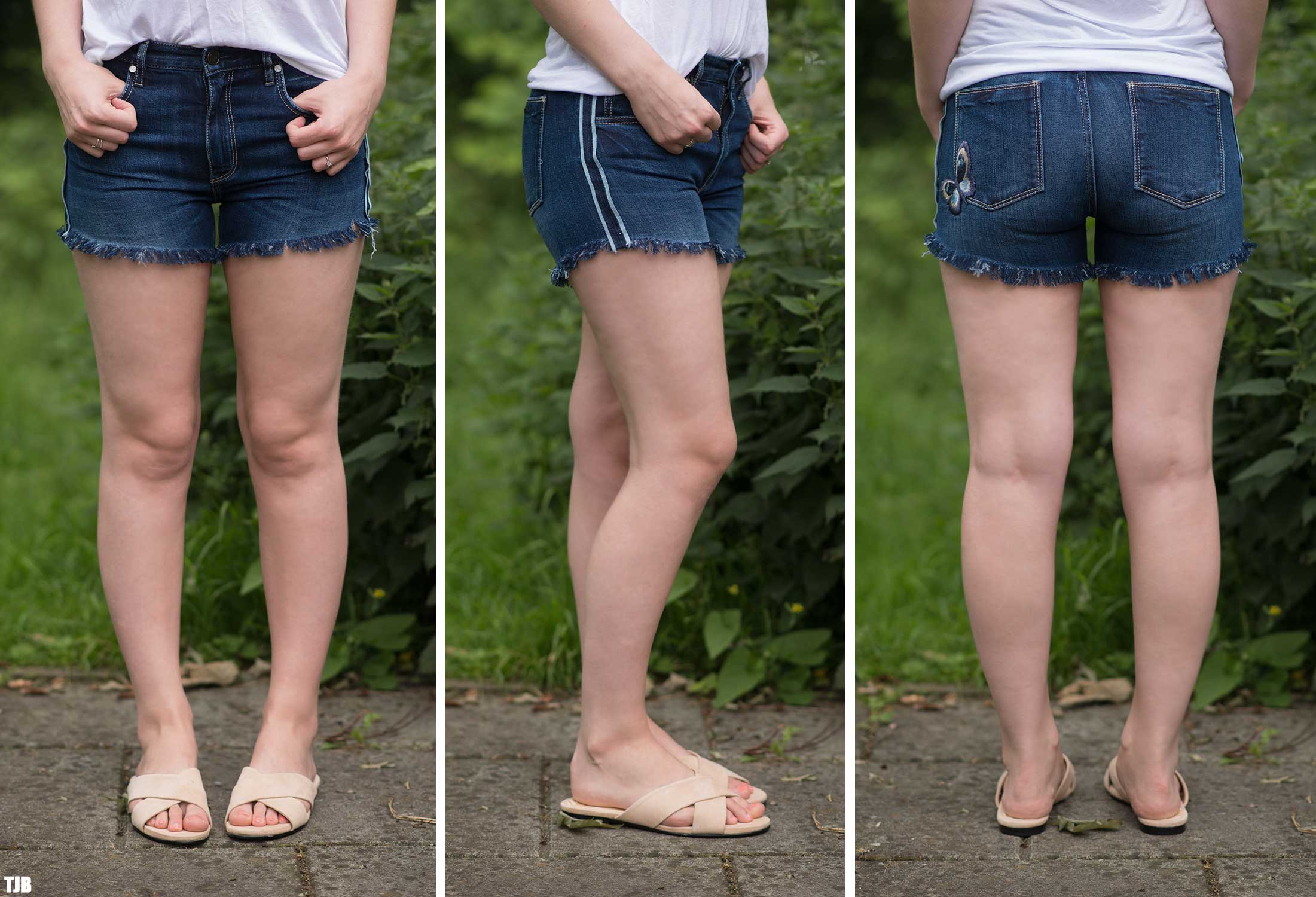 The second option that I tried from ONE Denim is a pair of their denim shorts, the Embroidered Selvedge Denim Shorts to be exact. These are new in for the current season and combine a lot of trends in one, which I think is perfect for the way denim trends are going, plus shorts are the must have right now as jeans can be much too hot, so let me get to the review!
The Sizing – Like the jeans, I got these in size 29, however they run a lot smaller than the jeans do. Since these aren't a slouchier boyfriend fit, and designed to be worn fitted, they are much tighter. The 29 is snug on me, and I am usually a 27 in most premium brands, so if you like these, be sure to size up about 2 sizes for a comfortable fit that isn't restrictive and tight. Again, it's very similar to the sizing of Topshop or a pair of Diesel denim shorts, if you are looking for a reference.
The Cut – These are a slim fitting short which are designed to complement your figure. Featuring a medium rise which sits perfectly on the hip bones, back pockets that are rectangular and positioned to be flattering on the butt, and an inseam that's not too short or too long, these shorts are really quite nice. They actually remind me of the popular Siwy shorts from a few years back.
The Wash & Details – These shorts are a darker indigo blue, which actually feature selvedge denim strips which have been cut out and placed on the out seam, creating a truly unique look! Usually selvedge is only on the inside, so I love that it's on the outside too, with a tuxedo appearance which is on trend right now. They also have a frayed raw hem on the bottom of the shorts, which is classic, and contrasting yellow stitching all over. The free hand embroidered butterfly on the back pocket is made in the UK, using skills and techniques that requires a lot of time and precision, creating a subtle yet luxury detail and I absolutely adore it. You can just see how intricately detailed it is and it makes the shorts really worth while, especially for only £70!
Overall Opinion – My opinion of these shorts is nothing but positive! I couldn't believe for a pair of premium denim shorts with embroidery from the UK, and selvedge, they only cost £70! That's incredible since you would be looking at over £200 usually. The sizing does come up small, but they are comfortable when worn and the detailing of them is fantastic. So I have no negatives for them at all. They're definitely worth their money and perfectly on trend!
Shop These Denim Shorts at ONEDenim.com for £70