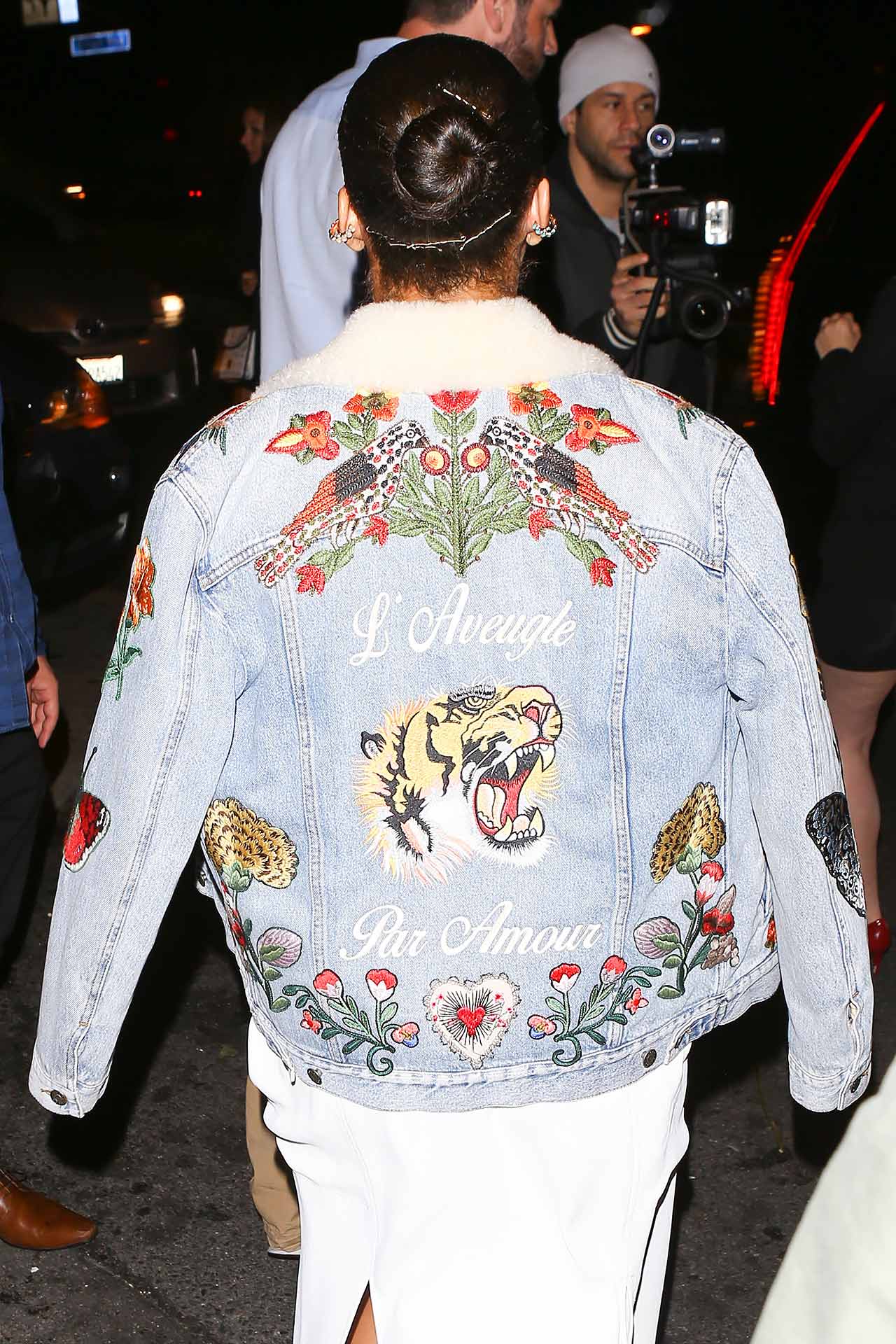 Oh embroidered denim, how we love you! You have slowly crept up on us over the last couple of seasons and you're now here to stay…
Gucci have always been at the forefront of trends and when it comes to denim, that's completely true, despite not being solely focused on the blue fabric. You might remember how the Gucci Embroidered Shearling Denim Jacket was THE denim jacket to have last year and it was worn by everyone, from Cara Delevingne and Rihanna to Kanye West and Jessie J, as well as the top bloggers like Chiara Ferragni and more, so Gucci have done an amazing job putting their denim on the map!
I noticed last season for FW16 that the fashion house brought out quite a few pairs of embroidered jeans and denim jackets to add to the mix, but when I checked again at their brand new SS17 collection last week, I was in awe at the gorgeous and skillfully crafted pieces they have designed. There's no shortage of intricate embroidery here from Gucci and I am extremely impressed. They have come out with some pretty roses, butterflies, floral gardens, and more on slim fit jeans, flares, denim skirts, and jackets for the women, but the guys have their own choices too with jeans and denim jackets emblazoned with embroidery. There really is no chance of not making a statement and looking amazing in these options!
I'm pretty certain that the embroidered denim craze that we're in at the moment was sparked by Gucci and their creations over a year ago. It's led to all of the premium denim brands releasing their take on embroidered jeans and denim jackets (check out the Levi's Palm embroidery) and it's recently been adapted by high street stores such as Topshop, River Island and more. So, if you want to head straight to the source and be the envy of everyone right now, check out the brand new SS17 embroidered denim from Gucci below. I've included both men's and women's denim.
New Women's SS17 Gucci Embroidered Denim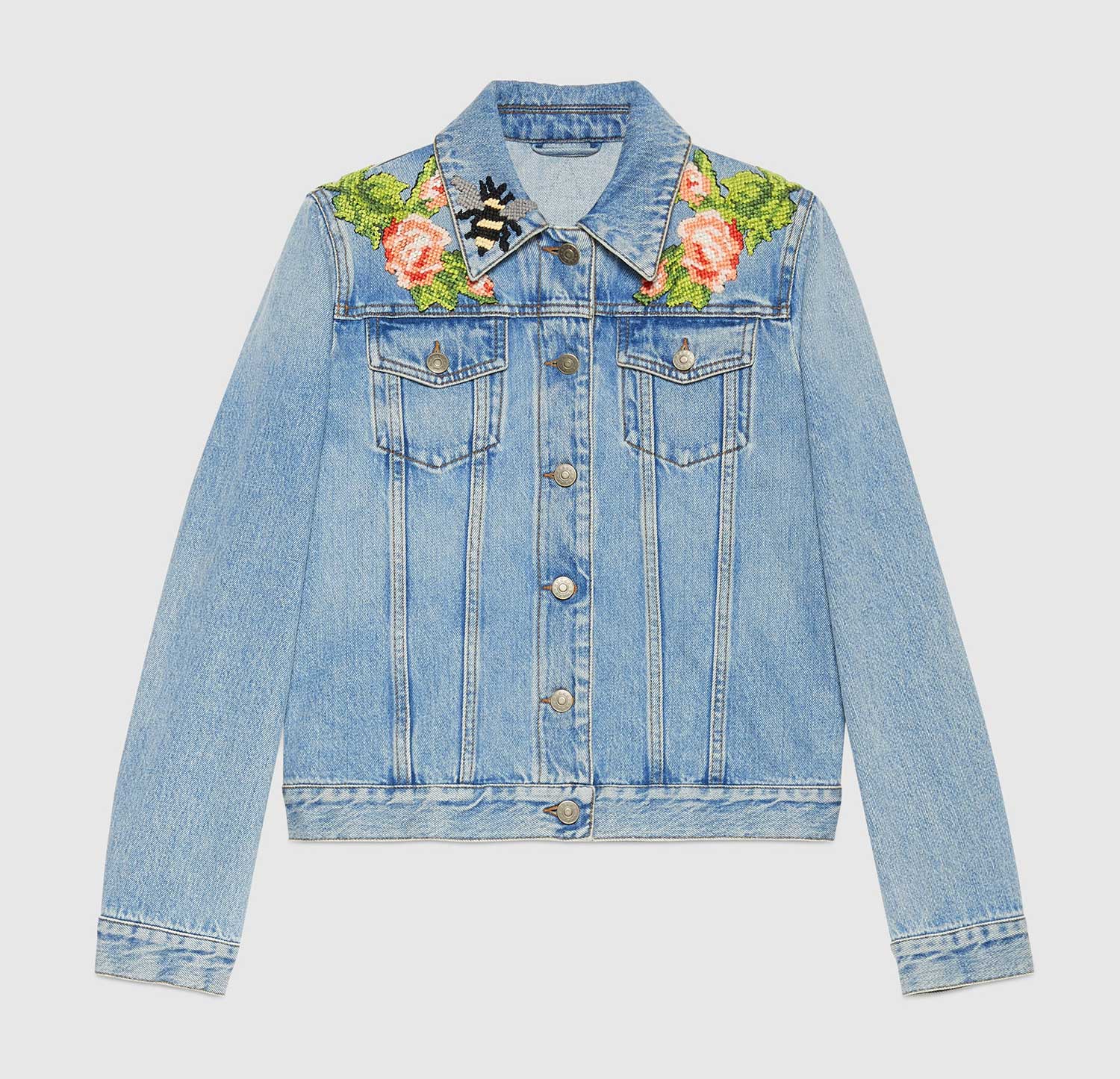 Gucci Embroidered Denim Jacket
This jacket here is such a fresh and clean update to the shearling denim jacket that everyone adores. Removing the lining and opting for a pale, vintage inspired wash, with geometric flowers and bees on the front is fantastic. It's the perfect Spring jacket and I suggest you click the link or the image to check out the back of the jacket too. Gucci never skimp out on the embroidery on the back and if you thought the front was pretty, you're in for a treat. Showcasing stars, flowers, a tigers head, and the words 'Blind For Love' I think this jacket is going to be the most popular for the brand and in the next few months I can only imagine the amount of celebrity sightings we will get for this beauty by Gucci!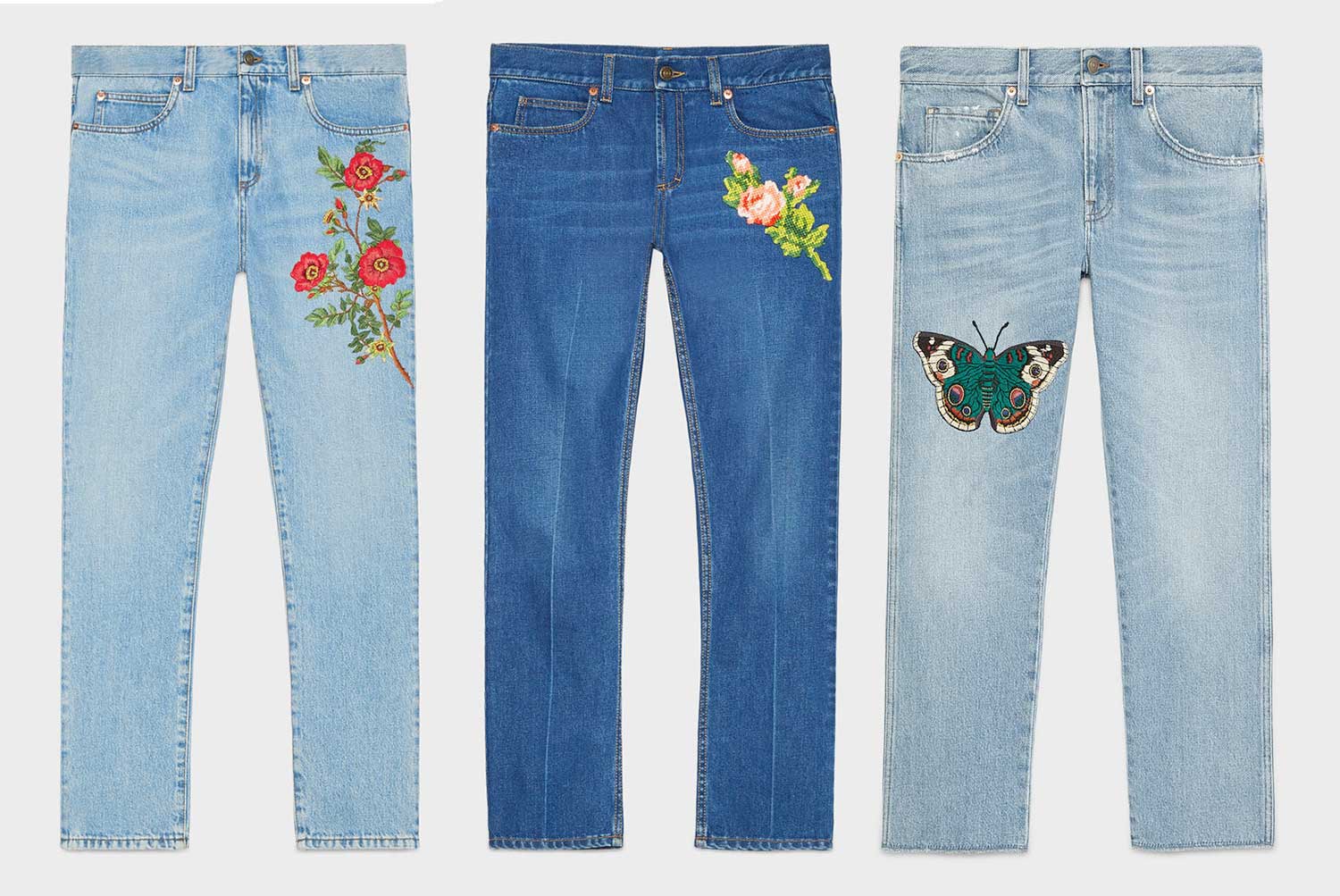 Gucci Light Blue Floral Jeans | Gucci Mid Blue Roses Jeans | Gucci Butterfly Jeans
If the denim jacket is a bit too much for you, I would definitely recommend trying out some of their embroidered jeans. They're much more subtle and come in some fantastic, trendy fits, plus you can choose from different washes, butterflies or flowers, and they would be the perfect street style look. A lot of the times high end designers don't get the washes right on denim like certain premium denim brands can, but I love that Gucci do a fantastic job at getting that vintage feeling to look authentic. The pair on the left, above, are my favourite here. I would love to own those!
Gucci Embroidered Bee Flares | Gucci Garden Flares | Gucci Studded Embroidered Jeans
If the straighter, slim fits are not for you, maybe you like flares? Gucci didn't leave you out either and brought out their own take on flared denim, emblazoned with embroidery. How adorable is the bee print on the left pair? Those are so cute! But the floral gardens design is really feminine too, I can imagine that worn with a lot of things. Also, brand new for Gucci this SS17 season is the marrying of studs and embroidery together on an acid washed denim. You can see on the right the flared jeans which feature embroidery on the two front patch pockets, with studs all down the seams. They brought out a collection of pieces like this, so if you like it, check below!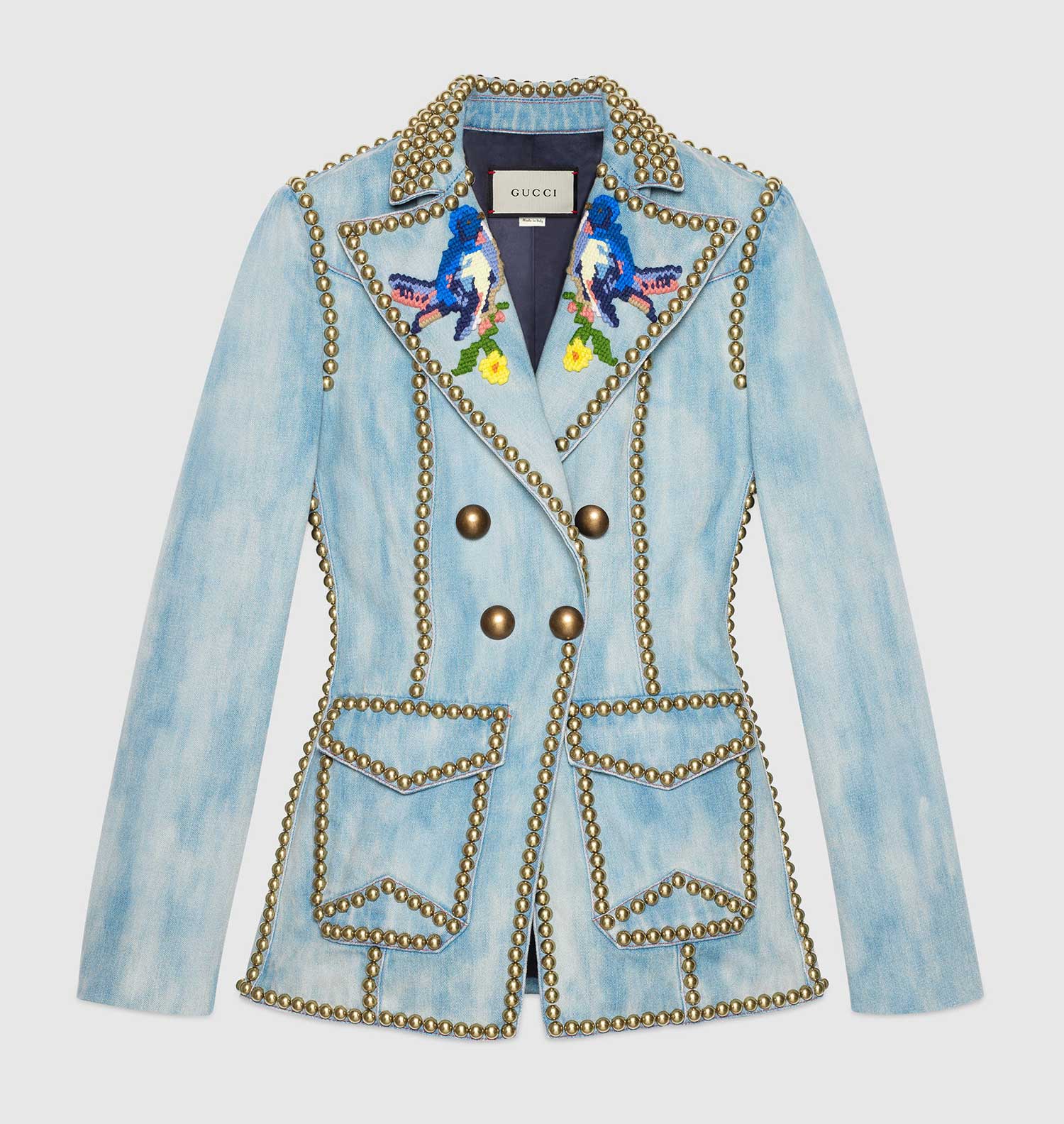 Gucci Studded Embroidered Birds Denim Jacket
This is the matching studded and embroidered denim jacket to complement those flared jeans. It's a work of art isn't it? I understand why it commands a price tag of upwards of £3,000. All of the detailing and hard work that's gone into this masterpiece is incredible. The studs line every seam of the jacket while the bird embroidery on the lapels just makes it so fun and young. It's more of a classic blazer style denim jacket, which I think makes it ideal for dressing up. There's no embroidery on the back, but the studs follow the seams of the darts and stitching so that it's the same at all angles. What do you think of this one?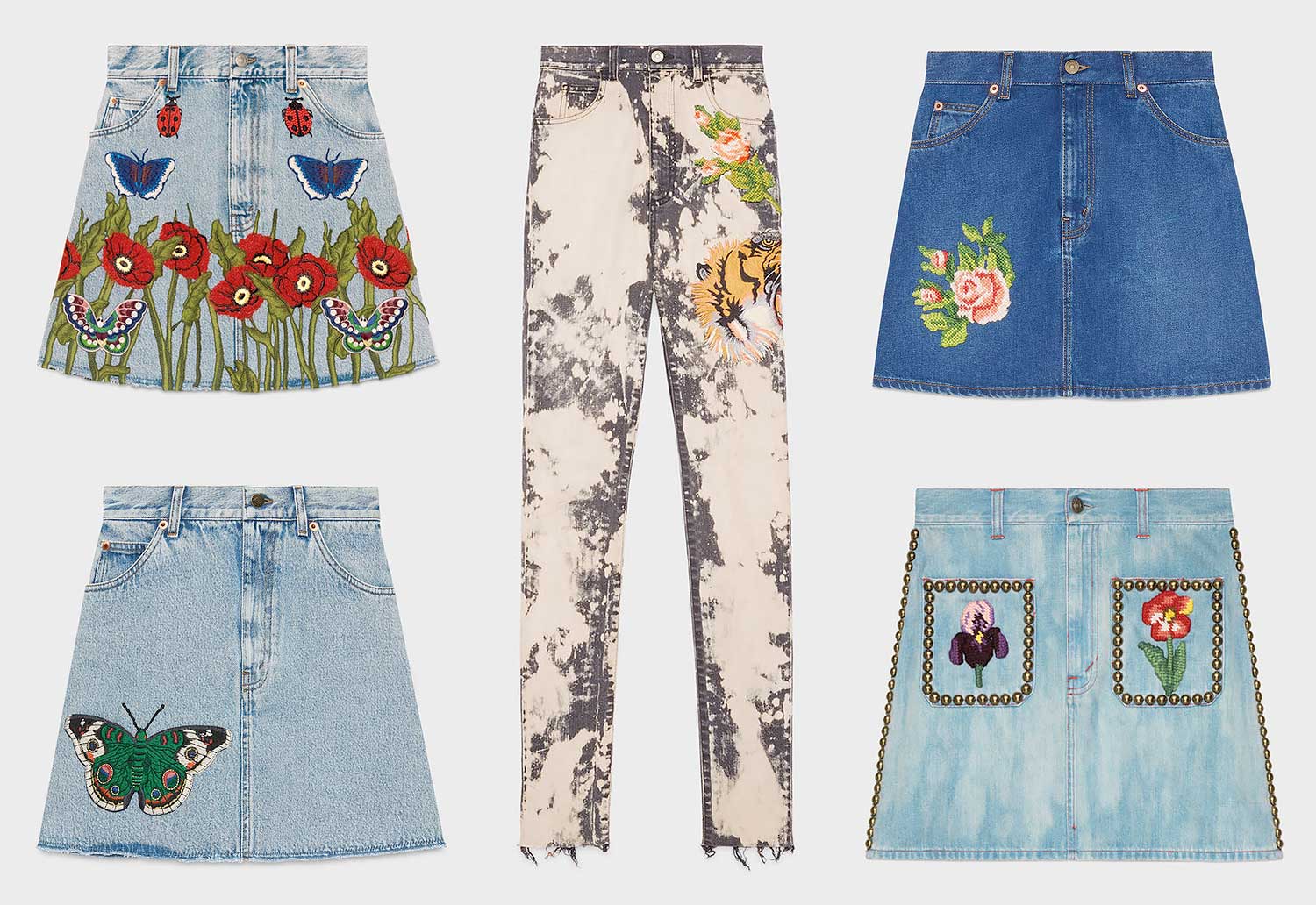 Butterfly Poppy Skirt | Butterfly Skirt | Black Splattered Jeans | Rose Skirt | Studded Skirt
Since we are talking about denim for SS17 here, it only makes sense that they included denim skirts, right? Denim skirts are the choice of bottoms for the coming season, replacing denim shorts. SS16 was the year that they started coming on the scene and I was so excited as I'm not really into revealing shorts anymore as I get older, so denim skirts are the in thing now. If you loved that floral gardens print then you're in luck as Gucci went heavy with the embroidery on that design, covering the entire skirt. But they also did minimal pieces with a butterfly and geometric roses too, and of course, to match the studded blazer, it makes sense they released a floral embroidered and studded denim skirt too! They didn't leave out tie-dye skinny jeans though, in a bleached grey with a raw hem, they have a tiger and floral print sewn on, which I can see being worn by the likes of Rihanna.
New Men's SS17 Gucci Embroidered Denim
Gucci Shearling Embroidered Denim Jacket
Guys, you're not left out, don't worry! The famous Gucci shearling embroidered denim jacket (worn by Rihanna at the top of this blog post) is still here to stay! They have kept it for another season as it's that amazing and coveted by everyone. I know it's lined with shearling, but it's perfect for the evenings and is one of those wearable denim jackets that everyone knows and loves. This has been one of the pieces I've loved for so long from the brand, it would be a dream to own it, that's for sure.
Gucci Snake Embroidered Jeans | Gucci Floral Jeans | Gucci Heart Embroidered Jeans
Of course Gucci brought out embroidered jeans for you too, two in slimmer fits, and one with a thick cuff and a wider leg. All in mid blue, you can choose from an array of designs like the snake and flower on the left, the butterfly and flowers up the outerseam and the Gucci colours on the selvedge, or the more subtle undone hem style snake, heart, and cat embroidery. I'm hoping we see a lot of men out in these jeans as I can't wait to see how they style them. Would you wear any of these jeans? I think that's a cool way to make the selvedge stitching stand out though, in their Italian colours.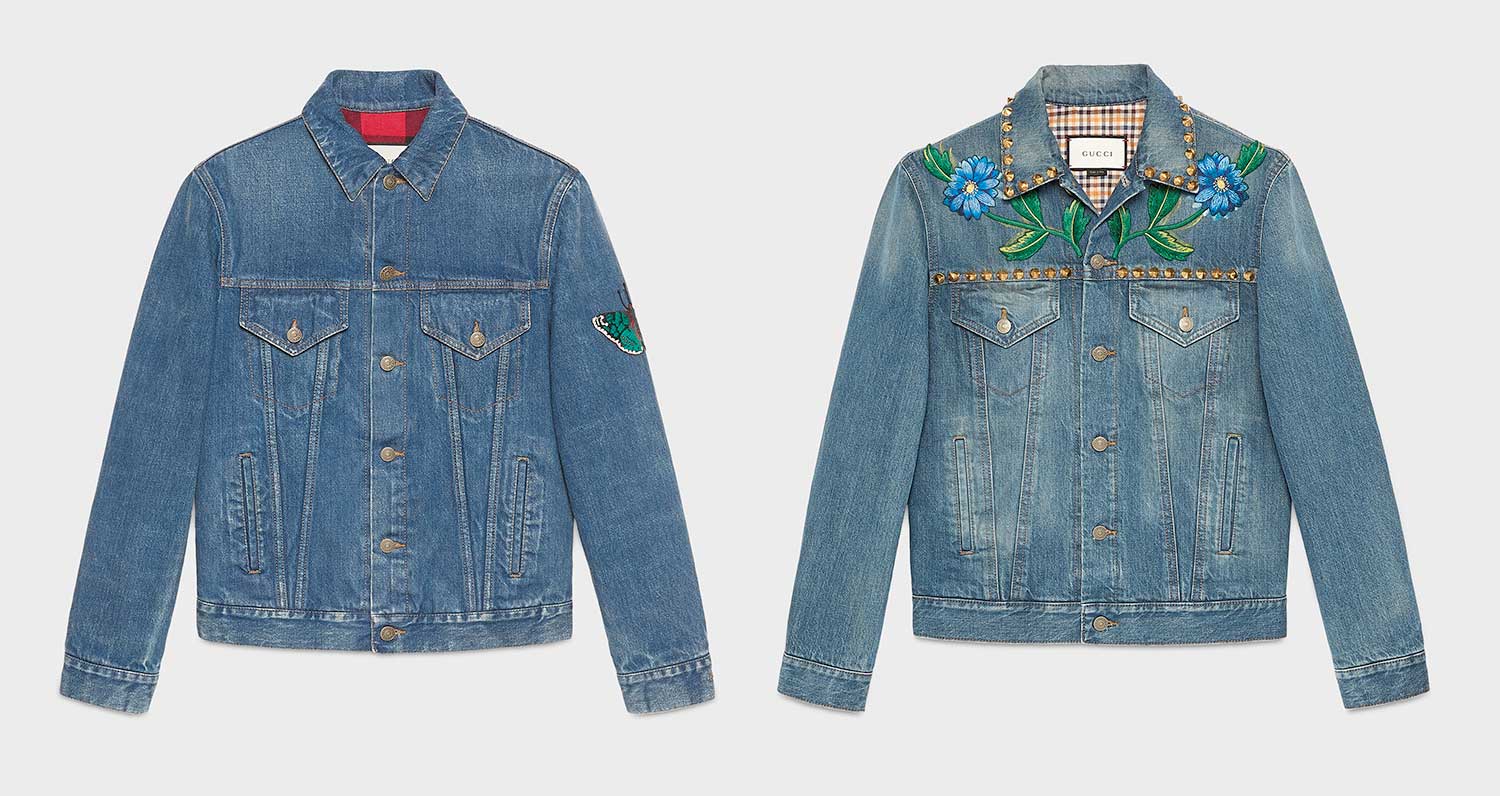 Gucci Embroidered Butterfly Denim Jacket | Gucci Floral Embroidered Denim Jacket
And finally, if you loved the shearling denim jacket above but it was just too expensive or too thick for the SS17 season, these denim jackets might be more your style. A mid to darker blue with a butterfly on the arm and a roaring tiger on the back would look great as a part of your outfit, or you can choose a more stone washed blue with studs and floral embroidery instead, emblazoned with a large butterfly, script, and flowers all over the back. They both come with a plaid lining too. Which one do you like?
– That just about rounds out my blog post on the new Gucci Embroidered Denim for SS17 for both men and women, and I am in awe of these designs and the detailing, craftsmanship, and hours that have gone into making these pieces. I'm sure you are too, but let me know if you're going to be rocking any of these soon! I would love to see photos!