One Denim Premium Denim Reviews
I'm back again with another denim review! This time I will be focusing my attention on 2 items from the UK based company – One Denim. This relatively new designer brand specialise solely in premium denim (something of a first for the UK). Their aim is to produce expertly crafted jeans for the denim connoisseur, but for a fraction of the cost you would normally expect to pay. Exclusively available through their own website, cutting down the excessive costs and middleman fees, these savings are then passed onto the buyer. One Denim reassures us that a lower retail cost doesn't mean a reduction in quality, on the contrary they make the bold claim that their denim can easily rival the very best in the industry. They go on to tell us that no corners are cut during production and each pair is constructed in a mill which has been in operation for over 30 years (you can see an interview with them here and a info on the direct to consumer denim approach here). With all this high praise, I couldn't wait to test out their pieces for myself!
First impressions of a pair of raw denim (particularly for those who are unaware of what they actually are!) show a fairly unassuming pair of dark jeans, however they hold the ability to change into some of the best pair of jeans you will ever see. Treat them well (or badly, as this seems to give the best results!) and these quite plain looking jeans will metamorph into a beautiful butterfly of denim colouring and distressing! The idea is that they arrive as a blank canvas, just waiting for the user to stamp them with their own unique personality. Throughout the course of regular wear they will slowly acquire whiskering and faded sections. However, this is only the beginning. Once you finally wash them (recommended that you wait at least 6 months) they will transform into a masterpiece very few pre-distressed jeans will ever come close to emulating. It's worth noting, the more heavily they are worn, the more amazing they will look after that first wash! One Denim has thrown its hat into the raw denim ring, squaring up against heavy weights like Nudie and APC, will they have what it takes to steal some of their thunder?
The Sizing – For these jeans I chose my normal men's size of a 30. Initially these were quite snug in the waist, however being raw denim this is preferable as they will always stretch out a very large amount over time! The leg area is slim, but not super skinny, so there is a fair amount of movement available for your legs. The length is also quite long, but as you wear them more, you will gain more whiskering and bunching around the back of the knees, as this happens the length will begin to get shorter. You just have to have patience in the beginning, once the raw denim starts to break in they will fit more how you want.
The Cut – With these jeans being the raw style, the fit is somewhat difficult to pigeonhole (at least till they have been successfully broken in!) as they inevitably stretch out a lot from their original shape. They are a slim cut, nicely fitted around the legs without any worry about constriction. It would most likely be incredibly difficult to walk in if they were any slimmer! So the cut is ideal for those who want the slimmest raw jeans available. As mentioned in the sizing section, they were a little tight around the waist but this will stretch the more you wear them.
The Wash – When it comes to describing the wash on a pair of raw denim, there is little to be said. As mentioned earlier, the jeans arrive in a very basic format, simple and dark, at least until you have added your own wear and tear to them. However, despite this they are still a very beautiful pair of jeans, there is something nice and crisp about a fresh plain pair of raws. Laying your hands across the denim, you can instantly determine they are a well made quality product, no flaws can be seen, definitely a million miles away from high street jeans. Additionally, if you fold back the hem you can see that wonderful high quality selvedge!
The Details – Despite being a pair of raw denim, which are in nature very simplified, One Denim have made sure to include some high quality details. The leather patch situated along the waist band on the reverse of the jeans is lovely and bold, with a nice embossed effect. The rivets and especially the button are a striking gun metal style colouring, the button itself is stamped with the One Denim logo. They also feature classic orange thread all over, except around the button hole where it's blue, and the inside of the hem, where it's red.
Conclusion – In summary, I give this pair of One Denim Slim Italian Selvedge Jeans top marks. They have managed to create a high quality premium denim product, yet for a mere fraction of the cost (these cost only £75) you would traditionally have to pay from rival brands. If you are looking for a new pair of raw denim to break in over the coming months, then look no further! It must also be mentioned that each pair comes inside its own dust bag which itself resides in a special gift box. Reinforcing the fact that you are getting a premium piece.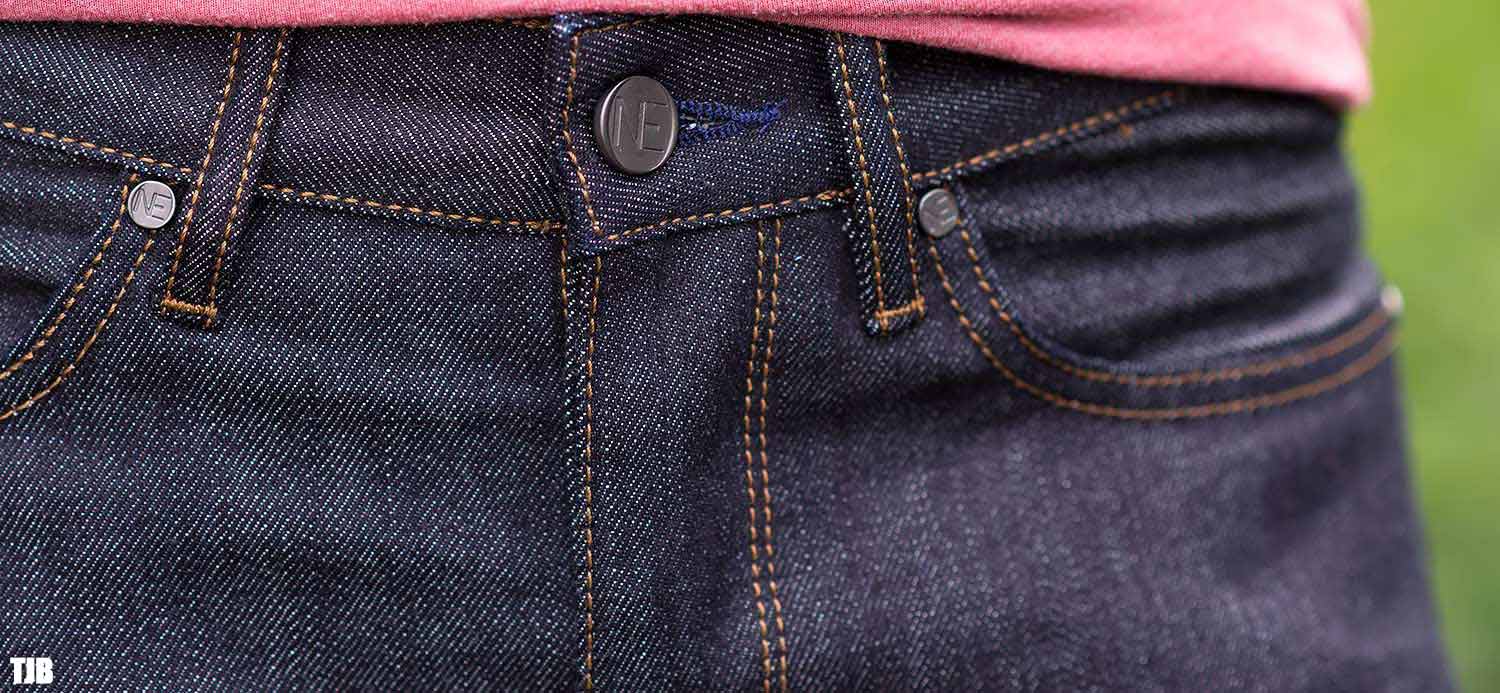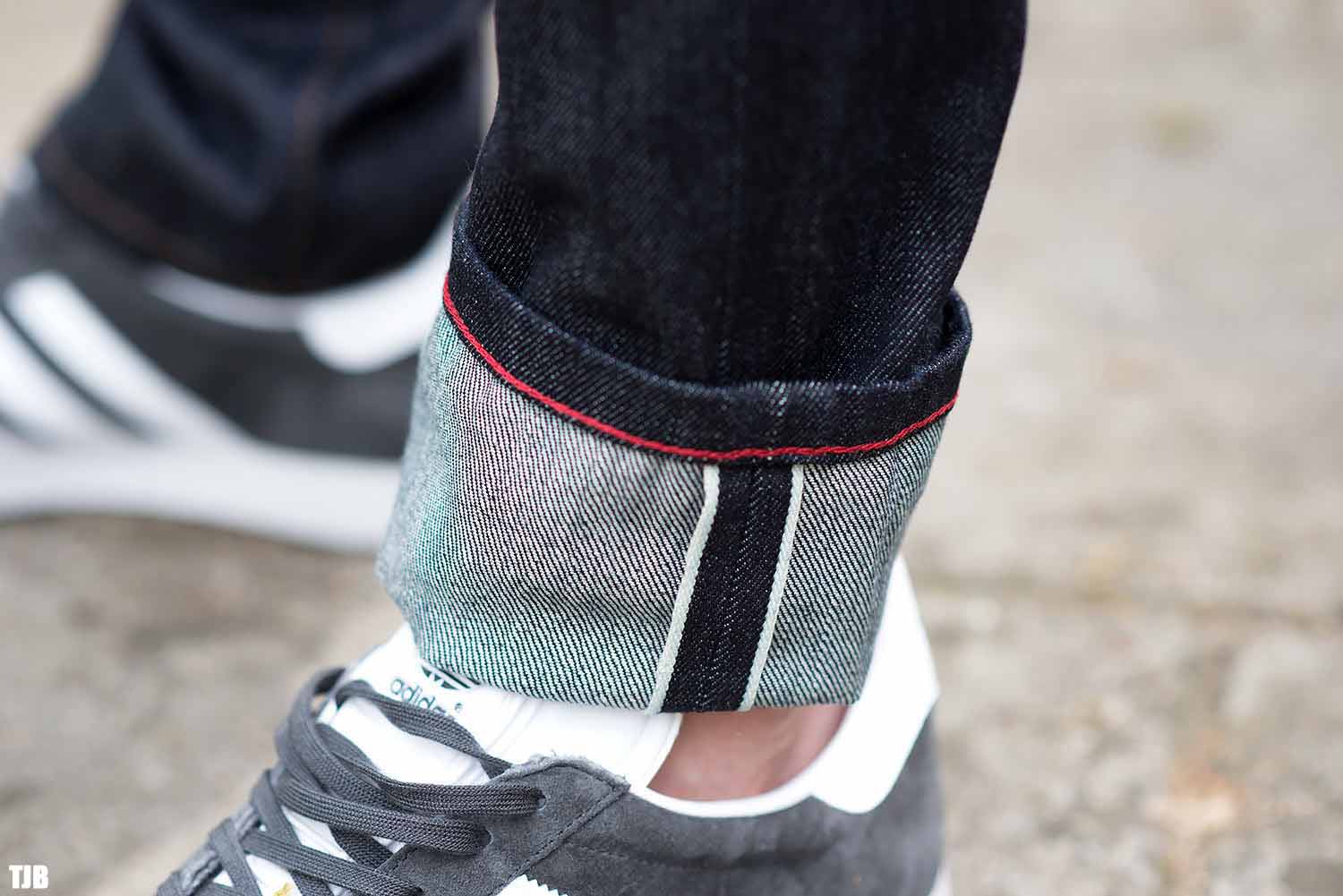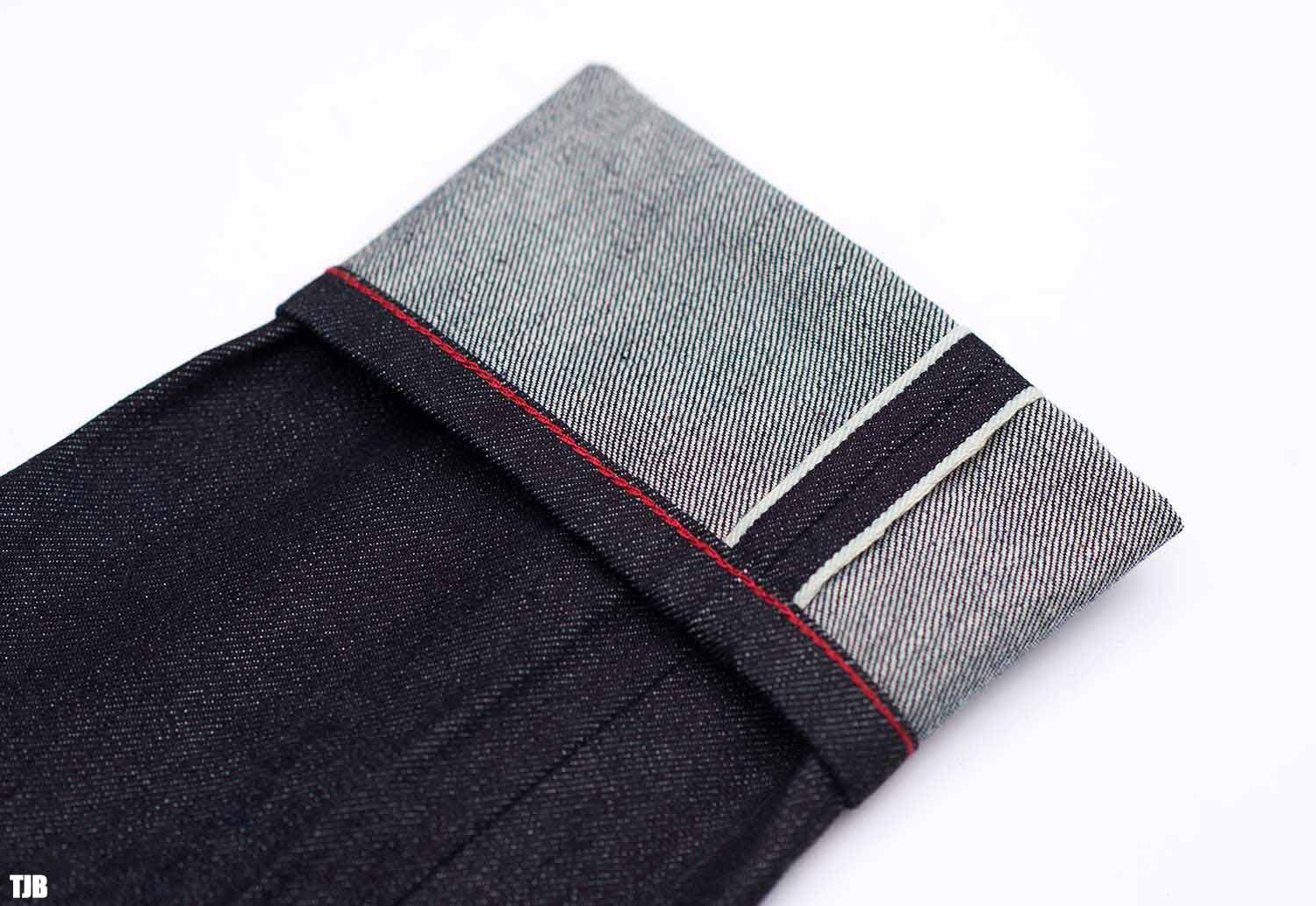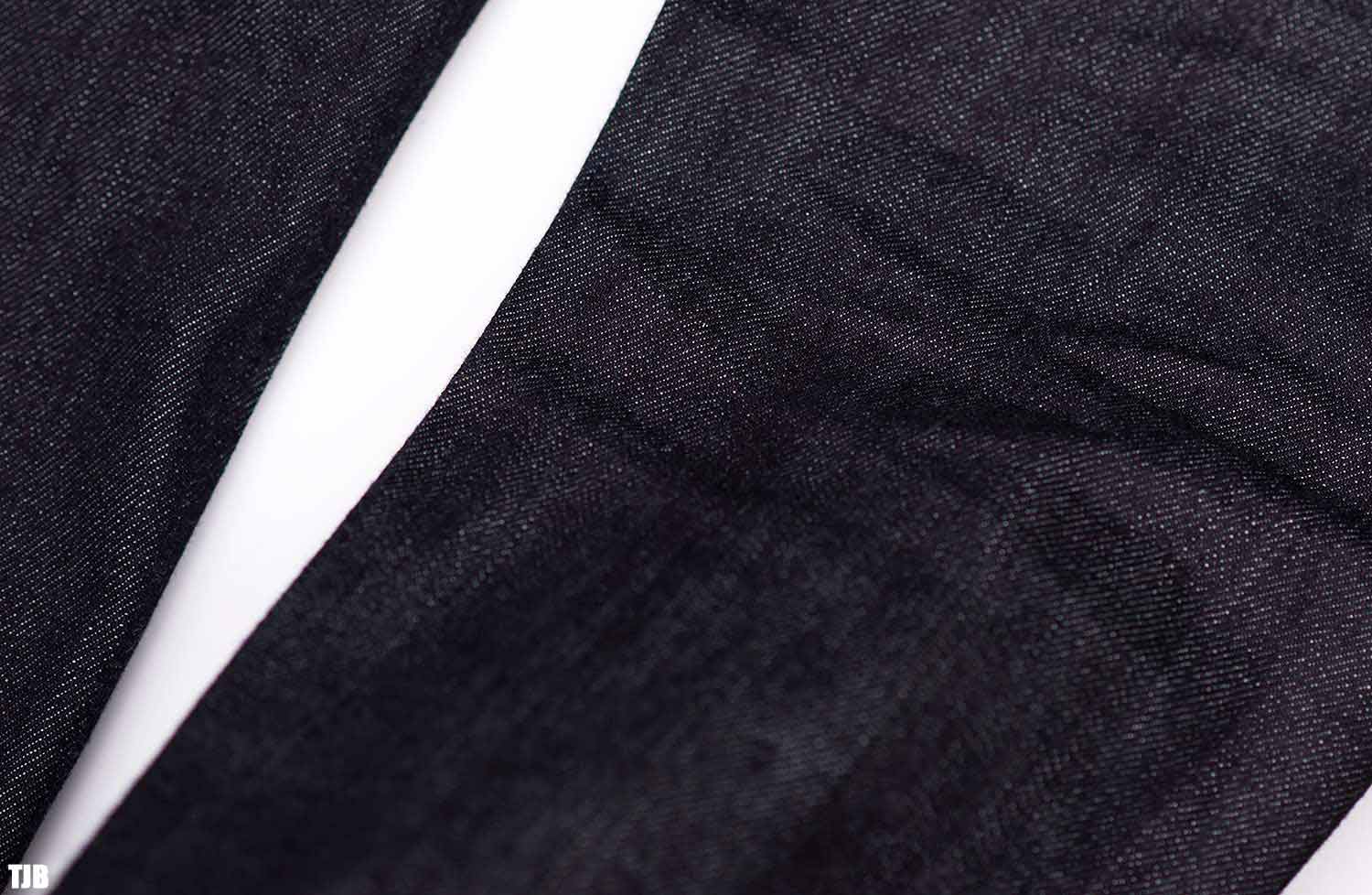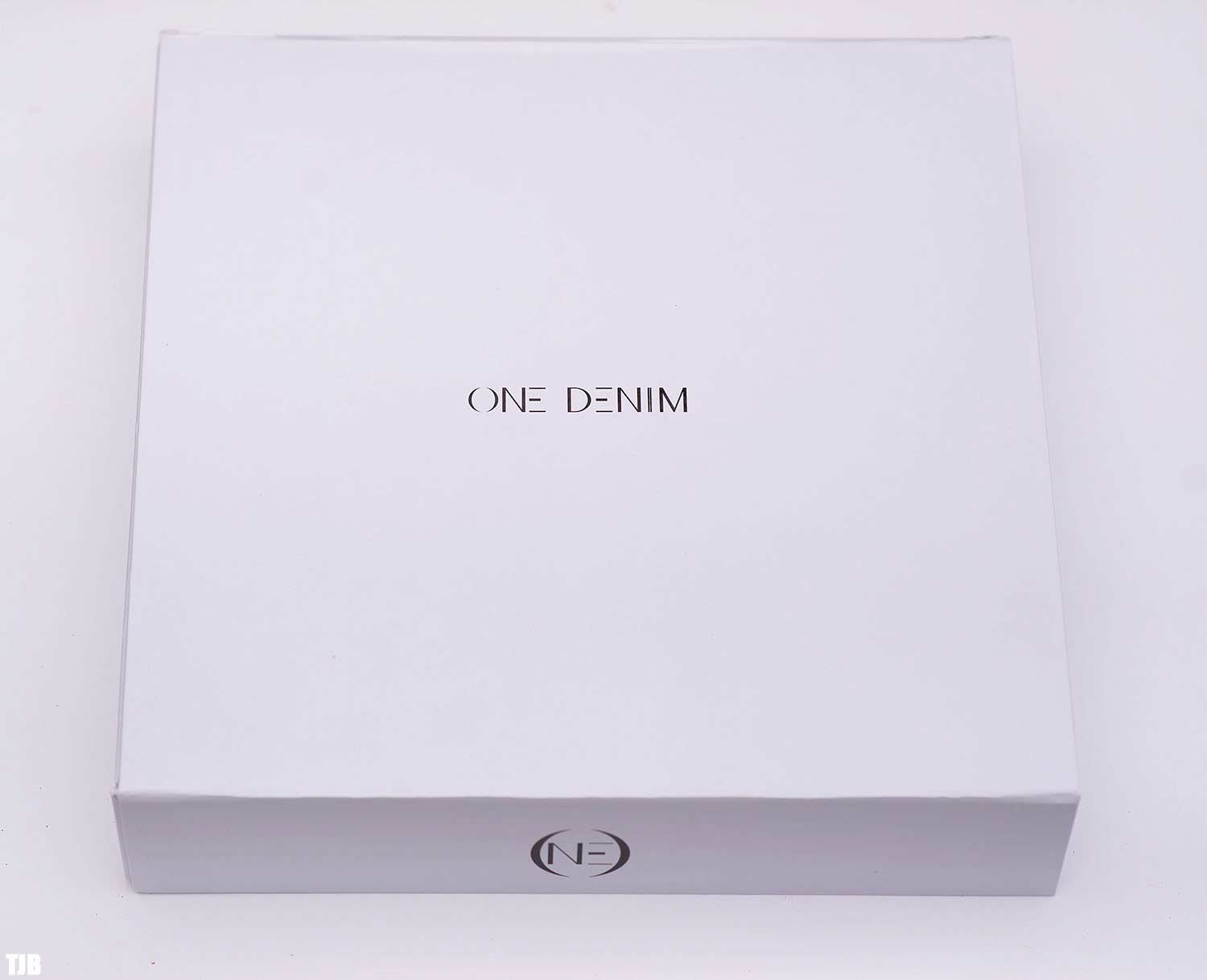 ---
I'm always on the look out for a great pair of denim shorts! I find that usually there is very little choice compared to their full length counterparts, either the wash is very basic or just so over done it strongly resembles something found at a market stall! So, will the One Denim Slim Selvedge Shorts be equally as successful as their raw denim?
The Sizing – As with the jeans, I opted for my regular size of a 30. Likewise this was the perfect choice, initially a little snug in the waist, but as they are 100% cotton, they will undoubtedly give a little after a handful of wears. Overall I would say they are true to size and it would be safe to choose your regular size when purchasing.
The cut – Despite these being 100% cotton, they are incredibly fitted! Just what I was hoping for! Amazingly slim in the thighs, in fact I chose to cuff them slightly more than how they arrived (I always like them a little shorter), but this actually proved quite difficult, which shows just how slim they are! Definitely unexpected, but nevertheless very welcome. The rise of the shorts is a medium rise, which is pretty much the norm these days (in fact we rarely see low rise denim anymore!). The cut is the most ideal for a pair of denim shorts.
The wash – I always have reservations with washes on denim, usually they arrive nothing like the online photographs. In my experience very few brands have been able to create those amazing washes from yesteryear. Even the stunning quality designs that Diesel used to create seem to have been lost in time, instead mostly lackluster washes are now in favour. It is primarily the American brands which continue to carry the torch when it comes to producing fabulous washes. I pretty much expected that a UK brand would have very little chance even coming close to rivaling those made in the US. However, I was very very wrong! The wash is actually quite spectacular! So much detail and the distressing is very realistic. If I were to compare them to another brand it would be PRPS (who are renowned for their beautiful washes) yet for a small percentage of the price! The more you look over the wash, the more you notice additional little details and intentionally distressed areas. The blue is also a lovely mid blue which borders on the darker end of the spectrum. The whiskering parts along the lap are much lighter which give a fantastic contrasting effect!
The Details – These too do not let the final product down, nice selection of rivets and buttons placed throughout the shorts in the typical places. As with the raw denim jeans, the button is stamped with the One Denim logo and they also have their branded back patch. The stitching again is orange, and they have selvedge as well, but the only stand out detail I can pinpoint is the line across the bottom of the back pocket, for their signature detailing. Again, the quality shines through on every little detail.
Conclusion – Despite all odds, I'm happy to report that these One Denim Slim Selvedge Shorts have exceeded well over my expectations! The wash is gorgeous with a very natural looking distressing all across the design. The fit is perfect, nice and slim in the legs without the side effect of crushing my waist and all for a bargain price too of £75! My first encounter with One Denim has certainly been a success! I can't wait to see their future designs! Have you tried One Denim yet?