We all wear jeans because they are the easiest way to look fabulous and stay comfy all the time! Jeans are a fundamental and flawless staple in everyone's closet, they go with everything and come in many different washes. These facts alone allow for some extremely amazing combinations and my most favorite one is pairing jeans with leather! Leather is trendy, bold, sexy, tough… and so many other adjectives that I am leaving out just for time sake. There is truly nothing more exciting to pair with your jeans (or denim clothing) than leather!
Leather tops and bottoms have gained popularity over the last ten years and now are almost as safe to stay as denim is! Take a gander below and find out 8 different ways you can pair your denim or jeans with something made form leather. A quick warning from myself to you, falling in love with some of these combinations will happen and you will hopefully be thanking me for inspiring you to enjoy a new denim and leather combination you hadn't tried before! How do you wear your denim and leather together? Happy Shopping!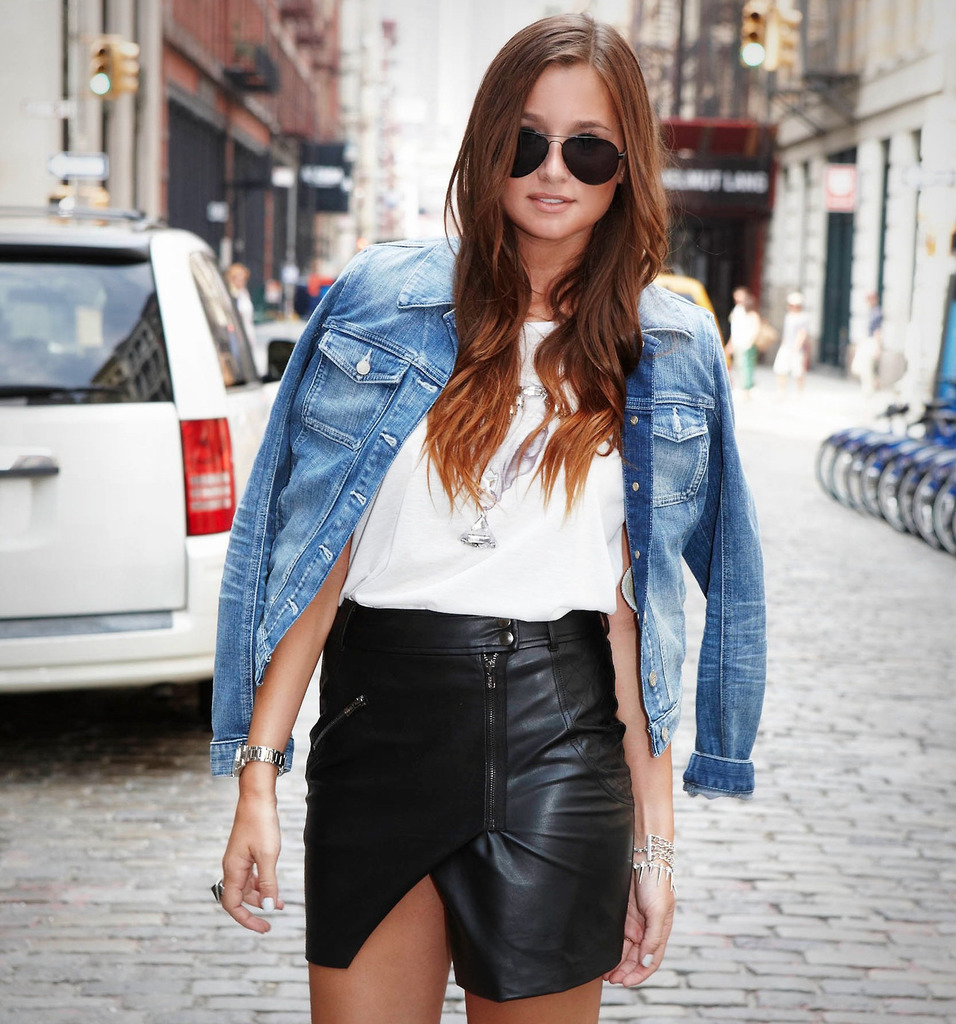 What could be more fashionable and edgy than an asymmetric leather skirt with a denim jacket thrown over the shoulders? It's the perfect street style look and it's so easy to replicate!
– Try this Current/Elliott Denim Jacket with this RtA Leather Mini Skirt.
Double denim and leather is another great mix, like The Jeans Blog founder Lorna Burford, points out. If you need to know how to wear double denim, Lorna wrote a post on that a while back, but two different shades of denim, mixed with a belt that matches your leather jacket will look killer.
– Try these Citizens of Humanity Rocket Jeans, this Rag & Bone Denim Shirt & an ALLSAINTS Leather Jacket.
Annabelle Fleur is a style icon in her own right, so copying some of her looks will get you noticed. Another way to style a leather mini skirt is to opt for something like an open denim shirt with ankle boots and a cute top underneath. It gives it an edgy appearance which makes it more casual.
– Try this 7 For All Mankind Denim Shirt with this ASOS Leather Mini Skirt.
If you love the look of the biker chick style and want to give it some rock/underground vibes, then this outfit could be for you. A statement, quilted leather jacket with some skinny jeans is a winning combination. Just add some bold accessories and you're done!
– Try this ALLSAINTS Papin Leather Jacket with these Rag & Bone Skinny Jeans.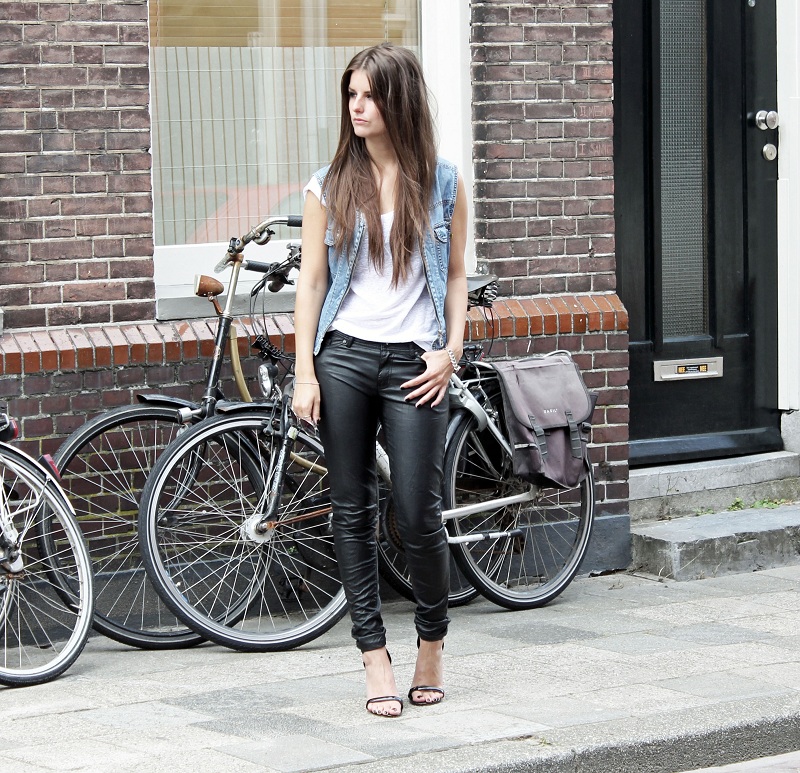 Leather pants and a denim vest? Yes, yes, yes! This is a great way to replace the classic denim jacket when it's warmer outside. It's also a lot more casual than a full denim jacket is, so it's a win win!
– Try this BLANK NYC Denim Vest with these J Brand Maria Leather Pants.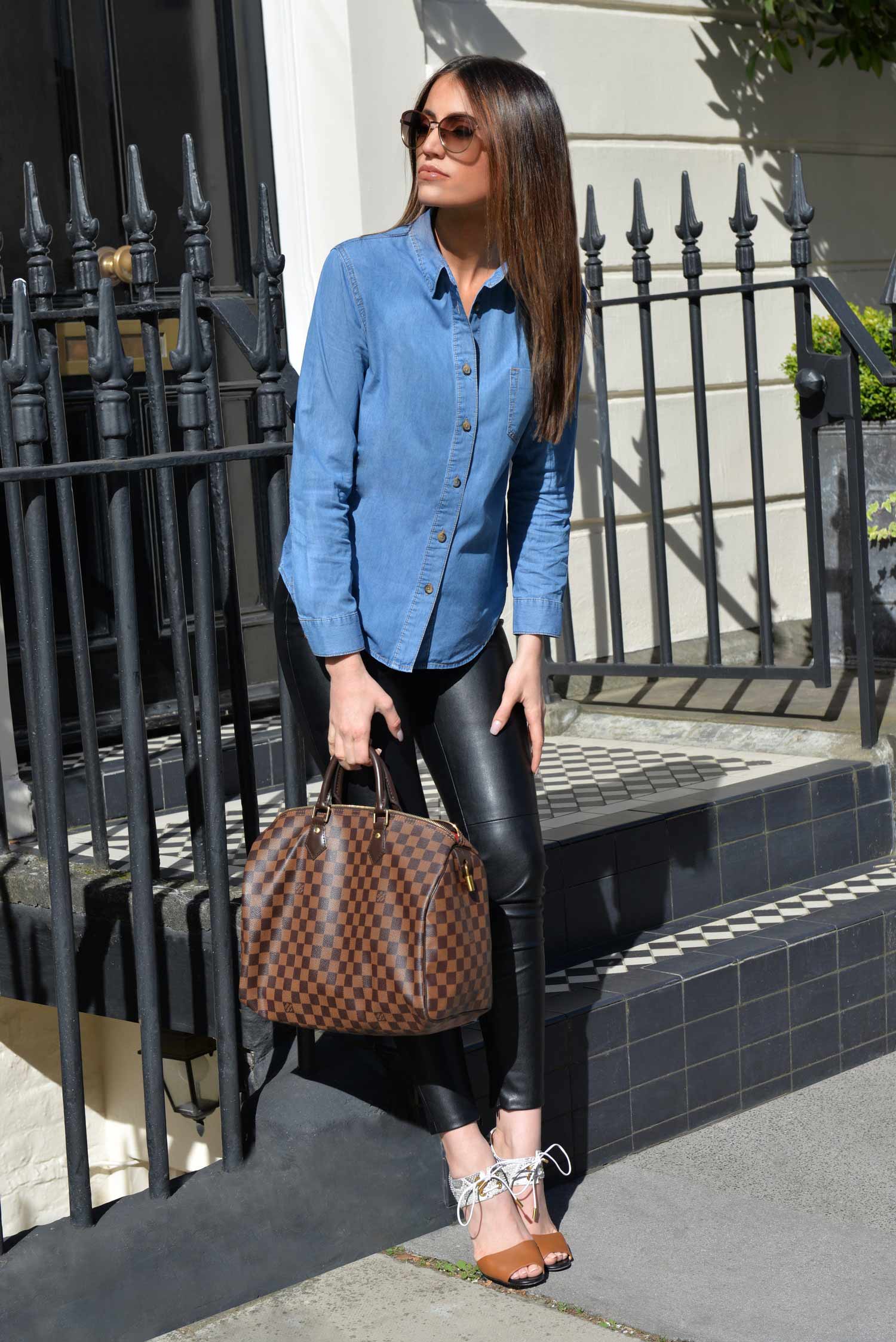 We have seen denim shirts with leather skirts, but what about pairing your denim shirt with some leather pants? It's a fashionable and trendy combination that will always look effortlessly cool. You can just throw it on look really put together.
– Try this Madewell Denim Shirt with these Rag & Bone Leather Pants.
Not many people might think of a leather dress, but with New Years Even coming up, it might be a great way for you to add denim into your look by copying the above. A leather dress is sexy and fierce, so throw a denim jacket over the top and it tones it down a little bit. You have two looks in one.
– Try this ASOS Leather Dress with this TulaRosa Denim Jacket.
Finally, we have the denim jacket with the leather pants. Very similar to denim shirts and leather pants, but the jacket adds more ease to it because you can throw an easy shirt or tee underneath. Plaid looks cool, but I imagine a vintage band tee would look just as good!
– Try this AG Robyn Denim Jacket with these Joe's Jeans Leather Pants.
Image Credit: The Best Fashion Blog, The Vanilla Woods, Snapshots Of My Closet, My Neon Rock, Valentina & Aveline, Viva Luxury & Fashion Mind.