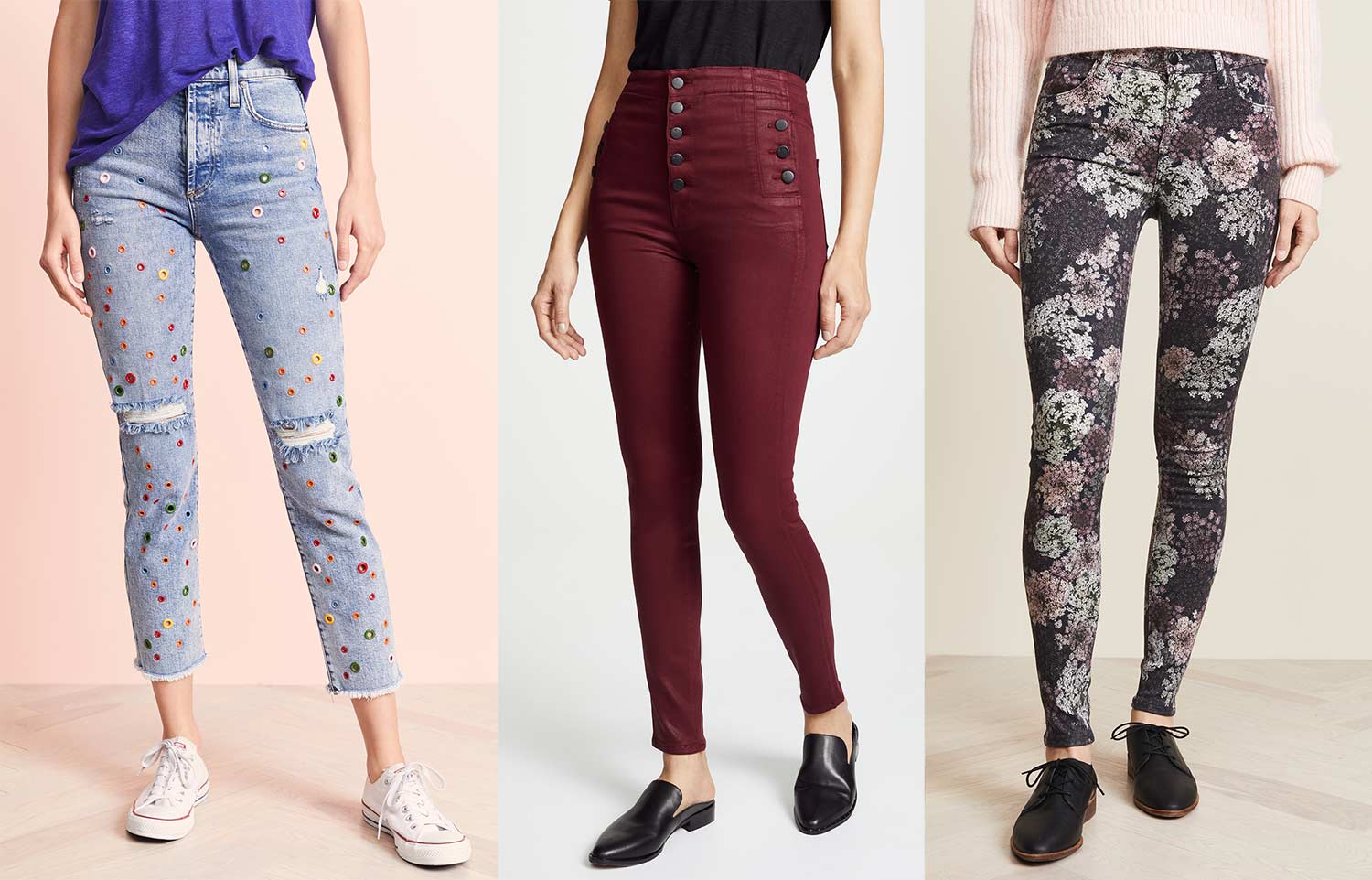 AO.LA by alice + olivia | J Brand | J Brand

As Fall is approaching, we need to start thinking about the jeans we intend to wear, and that's something that gets me excited. You know that there hasn't been many jeans that have caught my eye over the summer, but this new season has definitely changed my mind. There's so many jeans that are being released right now that I have way too many for my Find of the Week feature and had to combine them into a list of jeans perfect for Fall, based on categories! I'm hoping denim is finally making a great come back this season with classic washes and great fits, no more gimmicks! So here are 12 jeans that are perfect for Fall 2018 and I hope you like them too!
I'm starting out with a few fun pieces above, as Summer is all about colour, print and creativity, so I didn't want to stray too far from that just yet. I think the AO.LA by alice + olivia jeans are really quirky with the coloured circles on top of the great wash, so those might be cool to wear with sweaters and boots. Coated burgundy is always a winner in my book too and the exposed buttons just keep it from looking too dull. Then J Brand are really winning again with the tapestry print on those skinny jeans. Not only do I love the colour palette, but the design reminds me of a few years ago when I was on a press day and saw a sea of J Brand prints! So much fun to have!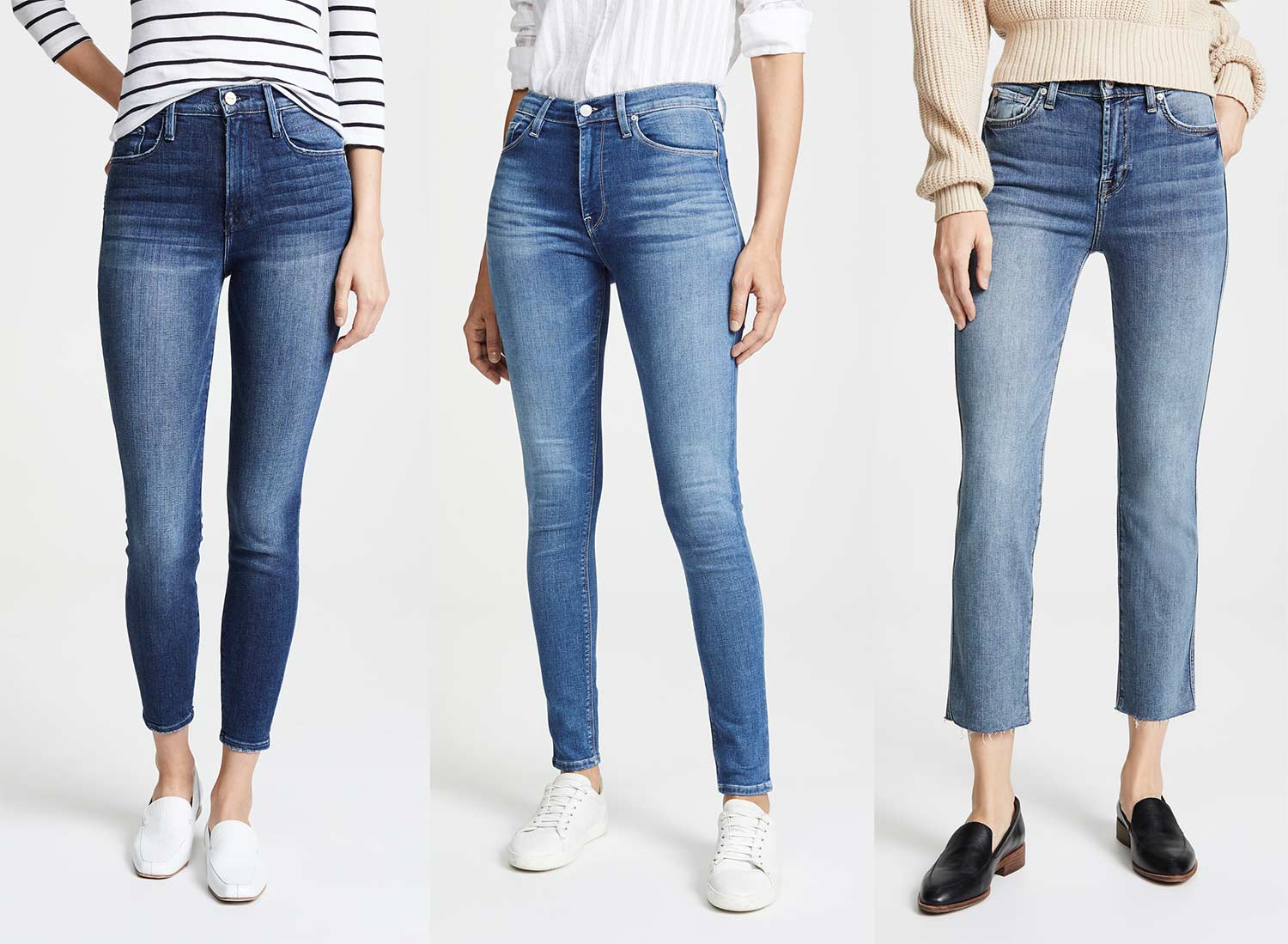 FRAME | Hudson | 7 For All Mankind
Moving onto classic blues, I think all three of these are perfect! A beautiful darker blue cropped skinny is your ideal go to for Chelsea boots and sweaters, while the mid blue wash on the Hudson Barbara is just stunning and would tuck into tall boots perfectly, but if skinny jeans are not your thing, a cropped straight leg might be for you. It still features a mid blue wash, but more of a relaxed fit, so there's something for everyone here! I've definitely got my eye on the Hudson and FRAME!
Lovers + Friends | Citizens of Humanity | FRAME
If you prefer your jeans darker or you want to make more of a statement, I think any of these three will be good. Tuxedo style jeans are on trend at the moment and extremely stylish for this season, while you can never go wrong with black jeans, especially if they have exposed buttons or stepped hems like the FRAME jeans, as it jazzes up an otherwise dull pair of jeans and really becomes the focal point.
7 For All Mankind | 7 For All Mankind | Joe's Jeans
Then finally, we have the waxed and coated section! A lot of people are afraid to buy these jeans as they don't know how to wash coated jeans, but they are amazing for the cooler weather and making heads turn at those festive parties. I personally wear them out just like daytime jeans as I love the extra shine they give to an outfit, but metallic is often kept for nights out. Copper, black, or red (or the burgundy at the top of this post) are all wonderful shades for the Fall season, so any of these would be an ideal choice. If I had to choose just one though, I would go black as it's classic. Matching those with a blazer and heels is a killer combination!
– So, these are 12 must have jeans for Fall 2018 and I love every one of them, if only my bank balance would increase! Ha ha. Which is your favourite pair?