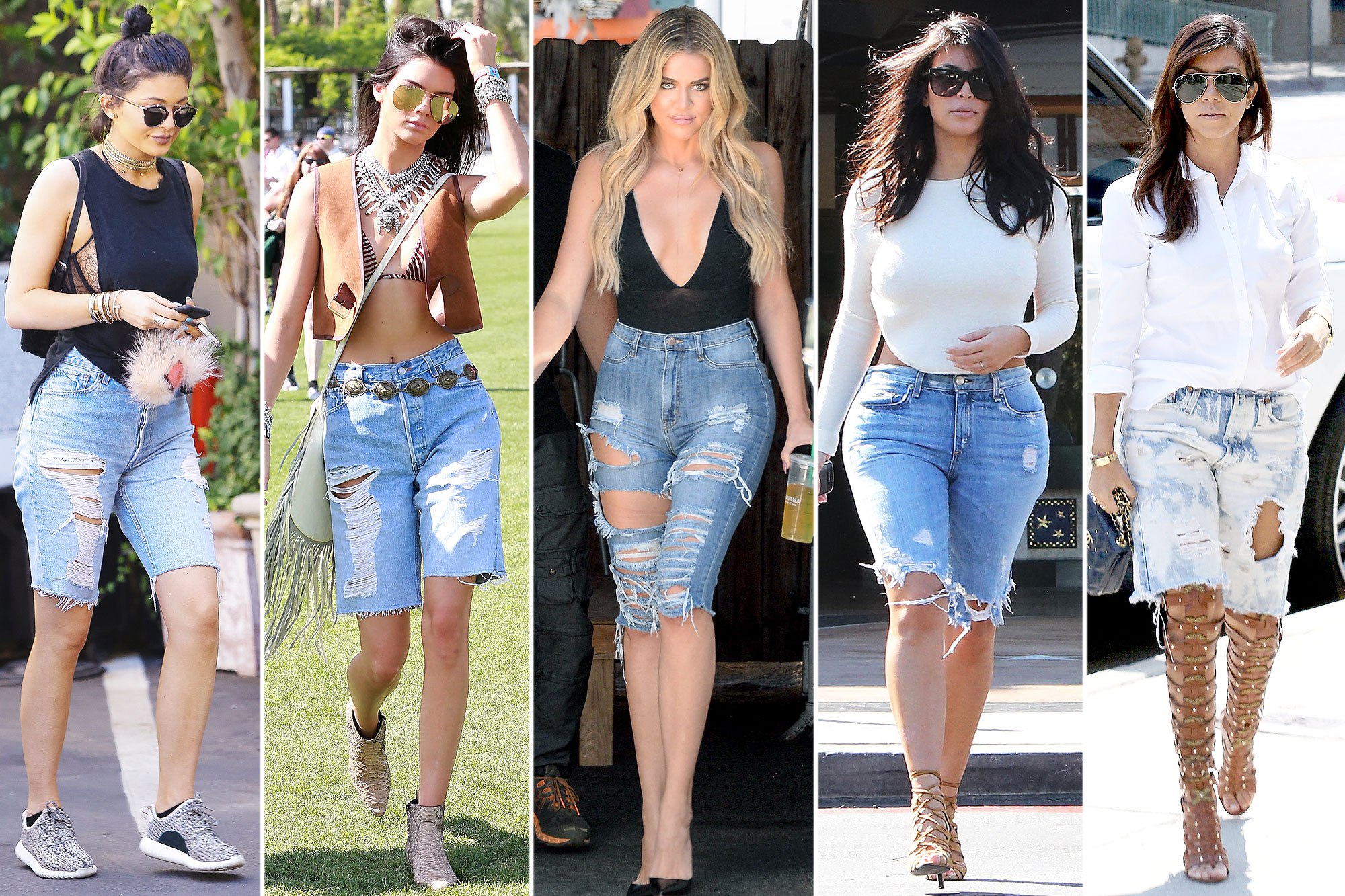 The Skinny Bermuda Knee Length Denim Shorts Trend
Bermuda Denim Shorts have been appearing on celebrities for the best part of a year. You might remember seeing them mostly on the Kardashian family numerous times, especially on Kim, as she's been a huge fan of the knee length style since the autumn of 2016. The Kardashian's are known for creating many waves and trends in the fashion industry, so I knew it was only a matter of time before brands were jumping on board the longer length shorts and actually installing the Bermuda shorts as a trend for spring/summer 2017. In fact, I believe I actually predicted it in an older post about Kim (see here) back when she wore them in September. When something is out of the ordinary and it's worn by a celebrity with such a huge following, it generally becomes a trend because everyone wants to wear what they are wearing.
I remember when denim short shorts were all the rage, just skimming the bottom of your butt cheeks, and we have One Teaspoon to thank for making that popular, but now currently, many denim brands are releasing their own take on Bermuda denim shorts. We have everyone from FRAME and PAIGE to Joe's Jeans and Good American. I figured it was only natural for Khloe to implement them in her Good American collection though since she's part of the reason why they're having a moment right now.
So what actually makes Bermuda denim shorts different from most other denim shorts? It's just the length. You might associate them with surfers or skate boarders as they often wear shorts that length, quite baggy, but what's trending for us right now is the tight fit. They look almost like you got a pair of skinny jeans and chopped them off just above the knees. I imagine that was the case for Kim in the beginning since she was wearing custom J Brand and Levi's jeans which she made into shorts, so it's all about that skinny fit. Some denim brands have released a more slouchier, boyfriend version, but the skinny fit is where it's at.
I actually do think that skinny Bermuda denim shorts are going to be popular for the guys too. I know so many of you here wear women's skinny jeans for that ultra tight fit and super stretch comfort, but women's denim shorts have always been too short, so this is definitely paving the way for unisex shorts in my opinion! I can see these looking great on both men and women as the length is just right. So I am actually interested in the male opinion of these too. Adam recently wore a pair of the Topman Skinny Denim Shorts which he reviewed and they don't look like they would fit much different to skinny Bermuda denim shorts to me. I think it's opening a lot more doors for washes, styles, and comfort.
So, with all this in mind and the fact that we are going to start seeing knee length denim shorts on quite a few people now, I've rounded up 12 of the newest and hottest Bermuda length denim shorts for you to purchase, just in time for the hot weather. If you look below, these range from high street to premium prices and they're all different washes as well. I am intrigued to know how you might plan on styling skinny denim shorts like this and what you actually think of the trend? Given my height, I'm not sure if they would look right on a shorter frame, but time will tell! It's very retro to me and reminds me of the 90's when indigo pedal pushers were hot, but I don't think it's something I could personally go back to. Could you?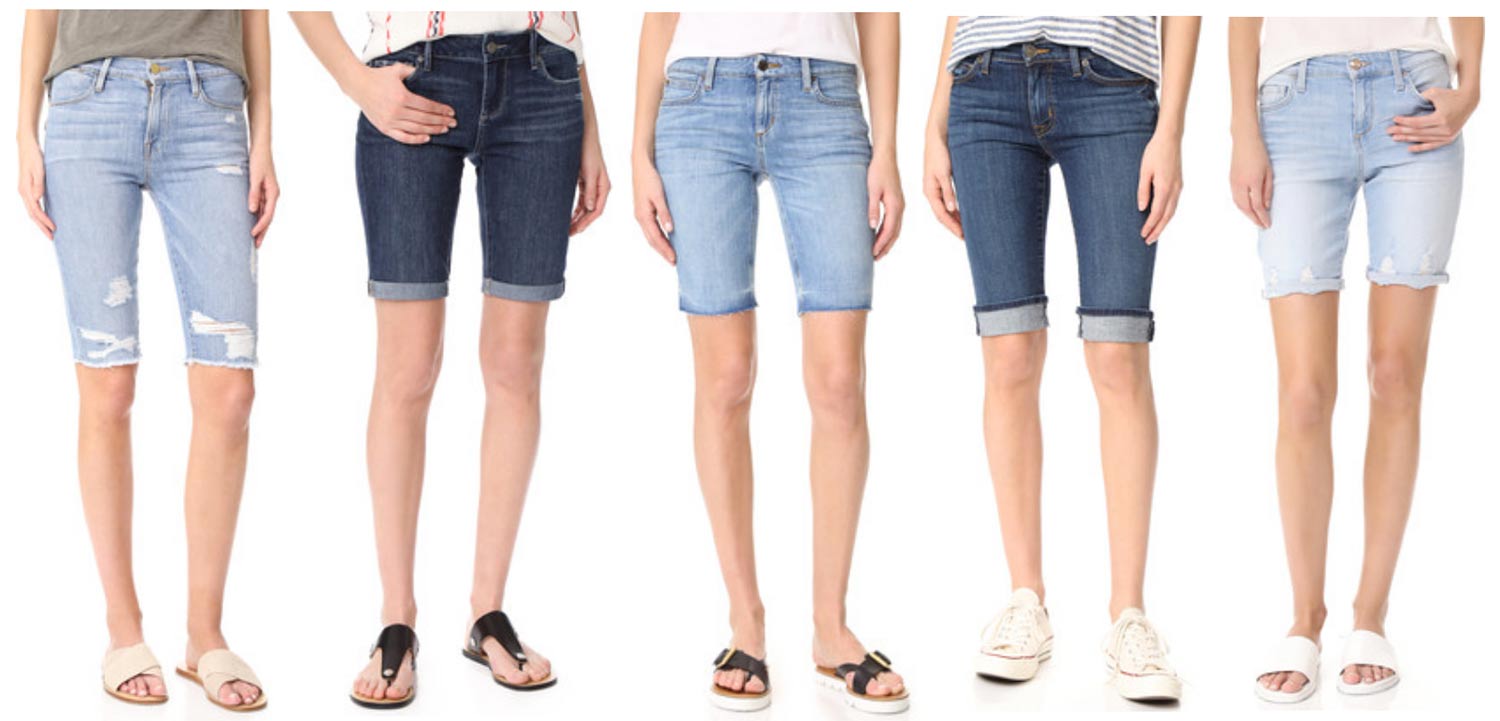 FRAME | PAIGE | Joe's Jeans | Hudson | Joe's Jeans
GOOD AMERICAN | Forever 21 | GOOD AMERICAN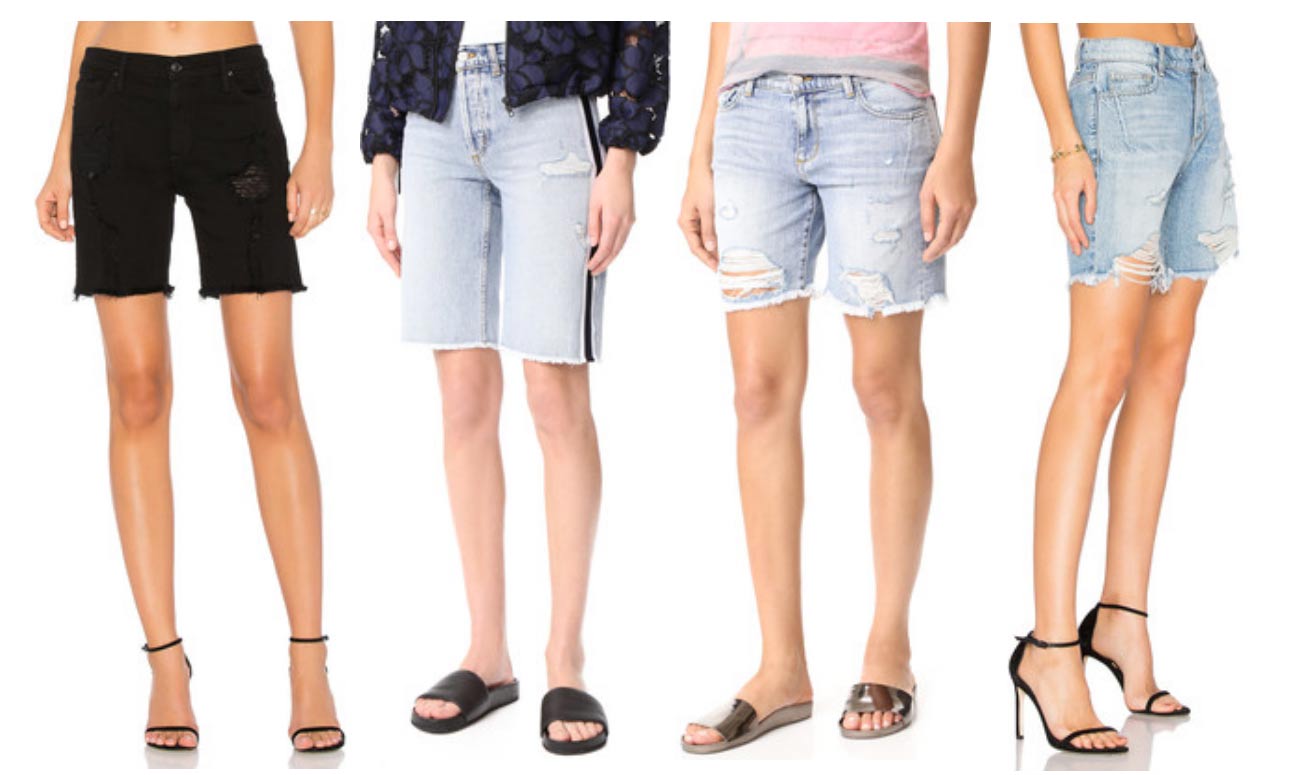 Black Orchid | SIWY | SIWY | SIWY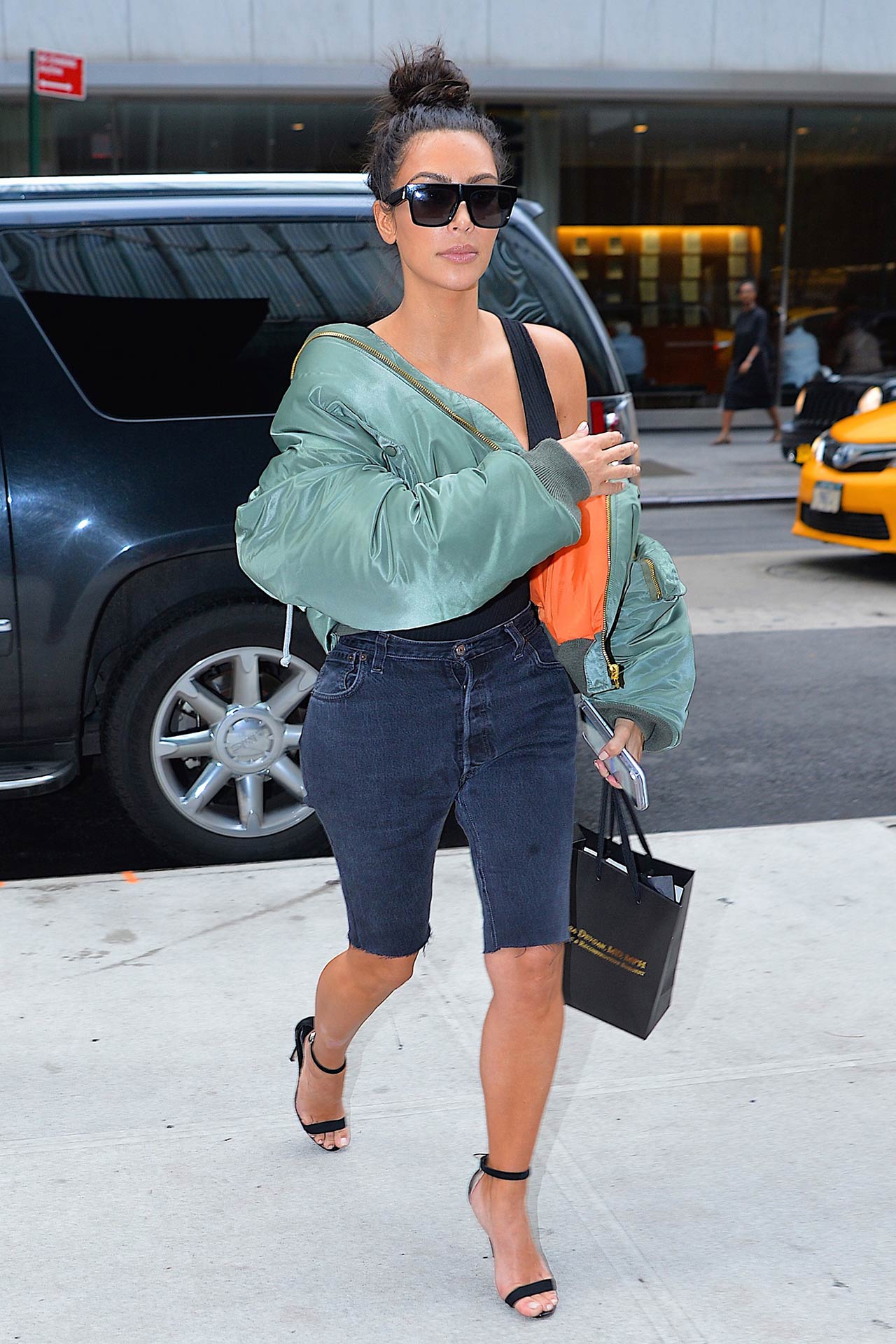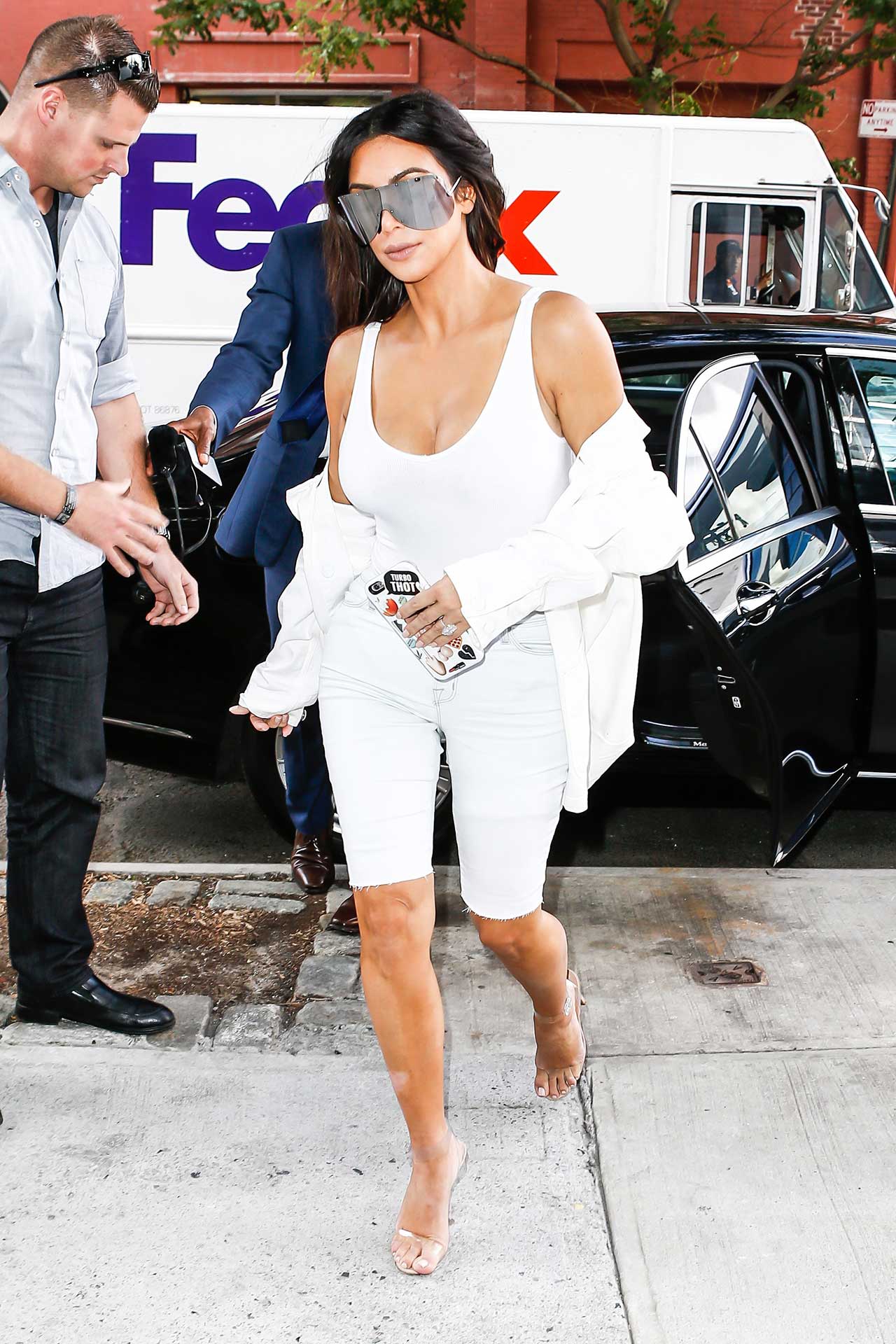 Image Credit: Main image – People.com & Celeb images – BACKGRID USA