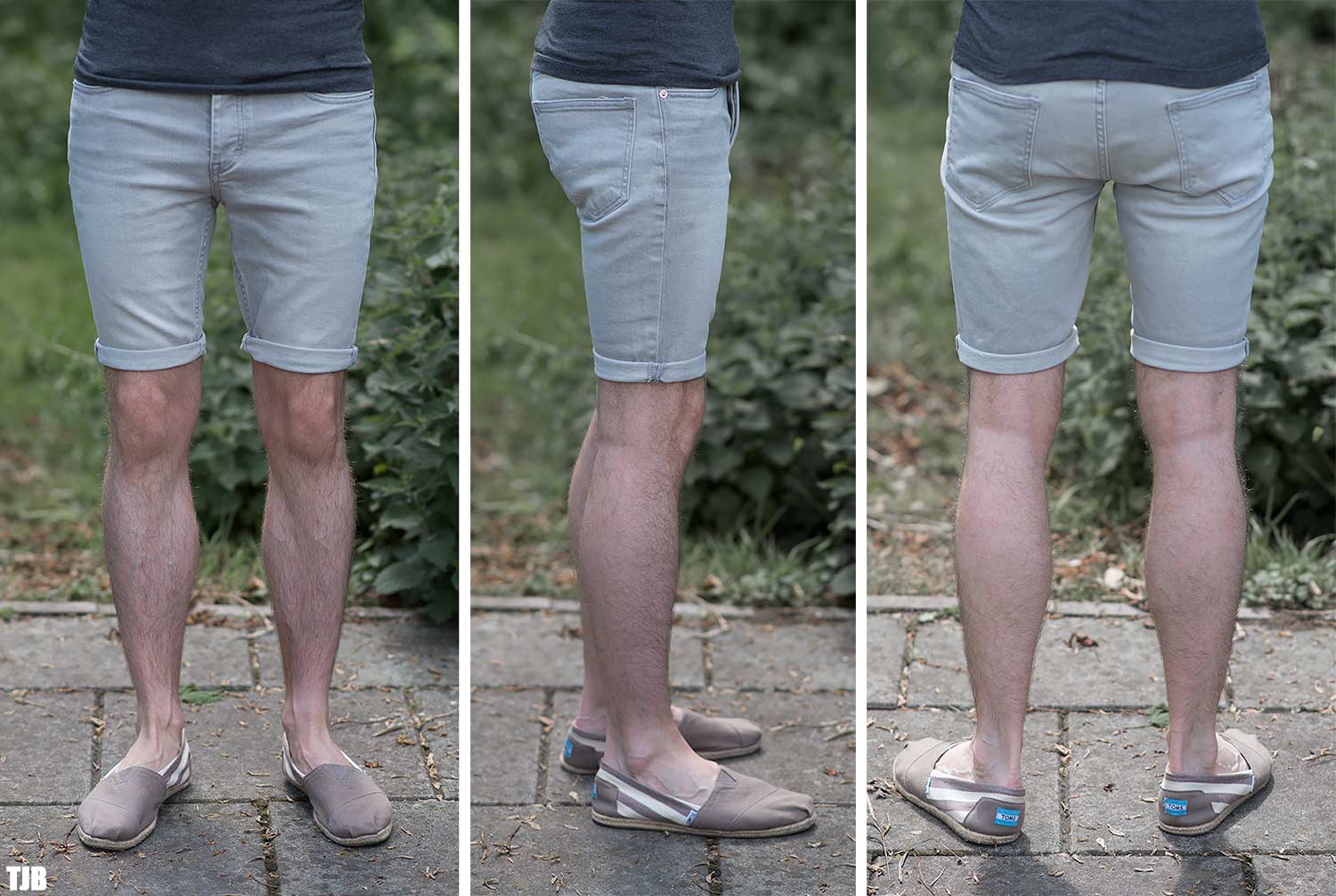 Topman Light Grey Stretch Skinny Denim Shorts Denim Review
I haven't done a denim review here in a while, but I'm back with a brand new pair of Topman Stretch Skinny Denim Shorts in Light Grey. Lorna and I were in town last weekend and we went in Topman for a browse around and I happened across this pair of denim shorts here. I wasn't looking to buy anything at the time, but when I saw these I was instantly taken with them as grey denim shorts in a such a skinny fit are a rarity these days, especially a pair that looks good and fits extremely well. If you love super skinny jeans and often wear women's like I do, I think you will love these for summer.
The Size – As I'm used to wearing women's skinny jeans, I don't tend to wear many men's jeans at all anymore, but my size varies in both women's and men's. I'm around a 26/27 in women's jeans, but I chose my normal men's sizing, a 30, for these. They were quite snug at first but will undoubtedly stretch out a little bit with wear. The size up of a 32 would have definitely been way too big and baggy, which is pretty detrimental to the idea of a skinny denim short!
The Cut – These Topman denim shorts are a very skinny fit, cut very close to the legs (no chance of any material flapping around!). They are a medium to high rise, which seems to be the standard these days. The pockets, front and back are the traditional style, a decent size to cram in all your necessary essentials for the day. They have opted for the classic button fly, like most men's jeans do so the zipper wont fall down all the time with the tightness and pull of the jeans in the crotch area. The leg length is also particularly short, stopping quite a few inches above the knee. I can safely say I'm a big fan of the fit, definitely what I have been searching for! You can of course roll the hems up even more if you want them shorter.
The Wash – I was first attracted to these Topman shorts purely because of the wash, I wasn't even looking for a pair of denim shorts at that time. But the grey really popped out to me! It's very rare to even see a decent grey wash (especially in men's denim and even more unlikely in high street denim!). It's a lovely medium to light grey, with a very minimal amount of distressing. Along the lap area, there is a hint of whiskering which adds nicely to the finishing touch. Given that these only cost £28 and are from Topman, which aren't known for making the greatest of washes, I definitely approve of this grey. They look great. The denim itself is 99% cotton and 1% elastane, which you might think doesn't sound very stretchy for such a skinny short, but they are. The denim is quite thin and lightweight, so they're definitely comfortable. They're not quite on my Hudson Barbara Jeans level of stretch, but what is?
The Details – Again, the detailing is fairly minimal, the only thing to note is the featured silver hardware (button and rivets), which complements the grey wash admirably. It would have looked awkward if they had used an orange thread too, tonal stitching is much nicer in grey, so I'm glad they didn't. The back pockets are completely plain and there's no actual branding on the jeans anywhere, so they're extremely minimal and wearable. I think with a pair of denim shorts this skinny and tight fitting, minimal detailing is best.
Overall Opinion – I've been looking for a really skinny pair of denim shorts for a long time, I know they have been available for a few years now, however they are usually a stiff and rigid denim (despite stating they contain an amount of stretch in their composition). This pair however ticks all the boxes – they are stretchy enough to not restrict my movement (quite surprising for a high street brand!). The wash, as previously mentioned is a gorgeous medium to light grey, so I'm easily able to pair these with a large colour palette throughout the summer. The fit as well is just what I've been looking for in a pair of denim shorts! In fact I am now looking at additional pairs in the same cut in other washes. Have any of you tried these?
Shop These Topman Denim Shorts at Topman.com for £28