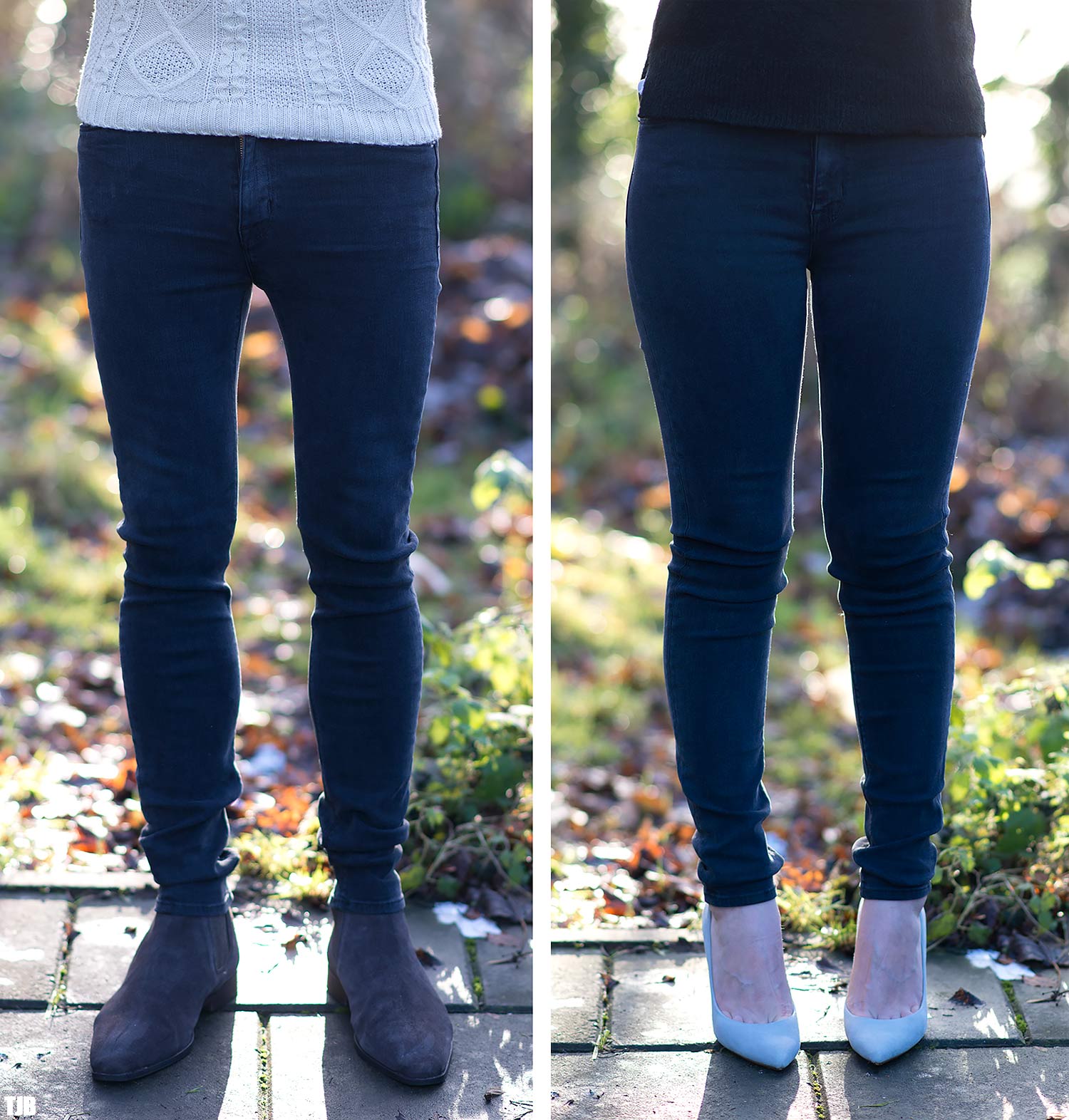 Double Denim Review – Hudson Barbara High Waist Skinny Jeans
I'm quite excited to bring you our first ever double review of the same jeans, from a male and female point of view. Since so many of you guys here wear women's skinny jeans for a closer fit (our writer Adam included), I thought it might make a nice change to do a denim review on a pair of jeans for women, but which look equally as good (if not better!) on a man as well. I'm talking about the Hudson Barbara High Waisted Skinny Jeans in Bazooka. These are the jeans we will be reviewing for you, both in a size 26. You can see my review just below and Adam's review further down the post, after mine. Just to let you know in advance, the Hudson Barbara is a cut that works perfectly as a unisex jean. It's amazing!
Lorna's Review From A Woman's Point Of View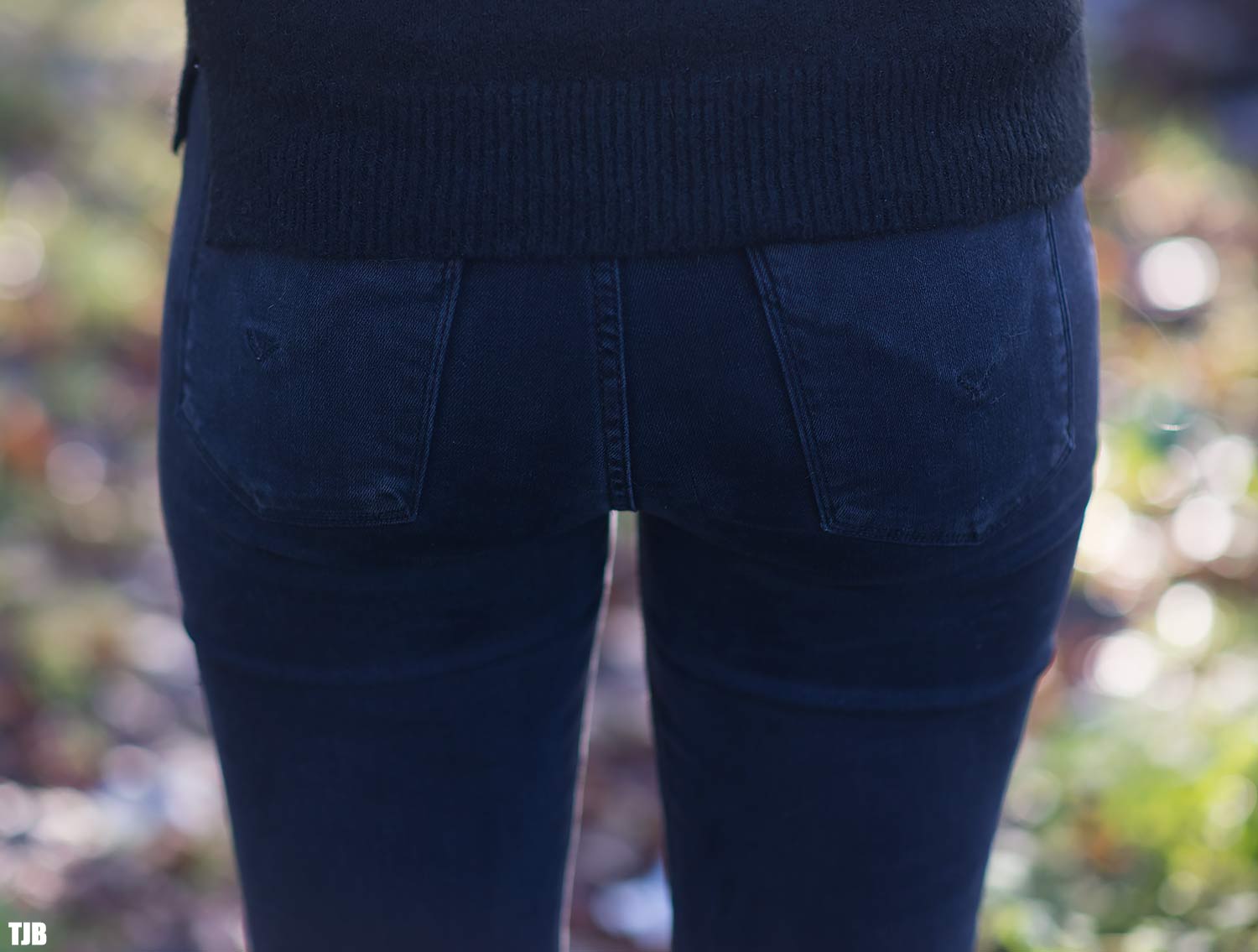 These jeans are my third pair of the Hudson Barbara Skinny and I couldn't be happier with them. I adore my Barbara in Hideaway as they are so stretchy, comfortable, soft, and perfect, so getting another wash to try was ideal. Black denim can be tricky to get right, so lets get to my review.
The Fit: As I mentioned previously in my other Hudson Barbara Review, the fit is incredible. They feature a 10″ rise, a 30″ inseam, and a 10″ leg opening, making them the perfect full length skinny jean. I adore high waisted jeans now as I feel like they hold me in a lot more and are generally more comfortable to wear, so I rarely ever wear low rise anymore. The length is a little bit long for me and I can only think they could be improved by bringing out a cropped ankle version of the Barbara for summer, but other than that, everything about the fit is ideal for me and just what I look for. Even the back pocket placement is great. Nice and evenly spaced apart without the pockets being too big or long. They're very flattering.
The Size: I took my usual size of a 26 in these jeans as they run a bit big. I could say they are bigger compared to other brands like Citizens of Humanity, PAIGE, J Brand etc, but fairly true to size for Hudson themselves. Given the extra stretch and soft fabric though, you can easily get away with sizing down if you needed to, but so far they have only moulded to my body and stretched a small amount, which is great.
The Wash: The Bazooka wash is a washed black with hints of a grey undertone to it. I've got many different black jeans and one I was always looking for is a perfect washed black, and these are it. It's versatile and light enough to go with anything and make it casual, but it's also clean enough to be dressed up as well. It's one of those blacks which you just can't get enough of and are excited to own because it's a staple.
The Fabric: These jeans are made from a blend of 64% tencel, 30% cotton, 4% EME, and 2% elastane, giving them a 40% stretch ratio. This is amazing because they actually feel like spandex leggings, but they are sturdy enough to be jeans. The denim is a nice, thicker weight for stretch jeans, so it's not uncomfortable at all. There's no restriction. They are amazing. I have worn these so many times now that they are in my top 3 for favourite jeans at the moment.
The Details: There's not much to report here in terms of the details as they are clean and subtle. There's no flap pocket, no contrast stitching, no over the top branding… it's all minimal. There's the silver rivet on the coin pocket and the little fabric tag on the back of the pocket, but that's it. I love the minimalism.
Overall Opinion: My overall opinion of these Hudson Barbara Jeans in Bazooka is completely positive. I've not had a black skinny jean this flattering and this comfortable before, with the black I was looking for. I can tell you just how comfortable they are as I've worn them ice skating twice, as well as worn them numerous time for travelling and running errands. I definitely give them a 10 out of 10 and that's my honest opinion of these. If you haven't tried them, you really should if a washed black, high waisted skinny is something want. I'm sure you wont regret it! I just wish they come in a cropped length too!
Buy these Hudson Barbara Jeans at Hudson.com for $175

Adam's Review From A Man's Point Of View
One of my first experiences with wearing women's jeans was my beloved Hudson Barbara in Hideaway. I still find them unbeatable in comfort. They are actually my go to pair for everyday errands, in fact I love them so much I actually own a back up! So when I found out Hudson had a similar pair, but in a washed black, I was excited to give them a whirl.
The Fit – Initially upon trying them on, I thought they were too tight, but it was a brief sensation. Once they were pulled up and buttoned, they felt very similar to the Hideaway wash. Nice and slim all the way down the leg, even close fitting towards my ankle (10″ opening). Despite being a women's jean, as they are high waisted (10″ rise) there is still plenty of room in the crotch area so no fear of any constriction!
Length wise they are just long enough at 30″ to sit comfortably over a pair of boots with a slim opening, giving just enough of a bunch at the hem of the jeans. However, if wearing them with loafers or low top sneakers, they are not really suitable, I even attempted to crop them with a turn up but they just appeared sloppy. For reference, I have quite short legs, if you have more height this will most likely be less of an issue.
The size – These are my 2nd pair of Hudson jeans, so I took a 26 which is the same size as before in my Hudson Barbara in Hideaway wash. It was a good choice, they were snug at first but within a few minutes I could barely feel I was wearing skinny jeans. As a comparison, my other women's skinny jeans I have chosen are a 27 or even a 28, so far only Hudson has been a 26. This could be due to the high tencel content in these jeans. I've found the higher the percentage the more they stretch, which in turn means a smaller size will fit me. For reference as well, I'm a 30 in men's jeans.
The Wash – I was looking for a nice black jean with a hint of the washed effect and this Bazooka wash fits the bill nicely. I've never been into super black jeans personally as they look quite harsh on me, but the Bazooka wash has a nice slightly faded appearance, particularly on the raised areas such as the belt loops, edges of the pockets on the back, and zipper section. It looks like it was literally given a single wash.
The Fabric – The first thing I notice is they are ever so slightly more thicker than my Barbara in Hideaway, those were sold during the summer season, and as to be expected were thinner to accommodate for the warmer weather. So now the temperature has dropped, it makes perfect sense to have them thicker to help combat the cold. I mentioned above that these contain one of my favourite components – tencel. In my experience with women's skinny jeans so far is when it contains tencel they are extra stretchy and enable me to get a smaller size. In fact, I always keep an eye out for this material in any of my denim purchases as there will be a good chance they will be extra comfortable. So far Hudson seem to be leading the way and a good portion of their skinny jeans contains it, this pair contains a very high amount of 64% tencel! It also consists of 30% cotton plus a small 2% of EME and 2% Elastane.
The Details – As they are a simple single black colour, the details complement this. Nearly every part is matching black, except the button and the studs with are in a silver colouring. Even the usual red, white and blue flag stud by the coin pocket is in the same silver colour. All in all it just gels for a cohesive look.
Overall Opinion – As you can probably tell I'm a big fan of these jeans and Hudson in general. The Barbara cut has caused me to fall in love with women's skinny jeans, and this Bazooka wash has only increased that even further. A stunning black wash which can fit in with almost any outfit, super comfortable on daily wears or even long journeys such as a train or plane where you will get little chance to move around, these will see you through! Even jogging trousers would be hard pressed to beat them! So far I have already worn them a handful of times, they are currently fighting against the Hideaway for my favourite pair of the moment! I can't wait to see what new washes come out in Barbara next!
Buy these Hudson Barbara Jeans at Hudson.com for $175
Jeans courtesy of Hudson / Opinions all our own.