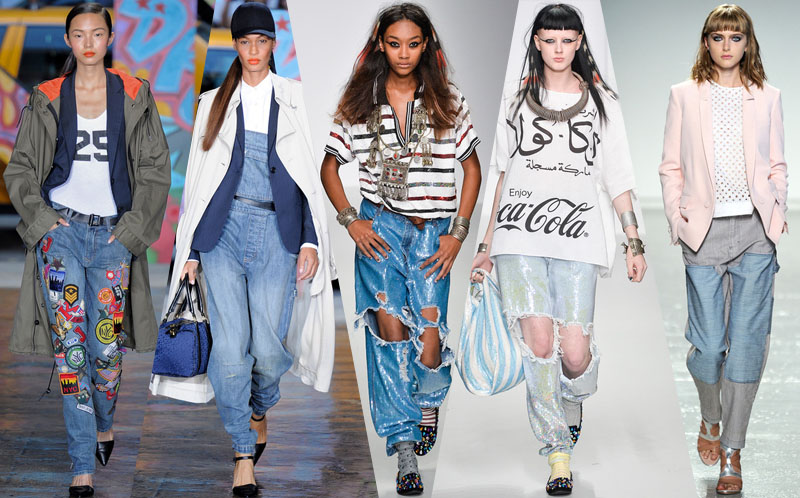 What happened to denim these days? Nothing excites me anymore…
I don't know if it's just me, but I'm not overly enthusiastic about new jeans anymore. Whenever I am scrolling through the new in section for the latest denim, I'm rarely excited by what I see. I just scroll past usually as nothing jumps out at me. I would say on average, if I scroll through about 100 pairs of new jeans, maybe 5 might be something I'd consider, but those are just usually a really pretty wash on a high rise skinny fit, not anything that I have to have…
I remember when I was a lot younger and all the new jeans used to be so exciting! All the styles coming out were innovative, things we hadn't seen before, the boundaries were being pushed with fabric technology and going as skinny as possible, and there were even movements like the J Brand Houlihan or Zombie and Thrasher jeans, as well as the Current/Elliott boyfriend jeans etc. There was excitement and must haves when it came to jeans and that was what got everyone going.
Forums were a huge thing back then, it's how I got into the denim industry as you know. We'd have sections to discuss the latest arrivals from 7 For All Mankind, Diesel, Rock & Republic, True Religion etc and people would spend hours on there chatting to everyone else about their denim. Over time, this gradually lessened and people got less interested (myself included), but I was still very much into denim and intrigued by what the brands were bringing out. I remember when Jogg Jeans were released from Diesel and I thought they were awesome.
There was just excitement every season and going to the press days to see the latest jeans was fantastic as there was always something new that pushed the envelope. I'd see the leopard prints from Current/Elliott, J Brand would release florals to die for, PAIGE did some amazing bright colours, Rag & Bone were on top form, and Hudson? They had city prints and everything you could imagine! Things were fun and new, they were fresh and innovative…
This leads me to now. I'm bored by most of the styles that come out because I've always seen it before and it's not new anymore. But, where do you go when everything has been done? You can't just do bold colours or prints anymore, they aren't interesting, so brands now have to think outside the box and this is where things are going wrong. I've shared with you numerous times the jeans I call disasters that are on the market right now. I'm talking about the ones that you would look at and say 'what were you thinking?' or the pairs which are just not wearable in everyday life.
Then there's the 100% cotton rigid skinny jeans as everyone has gone back to the vintage and good old days because there's nowhere left to go with the new. I spoke about how I don't like these either because they are so painful and uncomfortable, but I understand why everyone has drifted backwards because the now is so lackluster. Where can brands possibly go now and make it wearable?
It's all been done, so now there's crazy fits, double jeans, flamenco style Spanish inspired flares… None of which I think are cool or you could wear on a daily basis. I did like the two tone denim and the embroidery trend, but those were the only things and they were hit and miss. The bold styles now work for a one time event or if you're a fashion blogger just doing a shoot, but in real life, it's pretty hard to pull that off without drawing attention to yourself.
I thought I would throw this out there because I absolutely adore denim and have loved it since I was little, but I'm feeling myself being left disappointed on a daily basis now. I only get excited when I see a pair of jeans like this or this now, and they're just a beautifully washed skinny. Nothing new that makes waves in the industry, but artistry done right, and that's hard to come across now too. What's your take on denim these days? Do you find it boring and not what it used to be? I know some of you do as we've had discussions on social media.
I know the guys might find it a bit more interesting as super skinny spray on jeans are huge at the moment, so there's still a good movement going on for you, but for us women, I have no idea what's next and I'm quite concerned about that. Is it going to make people lose interest in jeans and not have a desire or passion for them anymore? I know denim brands read The Jeans Blog, so what would you like to see from them? What should they do for new and cool styles? Comment below!
Image Credit: Pinterest