I'm sure everyone is aware that the vintage mom jeans trend took over a few years ago and has remained in place ever since, even increasing in popularity as the months go by. We have vintage Levi's to thank for that and brands like RE/DONE Levi's as well. They have been making old jeans fashionable again by reconstructing the fits and making them cool. This is of course helped by the celebs who just can't get enough of them! I'm sure you've seen Alessandra Ambrosio, Gigi Hadid, Bella Hadid, Kendall Jenner, Karlie Kloss, Kourtney Kardashian… the list is literally endless as every time we see a celebrity or model out in denim, 90% of the time it's Levi's.
For me though, this is such sad news. I've never got on with rigid denim, not even back in the mid 2000's when I was getting into my premium denim. I had some 100% cotton pairs which I could hardly move in at all – forget trying to climb over something and even walking the stairs was a challenge. If you wanted jeans to fit tight and look good, you had to suffer for that. That's why when brands brought in the super stretch, it was literally like I had died and gone to heaven with this news! Super skinny jeans that were actually comfortable? What sorcery was this?!
So now, with super stretch skinny jeans almost becoming 'un-trendy' and now basically a classic, you can only imagine my disappointment (along with so many others). I really don't like rigid, restrictive, thick denim. Sure I love to admire the beauty in a vintage wash and wear them if they're baggy, but trying to wear denim that thick and stiff from decades ago in a new skinny fit is pure torture. Yes, I'm looking at you Levi's Wedgie Jeans and RE/DONE Levi's! I'm not sure who thought it would be a good idea to make jeans so tight and so restrictive, and then make them cool, because my days of suffering for fashion are over. I'm almost 30 and I enjoy comfort these days when it comes to my denim. So I thought it would be fun to list 10 reasons why I personally hate vintage rigid skinny jeans and why I wont wear them.
---
1 – You get that awful wedgie feeling!
Now this is one that I hate! Especially with the Levi's Wedgie jeans. Who wants a really rigid, stiff pair of jeans riding up between their cheeks? And you can forget sitting down unless you want to do yourself an injury and burst something! (See Kylie Jenner here).
2 – The dreaded painful camels toe!
Much like the wedgie from the back, pretty much all the vintage skinny jeans with 100% cotton come with added camels toe. The way the crotch sits against your lady parts (see here) is incredibly uncomfortable! I've tried and it's just so irritating and sore – it almost burns.
3 – Watch you don't do some damage!
Because of the camels toe and wedgie situation, if you sit down (especially too quickly), you almost tear yourself a new one! Sorry, it had to be said.
4 – You can get cystitis and ingrown hairs.
Because of the camels toe issue and the incredibly tight fabric against your womanhood, this can actually cause cystitis pains from the friction and can actually cause ingrown hairs as well as there's not much breathing room and too much pressure.
5 – They make you angry.
Well they do me anyway. When I'm walking around and attempting to sit down in these monsters I just start getting agitated and angry because I'm uncomfortable. You can forget it being that time of the month too, these are a no no!
6 – They show off all your flaws!
Now that the painful aspects are out the way, can we touch on how much they show off all your flaws? With the seams riding up in private places and the fits not being tailored to your body with some stretch, it can be terrible for showing off things you want to leave to the imagination.
7 – They have an unflattering fit that doesn't contour your body.
Unless you're 6ft tall and a size 0, these jeans really don't flatter anyone. I've never seen anyone in real life out and about (especially uni students) in these rigid vintage jeans and thought they looked good. They're usually making the butt look wider (with some exceptions), showing off the camels toe, making your thighs look chunky, or making you look short. I think they're jeans you can only pull off if you're not curvy or above model size.
8 – The unbelievable tight waist band that creates muffin top!
I really question who thought it was good to have rigid denim worn tight around the waistband. There's no give, there's no stretch… When you sit down your hip and stomach area expands, but the jeans don't at all, so that's incredibly tight and painful on your bladder. And like I mentioned above, if you do have any curves, you can say hello to muffin top – it's your new friend now.
9 – Navigating stairs
I touched on that briefly in my introduction, but how exactly do you go up steep stairs in these jeans? I have no idea. As soon as you start lifting your leg up, the fabric creases on the top of your thigh and digs in, then the denim on the butt becomes really tight and you have to do some sort of waddle to get up to the top. Uncomfortable and looks ridiculous.
10 – Why do the washes have to be so much better?
Lastly, this isn't a dig at the fit, but it's an annoyance because the washes are better on vintage or rigid denim. Super stretch jeans can never replicate the washes that rigid denim have because of the other fabric blends in the denim itself. So I don't like the fact that if you want a really pretty and authentic wash, you have to suffer for it.
---
So these are my 10 reasons that I hate 100% cotton skinny vintage jeans that are so popular amongst everyone right now. This picture of Hailey Baldwin below just shows how tight they look around the crotch and fly and she's super thin. I read an article on Elite Daily about their experience, and there's a lot about the pain in her nether regions too, but for her, they looked good on her bum. It really depends what jeans you pick. This does stand for mom jeans too, they are always tight in the crotch region, but looser everywhere else so not as suffocating as the re-designed skinny. Let me know what your thoughts are on this! I'd love to know!
P.S. – If you want a good laugh about these jeans, read this article on Huffington Post!
If you can pull these off, shop the Wedgie Jeans here & RE/DONE Levi's here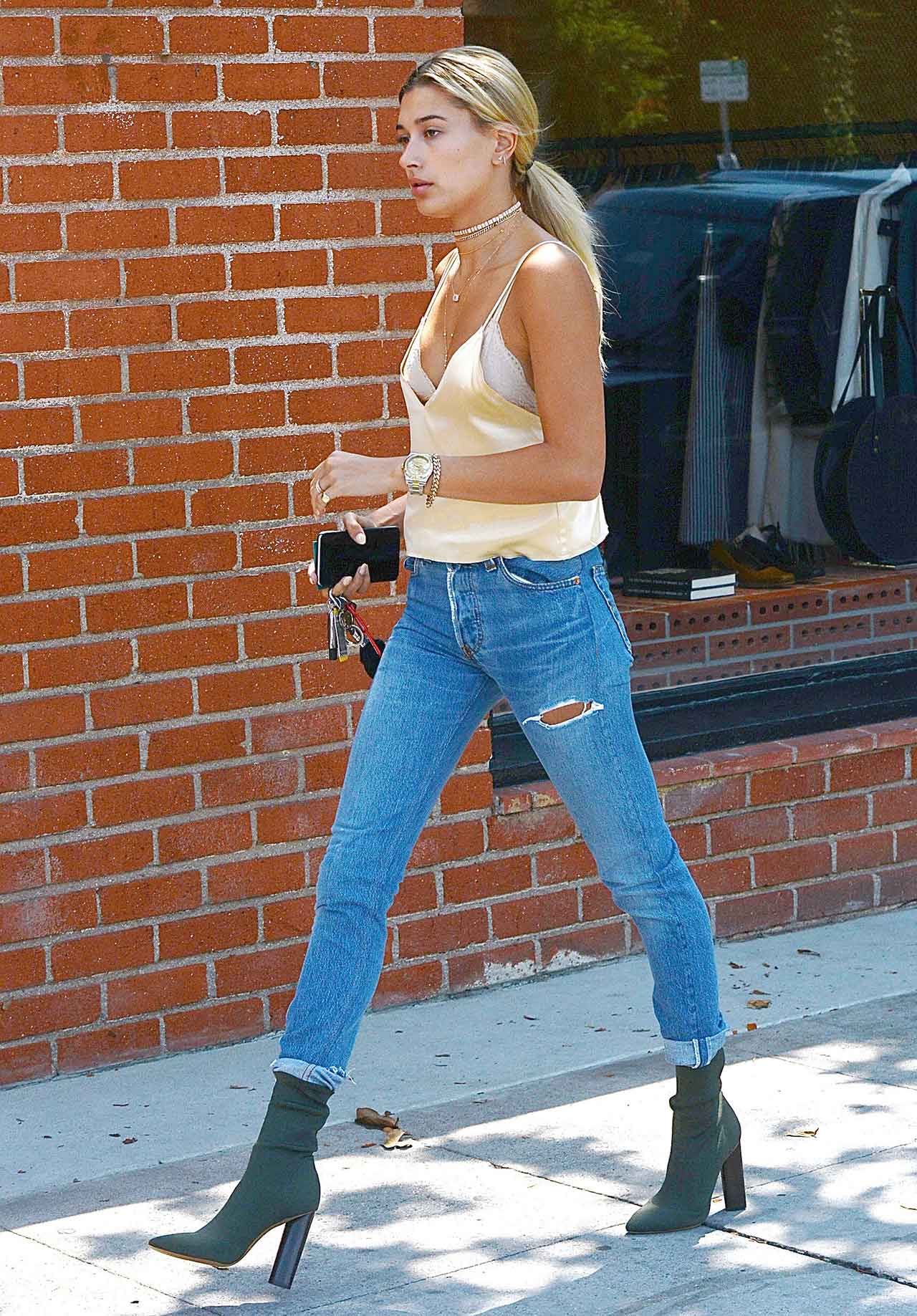 Image Credit: Manrepeller & AKM / GSI