GRLFRND Candice Skinny Jeans in Love Hangover Double Review
Since our double denim review went extremely well last time when Adam and I both reviewed the Hudson Barbara Skinny Jeans in Bazooka, making them a unisex jean, we thought it would be good to do another joint review. This review is on the GRLFRND Candice Skinny Jeans in Love Hangover and we're showing you how this pair of women's jeans fits on both a female and male body. Adam absolutely loves these jeans and has been wearing them loads, as you can tell since they have stretched a bit and have honeycombs on the backs of the legs, and mine are more newer as I got the petite version as I'm a lot shorter. They're both the same jean, just with different leg lengths. They're also both the same size as we took a 27. They've definitely become a staple pair of jeans in both of our wardrobes and I'm sure most of you know by now that here at The Jeans Blog, women's skinny jeans for men are a big thing! Check out the review below.
Lorna's Review On The Petite Version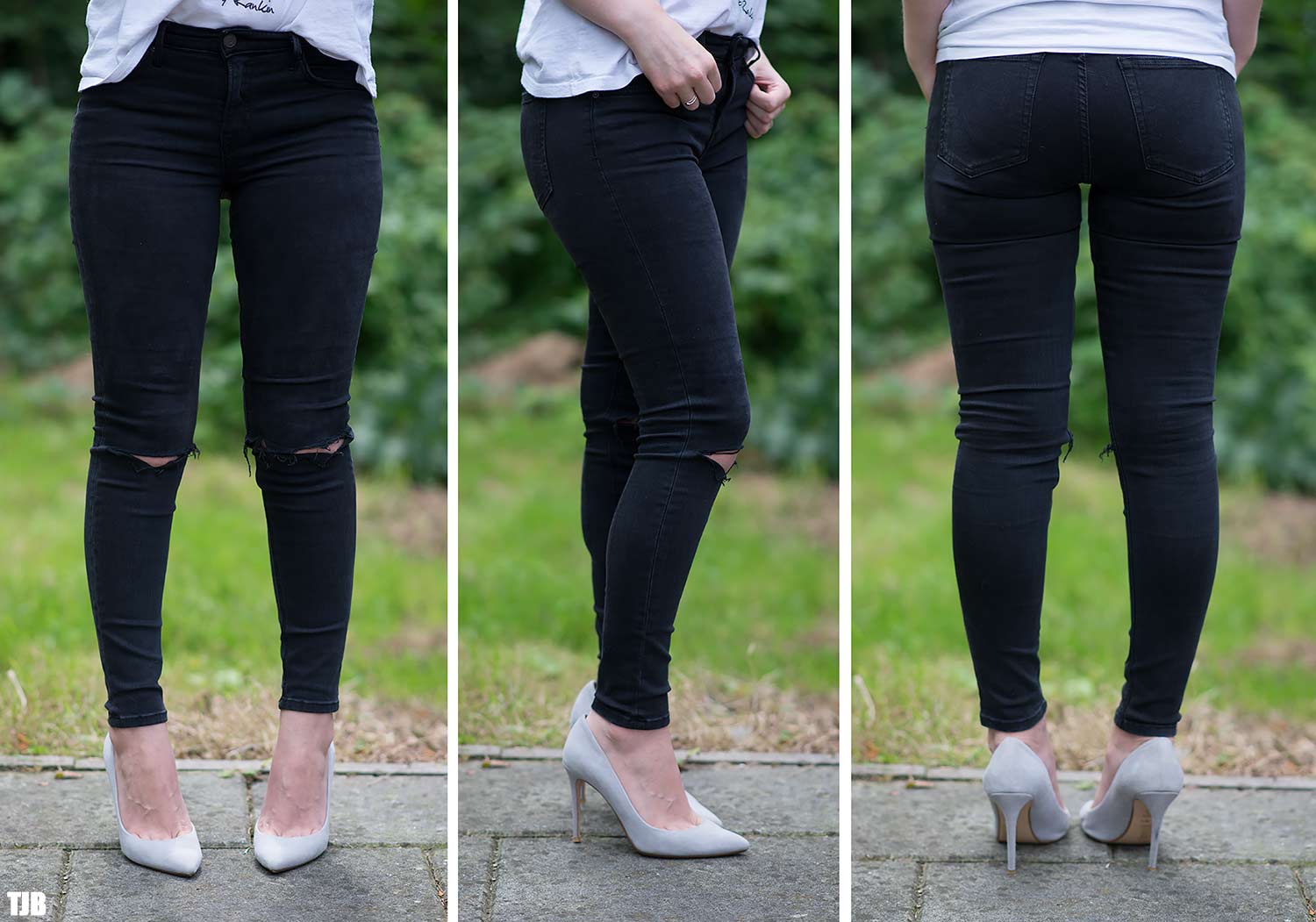 The Size – As you may remember, I actually reviewed the full length version of these jeans back last year in the summertime (see that review here) but as they were so long on me, I didn't tend to wear them very much, despite adoring them. I'm glad I have opted for the petite version in the same size (27) as they fit a lot better on me, as you can see above. They still have a 8.5″ rise, a leg opening of around 9″, but this particular pair has an inseam of 27.5″ instead of 29.5″ like the longer version. That's why they're much more suited to me. I would say they definitely run true to size and fit very much like FRAME or PAIGE, if you're in need of some reference. They do run a little smaller than Hudson and 7 For All Mankind, so size up one from their super stretchy jeans.
The Fit – As you can tell, these are more of a mid to high rise super skinny jean. The rise isn't as high as I would usually like as I tend to prefer 9″ and above, due to them holding in my muffin top, but they're definitely extremely flattering. They're made from a super stretchy, spandex type of denim, which clings to your whole body and allows you to move around freely, as a legging would, so I honestly can't fault them for comfort. The back pockets are perfectly flattering as you can tell, and they fit like a dream. I can wear these all day without any discomfort, which is what I look for. They do stretch out a bit with wear, but not a huge amount, and they're still extremely flattering. They're definitely one of the best pairs of jeans that I own – they're in my top 5 for sure.
The Wash – The Love Hangover wash is a dusty, twill style black, so it's not completely pitch black, but it has a grey undertone to it, like it's been washed a little bit. This makes it much more casual and easy to wear as pitch black can often look too dressy. There's knee rips on both legs, as you can see, and these are huge. They are split straight across and have a little vertical cut too to make sure the rip opens enough at the knees. Now given that I have short legs, even though these are the petite version, the rips still sit a bit below my knees, so I had to pull them up in the photos to show you what I mean, but it's rare that I actually get knee holes to sit on my knees. These jeans literally go with anything and everything though, they're that wearable!
The Details – There's not many details to report actually as these are extremely simple and classic. The standard 5 pocket style jean with a zip and button closure. No back pocket designs, no contrasting stitching… Just the knee rips which are the only details. That's what I like about the jeans so much though, the simple fact that they are so plain, but creative and flattering.
Overall Opinion – I'm sure you can tell that my opinion of these jeans is 9.5 out of 10! When I was first introduced to GRLFRND over a year ago, these were what made me fall in love with the brand and I couldn't get enough of them. The only reason I don't give them 10 out of 10 is purely because my preference would be for a slightly higher rise of around 9.5″ and I would like the knee holes to be placed slightly higher to suit my legs. But these are just personal points for me and I know my body shape is not the same as everyone else, so with that in mind, if I'm not being personal, I would give these jeans full marks! They're stretchy, flattering, well made, comfortable, pretty, versatile… The list goes on! There's no faults to report at all. Plus the fact they suit both men and women. What more could you ask for really? If you want a comfortable, flattering, washed black skinny jean with rips, I recommend these to you 100%. I think you'd love them.
Shop the GRLFRND Petite Candice Jeans at Revolve.com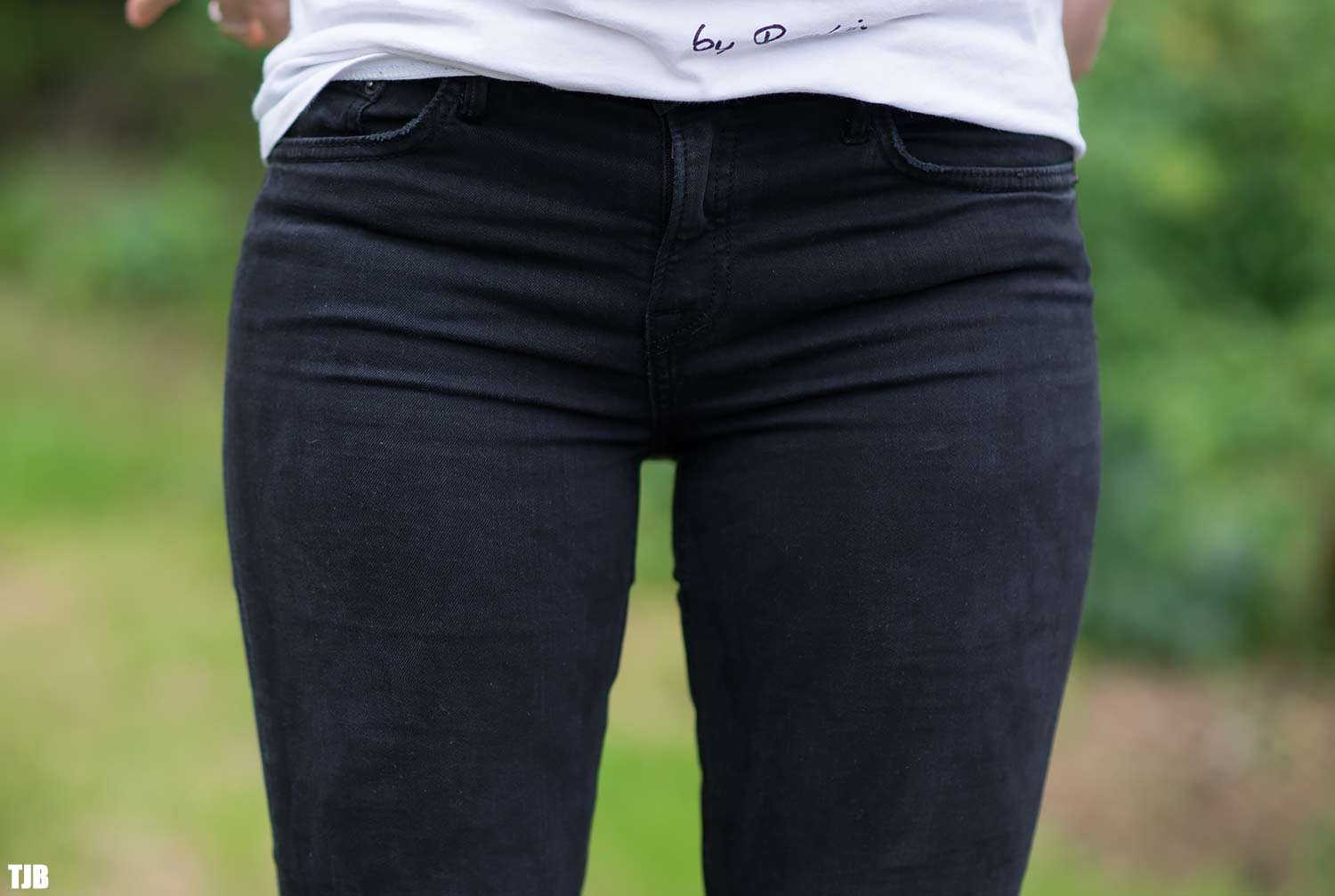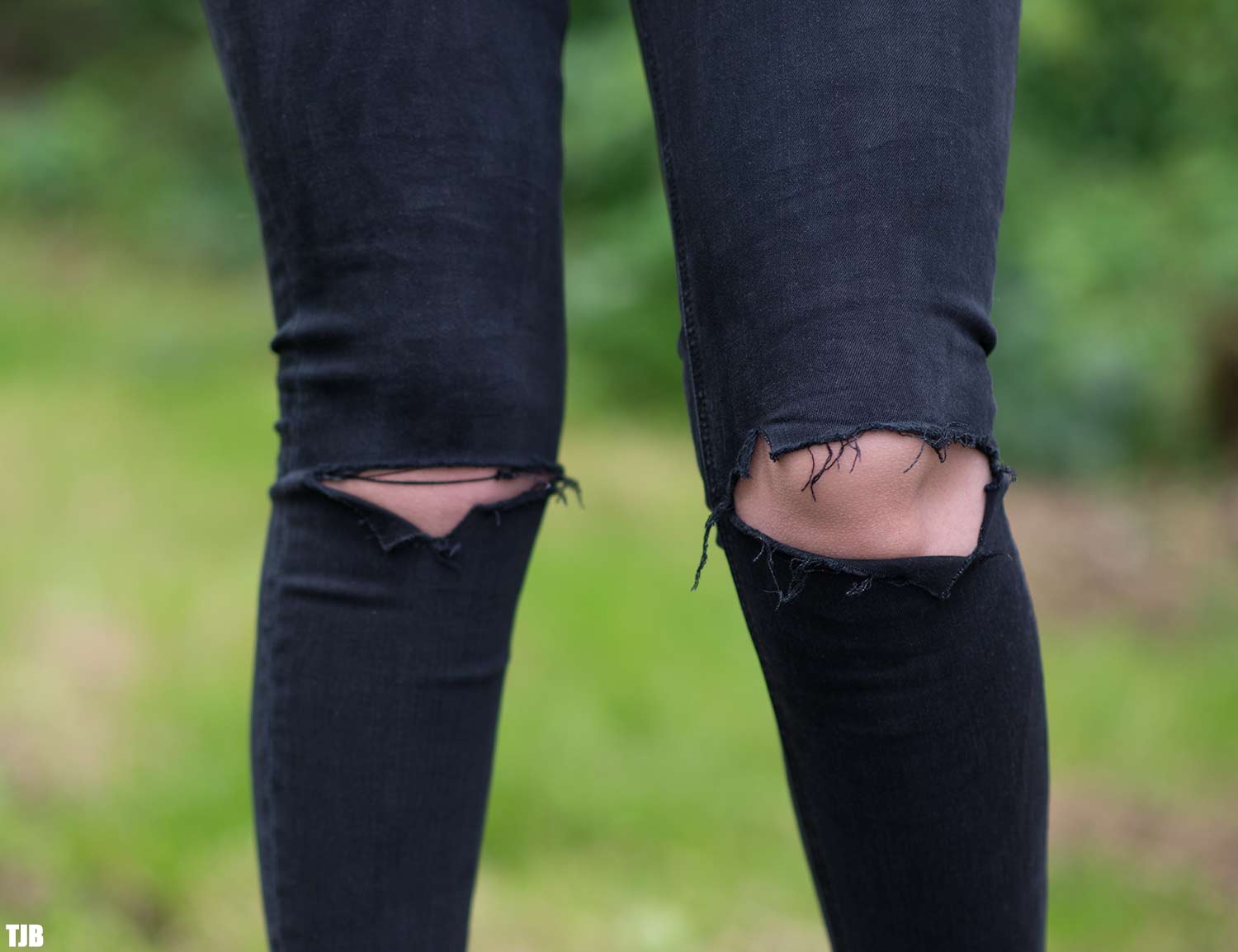 Adam's Review On The Original Version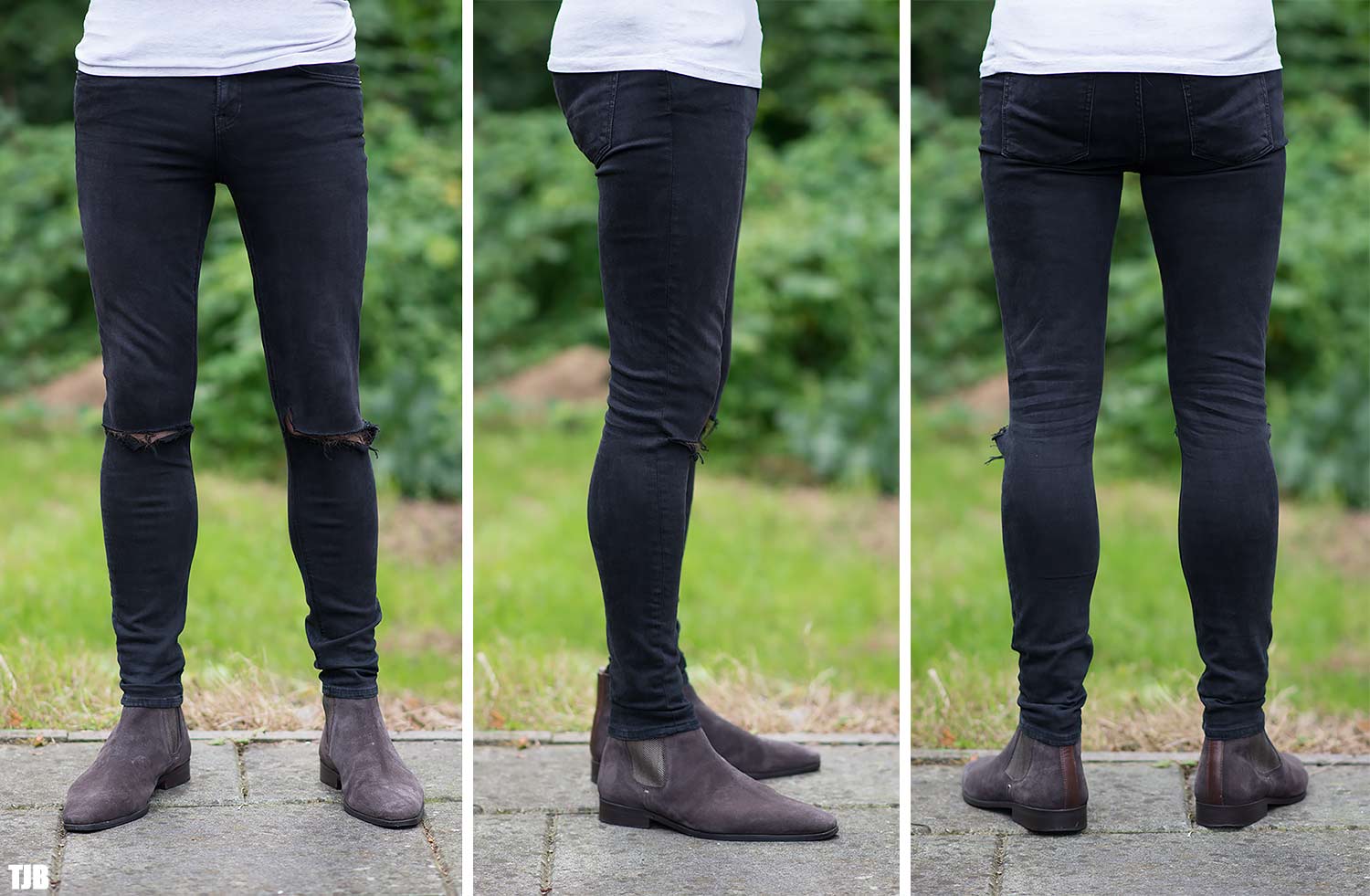 The Size – When choosing the size for the GRLFRND Candice Super Stretch Skinny Jeans, I decided on a 27 which (barring a few exceptions) is my normal size in women's skinny jeans. My decision was correct, they fit perfectly. As you pull them on, it appears that it is going to be a monumental task! Seemingly super tight all over, but once you are safely strapped in and buttoned up, they stretch and give almost instantly. Fast forward about 3-4 minutes and they don't even feel tight at all, on the contrary first impressions all point to them being incredibly comfortable!
The Fit – These jeans are firmly situated in the super skinny section, contouring around the body from the waistband all the way down to the hem! Exactly what I was looking for in a pair of black denim. My personal preference for really dark denim is to obtain the slimmest possible to ensure a sleek silhouette. These jeans fit the bill perfectly, even my calves felt suitably snug whilst wearing them. The rise is notably small, a staggering 8.5 inches! Despite this, when wearing them you can't really tell and your chosen top will likely cover the low waistband. The front pockets are considerably small, which is to be expected from a pair of women's skinny jeans, so us guys will have to make do with storing our accessories in the back pockets! The inseam length is roughly 29.5 inches, which is perfect when wearing a pair of Chelsea boots or something similar, producing a nice touch of bunching around the hem. If worn with some low profile sneakers I found that I needed to turn them up slightly at the ends, not much of a problem as they are solid black on the inside (no worries of that sometimes weird looking contrasting effect which happens when turning up many blue pairs).
The Wash – Love Hangover is the name of the wash, which is obviously a black colour. Thankfully GRLFND chose a slightly lighter black rather than the typical pure 100% variety that is so prominent in the denim industry. Positioned in all the typical places are areas of fading and distressing, which combined with the lighter colour shade gives a sort of 3D effect to the wash. The obvious attraction with these jeans is of course the large holes on each knee, which was what first alerted me to them. These rips are not so big as to border on the ridiculous (unlike pairs from certain rival denim brands), instead they are just the right size to show a reasonable amount of your leg without drawing too much attention. Due to the length of my legs, the holes sit a little lower than probably intended, about an inch or so below the centre of my knee caps. This doesn't detract from the style and I think they look fine, however your own mileage will surely vary depending on the length of your legs.
The Details – The details on these jeans are very sparse, the button is constructed of a dark almost gun metal colour. The rivets appear much brighter in a silver colour. The small rectangular leather patch continues the trend, positioned above the right back pocket along the waistband in a subtle dark grey, which simply states the GRLFRND name. I'm personally a fan of this minimalist look, the wash and distressing do the talking whilst the details are functional and do not interfere with the overall look of the jeans.
Overall Opinion – Overall, I can't rate these women's skinny jeans highly enough! Since acquiring them I have pretty much lived in them! Which is high praise indeed, before these GRLFRND jeans I was quite opposed to wearing any form of black denim (I only ever wore blue jeans with the occasional grey pair thrown in, to mix it up), yet these have completely turned my wardrobe ideas upside down! I love wearing these so much, I actually plan the rest of my outfits around wearing them, rather than deciding on different outfit pieces on their own merit (fortunately this isn't too much of an issue as the majority of colours pair well with black). Even when worn for an excessive amount of time, they cannot be faulted, thanks to how super stretchy they are! So in summary, these are exceptional skinny jeans and I fully recommend them to anyone who's in the market for a new pair of black distressed denim. I will be surely looking out for other pairs from the GRLFRND brand in the future!
Shop these GRLFRND Candice Jeans at Revolve.com