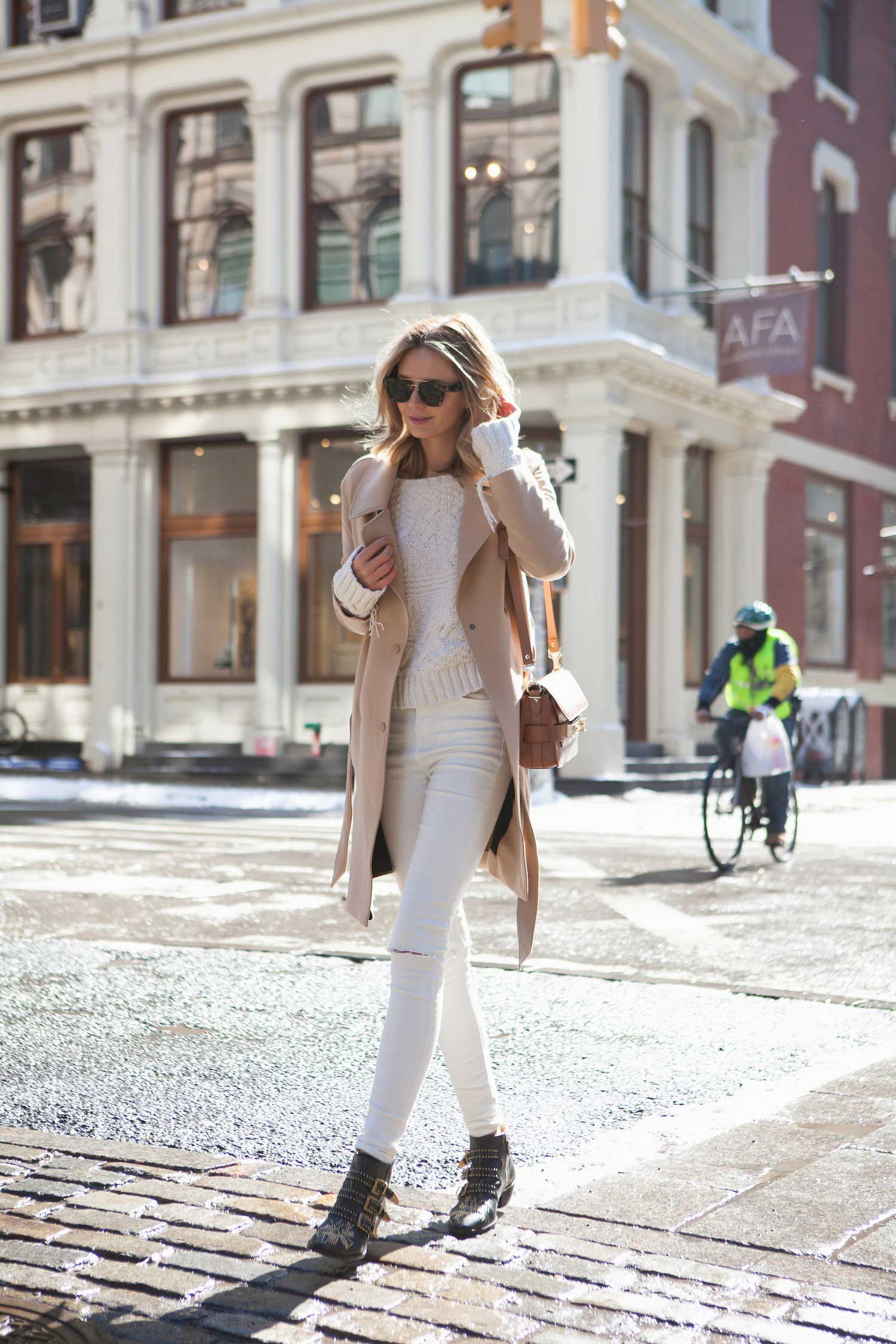 How To Style White Jeans In Fall & Winter
White jeans are often associated with Labour Day and wearing them after then can be seen as a fashion faux pas by many, however, I personally think this stigma couldn't be more wrong if it tried. White jeans look amazing in the Spring and Summer as they reflect heat from your body and they add a nice crisp white base to your florals and pastels, but you can definitely transition your white jeans into Fall and Winter too, it's just about how you style them! Layering up is one of the key ways to do this, so make sure you carry on reading to find out how to wear white jeans when it's a little chilly and absolutely freezing! There's a few options for both Fall and Winter seasons. There's lots of white jeans buying options in this post as well as coats and sweaters to accompany them.

Layer White Jeans With Knitwear and Coats for Winter
Jessica Stein of Tuula Vintage
Myself, a fashion blogger from the UK.
The best way to wear white jeans in the Fall and Winter is by layering. White skinny jeans look absolutely amazing when paired with a slouchy sweater with a coat layered over the top, finished off with some heels or boots. When you wear this many layers though for those extra cold months, you want to make sure you wear white skinny jeans and not flares or trousers, unless you are tall. The reason behind this is that flares or wide leg white jeans will have quite a bulk of fabric and with so many layers on top, it can overwhelm you.
When choosing the right colour palette to go with your white jeans, nothing works better than Autumn browns. Having a muted biscuit brown sweater with a camel coat layered over the top is gorgeous, then throw on another shade of brown with a scarf and you are all set! These shades work perfectly for Fall and they are a heavenly match for white skinny jeans. That being said, you don't have to always stick to a warm brown, Autumn colour palette. You can also opt for greys and pastels which match grey tones. White skinny jeans can look gorgeous when paired with a slouchy grey sweater! You can also pair them with dusky pastel rose or a greyer version of lilac and be all set. These shades scream Winter when they are paired together and your outfit couldn't be more cold weather appropriate if it tried!
The key thing when styling white jeans for Winter or a very freezing Autumn is keeping it neutral. You don't want to have bright or bold colours everywhere and you definitely want to keep the colour palette muted as much as you can. White is a statement shade on its own, especially when worn in the Winter so you will stand out without having to layer on tonnes of colour. It's not recommended. As long as you keep to a brown or grey colour scheme for your white jeans, you will look fantastic.

Style White Jeans With Sweaters and Boots for Fall
One of the best ways to wear white jeans in the Fall is with sweaters and boots. In my opinion, nothing looks better than a crisp and clean pair of white jeans with a slouchy sweater, finished off with some ankle boots. It's a perfect Fall combination, not just for white jeans, but for any jeans. Much like the tips above when layering your white jeans for Winter, for Fall, you want to keep your colour palettes subtle as well. One thing that works really well with white jeans is a cream sweater. The two tones of white and off white play nicely against each other and then finished off with some brown boots and a bag, you can't go wrong! If you don't like the idea of white on white though, you can easily break it up a little bit with a brown belt around your jeans, just to inject a little difference between the two.
Another option to keep things monochrome and stylish is to go with a grey sweater, keeping it slouchy is key as it wont look too overdone and polished, which is not a great look for white jeans in the Fall. Black boots can look a little harsh against the white, but when you have a lot of grey going on and a black bag, they will blend in nicely.
You can of course pair white jeans in the Fall with a shirt if you wish to, but it will have more of a Summer vibe about it and it wont look as Fall ready as a sweater would, but it's entirely up to you what you choose to do. If it does get a little too chilly for a sweater on its own and it's not cold enough for a coat, you can always add a scarf in a similar tone to your sweater and that will not only add more flare to your look, but it will look chic too. In terms of accessories though, a statement necklace can often work wonders with a chunky knit too, it just gives it a little boost.
The best thing about wearing white jeans for Fall though is that you don't always have to stick to skinny jeans. White flares or bootcut jeans can look fantastic with the sweaters! You have less fabric and layers on top so having a heavier amount of fabric on the bottom half will not be overwhelming, just make sure they are hemmed to your correct length (1-2cm off the floor with heels)! Nobody likes dirty, wet or stained hems on white jeans!
Shop The Latest White Denim!