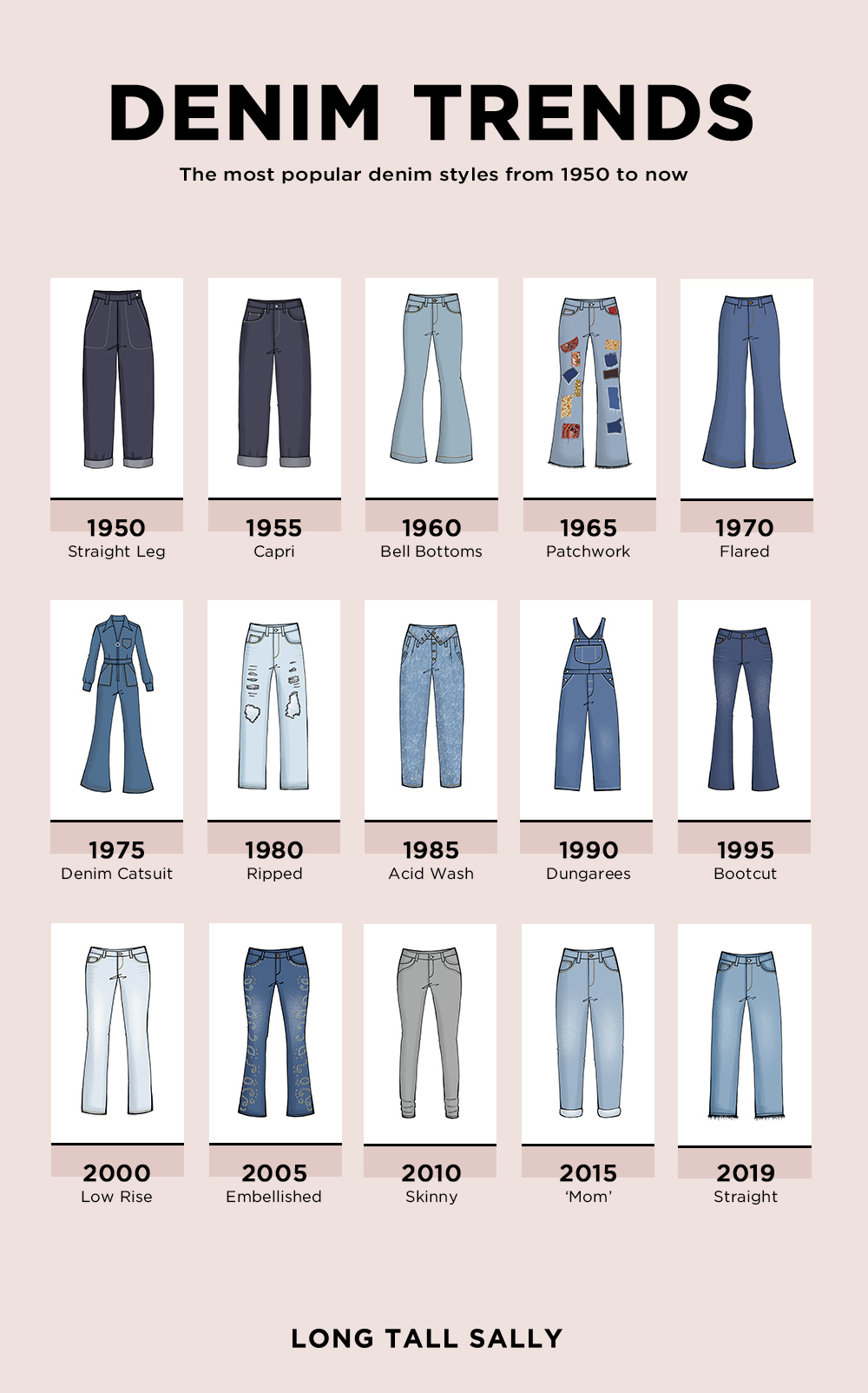 I've got a bit of a different post to share with you today! I teamed up with Long Tall Sally to chat with them about the most popular denim styles over the past 70 years. It was pretty fun, noting down what jeans were trending and what weren't, and noticing how that's changed over the decades. The brand then worked with fashion illustrator, Alison Hensen, to create an infographic which showcases the one of the most popular jeans styles during their decades! I thought it would be good to share this content with you as well, to give you a look at the popular jeans cuts throughout the years!
The evolution of denim
In 1871, we all know that Levi Strauss & Co. invented the very first pair of jeans which were then patented by Jacob W. Davis and Levi Strauss on May 20, 1873. The start of a phenomenon. You might remember out history of Levi's blog post, which will give you all of the information you need!
During the 1920s, Levi's jeans became a staple bottom worn by miners, cowboys and males who needed thick, durable trousers to withstand their manual labour. Jeans were thick, 100% cotton, reinforced at the pockets and extremely useful for wearing in such laborious jobs. In 1936, they added their signature red flag to their jeans, making them the first designer workwear jeans on the market.
Moving onto the 1950's – Levi's blue jeans became extremely popular among the Hollywood bad boys like James Dean and Marlon Brando, making the youth fascinated with them. They quickly became a fashion symbol of rebellion which led to them being banned in some American public schools. Quite the movement!
The 1960's & 1970's, jeans were known as a rebellion, women started wearing them in the 1960's as well (like Marilyn Monroe wearing boyfriend jeans), and they quickly started becoming iconic in the fashion industry. Moving away from the straight, masculine fits, the popular denim was high waisted bell bottoms during the hippie movement. Embroidery, patchwork, frayed hems etc were all getting popular and the more unique the jeans were, the better. This era was very important in the role of denim.
The 1980's saw the trends change and move even more. The high rise skinny slim fit was introduced and mom jeans became a hit. Teenagers and younger people were wearing their acid wash, faded Levi's 501's everywhere and they were a staple to pair with their denim jackets. It seems like the 80's was actually very important for fits because it's paved the way for the current trends of now.
In the 1990's, again, trends changed and instead of skin tight, fitted jeans, everyone ventured towards baggy clothing. The early 90s saw dungarees, as worn by the female characters of TV shows like 'Friends', become a fashion focal point and with the late 90s came bootcut jeans and rises starting to get lower. These low slung looks continued in the 00s, along with embellishments like rhinestones, diamontes and studs. I'm sure you remember the pop bands of the 90's, low rise, frayed, super baggy, utility style jeans were the most popular choice and so was head to toe denim.
2000's – Around 2005, designer jeans were hitting the roof! Loads of brands were releasing them from Rock & Republic, 7 For All Mankind, True Religion and Citizens of Humanity etc. and the popular choice was super low rise (6-7 inches) with a longer bootcut inseam. Embellishments were all the rage so fancy back pockets were a trend, encrusted with crystals or lots of stitching. The more jazzy your butt was, the better.
2010 – J Brand springs to mind here as they made the skinny/cigarette jean popular. Starting with a classic 12 inch leg opening, and an indigo rinse, these jeans started to gain popularity among the celebrities. People were trading in their bootcut jeans in favour of the skinny. Not only that, the brand released a pair of skinny cargo pants called the Houlihan and those took over the denim world by storm. That was a huge moment for us all. Another trend around this exact time was from a new brand called Current/Elliott, they created the popular rise of the boyfriend jean which also was a statement everyone was wearing, including celebs.
2013 – The high rise skinny jean started to get popular with a cropped ankle, worn by all the celebs.
2014 – Everyone started to get a bit fed up of the same new styles from denim, everyone was creating coloured, printed, bold super skinny jeans and people were craving the old days. RE/DONE Levi's was founded in 2014 and in 2015, vintage denim was back on our scenes. Everyone was opting to wear the vintage Levi's 501 from decades past and reconstructing them to have more of a modern fit with vintage washes. This paved the way for vintage denim to become popular again and has remained that way since. Everyone started wearing cut off Levi's 501's to Coachella and every summer since.
Today – Pretty much all denim is still popular and we alternate season to season with high rise skinny, slim fit vintage styles, and sometimes flares. Denim has taken some crazy turns and insane styles have been created, like the cut out or chapless jeans, so there's not a specific trend as such anymore, as is the same with all fashion during this era, it's anything goes, but low rise, bootcut is out, minimal, high rise fits are in. However, since we have done a full circle and are back at straight legs being popular like in the 1950's, are we going to go back around to capri and bell bottom coming back into fashion? It's interesting to think about!